City Guide: Vancouver
By: Andrew Morrison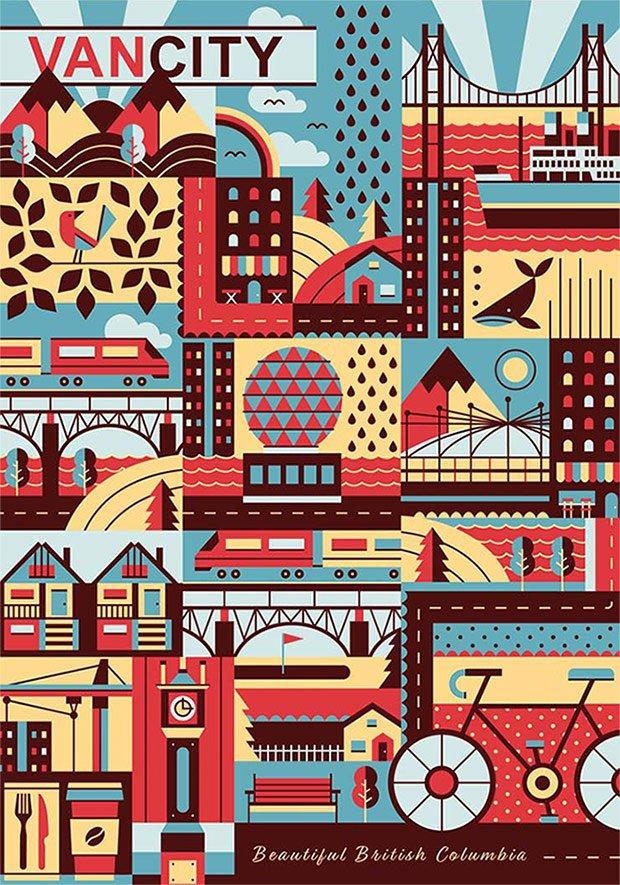 Great restaurant with a new chef to look out for
Verre
This modern, French-accented Mediterranean eatery on the Coal Harbour seawall opened just prior to Christmas, 2018, smartly appointed in rose gold, glass, leather and white marble with a gorgeous, horseshoe-shaped bar. At the kitchen helm is co-owner/chef Liam Breen, a fierce young talent freshly returned home from Dubai after several years honing his craft at Marco Pierre White Grill and The Maine Oyster Bar. Bonus: oceanside patio.
550 Denman St., www.verreyvr.com
Como Taperia
A trio of hispanophiles - legendary local barman Shaun Layton, Meat & Bread co-founder Frankie Harrington and former Clayoquot Wilderness Resort chef Justin Witcher - joined forces to create this good-looking, 60 seat homage to the food and drink of Spain in late 2018. Though the tapas classics are well-represented here (everything from patatas bravas and paper-thin jamon to stuffed olives and anchovies in oil), Witcher isn't afraid to get a little playful with the milieu, with delicious results.
209 East 7th Ave., www.comotaperia.com
WORK
Great place for a working breakfast
Chambar
The casually chic Chambar remains one of the most reliably consistent and lively restaurants in Vancouver, and very much in an elevated league of its own when it comes to business breakfasts, plating an inventive combination of Belgian, Moroccan and French cuisines in an airy and bright dining room. Aim for the exquisite waffles with lavender milk chocolate; fricassée of braised short rib with apple and smoked cheddar; and proper coffee. Request the relative privacy of one of the semi-circular booths.
568 Beatty St., www.chambar.com
Fable Diner
This modern ode to the classic diner is the sister restaurant of Top Chef Canada runner-up Trevor Bird's acclaimed Fable. It opens at 7:30am every weekday to a diverse crowd appreciative of the quick service and attention to detail on the plate. Expect indulgences like French Toast with nutella mouse and bananas next to old school standards like Trucker Breakfasts (bacon, eggs, toast, et al) and various expressions of Eggs Benedict. Oversized booths afford plenty of room for laptops, papers and elbows.
151 East Broadway, www.fablediner.com
Great place for a business lunch
Royal Dinette
A multiple award-winning farm-to-table operation ideally situated for business lunches in the heart of the financial district. Cheffed by industry veteran Amanda Healey (she's been toiling in kitchens since she was 14), the seasons-driven food concept cleaves deliciously close to the West Coast. Dishes like seared ling cod in squash brodo, smoked ham hock gnocchi, and roasted quail with quince chutney are served simply but elegantly to a bright and bustling dining room. Superb cocktail card built by Kaitlyn Stewart, one of the nation's very best bartenders.
905 Dunsmuir St., www.royaldinette.ca
Botanist
Though still young (opened 2017), this Pacific Rim–focused restaurant is already a fixed facet of Vancouver's culinary firmament. It has also been quick to attract a business crowd at lunch, which is incidentally when all the defining greenery and details of the interior by Ste. Marie Art + Design show best. The menus change with the seasons but seafood will be a prudent choice year-round. Botanist's cocktail program – overseen by internationally celebrated bartender Grant Sceney – is arguably the most avant-garde in the country right now, especially on the presentation front, while the wine list is loaded with hard-to-find vintners and vintages.
1038 Canada Pl., www.botanistrestaurant.com
Great place for a business dinner
Kissa Tanto
This jazz-inspired, second-storey Japanese-meets-Italian hideaway hybrid in Chinatown was named Canada's 'Best New Restaurant' in 2017. It's so refreshingly different that it's nigh impossible to compare it to anything other than its nearby sister restaurant, the equally one-of-a-kind, Shanghainese/French informed (and multiple award-winning) Bao Bei. Slurp oysters, savour casarecce with pork and sake kasu ragu, sip on Singapore Slings, and take comfort in a room plucked straight from a style-soaked noir novel.
263 East Pender St., www.kissatanto.com
Torafuku
Vancouver is glad and grateful to young chef Clement Chan for graduating from his popular Le Tigre food truck to Torafuku, arguably the city's most playful pan-Asian eatery. The clean-lined room can get loud and boisterous, but the atmosphere is an honest reflection of the exciting cuisine. Look out for the electrifyingly sauced General Tao's Fried Chicken Wings and sake-kasu marinated halibut in dashi chowder. For some subtlety, try the Emarosa cocktail of strawberry-infused Gobernador Pisco shaken with lemongrass jasmine tea, lime and egg white.
958 Main St., www.torafuku.ca
Great place for political networking
Nightingale
Chef David Hawksworth's second coming after the success of his high end, eponymous looker in the Rosewood Hotel Georgia. Set in the shadow of the Financial District's forest of office towers, the new and voluminous Alessandro Munge-designed beauty might flirt with the whole of the Mediterranean, but its heart belongs to Italy. Indulge in proper pizzas and superb pastas, and seek out the little things like anchovy toasts and fava tips. The main floor lounge counts pols and power brokers as regulars, and offers the best drinks for many blocks around.
1017 West Hastings St., www.hawknightingale.com
Vij's
When this Indian food legend moved from its storied South Granville address in 2015 it landed softly in the shadow of Vancouver's City Hall, where it (and especially its lounge) has become a magnet to those who frequent the halls of civic power. The menu remains as impactfully delicious as ever, with wine-marinated lamb popsicles in fenugreek cream still stealing the show. Bonus: After over 20 years of famously not talking reservations (making celebrities and heads of state wait in line with the madding ), bookings are now available.
3106 Cambie St., www.vijs.ca
DOWNTIME
Great place to dine alone
L'Abattoir
The small bar at Gastown's stylish L'Abattoir not only crafts some of the best drinks in the city but also attracts solo diners without reservations. Sip from well-constructed classics or new novelties made with the utmost integrity and care while digging in to owner/chef Lee Cooper's refined, French-influenced West Coast menu. Always ask after the newest dishes, but for good reason Cooper's elegant interpretation of Steak Diane has been on the menu since opening night in 2010. Secret weapon? Desserts.
217 Carrall St., www.labattoir.ca
Espana
Vancouver's West End is home to dozens of Japanese ramen shops and fun, casual Korean eateries. This makes it the perfect hiding place for Espana, a critically acclaimed but accessible Spanish bar that works idiosyncratic magic with vernacular classics. Start with a chorizo Scotch egg or octopus conserva before finishing with the daily paella. English Bay beach is just at the end of the block, so a post-supper sunset bask is the thing to do if you can time it right. Oh, and there's always an interesting selection of wines and sherries by the glass.
1118 Denman St., www.espanarestaurant.ca
Great restaurant when you want to dress up for dinner
Gotham Steakhouse
Though Vancouver has seen a general retreat from old-school fine dining experiences in recent years, there remain a few spots that are, thankfully, unshakable from their delicious formality. One of the most reliable is Gotham, a dark, voluminous steakhouse and cocktail bar in the heart of downtown. Staffed by white-jacketed career servers versed in the art of hospitality, the restaurant is a quiet, velvety respite from the newfangled. Though there is no dress code, its tomahawk steaks and slices of Key lime pie are best enjoyed when suited and bejewelled.
615 Seymour St., www.gothamsteakhouse.com
Cioppino's Mediterranean Grill
Offering refined Italian fare from hands-on owner/chef Pino Posteraro, Cioppino's stands astride the milieu like a colossus. A genius with sauces and a master at understatement in presentation, the omnipresent Posteraro is also a magician with sourcing, always scoring the very best ingredients from his rolodex of suppliers. His bow-tied staff - many of whom count their tenure in years - are always looking sharp, so it's always best to go in style.
1129 Hamilton St., www.cioppinosyaletown.com
Great place for a casual dinner with your significant other
Anh & Chi
From delicate, herbaceous rice-paper rolls filled with organic tofu, coconut and jicama to the variety of dizzyingly aromatic soups (aim for the meaty, citrus-lit, gently spiced Bún Bò Huế with broth-thickened vermicelli), the menu at Anh and Chi is a headily fragrant, mouth-watering study in discovery. The kitchen's versatility and vision are what make this the most interesting, innovative Vietnamese eatery in Canada, but its secret weapon is its interior. Bright and brassy with stained glass, elaborate tiling and intricate woodwork, it is one of the most design-savvy rooms on the city's hip East Side.
3388 Main St., www.anhandchi.com
Bao Bei
This celebrated Chinatown restaurant serves some of Vancouver's most emblematic food from a creative menu of homey, French / Shanghainese shareables. Think steamed mantou buns stuffed with curried beef; petits cadeaux dumplings loaded with fennel; marinated eggplant zinged with soy, ginger and garlic; and the always changing "kick ass house fried rice" (which, at the time of writing, sees prawns tossed in a spiced clam-and-jamón sofrito with crispy ginger, black bean and pimenton). Every ambitious, aspiring restaurant in Vancouver still measures itself against Bao Bei in private moments of doubt. Through its first decade, scant few have emerged as anything approaching its equal.
163 Keefer St., www.bao-bei.ca
Great place for Canadian cuisine
Farmer's Apprentice
Owner/chef David Gunawan's charming South Granville locavore restaurant is as much an edible expression of Vancouver and its seasons as it is a reflection of the city's easygoing, laid back attitude. The menus are constantly changing so as to accommodate the tasty things that local farmers and artisans bring to the kitchen door, and the wine program is all about low-intervention, natural, organic and biodynamic labels. The set menus are always the way to go.
1535 West 6th Ave., www.farmersapprentice.ca
Edible Canada
The goal of Edible Canada has always been to introduce locals and visitors alike to the wide variety of ingredients and culinary traditions that together make up the perpetually moving target that is "Canadian food". One can feast on elk tartare; poutine made with real Quebec cheese curds and sauced with duck gravy; crispy Humboldt squid, wild local salmon and so much more, all within steps of the Granville Island Public Market.
1596 Johnston St. www.ediblecanada.com
PLACES TO STAY
The Burrard
Recently renovated and rebranded, this centrally located boutique hotel originally launched as a 76-room motor inn back in 1956. Today, it strikes a stylish balance between modern and retro cool, offering free WiFi, Nespresso machines and a breezy, tropically transportive courtyard (with Ping-Pong table, palm trees and firepit), not to mention access to delicious main-floor outposts of Elysian Coffee (one of Vancouver's best roasters) and Burgoo (comfort food).
1100 Burrard St., 604 681 2331, www.theburrard.com
Shangri-La
The new Shangri-La building dominates the city skyline at 61 storeys. Its namesake hotel - arguably Vancouver's most luxurious - occupies the first 15 floors and offers beautifully decorated accommodations (guest rooms and suites), full facilities for business travellers, an excellent spa, and MARKET, the critically acclaimed restaurant from celebrity chef Jean-Georges Vongerichten.
1128 West Georgia St., www.shangri-la.com/vancouver
Wedgewood
A calming, stand-alone Relais & Chateaux-designated charmer. Knowledgeable concierges armed with up-to-the-minute mental maps of the city and every desirable reservation on speed dial. Owner/operator Eleni Skalbania's uncanny omniscience guarantees no flower wilts. Equipped with full-service spa, award-winning eatery (appropriately dubbed "Bacchus") and elegantly appointed rooms.
845 Hornby St., 604 689 7777, www.wedgewoodhotel.com
Rosewood Hotel Georgia
Located opposite the Vancouver Art Gallery, this iconic, 90 year old pile was completely transformed in 2011, elevating it to new heights of luxury and comfort. It is home to the award-winning Hawksworth Restaurant, the stunning underground Prohibition cocktail bar, a hidden lobby bar (for those who don't want to be seen), the always humming Bel Cafe and a dreamy, open-air terrace bar and lounge accessed via the fourth floor.
801 West Georgia St, 604-682-5566, www.rosewoodhotels.com
Loden
Anchor yourself at this boutique address in Coal Harbour, a sleek bastion of style and quiet confidence among the city's characteristic spires of glass and steel. From this base of operations one can run/ walk the nearby seawall and wander the foodie junction of Denman and Robson with an appetite. Bonus: superb French bistro fare can be had in the main floor restaurant, Tableau.
1177 Melville St., 604 669 5060, www.theloden.com
COCKTAILS
A great place for drinks after work
Wildebeest
Josh Pape and James Iranzad's woodsy restaurant on the edge of Gastown has never rested on its laurels, always changing up its menus to keep the staff challenged and guests interested. This extends to Wildebeest's ever-evolving lineup of wines, beers and cocktails, many of which are on trend and on tap (often both). While it's difficult to get a table without booking in advance, there is almost always a seat or three available at the long, 14-seat bar, the veteran tenders of which are well-versed in the subtle arts of the Old Fashioned.
120 West Hastings St., www.wildebeest.ca
Hawksworth Cocktail Bar
The lounge at David Hawksworth's eponymous restaurant in the renovated Hotel Georgia (across from the Vancouver Art Gallery) is the new den of Vancouver power at repose. Low, whisper-friendly couches set in corner cloisters face fireplaces and an eight-seat bar. Snack on Korean-fried cauliflower, proper truffles fries and fresh oysters as you make difficult cocktail decisions. Try the refreshing Hotel Georgia, which sees a mix of Beefeater gin, lemon, almond, orange blossom and nutmeg shaken with egg white.
801 West Georgia St., , www.hawksworthrestaurant.com
Great place to relax, eat and watch the game
Bells & Whistles
Bells & Whistles is the latest restaurant from James Iranzad and Josh Pape, the duo behind Gastown's acclaimed Wildebeest. Fun, irreverent, and wholly dedicated to beer and sports, it not only shows games on the big screen (they have two) with sound but they show due care and consideration to the quality of the food they serve, making it Vancouver's best all-round sports bar. Get lost in the superb craft beer list while munching on garlic/parmesan fries, pineapple-sriracha chicken wings, and popcorn shrimp.
296 Fraser St., www.bellsandwhistlesyvr.ca
---