What Can You Customize with HAROLD
From custom-made suits to sartorially inspired tracksuits, from your ideal dress shirt to the perfect polo, from safari jackets to overshirts to trench coats; HAROLD's selection of customizable garments will suit your every need.
Inspired by your vision and guided by our style advisors, HAROLD allows you to customize every detail from a range of foundational garments to deliver a look as unique as you are.
Customizing Your Next HAROLD Garment
The Garment & Fabric
Whatever your wardrobe is missing, HAROLD's vast selection of customizable garments and fabric options are at your disposal.
Your Style Preferences
HAROLD has a plethora of different style options for you to choose from depending on the garment you want to customize.
The Little Details
With HAROLD, every little detail matters. Feel free to fully express your unique design preferences — you can even take a look under the hood if you want to alter any nitty-gritty details like construction.
The Personal Touches
Between expressive linings, pick stitching, monogramming, and more, add an essence of individuality to your custom HAROLD garment.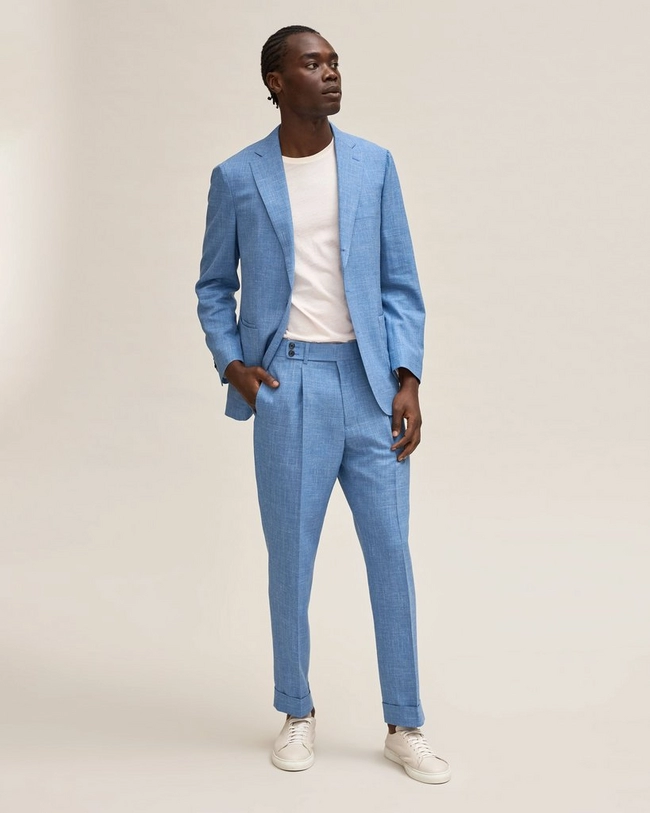 THE DECONSTRUCTED SUIT
Soft, comfortable, and featuring a completely unstructured interior, the Deconstructed Suit almost feels more like wearing a cardigan than a jacket. These lightweight tailoring pieces are effortless to wear and offer an instant upgrade to more casual looks. Whether worn as a full suit, commissioned as separates, or paired with your favourite chinos or jeans, HAROLD's Deconstructed Suit achieves perfect harmony between comfort and elegance.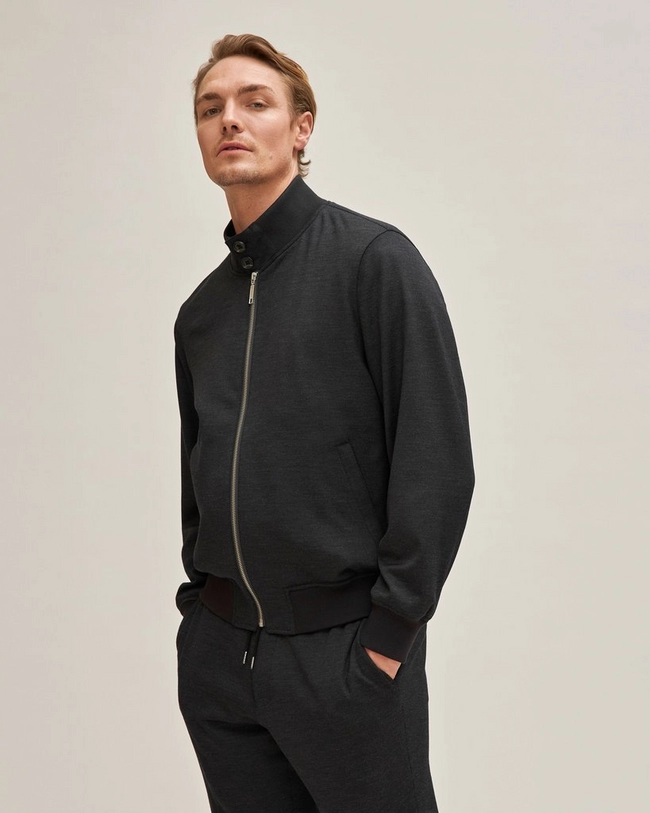 THE SARTORIAL TRACK SUIT
No matter what style of garment you're sporting, comfort and function are key — but we maintain that style must remain. The perfect medium? HAROLD's Sartorial Track Suit. Seeing as luxe loungewear is now a key part of our daily uniforms, the Sartorial Track Suit offers a notably more elevated take on your favourite pair of matching sweats, making our custom-made track suits ideal for both working from home and turning heads in public. We also love how easy it is to dress up your Sartorial Track Suit by swapping out your blouson or bomber jacket for a HAROLD blazer made with the same material, giving you the ability to wear two very types of suit in the same day without ever needing to change your trousers.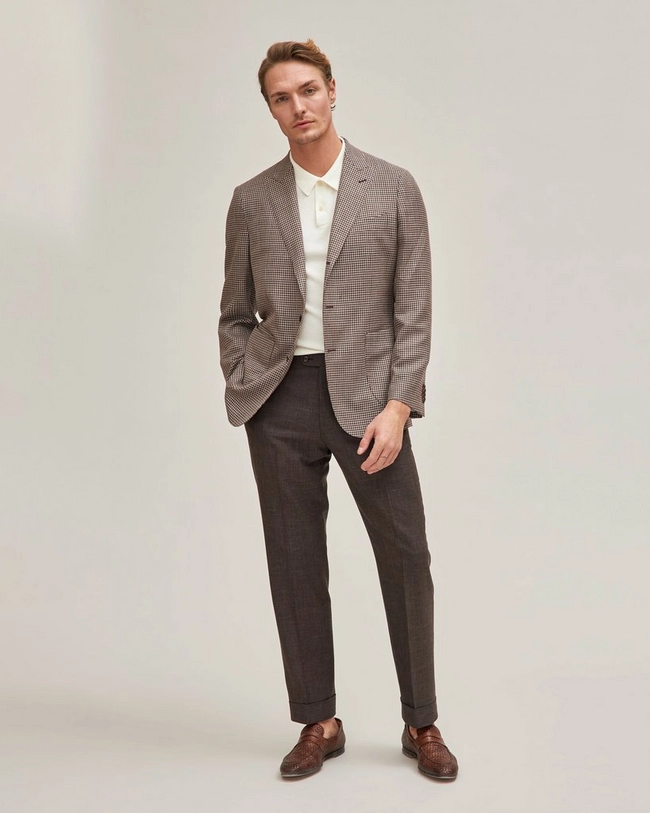 THE JACKETS & SEPARATES
Opting to create a custom sports jacket and pair of trousers in different materials and colours allows you to instantly expand your wardrobe to all sorts of complementary combinations and style possibilities. In the tailoring world, these are called 'separates' because you can wear both pieces together, separately, or paired with essentially any other garment you might already have or design in the future. For instance, a sports jacket with denim, or a pair of wool trousers with your favourite leather moto jacket are great examples of everyday wearability.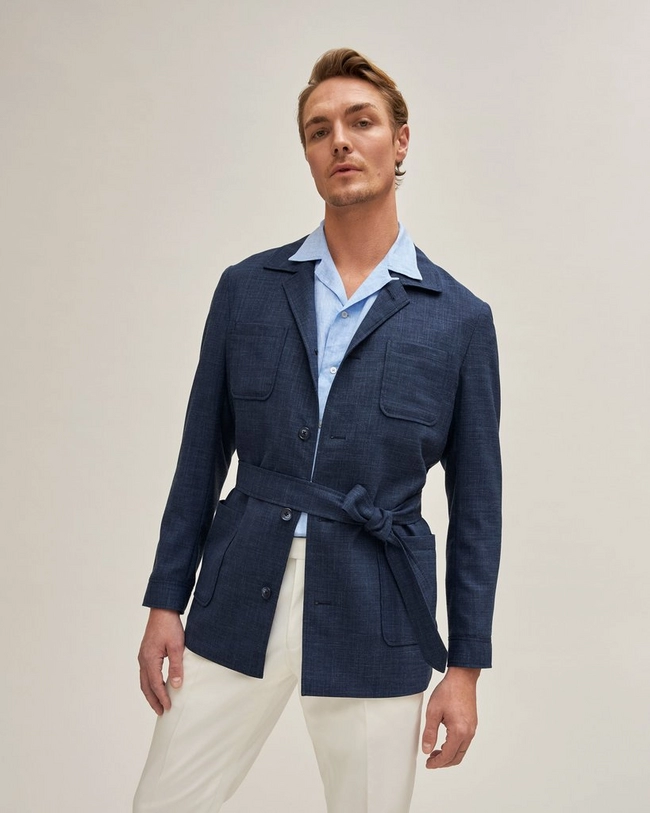 THE SAFARI JACKET
The Safari Jacket originally came to prominence at the turn of the twentieth century as African adventure tourism gained in popularity among circles of wealthy elites. Since then, the iconic safari jacket has been adapted to suit the concrete jungle and is now an ideal alternative to a sports jacket. With HAROLD, you can design your Safari Jacket with more traditional style influences or tweak the design to suit your personal style an day-to-day needs.
HAROLD x You
Inspired by your vision and guided by our style advisors, HAROLD allows you to customize every detail from a range of foundational garments to deliver a look as unique as you are. With HAROLD, we want you to call the shots and define your everyday style.