Tailoring Service at Harry Rosen
Made-to-Measure
Tailoring Service at Harry Rosen
Made-to-Measure
"A made-to-measure suit is custom-made according to your precise measurements, in a fabric and with tailoring details chosen by you, but based on a designer's existing model – a unique balance."
—Adam Gallo, Divisional Merchandise Leader at Harry Rosen
Custom Tailoring Explained
3 Steps to Custom Suiting
Fit
Get measured by one of our expert Clothing Advisors, trained in the art of striking the right balance of performance and presentation.

Fabric
Choose from more than 250 premium fabrics sourced from the world's leading mills.

Finishes
Explore all of the ways to truly make it yours: select a jacket lining, shoulder expression, buttons, vent and pocket options, monogram and more. The opportunities to personalize your garment are nearly endless.
Our Clothing Advisors & Onsite Tailors
Working with an expert Clothing Advisor who will guide you through the process, you'll select colours and fabrics and find the ideal fit for you. You can create a suit that is uniquely yours by not only selecting the fabric but the lining, buttons and styling details.
The result is a garment that can be considered a true expression of a man's individuality.
From tie to toe, we're here to help you make the right choices — book a personal consultation today.
World Class Fabrics, Contemporary Construction, Modern Silhouettes
HAROLD x You
Inspired by your vision and guided by our style advisors, HAROLD allows you to customize every detail from a range of foundational garments to deliver a look as unique as you are. With HAROLD, we want you to call the shots and define your everyday style.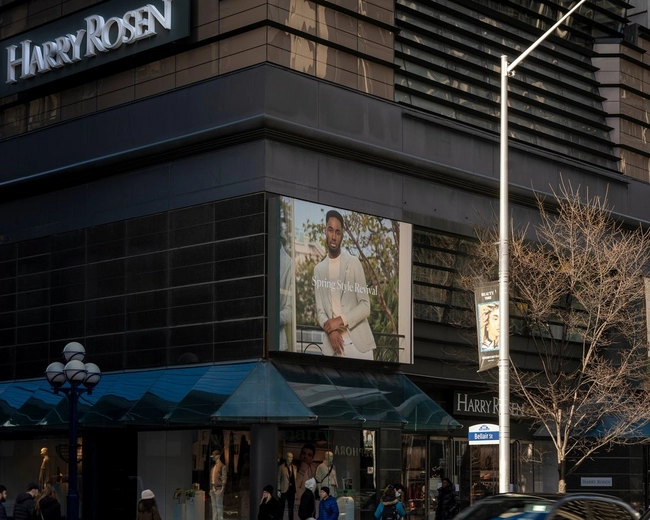 What's Happening at Harry's?
From much anticipated trunk shows, magazine launches, and special events, we always have something going on. Visit our Events Page to stay in the know on our upcoming calendar.