Tailored for life's most important occasions
Modern Wedding Attire
Tailored for life's most important occasions
Modern Wedding Attire
Harry Knows Weddings

For more than 65 years, Harry Rosen has been helping loving couples tie the knot by helping men look their best on the big day. With decades of expertise and an expertly-curated offering of suits, tuxedos, footwear and accessories from the world's top designers, Harry Rosen customizes your service for a truly unparalleled experience. You can trust Harry Rosen to make sure you get everything exactly right, down to the smallest details – so you'll confidently walk down the aisle in style.
"Groom, guest, or groomsman, no matter what role you play on wedding day, what you wear should simultaneously show respect for the occasion while also showing you're ready to revel in style."
—Adam Gallo, Divisional Merchandise Leader at Harry Rosen
Harry's 4 Steps to Dressing for Your Wedding
At Harry Rosen, we've helped generations of men feel fully confident about getting dressed ahead of their biggest day yet and, as a result, have refined our outfitting process for Grooms down to a fine art. Find out about the individual steps we take to ensure you look and feel your best when you stand at the end of the aisle.
Harry's expert team can have you dressed and camera-ready in a matter of days, but we recommend a minimum of 8 weeks' notice for highly personalized tailoring and to take advantage of our range of custom options.
For the Groom - Getting Started

Ideally, we encourage you to schedule an appointment with one of our Clothing Advisors in advance of the wedding to discuss your vision. We offer a wide range of tuxedos, and suits styles, including ready to wear, made to measure, and custom-made. Your Clothing Advisor will guide you through the process, showing you numerous options and offering expertise and advice so invaluable, you may second-guess your choice of best man. Harry Rosen can also dress your wedding party, hosting fittings for groomsmen either in-store or at a venue of your choice and, with 15 stores across Canada, we can also accommodate the needs of participants living in other provinces.
Ready to Wear vs Custom-Made
Wedding in less than 8 weeks? We recommend looking into our Ready to Wear offerings.
A ready-to-wear or off-the-rack tuxedo or suit is made to one of a designer's signature patterns. Though offered in standard sizes, minor alterations are possible, so most men can find a ready-to-wear garment that fits them very well. Your Clothing Advisor will take note of any necessary adjustments to the jacket and trousers to accommodate your posture and ensure an elegant silhouette. Then our world-class in-house tailors will make the alterations. Available in leading menswear brands from around the world, including Ermenegildo Zegna, Canali, BOSS, BOSS Create Your Look (suit separates), Z Zegna, Samuelsohn, Kiton, Isaia, TOM FORD and many more.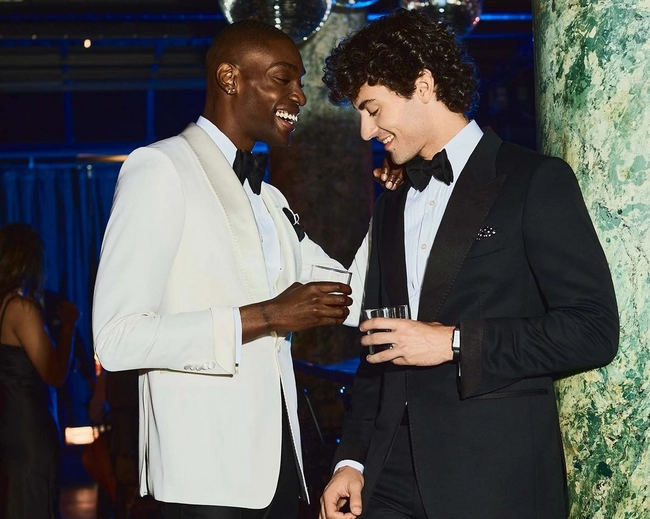 Wedding Appointment Checklist
Prior to meeting with a Clothing Advisor, please review this checklist to the best of your abilities that will help us present the best options for you.
Date & time of wedding
Venue/location
No. of guests expected
Dress code (black tie, semi-formal, elegant, casual)
Décor colours/theme
Description of bride's dress
No. of people we'll be dressing