Harry's Guide to: TUMI
This is Everything You Need to Know About the Ultimate Modern Travel Brand
When it comes to men's style, it's about more than just what we wear; it's about how we present ourselves, how we spend our downtime, and of course, how we travel. It's less about organization or catching flights on time, and more about how we feel when we're rolling into that airport with nothing but our luggage to see the world with. For us, TUMI is a brand that we think crafts luggage that makes for a fine traveling companion, wherever life takes you.

It all starts in 1975, when American entrepreneur, Charlie Clifford, founded the brand after working as a leather bag importer and volunteering in the Peace Corps in Peru. The name 'Tumi' itself was borrowed from a ceremonial knife symbolic of Peruvian culture – in modern-day Peru, it's a sign of good luck to hang a Tumi on a wall.
TUMI began crafting high-quality leather travel bags, but it wasn't until the early '80s that the brand really emerged as an industry-leading designer. In 1983, they launched a revolutionary carry-on garment bag that introduced their signature black-on-black ballistic nylon – a thick, indomitable nylon fabric that was initially created for World War II flak jackets to deflect, well, ballistic objects.
Fast forward today, TUMI's iconic luggage is as instantly recognizable and sought after as ever, declaring their status as some of the most luxurious and sleekest, yet toughest, travel accessories in the game. Let's talk about their inspiration, design, and approach to luggage.
TUMI is obsessed when it comes to design perfection. They take notes from world-leading technological industries – from aeronautics to automotives – and apply them to their creations, ultimately staying at the forefront of innovation. To show for it, the brand has an impressive 125 patents to their name – a decent indicator that TUMI is more than just luggage.
When it comes to superior build quality, TUMI is second to none. For starters, they put their products through the paces – 30 unique tests to be exact – to ensure each bag is up to their standards; run through a tumbler 125 times, strenuous handle pulling, and zipper tensile strength tests are just to name a few.
But how can such bags tolerate such abuse? It comes down to the sheer durability of the components they use. Take their X-Brace 45 Handle System, for example; it's a telescopic luggage handle constructed from aircraft-grade aluminum. Their fabric? TUMI's exclusive FXT Ballistic Nylon® – their take on the aforementioned military textile designed to deflect projectiles. Or what about their Omega Closure System that reduces the risk of zipper tear and virtually eliminates the need to replace it?
Among other things, the brand has to offer, TUMI boasts a global repair network that makes owning their luggage particularly easy. If your bag breaks, they will fix it. If it's lost, however, the TUMI Tracer® recovery program is there to help you find it. The needs of a traveler are certainly present in their brand philosophy.
Here are just a few of their products you can explore now.
4 Tumi Styles to Know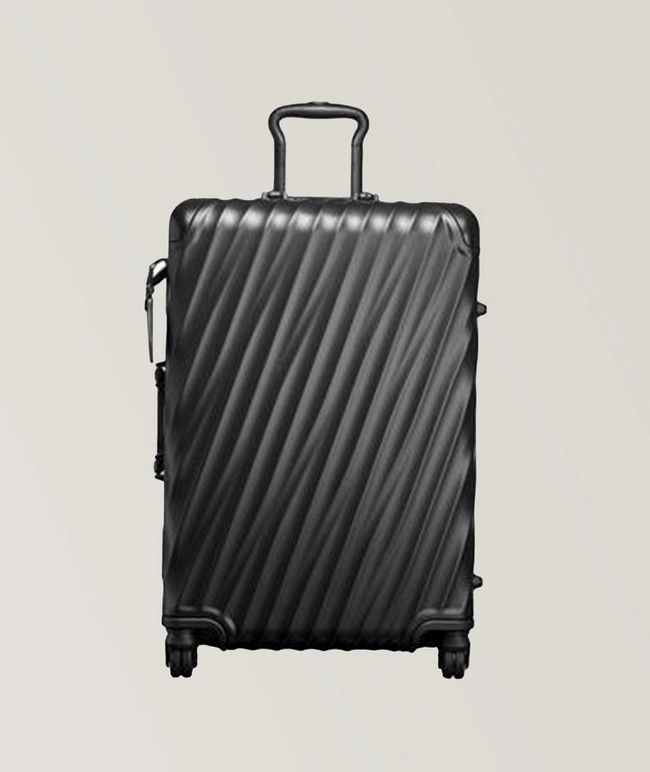 'Short Trip' Suitcase
This Short Trip packing case is a serious piece of luggage – it's constructed from aircraft-grade aluminum, so you know it means business. Its sleek exterior boasts unique fluid-looking contours, making it quite the sight to behold. Among other things, the Short Trip features a 3-stage telescopic handle system, two integrated-TSA padlocks, and 4 dual-spinning recessed wheels. The spacious interior should accommodate you comfortably for a 7 – 10 day trip.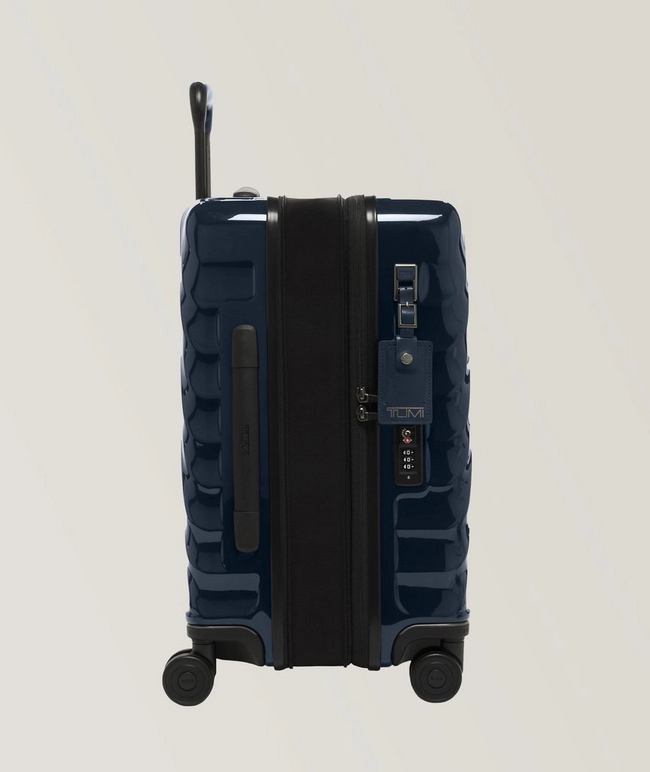 'International' Carry-On
The International is one of the few carry-ons that look better when it's not inside the overhead compartment. The shell features the same striking aesthetic as the aforementioned Short Trip, but this example is constructed from recycled polycarbonate – a thoroughly resilient, but much lighter option to aluminum. A few of its standout features include a single integrated-TSA padlock, USB port for mobile device charging, and an expandable interior cut with anti-microbial lining. If the International is all you're taking, TUMI recommends it's best suited for 3 – 5 day trips.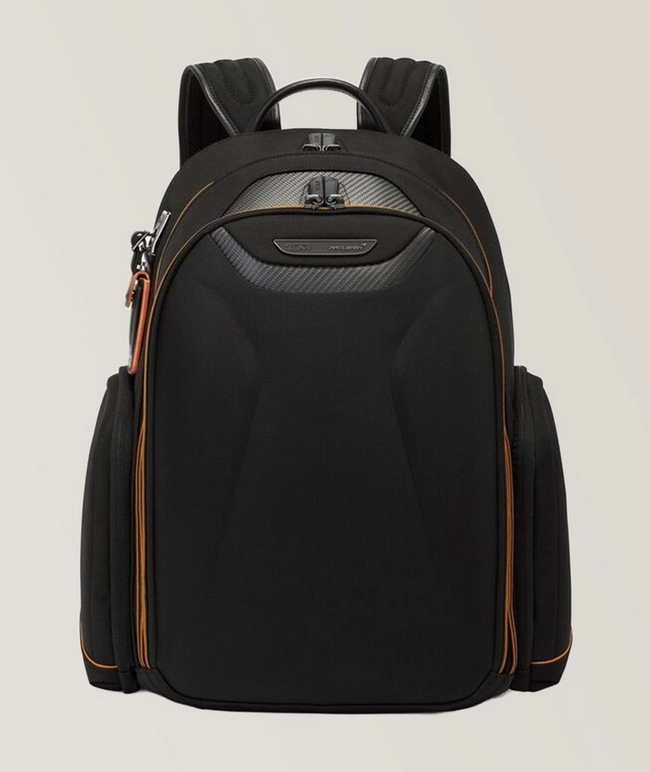 'Paddock' Backpack
We weren't kidding when we said TUMI takes heavy inspiration from automotives. This Paddock backpack was given the full McLaren treatment, from CX6 carbon fiber detailing, signature Papaya colour accents, and stealthy branding on the front. The Paddock is ideal for heavy travellers in need of particularly voluminous cargo – it features a main zipper entry with magnetic pullers, built-in USB port, and a dedicated interior sleeve capable of fitting up to a 16" MacBook.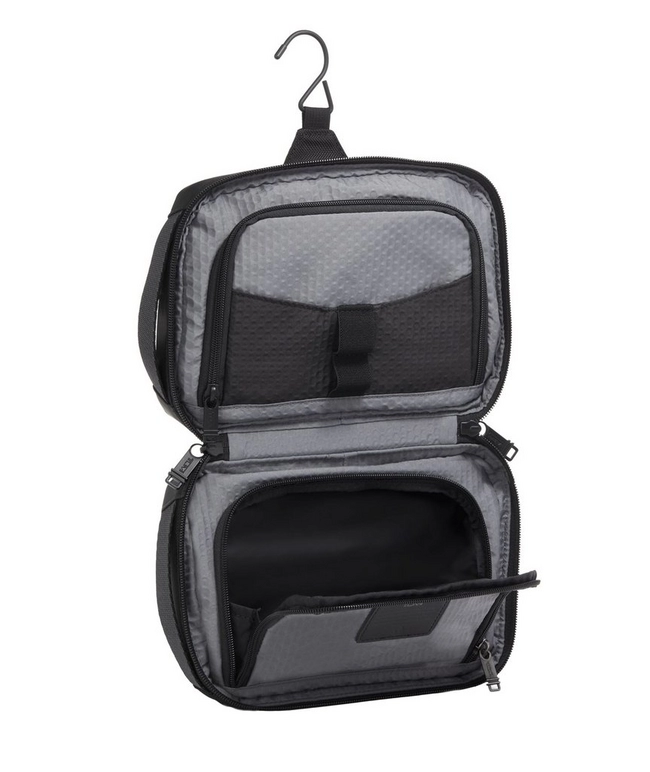 'Response' Travel Kit
TUMI isn't just about the bags you carry, but also the things you carry inside those bags. The Response travel kit is a toiletry bag from their Alpha Bravo collection – a classic necessity with modern sensibility. It has a dual zipper entry, functional interior sleeves, an anti-microbial lining, and even a hook if you decide to hang it in a convenient, easy access spot. And that bullet-repelling ballistic nylon you keep hearing about? This toiletry bag is made from that.
TAGS:
#Fashion,
#Brand Spotlight
,
#Tumi
,
#Bags & Cases
,