City Guide: St. John's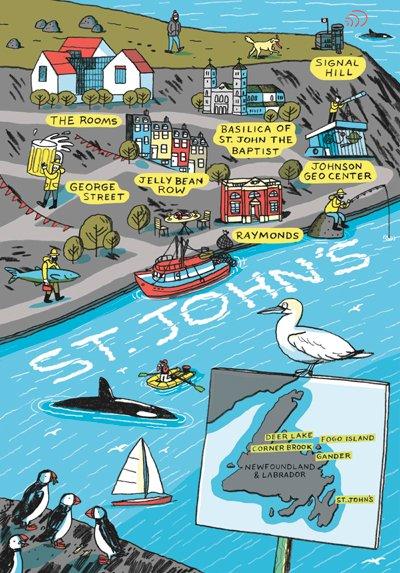 Great place for a business lunch
Bianca's
Astute travellers have made Bianca's their first choice for business lunching for over 20 years. The polite dining room is spacious, with tables far enough apart to afford a degree of privacy. Years of serving business customers mean staff can anticipate the needs of corporate hosts and their guests. Remarkable cuisine is the foundation of Bianca's stellar reputation, and it continues to fuel the restaurant's popularity. Veal and fresh seafood are favourites, and the chefs treat vegetables with particular respect. I recall lovingly prepared citrus-and-fennel purée. An excellent selection of wines is available to complement your lunch.
171 Water St.,709 726 9016, www.biancas.net
---
Great place for a business dinner
Raymonds
Chef Jeremy Charles and sommelier Jeremy Bonia preside over Raymonds, acknowledged by critics to be one of the finest restaurants in Canada. Established in 2010, the place bucked the post-recession trend toward pared-down casual dining by adopting an old-world attitude in décor and service. Well-turned-out wait staff quietly and efficiently go about their business in Edwardian (but not fussy) surroundings. Charles describes his cuisine as Newfoundland Nordic. Locally foraged seasonings and berries enhance impressive dishes like roasted duck breast with purée of sea buckthorn berries and roasted Atlantic pear. Excellent wine pairings are virtually guaranteed from the best cellar in town.
95 Water St.,709 579 5800, www.raymondsrestaurant.com
Great place to hear live music
Fat Cat Blues Bar
George Street is the beating heart of downtown St. John's. It has been dubbed "Canada's Bourbon Street" because of its 23 bars, pubs and nightclubs. Many offer live music. Fat Cat Blues Bar is one of the oldest and most popular. Only the best play Fat Cat. Acoustic blues is a staple, but other genres and styles can often be sampled. Fat Cat operates every night except Monday and Wednesday. It's open from 8 p.m. to 3 a.m., except Tuesday, when it's open from 9 p.m. to 2 a.m.
George St., 709 739 5554, www.fatcatbluesbar.com
Great place to stay
Sheraton Hotel Newfoundland
Queen Elizabeth II and other international celebrities have happily put their heads down at the Sheraton Hotel Newfoundland while business professionals have made it their inn of choice for decades. Location, service and amenities set this iconic hostelry apart. Built on a historic site once occupied by garrisoned Fort William (a British citadel), the hotel's rooms and suites provide impressive views of St. John's Harbour and downtown neighbourhoods. If outdoors is inclement, you can nurse a coffee, or something stronger, in the interior courtyard filled with light, living trees and plants. A dip in the indoor pool or time spent at the well-equipped fitness centre is always good for body and soul. Concierge service is outstanding. Dining facilities include Oppidan, a full-service restaurant, and Bivver, the hotel's circular cocktail lounge.
115 Cavendish Sq., 709 726 4980, www.starwoodhotels.com
Great Newfoundland experience
The Rooms
Newfoundland architect Philip Pratt designed The Rooms to have the same effect on the St. John's skyline as Sydney Opera House had on that city's horizon. In other words, it's hard to miss in a crowd. What's inside the mammoth structure - meant to suggest traditional fishing rooms where fishermen stored property - is even more enticing. The Rooms is a repository of Newfoundland and Labrador culture. But fear not, it's as far from musty and boring as you can get. If you want to know who we are and what we're about, this is the place to visit. Allow yourself to be awestruck by great Newfoundland art. Marvel at artifacts from a history that goes back to the Vikings.
9 Bonaventure Ave, 709 757 8000, www.therooms.ca
Great place for drinks
Basho Lounge
Tak Ishiwata is the finest mixologist in St. John's, and he's taught his bar staff well. The cocktail muddler (an implement used to express intense flavour from citrus, other fruits and herbs) is the most used tool at Basho, and that's a good thing. Every cocktail creation is lively with freshness and optimal taste. One citrusy libation, Sakenade Ginger, contains sake, vodka and lemon juice infused with ginger. Feel like something herbal? Your best bet would be the Lotion, heady with the aromas of cilantro, gin and melon. Basho opens at 5 p.m. on Friday and at 6 p.m. all other days.
283 Duckworth St., 709 576 4600
Great place to dine alone
LeGros & Motti
Far from small, LeGros & Motti (styled after giant N.Y.C. Meatpacking District restaurants) offers the lone diner a variety of seating options. Here you can find the "I vant to be left alone" Greta Garbo kind of aloneness, or you can easily engage others in friendly conversation. For the latter experience LeGros & Motti has chairs at its bar, and communal seating at long, narrow tables. If you prefer a more private space, tables can be found in quiet corners. Billed as a cross between Italian trattoria and French bistro, it actually leans more in the Italian direction. I'm devoted to the creamy polenta with ragout of wild mushrooms, and the slow braised short ribs. The wine list (no surprise here) consists mainly of Italian and French vintages – close to 100 in all.
127 Harbour Dr., 709 726 6884, www.legrosmotti.com
Great limo service
First Class Limousine
709 335 2223 www.firstclasslimo.net
Great downtown gym
St. John's Atlantic Place Club (Goodlife Fitness)
215 Water St., 709 754 8348 www.goodlifefitness.com
Great dry cleaners for a suit
Deluxe Dry Cleaners
159 Pennywell Rd., 709 579 5696
---