City Guide: Sicily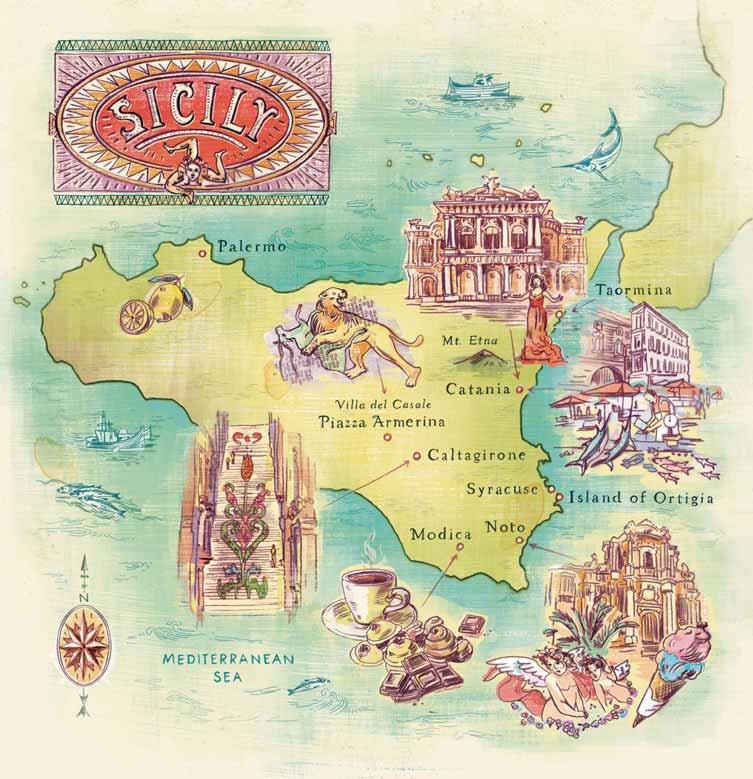 Great place for markets
Take a deep breath and enter the maelstrom of Catania's incomparable fish and food markets, which seem to pack all of Sicily's bounty and brio into a few highly animated streets and squares. At the raucous PESCHERIA, jammed into narrow medieval passages just off the PIAZZA DEL DUOMO, multi-tasking fishmongers hand out sea urchins for sampling, haul whole swordfish through the crowds, chop up squirming eels for a clearly discerning clientele and happily shout out the latest updates on their mackerel or tuna just for the sake of shouting. A short walk north from the obelisk-bearing lava elephant monument in the cathedral square takes you to the slightly calmer morning market spreading out from PIAZZA CARLO ALBERTO. Here you'll experience the pleasing sensory overload of a pre-supermarket era: fragrant Sicilian lemons and blood oranges in profusion, neat stacks of bitter greens and every shape and size of eggplant, flashing cleavers hacking joints of meat alongside a pungent array of the island's sheep's cheeses, bins of multihued olives and an encyclopedic range of preserved and dried fruit.
Great place for a market lunch
Steps from Catania's fish market, the OSTERIA ANTICA MARINA is a deliberately old-fashioned trattoria renowned for its raw bar, seafood antipasti, spaghetti with sardines, sea-urchin tagliatelle and simple ways with undeniably fresh fish. Neither cheap nor quick, but a classic of its kind.
Great place for strolling
Catania's VIA ETNEA, as its name suggests, will lead you toward the looming volcano. But if you're not in a rush to see Etna, this pedestrian-friendly main street paved with lava stone and lined with elegant shops is full of easy delights; people-watching is the main activity and eating is the preferred pastime. The crowded Etnea is door-to-door with all-purpose pasticcerie that go well beyond the usual extravagant display of Sicilian pastries to tempt all tastes with infinite gelato choices and savoury treats from the tavola calda. Every Catania resident has a favourite – including the competitive neighbours, SAVIA and SPINELLA, which each boast the city's best arancino al ragu – but we were fully content with the friendly MANTEGNA for a walk-by feast that ranged from eggplant salad and grilled swordfish steak to pistachio ice cream and takeout cannoli.
Great place for Sicilian baroque
Almost everywhere. Large parts of eastern Sicily had to be rebuilt after a devastating earthquake in 1693, and the extravagantly ornamented churches and palaces that emerged in even small towns like Modica, Caltagirone and Sicily were designed to be showy and eye-catching. If you're in Catania, take a slow diversion along the stylish VIA DEI CROCIFERI and admire the elaborately stylish architecture on proud display. But it's the beautifully preserved town of NOTO to the south that excels as a living museum of baroque – the golden facade of SAN DOMENICO is the best of many fine limestone buildings. Noto is also home to two caffès that are legendary for their fanciful sweets and boldly perfumed gelati: the thronged CAFFÈ SICILIA and the quieter DOLCERIA CORRADO COSTANZO.
Great place for chocolate
The ANTICA DOLCERIA BONAJUTO in Modica specializes in a grainy, intense style of chocolate that preserves ancient Aztec traditions brought to Sicily in the 17th century by the island's former Spanish rulers. When you're sated with Bonajuto's spiced chili, cinnamon and cardamom chocolates, it's time to try another Spanish legacy: empanada-style biscuits called 'mpanatigghi that are made with almonds, walnuts, sugar, cinnamon, cloves, minced beef and, of course, chocolate.
Great place for a sandwich
On the impossibly picturesque island of Ortigia, just across the bridge from mainland Siracusa, CASEIFICIO BORDERI exudes the delight of a deli where a sandwich craftsman and his patient customers are in perfect communion. When the towering, made-to-order prosciutto and smoked mozzarella panino is finally perfected, you can try to commandeer a chair and a glass of wine, or make a win-either-way al fresco choice between the island's waterfront promenades and its beguiling back-street squares.\ www.caseificioborderi.it
Great place for a Bellini opera
There's nowhere better to sample the lyrical intensity of the Catania-born composer Vincenzo Bellini than in the acoustically perfect TEATRO MASSIMO BELLINI, a compact 1890 opera palace improbably situated in the city's scintillating movida (nightlife) neighbourhood. The composer's I Puritani runs from December 3 to 13, 2015.\ www.teatromassimobellini.it
Great place for a festival
Sicily can feel like one big festival, particularly during religious holidays, but the more secular INFIORATA DI NOTO is especially eye-catching. Over the third weekend of May, artists create mosaic-style images along Noto's Via Nicolaci with nothing more than flower petals – and then on Monday, local children are allowed to run riot and restore the streetscape's natural order.
Great place to see ceramic tiles
Sicilian hill towns need to be climbed, but the 142 steps of CALTAGIRONE'S LA SCALA (i.e., staircase, not opera house) turn an upward trudge into an artistic ascent. Every level on the climb to SANTA MARIA DEL MONTE is decorated with hand-painted blue, green and yellow majolica tiles that reflect the tastes of the town's Arab rulers more than a thousand years ago. On the nights of July 24 and 25, candlelight lamps illuminate the steps for the dramatic feast of San Giacomo.
Great place for Roman mosaics
The fourth-century VILLA DEL CASALE is a little off the beaten track, as you might expect from an ancient country house, but these atmospheric hillside ruins enclose one of the finest collections of Roman mosaics in the world. The most famous are the unlikely "bikini girls" – actually muscular female athletes – but even more stunning are the remarkably detailed hunting scenes that depict Colosseum-bound tigers,elephants and ostriches. For a satisfying and inventive lunch or dinner, head toward nearby PIAZZA ARMERINA and chef Angelo Treno's AL FOGHER, hidden in a former train-station cottage – specialties include peppered suckling pork in a tunabottarga sauce, and a very serious wine list.
Great places to stay
With its boutique-hotel sensibility grounded in the materials and modes of a typical eastern Sicilian hill town, the subdued slow architectural detailing of Modica's CASA TALIA neatly blends urban chic with ancient style. www.casatalia.it/en/index.htm
For a grander approach to Sicilian tradition, cross the bridge to Siracusa's barely offshore island of Ortigia and the ALGILÀ CHARME HOTEL – 18th-century mansions have been respectfully converted into a cozy residence at the heart of the city's most atmospheric quarter.  www.algila.it/en/sicilysyracusehotel.htm
The distant views of olive and carob trees in the restful countryside surrounding Masseria degli Ulivi are almost as relaxing as the ready-to-hand comforts of this VAL DI NOTO resort. The setting is Sicilian farmhouse in style, but the famed restaurant makes ambitious use of local products from the Hyblaean hills. To work off those meals in a restrained Sicilian fashion, there's even a bocce court on-site. www.masseriadegliulivi.com
---