City Guide: Chicago
By: Steve Dolinsky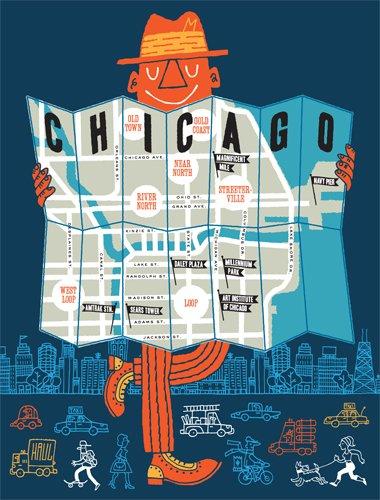 Great place for a business lunch
Blackbird
Paul Kahan is the most recent winner of the James Beard Award for Outstanding Chef (tied with NYC's David Chang), and oversees several of my favourite restaurants in town. Blackbird was his first child, and the cool, minimalist design still looks as current as a modernist Mies van der Rohe. Midwestern flourishes abound, all of which have strong seasonal signposts, like spring onion soup flecked with paddlefish roe or fried suckling pig with wild garbanzos. With a $22 prix fixe lunch menu during the week, you can focus more on your meeting, and less on whether you should be getting the halibut or the sturgeon.
619 W. Randolph St, 312 715 0708 www.blackbirdrestaurant.com
---
Great place for a business dinner
Embeya
This new restaurant is as much about hospitality as it is the upmarket Vietnamese presentations on the plate. That's because you won't leave Embeya without at least having a few words with the peripatetic Attila Gyulai, who bounces from table to table, checking on wine selections, making sure you have everything you need and showing why the time spent at the Elysian Hotel taught him how to work a room.Thai Dang's food is both comforting and seriously delicious – shredded papaya salad embedded with bits of beef jerky; the "must-have" chicken roulade, served boneless, juicy and impossibly crisp. The room is a gorgeous collection of Asian carved wood and comfy banquettes, and best of all: conversation friendly.
564 W. Randolph St, 312 612 5640 www.embeya.com
Great shopping
The Shops at North Bridge
Anchored by a Nordstrom's (which pretty much takes care of anything you're going to need) there are actually 50 shops in this vertical mall, located on North Michigan Avenue, just a block south of the Chicago River. You'll find great boutiques, a massive Lego store and a small food court. Don't let big names like Boss and Louis Vuitton scare you away; there are also some unknowns here like Atelier Azza, a Chicago-based boutique with a designer showroom for couture and ready-to-wear items by designer Azeeza Khan.
520 N. Michigan Ave, 312 327 2300 www.theshopsatnorthbridge.com
Great place to dine alone
Avec
The name means "with" so no one really dines alone here. In fact, as you enter this narrow, wooden room – which looks as much like a Swedish sauna as it does a restaurant – you'll see what appears to be one, long wooden table, broken into sections. This is communal dining taken to the extreme, with everyone sharing, comparing and enjoying mouthfuls of hearty, Mediterranean-influenced large and small plates. Items rotate, but they'll never remove the chorizo-stuffed dates or the taleggio cheese-shmeared focaccia from the wood-burning oven. You can always sit at the bar if you don't feel like sharing. No one would blame you.
615 W. Randolph St, 312 377 2002 www.avecrestaurant.com
Great place to hear live music
Andy's
The intimate setting is exactly what you want when listening to some of the country's best touring jazz musicians. Doors open at 4 p.m. each day, but the club doesn't close until 1:30 a.m. on the weekends. They do offer dining (skip it) and just go for the music. Depending on the day, performer and time of week, admission ranges from $5 to $15, but typically, it's less expensive to enter before 7:30 p.m.
11 E. Hubbard St., 312 642 6805 www.andysjazzclub.com
Great Dry Cleaners
Randolph Cleaners
100 W. Randolph St., 312 357 6433
Great place for drinks after work
Sable
Mike Ryan has spent plenty of time "behind the stick," and he's turned this bar – located on the first floor of the Palomar Hotel in River North – into a cocktail lover's dream. Floor-to-ceiling windows fill the room with light (unless it's winter) and the staff can help steer you in whichever direction you choose. Fancy rum? A smooth Daiquiri is on its way. Feeling a tad Don Draper? A Buffalo Trace-fueled Old Fashioned – among the city's best – will somehow appear within minutes of your query.
505 N. State St.\ 312 755 9704 www.sablechicago.com
Great place to stay
Park Hyatt
It's not quite like Tokyo's iconic Park Hyatt, but had Sophia Coppola spent time at NoMI, perched seven floors above Michigan Avenue with views of Lake Michigan, she might have reconsidered shooting her breakout movie here instead. The rooms are as luxurious as the Peninsula across the street, and slightly more hi-tech than the Four Seasons or Ritz-Carlton. The location – at the intersection of Chicago and Michigan Avenues – is ideal, putting you within minutes of River North, but only a 10 minute cab ride from The Loop. Meeting friends in the Lounge, on the Terrace or at NoMI Kitchen only enhances your street cred as a man of great taste, who knows exactly where to stay when in town.
800 N. Michigan Ave., 312 335 1234 www.parkchicago.hyatt.com
Great Florist
Mudd Fleur
1800 W. Lake St.\ 312 455 0044
Great Downtown Gym
Equinox
900 N. Michigan Ave.\ 312 254 2500
---