City Guide: Calgary
By: John Gilchrist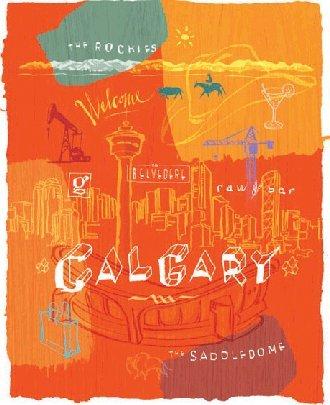 Great restaurant with a new chef to look out for
Foreign Concept
Jinhee Lee exploded onto the Canadian restaurant scene in 2017 by winning both the Canadian Culinary Championships and the prestigious Garland Canada International Chef Challenge within a few months. The young Korean-born chef's spin on contemporary Asian cuisine is bright, fresh and innovative, with dishes like gochujang albacore tuna poke, crispy preserved lemon chicken and Alberta trout Cha Ca La Vong. Working with chef/owner/mentor Duncan Ly, Lee has helped make Foreign Concept one of the hottest restaurants in Calgary.
1011 – 1 Street SW, 403-719-7288, www.foreignconcept.ca
Shokunin
The single chef to represent Canada on Netflix's Final Table, Darren MacLean has one of the hottest restaurants in the city in Shokunin. He's also opening what could well be Calgary's top new restaurant of 2019 in the East Village's Alt Hotel. MacLean is a strong student of Japanese cuisine and many have said that his is the best Japanese food they've had outside Japan. But he incorporates local ingredients and French technique into his binchotan-grilled skewers, his grilled vegetables in a creamy kimizu sauce and scallop isoyaki cooked in butter, soy and sake to place his own signature on it.
Shokunin, 2016 – 4 Street SW, 403-229-3444, www.shokuninyyc.ca
WORK
Great place for a working breakfast
Thomsons
Surrounded by the historic sandstone walls of the Thomson Bros. block in the heart of downtown Calgary, Hyatt hotel guests and local business folk meet and greet over eggs Benedict, waffles or selections from a long breakfast buffet. Tables are discreetly spaced for private meetings and the coffee flows freely from 6:30 a.m. every day. Calgary's an early rising city.
Hyatt Regency hotel, 700 Centre St. S, 403-537-4449, www.calgary.hyatt.com
OEB Breakfast Co.
Egg yolk designs on the carpet, egg-shaped booths and a warm yellow-and-white tone give OEB an undeniable breakfast tone. Add in excellent coffee, a long list of egg-forward dishes and a ground floor location in one of Calgary's major office towers and you have a place that's perfect for a great breakfast with a little work thrown in. Come early; OEB Downtown (there are a few others around the city) buzzes with activity from 6:30 am (8 am weekends) through lunch daily.
Fifth Avenue Place, 222 – 5 Avenue SW, 587-352-3447, www.eatoeb.com
Great place for a business lunch
Yellow Door
The new all-purpose dining room in Hotel Arts provides quiet corners for discreet discussion, comfortable booths for private lunches and large tables in separate areas for all sorts of business functions. Enjoy some fine bistro-inspired cuisine (think orange-cardamom-glazed chicken breast with cauliflower-couscous salad and Dungeness crab salad with charred grapefruit) by chefs Quinn Staples and Katarina Edwards.
519 – 12 Avenue SW (Hotel Arts), 403-206-9585, www.yellowdoorbistro.ca
The Guild
Built into what used to be the downtown Bay's lingerie department, The Guild is perfectly located in the heart of Calgary's business core. Developed by Toronto's Oliver and Bonacini restaurant group, The Guild features local beef, game and fowl prepared over wood and charcoal as various chops, sausages and burgers. Admittedly carnivorous, The Guild is savvy to the needs of the modern diner. The roasted beet salad is a winner as are the squash risotto and the Margherita pizza.
200 Stephen Avenue SW, 403-770-2313, www.theguildrestaurant.com
Great place for a business dinner
Blink
One of the calmest and classiest places on Stephen Avenue, Blink is an excellent spot for a business dinner. The old sandstone building offers private areas and discreet corners for conversation along with fine food and a stellar, globally sourced wine list. Owner Leslie Echino draws on years of wine and restaurant expertise to serve some of the best wine and food pairings in the city. The food is French-influenced regional Canadian seen in Arctic char in maple-brown butter and smoked ham hocks with eggs and walnuts. Put yourself in Echino's hands and focus on the business tasks at hand.
111 Stephen Avenue SW, 403-263-5330, www.blinkcalgary.com
Modern Steak
Those with a hankering for a fine piece of Alberta beef can now dine on ranch-specific, breed-specific, dry- or wet-aged Prime steaks and Prime Rib in the heart of downtown Calgary. Modern Steak has taken over the historic sandstone Imperial bank building that previously housed Catch and have opened Bar Modern on the main floor and the Modern on 8th dining room upstairs. And if beef isn't on your menu, Modern also stocks lamb, pork, seafood and a tempting selection of vegetable-forward dishes.
100 Stephen Avenue SE, 403-265-4873, www.modernsteak.ca
Great place for political networking
Buchanan's
The woody, chophouse tones of Buchanan's draw a suit-and-tie crowd from local law firms, petro industries and from the southern office of the provincial legislature. Tuck into top-grade Alberta beef or great West Coast seafood and catch up on the goings-on. Retire to the outstanding Scotch bar and plan the next campaign over a dram of single malt.
738 – 3 Ave. SW, 403-261-4646, www.buchanans.ca
Rimrock
Calgary's oldest dining room and lounge – there's been some kind of restaurant here since 1913 – has been re-conceived again. The storied Oak Room is gone and the Rimrock dining room is now part-restaurant and part-lounge, all with a contemporary spin on the tooled-leather look and the robust hotel menu. Designed for hotel guests and destination diners alike, the menu includes local and international influences (think big Alberta beef dishes and global spices) as well as traditional (clam chowder) and contemporary dishes. Political? Prime Minister RB Bennett's table still resides by the cozy stone fireplace.
Fairmont Palliser Hotel, 133 – 9 Avenue SW, 403-262-1234, www.fairmont.com/palliser-calgary
DOWNTIME
Great place to dine alone
The Nash
Snuggled into the ground floor of the former National Hotel in Inglewood, The Nash offers a robust, wood-fired menu of rustic-contemporary Canadian cuisine. Sablefish with roasted-onion puree, ahi tuna in a charred pineapple poke and whatever is spinning on the rotisserie fill plates with lively flavours and colours. Dine in the sun-washed dining room overlooking the railroad tracks or lounge in the Off Cut Bar with its own list of cocktails and off-cut dishes.
925 – 11 Street SE, 403-984-3365, www.thenashyyc.com
Ten Foot Henry
Discreetly located on one of Calgary's tastiest streets, Ten Foot Henry serves up a vegetable-anchored menu including chargrilled carrots with salsa verde and hummus, delecata squash with lemon tahini and puffed quinoa and grilled cabbage with a walnut vinaigrette and manchego. Meaty proteins of tuna crudo with chimichurri and adobo chicken with aji verde add texture to the menu and Little Henry – a street-front café – is open early for a quick bite.
www.tenfoothenry.com
Great restaurant when you want to dress up for dinner
Q Haute Cuisine
There's no menu at Q Haute Cuisine – unless you go for lunch. Weekday dinners bring a four-course chef's tasting menu; on Friday and Saturday, it's a seven-course feast that sometimes ramps up to 10 dishes depending on the chef's whims. It might include lamb sirloin with salsa verde, or sunchoke espuma with chestnut panna cotta, or butternut squash done five ways. Set in the gorgeous La Caille overlooking the Peace Bridge, Q is the perfect setting for that special meal.
100 La Caille Place SW, 403 262 5554, www.qhautecuisine.com
Teatro
Teatro, in the century-old Dominion Bank building on Olympic Plaza across from Calgary's Arts Commons, is a stylish location for pre-theatre drinks or all-evening dining. One of the city's most elegant restaurants, Teatro presents contemporary Mediterranean cuisine of wild salmon in a citrus fregola sarda, roasted cauliflower spiked with raj el hanout and pecorino and, since it opened 25 years ago, a luscious seafood lasagna.
200 – 8 Avenue SE, 403-290-1012, www.teatrogroup.ca
Great place for a casual dinner with your significant other
Provision
Set in Central Memorial Park, Provision has a cozy, lodgy tone in the winter and a lovely patio surrounded by greenery in the summer. The latest restaurant from the folks behind the delightful Avec Bistro, Provision provides fine service and a comfortable ambience with 40-or-so seats nestled into the room. The menu features a farm-to-table approach. Standouts include roasted Brussels sprouts with guanciale and pecorino, charred cabbage, and pork shoulder with harissa and crème fraîche. It's simple, fresh and a perfect match for the park setting.
340 – 13 Avenue SW, 403 263 0766, www.provisionyyc.ca
Great place for Canadian cuisine
Deane House
The former home of NWMP Captain Richard Burton Deane, built for his wife in 1906, has been re-born as a destination for Canadian cuisine. Located at the confluence of the Bow and Elbow rivers, Calgary's most historic address, Deane House has been fully restored and gently updated by Sal Howell and her River Café team. The menu, overseen by the talented Mattias Fong, includes pine mushroom and stinging nettle risotto, beef cheek risotto and Red Fife sourdough for a full Canadian experience.
806 – 9 Avenue SE, 403-264-0595, www.deanehouse.com
Model Milk
Chef/owner Justin Leboe presents a globally influenced menu of New Canadian classics at Model Milk. The former dairy, with its open kitchen on a raised dais, is part brick-historic and part sleek hipster in look and taste with Wagyu beef tartare on shrimp toast and Rainbow Trout with salsify puree and farro. The flavours are front and centre, the textures spot on and the overall flavours voluptuously rich. And if you're not quite as hungry, slip next door to Pigeonhole, Model Milk's little sister.
308 – 17 Avenue SW, 403-265-7343, www.modelmilk.ca
COCKTAILS
A great place for drinks after work
Klein / Harris
With Calgary's Cocktail Queen Christina Mah at the helm and a prime location on Stephen Avenue, Klein / Harris is a fine downtown spot for an after-office beverage. Mah rolls out classic martinis and French 75s along with her own inventions, such as The Oatty, featuring locally distilled Eau Claire prickly pear vodka. Or go with Mah's version of the Calgary-born Caesar. Stick around for chef James Waters' True North cuisine, perfect with Mah's drinks.
110 – 8 Ave. SW, 403 262 8100, www.kleinharris.com
Proof
An offspring of Vine Arts, one of Calgary's finest wine and spirit shops, Proof (as in a measure of alcohol in a beverage) morphs both clear and dark liquors into fascinating concoctions. Perhaps Proof's bourbon-heavy Howling Wilderness or its rose-hipped Park Pass or the pear-sage-lemon-gin Artemisia will pass your lips. Or go classic with your favourite hall-of-fame cocktail. Proof is stylish, sultry, a little bit naughty and across the tracks from downtown but close enough to stroll back to your hotel when the evening ends.
1302 – 1 Street SW, 403-246-2414, www.proofyyc.com
The Unicorn
The tri-level Unicorn offers loads of options on Stephen Avenue ranging from a quiet pub and a lively lunch spot to one of the most popular sports bars in the city. Numerous pay-per-view events intersperse with major hockey-football-basketball-baseball games. Cocktails, tequila and a global collection of beer help motivate the crowd and a menu of international pub favourites – pizza, burgers, nachos, Buddha bowls – keeps them happy.
223 Stephen Avenue SW, 403-265-3665, www.superpub.ca
---