City Guide: Edmonton
By: Mary Bailey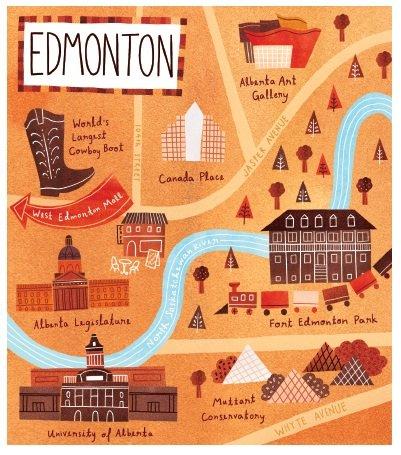 Great restaurant with a new chef to look out for
Bündok
Chef Ryan Hotchkiss has a deft hand in the kitchen. He creates dishes with seemingly effortless simplicity at Bündok, his downtown French bistro-style restaurant. The winter menu features seasonal vegetable dishes (roast beets, kale with cabbage and kohlrabi, toothsome grilled mushrooms) along with stalwart grilled meats; don't miss the elegant and flavourful sea bream crudo. The well-written wine list focuses on French and Okanagan selections. Bündok was the sole Alberta restaurant on the 2018 EnRoute's Top10 New Restaurants List. Expect great flavours, attractively presented.
10228 104 Street (Fox Tower), 780 420 0192, www.bundokyeg.com
Corso 32
Corso 32 continues to offer an outstanding dining experience based on the flavours of Italy. The culinary bench strength has deepened even further with chefs Matt Guerin and Mathew Lazarevich in the kitchen, led by exec chef and owner Daniel Costa. Don't miss the pasta tasting menu and the house-made ricotta. The Italian wine list is full of unexpected regional treasures along with big gun Barolos, Barbarescos and Brunellos. Welcoming and skillful service is knowledgeable and the recent freshening up (new lighting, art by Vanguard Works, a more functional layout) is a delight.
10345 Jasper Avenue, 780 421 4622, www.corso32.com
WORK
Great place for a working breakfast
OEB
The Calgary breakfast phenom' OEB opened in the redeveloped Kelley Ramsay building in late 2018. Now we know what the Calgarians were going on about. Think potatoes in duck fat, blue plate specials, breakfast poutines, every sort of Benny, omelettes, crepes, waffles, pancakes. You could order a single egg with fresh fruit and toast or you could have scrambled eggs with lox, bourbon sour cream and Sevruga caviar on pumpernickel. It's big, busy and bright. Chef Mauro Martina has created a breakfast empire – it really is phenomenal.
10174 100A Street, 587-520-0936, www.eatoeb.com
Great place for a business lunch
The Marc
Diners flock to the Marc at lunch and dinner for the steady hand in the kitchen and for the exceptionally warm-hearted hospitality. Owners Patrick and Doris Saurette understand how that can turn a workaday business lunch into something that feeds the soul. The look? Polished, with marble-clad bar, comfortable banquettes and a generous tree-shaded terrace, made jaunty with ropes of hanging lights. French fries with truffle-scented mayo and a glass of Champagne? That, my friend, is one of life's affordable luxuries.
9940 106 Street, 780-429 2828, www.themarc.ca
Great place for a business dinner
The Butternut Tree
Chef owner Scott Downey's cooking is precise yet approachable. The vision for his menu is pan-Canadian, from sea to sea. You are as likely to find East Coast oysters and Haida Gwaii sable fish as you are Alberta beef (from a small ranch in the south of the province). The room is elegant and spare. The view may distract from the conversation, at first, but the acoustics are excellent, the tables well-spaced and the service unobtrusive – everything you need for a successful dinner meeting.
9707 110 Street (Ledgeview Building), 780 760 2271, www.thebutternuttree.ca
Great place for political networking
The Confederation Lounge
This welcoming library-style bar right off the lobby at the venerable Fairmont Hotel Macdonald has been the spot to enjoy a drink and the sport of people-watching for decades. Who imbibes there? Politicians of every stripe, business people and visiting celebrities, all watched over by the Fathers of Confederation (a copy of the Robert Harris original portrait). The pols will probably not be ordering a wee dram of the Quintessence Dalmore, available in a handmade crystal glass at $200, in these times of economic constraint.
10065 100 Street, 780 424 5181, www.fairmont.com
DOWNTIME
Great place to dine alone
Bar Bricco
The extensive selection of Italian aperitivi, a top-notch wine list and lavish plates of salumi (exceptional culatello) and formaggi create heaven on earth for the Italophile. The must-have dish is the uova da raviolo (egg yolk ravioli) with its lavish dusting of Parmigiano Reggiano. Chef Micah Joffe also delivers toothsome crostini, such as nduja with white anchovy – so incredibly savoury. The long bar is ideal for the solo diner, where warm and competent staff take great care.
10347 Jasper Avenue, 780-424-5588, www.barbricco.com
Great place for a casual dinner with your significant other
Uccellino
Uccellino, the newest member of the Daniel Costa family, is next door to sister restaurants Corso 32 and Bar Bricco. The spare, two-level design is generations removed from the red-checked tablecloth, yet the gastronomic inspiration is pure and timeless Roman trattoria. The kitchen, headed by Christopher Hyde, continues to excel at delicious, homey Italian food. Uccellino rewards spontaneity by keeping half the seats open for walk-ins. If you have to wait, fill the time with a Negroni at the stand-up bar. Exceptional wine list, exceptionally well-priced.
10349 Jasper Avenue, 780 426 0346, uccellino.ca
Prairie Noodle
The little noodle shop that could began life as a ramen project by two lovers of the hearty soup. Now, it's a warm and steamy spot with a seasonal menu, ideal for a casual night out. The Prairie Pork Shio, roasted pork belly, smoked shoulder, umeboshi egg, sesame, corn and black garlic sesame oil is a perennial favourite. Don't miss Mai Nguyen's flavourful dumplings or the selection of bao (steamed bun) sandwiches. There is a sweet little craft beer and sake list.
10350 124 Street, 780 705 1777, prairienoodleshop.ca
Great place for Canadian cuisine
RGE RD
No one has stayed the course of farm-to-table dining more coherently or deliciously than RGE RD's chef and co-owner Blair Lebsack. The kitchen team creates gastronomic gold from whole animal cooking, spinning liver into silky mousse or a sublime blood sausage and chicken hearts into something, well, surprisingly edible. The look is rock-star farmhouse – barn wood, skins and furs, rustic iron. Of special note is Big Bottle Night on the last Tuesday of every month, when magnums (and larger) are poured with a selection of small plates to suit.
10643 123 Street, 780 447-4577, rgerd.ca
PLACES TO STAY
Fairmont Hotel Macdonald
10065 100 Street, 780 424 5181, www.fairmont.com
Union Bank Inn
10053 Jasper Ave, 780-423-3600, www.unionbankinn.com
Matrix Hotel
10349 Jasper Avenue, 780 426 0346, www.matrixedmonton.com
Mettera Hotel on Whyte
10454 82 Avenue, 780 465 8150, www.metterra.com
Crash Hotel
10266 103 Street, 780 719 3807, www.crashhotel.com
COCKTAILS
A great place for drinks after work
Biera
Chef Christine Sandford turns the idea of pub food on its head at Biera, inside the Blind Enthusiasm Brewing Company. The flavours from the kitchen complement the house-brewed beers in delightful ways. Don't miss the sourdough bread and butters or the beef tartare – several cuts of beef combined in a deeply flavoured mince spiked with smoky, mustard-scented fat. There are several vegetarian dishes too. Enjoy the snack menu until 6 p.m., followed by larger, sharable dishes later, when after-work drinks turn into dinner.
9570 76 Avenue (Ritchie Market), 587 525 8589, www.biera.ca
Bar Bricco
Bar Bricco takes relaxing with friends after work or before an event seriously. Suberb cocktails, particularly of the Italian persuasion such as an Aperol spritz or a (best in town) Negroni. The wine list highlights small production finds with several Barolo, Brunello, Lambrusco and orange wines available by the glass. Of special note is the selection of Franciacorta, Italy's answer to Champagne. Or look to the (almost) endless selection of amari and grappa. And the menu of spuntini, salumi and formaggi is infinitely shareable.
10347 Jasper Avenue, 780-424-5588, www.barbricco.com
Bar Clementine
Cocktail impressarios The Volstead Act (Andrew Borley, Jordan Clemens and Evan Watson) opened Bar Clementine in 2017, featuring chef Roger Létourneau's Belgian-inspired cooking, a well-curated wine list and, of course, impeccable cocktails. Take the No. 5 for example – a sprightly rose, lychee and sparkling jasmine tea concoction served in a large antique china teapot – charming. The intimate room, with curvy bronze metal accents inspired by early 20th-century French Art Nouveau, encourages dallying over Letourneau's deliciously sophisticated small plates.
11957 Jasper Avenue, 780 756 4570, www.barclementine.ca
Great place to relax, eat and watch the game
Craft Beer Market
Craft is fun. The atmosphere is casual and sporty when there's a game on. Yet they take their beer seriously with over 100 brews on tap, mostly local, along with a smattering of worthy international beers. Several menu items involve beer in the cooking, such as their toothsome beer-braised brisket, and there is a kid's menu for small sports fans. Their monthly Brewmaster's Dinners and other tasting events are of special interest if you are more about the beer and less about the game.
10013 101A Avenue (off Rice Howard Way), 780 424 2337, www.craftbeermarket.ca/toronto
---