City Guide: Ottawa
By: Anne DesBrisay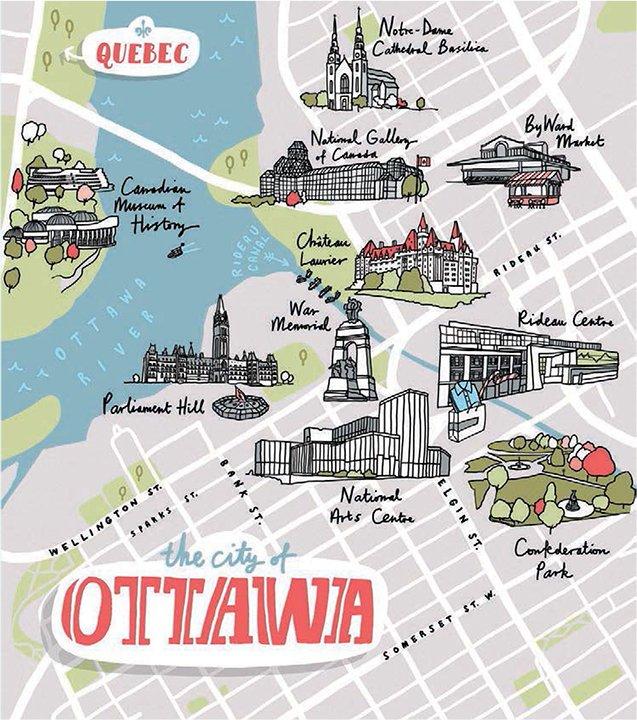 Great restaurant with a new chef to look out for
Les Fougeres
One of the country's gastronomic jewels, now in its third decade, Les Fougeres chef-owners Charles Part and Jennifer Warren Part have passed the pots to their protégé, chef Yannick LaSalle. It's not easy for a young chef to take over a prestigious house, but LaSalle is one to watch and, this year, one to root for: he won gold at Ottawa's Great Kitchen Party and is headed to the Canadian Culinary Championships in 2019.
783 Quebec Route 105, Chelsea, QC 819-827-8942, www.fougeres.com
WORK
Great place for a working breakfast
Benny's Bistro
For sure, there are hotel breakfast buffets, but then there's Benny's, a little nook tucked behind one of the city's finest bakeries. Superior coffee and freshly squeezed juice go without saying, but good wafts from the attached bakery sometimes require the immediate ordering of a pain au chocolat. Otherwise, there's bacon and eggs with a fingerling potato hash, a well-made mushroom omelette or a racier goat cheese frittata with chipotle crème fraîche. Pick up a box of macarons for later.
119 Murray St., 613-789-7941, www.bennysbistro.ca
Great place for a business lunch
Fauna
A stylish remodel of a former shoe shop, chef Jon Svazas' Fauna raised the Bank Street bar for fine-casual dining when it opened in 2014. Expect a strong drinks program and ambitious menu. Lunch options are limited but include precisely what you want to eat: dry-aged beef burgers, steak-frites, curried mussels, and ample salads with big textures and punchy flavours.
425 Bank St., 613-563-2862, www.faunaottawa.ca
Great place for a business dinner
Stofa
When two-time Canadian Culinary Champion Marc Lepine, chef-owner of Atelier, announces on Twitter that a former chef de cuisine had been his restaurant's "secret weapon for seven years," you pay big-mind when that weapon opens his own place. Stofa (Old English word for stove) is the name of Jason Sawision's snug and elegant new west-end restaurant. His short menu is modern, ambitious, and impeccably executed. Front of house team is strong.
1356 Wellington St. W., 613 722 6555, www.stofarestaurant.com
Great place for political networking
Beckta Wine Bar
For pol-watching with a well-made drink in hand, you don't do much better than the handsome bar tucked behind Steve Beckta's eponymous restaurant relocated to a heritage mansion. Steps from The Hill, lobbyists, staffers, senior public servants, tend to hang out in the orange leather chairs discussing the nation's business over tuna crudo, beef tartare or hard-roasted Brussels sprouts dunked in a blue cheese fondue. Count on a solid wine and cocktail program and the usual Beckta warm-hearted hospitality.
150 Elgin St., 613-238-7063, www.beckta.com/
DOWNTIME
Great place to dine alone
Riviera
If you're looking for a quiet corner table where you can disappear with a beer and a bowl of mac-n-cheese, read no further. For real self-love, head to the elegant Riviera on Sparks Street and take a seat at the long bar. The open kitchen, helmed by chef Jordan Holley, will provide a bit of a show, as will the team of mixologists, led by Ottawa's cocktail king, the ever-charming Stephen Flood. There are many treats on the menu – the raw section is worth mining, but excellent too are the pasta plates. You could be daring, and order the seafood tower. You won't likely be solo for long.
62 Sparks St., 613-233-6262, www.dineriviera.com
Great restaurant when you want to dress up for dinner
Atelier
Given the food's about as stylish as food gets, you'll want to shine your shoes for Atelier – though the tie is entirely optional. Two-time Canadian Culinary Champion, chef Marc Lepine offers a 'blind' tasting menu (no menu) of twelve small plates, each executed with meticulous attention to detail, to pleasure, to whimsy. This is a kitchen that earns most of its accolades by ducking tradition and embracing innovation. It plates dishes designed to puzzle and delight, with superb results.
540 Rochester St., 613-321-3537, www.atelierrestaurant.ca/
Great place for a casual dinner with your significant other
North and Navy
With a love of Venetian bar snacks and a respect for Eastern Ontario ingredients, North & Navy chef Adam Vettorel has created a short menu of tasty treats. Order a glass of Prosecco and then graze through the cicheti menu, or make your mama proud with a plate of Venetian liver & onions. They will change your life. So will the Barolo-braised short rib with the creamiest, richest polenta in the city. If it's Sundays with your s.o, go for an early dinner of nona-inspired food and save room for the torta di nocciole with Nutella icing.
226 Nepean St., 613-232-6289, www.northandnavy.com
Great place for Canadian cuisine
The Wellington Gastropub
For coming on fifteen years, chef Chris Deraiche has been serving a daily menu of market cuisine in this cosy second-floor restaurant in West Wellington. The mood is merry and the feel casual, but the food and drinks (managed by genial sommelier Shane Waldron) are given serious attention. The menu may be in constant motion, but thankfully the sea scallops, in some seasonal form or other, don't go anywhere and neither do pastry chef Adriana's ice creams.
1325 Wellington St. W., 613-729-1315, www.thewellingtongastropub.com
COCKTAILS
A great place for drinks after work
Bar Laurel
Housed in the Hintonburg neighbourhood, seven minutes by cab from downtown, Bar Laurel is a sister restaurant for the excellent Fauna on Bank Street, and leans in delicious Spanish directions. Grab a stool at the bar and let the affable Matt Millard craft you a cocktail or pair Spanish roses, cavas, and sherries with a table-full of big-flavoured pintxos – Bellota di Iberico, Spanish cheeses, fire-roasted olives, patatas bravas.
1087 Wellington St. W., 613-695-5559, www.barlaurel.ca
A great place for after-business drinks
Copper Spirits & Sights
The view from the rooftop bar of the Andaz Hotel looks west across the city, from the ByWard Market to the lovely Connaught Building, the spires of Parliament, the bridges over the Ottawa River and the Gatineau Hills beyond. A deck with firepits extends the season for al fresco drinking and gawping. Particularly lovely at sunset, or to watch the fireworks over Lac Leamy.
325 Dalhousie St., 613 321 1234, www.ottawa.andaz.hyatt.com
Great place to relax, eat and watch the game
MacLaren's on Elgin
A big, busy pub on 'Sens Mile' with 21 billiard tables and about as many TVs tuned to whatever game matters most. It boasts a good selection of beer on tap, and better-than-average pub grub — fried curds and fish tacos, pork dumplings and pulled pork, stuffed wings and fish and chips. Nothing as thrilling as the game, but that's hardly the point.
301 Elgin St., 613-236-2766, www.maclarens.com
PLACES TO STAY
Le Germain Hotel Ottawa
The capital's latest luxury hotel features rotating art from the new Ottawa Art Gallery across the street, while guest rooms are graced with the black and white photos of Quebec artist Julie Couture. Stylish rooms are light-filled, with pale wood warming the black-white-grey palette. Equipped with all the mod-cons, but also with eco-conscious lighting, recycling, heating, and cooling. Norca restaurant has an uber-Canadian theme. Continental breakfast is on the house.
30 Daly Ave., 613-691-3230/1-833-503-0030
Fairmont Château Laurier
Now into its second century, and fresh from a big-bucks renovation, the French Renaissance-style Château's location – between the Parliament Buildings and the Byward Market, where the Ottawa River meets the Rideau Canal – really can't be topped. Ask for an upper room overlooking The Hill or one facing west to capture the sunsets over the river. Wilfrid's dining room is a solid choice, and the Château's hidden patio, La Terrasse, might be the best kept summer secret in Ottawa.
1 Rideau St., 613-241-1414 / 866-540-4410, www.fairmont.com/laurier-ottawa
Andaz Ottawa Byward Market
Ottawa's heritage hotels – notably the Fairmont Château Laurier and the Lord Elgin – have their own elegant charms and site cachet, but for modern luxury and stylish comfort in the middle of the hustle and bustle of the ByWard Market, not many can beat the new Andaz by Hyatt. Top floors offer "city view" rooms and deliver just that. Strong local and Canadian content in amenities, artwork and furniture is commendable. Rooftop lounge.
325 Dalhousie St., 613 321 1234, www.ottawa.andaz.hyatt.com
---