City Guide: Toronto
By: James Chatto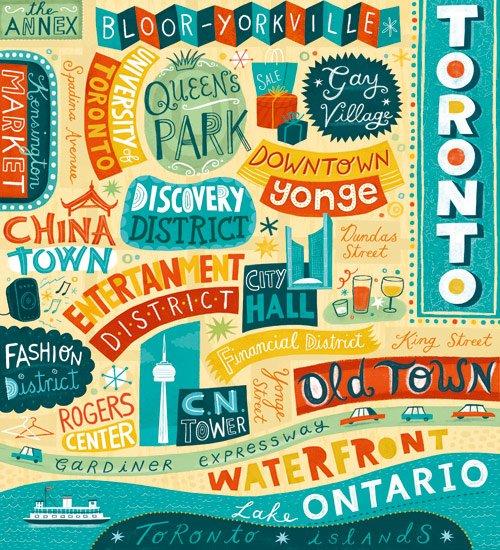 Great restaurant with a new chef to look out for
La Banane
Chef Brandon Olsen has an impressive CV that includes The French Laundry and Bar Isabel; this is the first place of his own. Most unusual for Ossington's trendy restaurants, the food is strongly based on classical French techniques, though many treats get an oblique twist at the end – eurobass baked en croûte, then dressed with a yuzu beurre blanc, for example. Olsen is also a chocolatier (CXBO Chocolates in Kensington Market), and his Ziggy Stardust Disco Egg, stuffed with salted caramels, is a show-stopping dessert.
227 Ossington Ave., 416 551 6263, www.labanane.ca
WORK
Great place for a working breakfast
Café Boulud at the Four Seasons Yorkville
Toronto's grand hotels remain the likeliest venue for the modern power breakfast. The trick is finding one with first-class food. Café Boulud ticks that box with everything from the healthiest, lightest options to such treats as eggs poached in red wine with braised short rib or duck confit hash. Columns divide the airy, light-filled space into areas of discretion or the private dining room is available for confidential business discussions. Complimentary wifi.
60 Yorkville Avenue, 416 963 6000, www.cafeboulud.com
Great place for a business lunch
Bosk
The cool, modern restaurant in the Shangri-La hotel is busy for breakfast and weekend brunch, an ideal spot for a suits' rendezvous after work and one of the city's best-kept-secret dinner destinations. The outdoor patio is protected from the University and Adelaide sidewalk by high glass walls – it's a fashionable place for cocktails and features an eclectic, well-executed bar menu. Inside, the tan marble, pale wood and white metal décor is a tad cold but still elegant. The varied menu includes a fine burger or deliciously tender flank steak. Asian notes are deftly achieved if someone prefers sashimi or Thai coconut soup.
Shangri-La hotel, 188 University Ave, 647 788 8294, www.shangri-la.com/toronto
Another great place for a business lunch
The Chase Fish & Oyster
Go to The Chase on the fifth floor for utter opulence; the street-level fish and oyster restaurant is where suits drop by for a more easy-going but equally delicious lunch amid hip, high-ceilinged, open-brick decor. The raw bar raids the whole continent; a sly richness adds yummy heft to yellowtail cured in soy sauce and Meyer lemon. Ticking all the boxes (service, wine list, dazzling desserts, digestivi), this is suddenly one of the city's top two or three fish restaurants.
10 Temperance St., 647 348 7000, www.thechasetoronto.com
Great place for a business dinner
George
The mauve-furnished room is delightfully calm and civilized with well-spaced tables for discreet conversation and a courtyard for outdoor lunching in the summer. Deft servers can be relied upon for great wine recommendations, and Chef Lorenzo Loseto's food is the real deal – suave, detailed, not too heavy but packed with flavour and righteous local ingredients. A short tasting menu may be the best way to go.
111C Queen St. E., 416 863 6006, www.georgeonqueen.com
Great place for political networking
Gallery Grill
Three storeys up in the portrait-hung neo-Gothic clerestory above Hart House's Great Hall, Gallery Grill offers one of Toronto's most delectable lunches of clever local-seasonal dishes. Civil servants and MPPs are frequently lured there from nearby Queen's Park (Tories and NDPs outnumbering Liberals, for some reason) to hobnob with academics by the fire in the bar. Open September through June.
Hart House, 7 Hart House Circle, 416-978-2445
DOWNTIME
Great place to dine alone
Buca Yorkville
Chef Rob Gentile's Buca has long been a delicious haven for meat-lovers; his Yorkville location specializes in seafood with a thoroughly contemporary Italian flavour. It's fascinating to watch the brigade at work in the open kitchen, plating octopus salami with preserved lemon, grilled black sturgeon or the magnificent crudo misto of raw seafood, designed to serve four. A cleverly collated wine list is full of obscure treasures from Italy. High noise levels are the only negative.
53 Scollard Street, 416 962 2822, www.buca.ca
Great place to relax, eat and watch the game
Real Sports Bar & Grill
Why did ESPN vote it the #1 sports bar in North America? Size helps. That's 25,000 square feet of fun, including the 39-foot HD big screen and 199 HD TVs, 126 draft taps, and the chance of glimpsing real Raptors in the VIP area. The dinner menu is similarly over the top – 14 kinds of wings, a dozen burgers, pages of more sophisticated bar food – as is the claim that every sport played on a pitch, court or ice is broadcast here.
15 York St., 416 815 7325, www.realsports.ca
Great restaurant when you want to dress up for dinner
Scaramouche
It has offered one of the city's most elegant and beloved dining experiences since it opened in 1980. A long while, but somehow Scaramouche remains timeless, above fashion, with service that is simultaneously flawless and unfussy. As are chef-owner Keith Froggett's dishes – simple but sophisticated expressions of classic French cooking with a most contemporary Canadian style. The kitchen is particularly brilliant with fish, and you must save room for the famous coconut cream pie.
1 Benvenuto Place, 416 961 8011, www.scaramoucherestaurant.com
Another great place for a casual dinner with your significant other
Pukka
Uptown, casual and hugely popular, Pukka presents a sophisticated, modern Indian menu full of light textures and subtle spicing. Spiced duck breast with tamarind, lime and grapes is sweet-sour heaven; gunpowder prawns on tempered moong bean salad is as irresistible as a side dish of fiddleheads tossed in a wok with paneer and garam masala. Contemporary cocktails and a clever wine list work well with the food; room must be left for dessert.
778 St. Clair Ave. W., 416 342 1906, www.pukka.ca
Great place for Canadian cuisine
Canoe
It's rare that the top restaurant for a business rendezvous is also one of a city's gastronomic superstars – thank Canoe's suave, edgy Canadian cuisine. A recent reno has polished the look of the place to a luxe, modern sheen. The view from the 54th floor encompasses Niagara at lunchtime, equally stunning with a lobster sandwich in the long bar or from the room's power table (number six, in the corner). By night the mood is more mellow. Closed weekends.
Toronto Dominion Tower, 66 Wellington St. W., 416-364-0054, www.canoerestaurant.com
PLACES TO STAY
Great place to stay
Hôtel Le Germain Maple Leaf Square
In the vibrant new neighbourhood beside the Air Canada Centre, Le Germain's latest boutique hotel is the model of modern elegance and discreet luxury. Rooms have extensive work areas (rooms 732 and 832 also each have a circular bed with a ninefoot diameter), iPod docking and many environmentally conscious details. Staying here is also a way to get tickets for the Leafs or Raptors games next door, and a guaranteed post-game reservation at Real Sports Bar.
75 Bremner Blvd., 416 649 7575, www.legermainhotels.com
Another great place to stay
Thompson Toronto
This downtown boutique hotel is a five-minute cab ride from the island airport. Modern and luxurious, it has many amenities including a skating rink (in season), a great gym and a 16th-floor rooftop lounge with outdoor infinity pool. A 24-hour diner offers food in a casual idiom.
550 Wellington St. W., 416 640 7778, www.thompsonhotels.com
A cool place to stay
The Anndore House
The retro touches of the Anndore's hip, unfussy reno allude to the hotel's 1950s roots (a barber's shop on the ground floor, a record player and vintage vinyl in your room), but the property has a thoroughly modern soul. Check in and out, find out what's going on in the Yonge and Bloor neighbourhood and control your room's environment, all using the hotel's own app. The Anndore's restaurant, Constantine, is already a hot spot for dinner.
15 Charles St. E., 1 833 745 8370, www.theanndorehouse.com
The Hazelton Hotel
118 Yorkville Avenue\ (416) 963-6300\ www.thehazeltonhotel.com
Four Seasons Toronto
60 Yorkville Ave.
(416) 964-0411 or (800) 268-6282
COCKTAILS
A great place for drinks after work
Drake Mini Bar
In the heart of the financial district, the latest venue in the Drake portfolio is also the smallest, though the square footage is more than doubled by an 80-seat outdoor patio at the corner of York and Adelaide. Complete with waterfall, it has been a hot destination since the Mini Bar opened in May. Cocktails take a modernist, inventive approach while the wine list includes rare treats from Italy as well as natural and sustainably produced gems. Eating is structured around small plates with a consciously cosmopolitan flare – excellent ocean trout sashimi, roasted octopus, house charcuterie and ferments.
150 York St., 416 900 0992, www.thedrake.ca/drakeminibar
Another great place for drinks after work
One
Chef Mark McEwan's glamorous restaurant and bar, tucked under The Hazelton Hotel, spills out onto a sidewalk patio in the summer months, building social momentum to a September climax during the Toronto International Film Festival. Indoors, the bar has its own Manhattan-style intensity, but there are quiet corners for conversation, cocktails for connoisseurs (a fine lime-muddled gin and tonic) and a wine list full of rare temptations.
116 Yorkville Ave., 416 961 9600, www.onehazelton.com
Another great place for drinks after work
Bymark
It looks like a glass box left on the lawn of Ludwig Mies van der Rohe's TD Centre, containing plush leather sofas and a decor of dramatic woods. The blackBerry brigade crowd in after work, then spill out onto the courtyard during the summer. Classic cocktails and a bar menu from the restaurant beneath til 2:00a.m.
66 Wellington St. W., 416-777-1144, www.bymark.ca
Great hotel bar for food and drink
d | bar
On the ground floor of the new Four Seasons Hotel, this elegant, spacious bar is calm at lunchtime, busy after work. The upstairs restaurant, Café Boulud, oversees a cosmopolitan menu of charcuterie, cheeses, excellent house-made sausages, salads and small plates, offered til midnight. Unique cocktails are almost as imaginative as the hotel's breathtaking floral arrangements.
60 Yorkville Ave., 416-963-6010, www.dbartoronto.com
---