City Guide: Restaurants in the Sun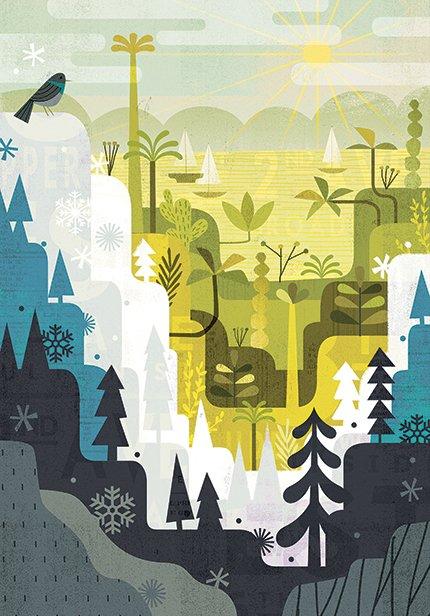 Providenciales, Turks and Caicos:
Coco Bistro
Chef Stuart Gray coaches little league hockey and plays every Monday night with a bunch of Canadian expats, on rollerblades. Growing up on skates in Ontario, Gray began his culinary apprenticeship at the Windsor Arms Hotel in Toronto. Coco Bistro is a stunningly beautiful restaurant, the tables wrapped around a tamarind-coloured building beneath a canopy of lanky coconut palms that shimmer with fairy lights. The herbed ravioli of conch and roasted peppers is a lovely dish. Superior too is the Thai curry of blackened mahi or the local lobster, simply grilled. Save room for coconut cream pie: it's alarmingly good.
Grace Bay Rd., Providenciales, 649-946-5369, www.cocobistro.tc
---
Grand Cayman:
Osetra Bay
Draped in white and perched on the edge of the Caribbean, Osetra Bay feels like a yacht at anchor. The sound of the surf outside provides the perfect soundscape for a contemporary Cayman menu that includes local delights such as conch, mahi and callaloo. Located a short (left side) drive from Georgetown – make sure you have good directions and a GPS – the place also feels like a secret pirate hideaway. But Osetra Bay is relentlessly democratic, providing weekend family brunches, elegant dinners and late-night cocktails. It's comfortable, classy and casual, and it's a place where white never goes out of season.
Morgan's Harbour, West Bay\ 345-623-5100\ www.osetrabay.com by John Gilchrist
Sarasota:
Shore Diner
Located near St. Armands Circle, Sarasota's answer to Rodeo Drive, Shore Diner is not your average greasy spoon – nor is it on the water. The inviting interior gives a nod to 1950s-style architecture while the patio overlooks Sarasota's touristic hot spot. Chef Casey Lund puts a sophisticated spin on such diner standards as meatloaf, ribs and fried chicken. His vegan kale Caesar is crunchy perfection. Piscean platters of Thai curry mussels, crusted tuna and kung pao calamari flaunt a distinct Asian kick. Mixologist Mike Yoder infuses vodkas with berries, ghost peppers and bacon. His barrel-aged cocktail pairs Jura single malt with a nip of apple, pear and cherry nectars and a dash of bitters.
465 John Ringling Blvd.\ 941-296-0301\ www.dineshore.com by Anita Draycott
Scottsdale, Arizona:
Talavera
The view through the saguaro cacti across the desert valley is reason enough to visit Talavera, but the contemporary steakhouse menu (Wagyu short rib ravioli, venison loin with foie gras and mole, ahi tuna tartare) can almost take your mind off the beautiful scenery. Add meticulous Four Seasons service, a "resort casual" attitude and an outstanding wine list and you have one of Scottsdale's finest restaurants. Executive chef Mel Mecinas sources locally and brings a southwestern sensibility to the table. And how can you resist the best Margarita we've had in a land renowned for Margaritas.
10600 E. Crescent Moon Dr.,\ Scottsdale at Troon North\ 480-513-5085\ www.talaverarestaurant.com by John Gilchrist
Maui:
Ko
Sunset on Maui. The sky is tinged with tangerine and magenta, flowers perfume the air and the traditional torch lighting ceremony ushers in an enchanted evening at the Fairmont Kea Lani's poolside Ko restaurant. Chef Tylun Pang's menu was inspired by Hawaii's sugarcane era, when the cuisines of plantation workers of many nationalities became a sort of Hawaiian melting pot. Ahi On the Rock comes to the table with a hot stone so you can sear sashimi-grade tuna to your liking and then dip it in orange-miso sauce. Catch of the day is more like catch of the hour. If you haven't tried monchong, butterfish or opah, this is the place. Aloha.
4100 Wailea Alanui Dr.\ 808-875-2210\ www.korestaurant.com by Anita Draycott
Phoenix, Arizona:
Gallo Blanco Café
Pre-golf breakfasts are big in Phoenix and no one does it better than Gallo Blanco in the funky Clarendon Hotel. Chef-owner Doug Robson infuses modern Mexican flavours into his breakfast burrito of chorizo, refried beans, eggs and fire-roasted salsa and his chilaquiles verdes, topped with queso Oaxaca and green chili sauce. He even perks up his steak-and-egg combo with ranchero sauce and guacamole. Gallo Blanco is a bright, casual room where the coffee flows and fine orange juice is pressed. And to set you up for your round, Arnold Palmers (fresh-squeezed lemonade and brewed ice tea) are always at the ready.
401 W. Clarendon Ave.\ 602-327-0880\ www.galloblancocafe.com by John Gilchrist
Miami South Beach:
OLA
Argentinean chef Horacio Rivadero describes his cuisine as "Nuevo Latino" though foie gras makes several appearances – in a sublime sherry sauce over Kobe meatballs, with a kumquat-yuzu-laced tuna ceviche, or slipped into dry-cured duck empanadas with anise-spiked pastry. From the extensive ceviche menu, Fire & Ice, a pairing of cobia marinated in sour orange, onion, cilantro and jalapeño with a pear granita, garners rave reviews. Finish your OLA odyssey with a fine cigar: it's actually Rivadero's signature chocolate presentation, complete with edible matches. Open for dinner only, either indoors or on the patio. OLA is part of the boutique Sanctuary Hotel.
1745 James Ave.\ 305-695-9125\ www.olamiami.com by Anita Draycott
---