City Guide: Montreal
By: Lesley Chesterman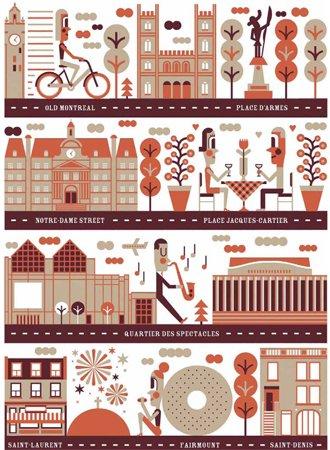 Pastel
A fresh face on the Montreal scene, this Old Montreal restaurant offers some of the most cutting edge, nouvelle cuisine in the city thanks to chef Jason Morris, a true master of plate presentations and flavour combinations. Go for the tasting menu if you want to make a night of it, but otherwise order à la carte if you're pressed for time or on a budget. Excellent service. Primarily natural wines on offer.
124 McGill St., 514-395-9015, www.restopastel.com
Le Petit Mousso
Chef Antonin Mousseau-Rivard is producing some of the most artistic plates in Montreal at his restaurant Le Mousso, and now at this new restaurant next door where diners can order à la carte. Ingredient choices are fascinating, plate presentations are exquisite and the wines are either organic or natural. Relaxed setting. Superb cocktails as well.
1023 Ontario St. E., 438-384-7410, www.lemousso.com
WORK
Great place for a working breakfast
L'Express
Located in the heart of the Plateau, the iconic bistro is famous for its incomparable wine list and straight-out-of-Paris decor. Yet Montreal's business elite also know that L'Express is also a great spot for a working breakfast. As for food, think coffee and croissants, as well as omelettes and daily specials. Though the restaurant is packed at lunch and dinner, breakfast is surprisingly quiet.
3927 St-Denis St., 514-845-5333, www.restaurantlexpress.com
Café Bazin
This 25-seat café is a favourite of the Westmount crowd, who flock here from 8 a.m. to 6 p.m. for breakfast, lunch and nibbles in between. The coffee and croissants are superb and the French bistro menu is sharp, but it's the pastries and viennoiserie here that really wow. Take-out as well. Quiet early, but fills up fast.
380 Victoria Ave., 438-387-3070
Great place for a business lunch
Park
Chef Antonio Park makes some of the best sushi in the city and his restaurant is always packed with Montreal's movers, shakers and famous hockey players. Sushi purists should sit at the sushi bar where you can admire Park's magical hands at work (when he's in town). The menu is diverse, alongside sushi, sashimi and brilliant omakase menus. The wine list is another draw and in summer there's a fabulous terrasse.
378 Victoria Ave., 514-750-7534, www.parkresto.com
Le Serpent
A swish new restaurant where the most chic Montrealers feast on lusty pastas and natural wines, Le Serpent also serves an affordable lunch crowded with biz types from the surrounding multimedia studios. The menu also features salads, rotisserie meats and simple sweets. Even when the room is packed, noise levels are manageable. Superb, well-priced wine list too.
257 Prince St., 514-316-4666, www.leserpent.ca
Great place for a business dinner
Il Pagliaccio
One of the city's best kept secrets, this Outremont restaurant is the ideal spot for a sophisticated Italian meal. The menu consists of a handful of starters, a half dozen pastas, a fish dish or two, some meats. There's no wine list. When you order, the owner arrives with a few bottles he suggests. Expect pillowy gnocchi, silky pastas, tender calve's liver and Milanese-style pork cutlets, and don't pass up the pistachio gelato.
365 Laurier Ave. W., 514-276-6999, www.restaurantilpagliaccio.com
Lemeac
This "sympa" bistro is part of the chic Outremont scene and serves updated French classics from goat's cheese salads to tartares with crisp frites to delicious desserts. The wine list is interesting and well-priced. There's also a lovely terrasse and diners arriving after 10 p.m. can opt for the $20 late-night special, served until midnight.
1045 Laurier Ave. W. 514-270-0999, www.restaurantlemeac.com
Great place for political networking
Monarque
This magnificent new restaurant is run by renowned Montreal chef Richard Bastien and his talented son Jeremie . The location is key as it's a stone's throw from the city's business centre in Old Montreal. The cuisine is French, more casual brasserie-style in the front and more formal french Nouvelle Cuisine in the back. The room is spectacular but the food is equally impressive and the wine list is strong and well-priced. Solicitous service.
406 St Jacques St., 514-875-3896, www.restaurantmonarque.ca
Graziella
Accolades have been unanimous for this elegant Italian restaurant tucked away on its quiet stretch of McGill St. in Old Montreal. Chef Graziella Battista's menu is short, but long on flavour and chock full of fine ingredients. Prices, though high, are merited. It's a place that deserves that snazzy outfit, your best table manners and an extra splurge on a fine bottle of wine. Lunch and dinner.
116 McGill St., 514-876-0116, www.restaurantgraziella.ca
DOWNTIME
Great place to dine alone
Dominion Square Tavern
A wildly popular downtown bar/bistro where the menu ranges from British to French fare, all excellent and all served in generous portions. The bar here not only mixes up some of the best cocktails in the city, but is the best spot for singletons to enjoy dinner while soaking up the meticulously restored old tavern decor. For a bit of fun, be sure to visit the retro bathrooms.
1243 Metcalfe St., 514-564-5056, www.tavernedominion.com
Impasto
Located in the heart of Little Italy, this hugely popular restaurant is run by two Montreal Italians, Michele Forgione and Stefano Faita. These boys are sticklers for authenticity and their menu changes seasonally according to the produce available at the neighbouring Jean-Talon market. The homemade pastas are not to be missed. The wine list is superb and well-priced, and service is friendly but informed. Call well in advance for a reservation.
48 Dante St., near St-Dominique St., 514-508-6508, www.impastomtl.ca
Great restaurant when you want to dress up for dinner
Maison Boulud
One of the city's top fine-dining destinations, this elegant outpost of chef Daniel Boulud's empire is both chic and sharp. The food is French but not too fussy, service is superb and wine lovers will be impressed with both the list and the table-side consultations. As popular at breakfast time as at lunch and dinner, this is the restaurant where you opt for the lobster salad, the white-truffle-laced risotto, the sweet wine with dessert. In summer, be sure to book a table on the magnificent terrasse.
1228 Sherbrooke W., 514-842-4224, www.maisonboulud.com
La Chronique
Co-chefs Marc De Canck and Olivier de Montigny head the kitchen of this swanky Outremont restaurant, going strong now for over 20 years. The food is French and sophisticated (don't miss the corn soup with scallops or the hot foie gras when available), and the setting is elegant. Wines are taken seriously and the carte, always managed by talented sommeliers, is outstanding. La Chronique is a Montreal classic that still feels young today.
104 Laurier Ave. W., 514-271-3095, www.lachronique.qc.ca
Great place for a casual dinner with your significant other
Pizzeria Gema
Owned by the same group as the terrific Italian restaurant Impasto across the street, Gema's focus is pizza — and what pizza it is! Pillowy, with the ideal Dalmatian-spotted crust, and topped with all sorts of inventive combinations of cured meats, vegetables and gorgeous cheese, Gema's pies are some of the best in the city. The superb Italian wine list is another big draw. This place is as good for a romantic dinner as a family meal.
6827 St-Dominique St., 514-419-4448, www.pizzeriagema.com
Café Cherrier
Open since 1983, this Montreal bistro/brasserie still satisfies with French faves like fish soup, steak frites, duck confit and floating islands. The waiters are incredibly friendly, seasoned professionals who know how to crack a joke and when to laugh at yours. The room has a great retro feel, with a pink-lit coffered ceiling, a huge bar, and cushy brown banquettes everywhere. A true-blue Montreal institution, "Le Cherrier" also has a sharp wine list, a beautiful summer terrace and serves a terrific brunch. Go!
3635 St Denis St., 514-843-4308, www.cafecherrier.ca
Great place for Canadian cuisine
Manitoba
Chef Simon Mathys is known for his bold plate presentations, sharp flavour combinations and strong cooking technique, and at Manitoba all his talents are put to use in creating magical plates with the best local ingredients. Owners Elisabeth and Simon Cardin have created a chic warehouse space complete with a bar up front and a large open kitchen in the dining room. Add to that craft cocktails, interesting wines and a seriously cool crowd, and you have a restaurant that easily shows out-of-towners what a happening little city this can be.
271 Rue Saint Zotique W., 514-270-8000, www.restaurantmanitoba.com
Au Pied de Cochon
Arguably Montreal's most famous restaurant (book well in advance!), chef Martin Picard's eatery is casual in spirit and yet his plates are made with as many humble ingredients as luxurious, epitomized by his famous poutine au foie gras. The cooking here may be outrageous, but the results are incredibly delicious (and filling). Eat at the bar on your first visit if possible to watch the action in the open kitchen and get ready to be amazed. There's a fabulous wine list too.
536 Avenue Duluth E., 514-281-1114, www.aupieddecochon.ca
PLACES TO STAY
Hotel Birks Montreal
A newcomer on the Montreal scene, this super-chic boutique hotel is located in the former headquarters of the Birks jewelry empire. Built in 1894 and designed by Montreal architect Edward Maxwell, the building, with its ornate interiors and stained glass windows, ranks as one of the most beautiful 19th-century edifices in the city. The rooms are swanky and offer great views. The downstairs restaurant, Brasserie Henri is excellent, as is the spa.
1240 Phillips Square, 514-370-3000, www.hotelbirksmontreal.com
Hôtel Gault
This fashionable Old Montreal boutique hotel is a favourite for its chic, minimalist decor, spacious rooms and excellent dining destinations, and it's right in the heart of the most beautiful part of the city (and not far from the Palais des Congrès). For an extra-special stay and great views, opt for a room with a terrasse and don't miss out on the hotel's first class breakfast or lunch (it also has 24-hour room service).
449 Sainte-Hélène St., 514 904 1616, www.hotelgault.com
Nelligan
The Nelligan is renowned for its after-hours scene, its magnificent terrasse bar and its cool and airy decor. But don't forget about its great location right in the heart of Old Montreal. With exposed brick walls, large rooms and great views, this is the perfect choice for those up for a little action while in town. The neighbourhood is ideal for walking, shopping and fine dining as several top restaurants are close by.
106 Saint-Paul St W, 514-788-2040, www.hotelnelligan.com
Sofitel Montreal Golden Mile
A favourite city-centre hotel ideal for both business and leisure travellers. Rooms, complete with marble bathrooms, are comfortable and cheery, and the Le Renoir restaurant downstairs is excellent.
1155 Sherbrooke St W., 514-285-9000, www.accorhotels.com
Château Versailles
A quaint, 65-room hotel located just off the city centre, this hotel is set over four floors (get ready to walk because there is no elevator). Many rooms count fireplaces and decorative mouldings, and though it's small, there is a business centre and gym as well. A great choice for business or leisure travellers or for a romantic weekend, the hotel is ideal for shoppers as it's close to many of the city's chicest boutiques.
1659 Sherbrooke St W., 514-933-3611, www.chateauversaillesmontreal.com
COCKTAILS
A great place for drinks after work
Le Balsam Inn
A swish downtown restaurant with an enticing menu consisting of classics like tartares and grilled squid salad, as well as fried chicken and pasta, Le Balsam Inn is also renowned for its cocktail program. With a dozen signature cocktails and all the usual suspects (they make a perfect gin martini), this restaurant/bar is a great spot for after-work drinks or a pre-show supper as it's just blocks away from the Bell Centre.
1237 Metcalfe St., 514-507-9207, www.lebalsaminn.com
Rouge Gorge
Located in the heart of the Plateau, this cool wine bar is a great spot for either a glass of wine (or two) and/or a light meal. Wildly popular with locals, Rouge Gorge is owned by wine makers Alain Richard and Laurent Farre, who favour (and make!) natural and organic wines. The food is swell too and the people watching is even better.
1234 Mont-Royal Ave. E., 514 303 3822, www.rougegorge.ca
Great place to relax, eat and watch the game
Icehouse
Chef Nick Hodge is a Texas native and his tiny restaurant with its fun Tex-Mex menu (you eat right off the paper-topped tables ) feels like it was ripped right out of the deep south. The oysters, fried chicken, ribs, tacos and deep-fried pie will make you swoon. Best of all is the casual vibe. Though small, this is a great place to enjoy the game while indulging in a simple beer, fine wine, or potent cocktail. Reservations are not accepted.
51 rue Roy E., 514-439-6691
1909 Taverne Moderne
Set over three floors and housed right next to the home stadium of the Montreal Canadiens, this restaurant is like a sports bar on steroids. Not only is it said to be the largest in Canada, but it also boasts a 46×20-foot mega-screen and enough beer on tap to satiate legions of parched hockey lovers. As for the food, go classic: cheeseburgers, chicken wings and Caesar salad, which are better than you'd expect in a spot this theatrical.
1280 des Canadiens-de-Montréal Ave, 514-416-9809, www.1909tavernemoderne.com
---