City Guide: Winnipeg
By: Christine Hanlon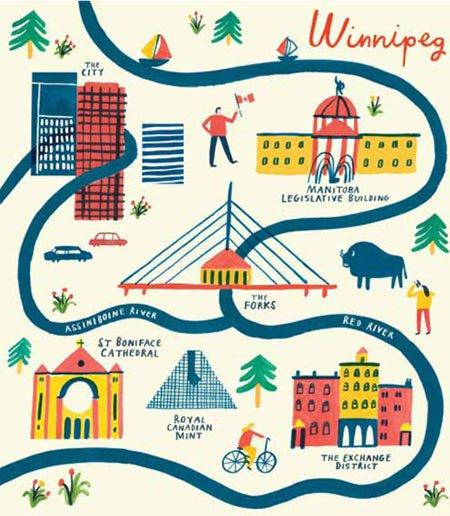 Great restaurant with a new chef to look out for
Clementine
The duo behind the restaurant that has taken Winnipeg by storm – and secured a spot on EnRoute Canada's 2017 longlist – continues to garner accolades for elevating brunch to fine cuisine. When Chris Gamma and Paul Eccles aren't claiming the local Kitchen Kumite competition, they are busy sourcing international ingredients for their divine takes on shakshouka, panna cotta, and benedicts. Come early. Like their sister restaurant, Segovia, Clementine does not take reservations.
123 Princess Street, 204-942-9497, www.clementinewinnipeg.com
WORK
Great place for a working breakfast
The Don
Quiet booths in a bright, contemporary décor are ideal for conducting a morning business meeting while sampling from the extensive menu. Along with all the classics, hearty options include Manitoba Mennonite specialties such as eggs paired with perogies, smoked farmers sausage and Gloms Kuak, a crispy cottage cheese patty. Or pair that coffee with one of Jonnie's sticky buns, a must-have on any visit to Winnipeg.
2-120 Donald Street, 204-947-6644, www.thedonrestaurantwinnipeg.com
Promenade Café and Wine
At the foot of Esplanade Riel, overlooking the Red River and Canadian Museum for Human Rights, Promenade Café and Wine is an ideal venue to take in the city skyline with clients and colleagues. Standard breakfast fare, perfectly prepared, is augmented by an array of sweet and savory crêpes, a nod to the city's French Quarter. Popular with the business set, this quiet St. Boniface café bridges proximity to downtown and respite from the urban bustle.
130 C Provencher Boulevard, 204-233-7030, www.cafeandwine.com
Great place for a business lunch
Cibo Waterfront Café
Cibo Waterfront Café offers a refreshing option for the downtown business lunch. Exposed brick walls, tailored leather seating and a stylish bar grace this modernized heritage pump house, lined with large windows overlooking the waterfront of the Red River. A Mediterranean menu boasts six types of bruschetta along with several unique twists on all the favourites. Service is efficient and attentive.
339 Waterfront Drive., 204-594-0339, www.cibowaterfrontcafe.com
Hermanos Restaurant and Wine Bar
Tantalizing tastes of South America rule this Exchange District sensation, set in a contemporary combination of exposed brick and bold fabrics. Get down to business over premium steaks done to perfection, flanked by exotic chimichuri or succulent seafood. Or keep the conversation and menu light with tapas, exciting appetizers or a Uruguayan Chivito sandwich from the lunch menu.
179 Bannatyne Avenue, 204-947-5434, www.hermanos.ca/restaurant
Great place for a business dinner
Carne
Aptly named, this upscale chophouse offers an extensive menu featuring various cuts of premium and wagyu beef, under the expert care of veteran chef Michael Daquisto. Superb fresh seafood available as an add-on is also the centrepiece of many appetizers and entrées, which also include meatier Italian hallmarks such as carpaccio, osso bucco and veal marsala. The high culinary standards, sophisticated ambiance and professional service are guaranteed to impress.
295 York Avenue, 204-896-7275, www.carneitalia.ca
529 Wellington
Indisputably the toniest steakhouse in town. The setting, an elegantly restored Victorian mansion on Winnipeg's most prestigious street, creates the perfect ambiance. With discreet, yet impeccably attentive service, this elite establishment serves exclusively Canadian Prime beef, prepared to perfection. The outstanding wine list features over 600 selections, curated by one of Manitoba's most decorated sommeliers.
529 Wellington Crescent, 204-487-8325, www.529wellington.ca
Great place for political networking
Palm Room
Here's a hub for hobnobbing among politicos of all stripes, located in the lobby of Winnipeg's historic Fort Garry Hotel. Always a reliable oasis of civility, the Palm Room delivers tactful service from a fully stocked bar. Against a Victorian backdrop, leather lounge chairs invite interaction within a circular space. Nightly live music stays discreet, allowing for both private conversations and networking.
222 Broadway Avenue, 204-942-8251, www.fortgarryhotel.com
Hy's Steakhouse
A nexus for the city's political and business elite, the atmosphere exudes a comfortable opulence amid dark paneling and leather chairs. Centrally located in a stunning space at historic Portage and Main, Hy's specializes in perfectly aged steaks. The menu features every imaginable cut of the best Alberta beef, paired with exquisite classics, including salads prepared tableside. Private spaces are available and the attentive service is impeccable.
One Lombard Place, 204- 942-1000, www.hyssteakhouse.com
DOWNTIME
Great place to dine alone
Segovia Tapas Bar and Restaurant
Chef Adam Donnelly's petite plates make for an ideal tasting menu, with bar-style counter seating almost always available to the solo diner at this no-reservation hot spot in arty Osborne Village. A disciple of Michelin-starred chef Tom Aikens, the gastronomical artist deftly assembles his inspired creations at an open kitchen overlooking a neo-modern setting. Savour while sipping from a medley of Spanish wines.
484 Stradbrook Avenue, 204-477-6500, www.segoviatapsbar.com
The Merchant Kitchen
To recreate the relaxed pace and vibrant flavours of street food from 21 cities across Asia and Latin America, The Merchant Kitchen serves up a panoply of small and large plates, prepared under the direction of award-winning chef Jesse Friesen. The floor to ceiling mural of a rooster on a brick wall adds to the casual complexion of the open space, as do the distressed wooden tables and the bright, multicoloured seating. A large central wrap-around bar lined with chairs makes this a most comfortable place to dine alone.
314 Donald Street, 204-615-2278, www.themerchantkitchen.com
Great restaurant when you want to dress up for dinner
The Mitchell Block
Located in the Exchange District, a stone's throw from the theatre and concert hall, The Mitchell Block completes a night on the town with all that is best in fine dining. Artistically plated dishes draw from prized ingredients for a small but inspired menu that regularly includes house-made pastas and such delicacies as vincotto, preserved lemon and excellent gastriques. Bright modern art and crisp white linens create a tastefully refined ambience matched by impeccable service and a discriminating wine list.
173 McDermot Avenue, 204-949-9032, www.themitchellblock.ca
The Velvet Glove
After a triumphant stint at Toronto's Royal York, internationally trained chef Timothy Palmer brings a deft hand to this over-40-year-old purveyor of Manitoba culinary excellence, giving pride of place to seasonal, locally sourced ingredients and an inspired twist on the classics. Dress up for a four-star dining experience, accompanied by one of the city's most acclaimed wine lists amidst the elegance of The Fairmont, located at Winnipeg's iconic Portage and Main.
2 Lombard Place, 204-985-6255, www.velvetglovewinnipeg.com
Great place for a casual dinner with your significant other
Passero
Local phenom Scott Bagshaw has done it again. His latest incarnation opened to the same rave reviews that greeted his Asian-fusion-themed Máquè and, before that, enRoute Top 10-rated Enoteca. While basking in Passero's distinctly New York vibe, treat each other to the meticulously layered textures and tastes of an Italian-focused menu, born from the creative passion of one of Winnipeg's most innovative chefs.
125 Fort Gibraltar Trail, 204-219-7300, www.passerowinnipeg.com
Cordova
Cordova takes tapas back to their roots, bringing Winnipeg authentic tastes of Spain and southwestern France with wooden platters of regionally-sourced cheeses, olives and cured meats, along with the selections from Canada's rich terroir. Most of these small plates are perfectly portioned for two, best enjoyed in succession while lingering over a glass of wine or beer. Perch at one of the tall tables under the restored stamped ceiling to drink in the casual vibe well into the night.
93 Albert Street, 204-691-1900, www.cordovatapas.bar
Peasant Cookery
A rustic touch to traditional French cuisine complements the casual elegance of this popular date-night destination. Indulge in fresh oysters on the half-shell or share a house-made charcuterie platter, the pride and joy of Chef Tristan Foucault, who also knows his way around fish and fowl. This food from the land communes with a fine selection of wines and a generous assortment of desserts, from profiteroles to creamy crème brulée and maple tart.
283 Bannatyne Ave, 204-989-7700, www.peasantcookery.com
Great place for Canadian cuisine
Fusion Grill
When craving cuisine du terroir, look no further than Fusion Grill. Since 1996, the small multi-award-winning restaurant has made it a mission to source fresh local ingredients for distinctly Canadian culinary creations such as wild rice samosas, cured arctic char with Northern pike caviar, and Boreal Forest Cake with saskatoons. Every dish by Chef Lorna Murdoch – a well-known pioneer of Winnipeg's modern food scene – is paired perfectly with Canadian wines, championed by owner Scott McTaggart.
550 Academy Road, 204-489-6963, www.fusiongrill.mb.ca
Deer + Almond
Acclaimed as one of the city's most visionary chefs, Mandel Hitzer executes one tour de force after another at this modern enclave in the historic Exchange District. Featuring fine cuisine that is as daring as it is delicious, the ever-evolving menu has plenty to offer the adventurous foodie. Hitzer takes pride in using local produce and distinctly Manitoban ingredients such as smoked whitefish and goldeye. Served tapas-style, dishes are made for sharing. Equally palate-pleasing is the diverse wine list and cocktails that are as inventive as the food.
85 Princess Street, 204-504-8562, www.deerandalmond.com
PLACES TO STAY
Mere Hotel
Clad in bright multi-coloured slats, this modern boutique hotel on Waterfront is hard to miss. An interactive welcome wall and sleek designer furnishings precede rooms – some overlooking the Red River – with spacious walk-in showers, openable windows and bedside USB ports. Enjoy complimentary juice and energy bars, a state-of-the-art gym and access to running trails. Mere is ideally situated in the vibrant Exchange District, walking distance from shops, nightlife, dining, The Forks Market and the Canadian Museum for Human Rights.
333 Waterfront Drive, 204-594-0333, www.merehotel.com
The Fairmont Hotel
A stay in in any of this luxury hotel's well-appointed guest rooms never disappoints. But we suggest the Fairmont Gold, on the 18 & 19th floors, a distinctive "hotel within a hotel." Indulge in all the extras, including private reception, lounge and executive boardrooms, dedicated concierge service, and cocktail hour canapés in a tranquil setting. The luxurious rooms feature spacious desks, plush duvets and robes along with large windows overlooking the historic Exchange District and Forks National Historic Site. Centrally located, the Fairmont offers convenient underground access to the city's business hub.
2 Lombard Place, 204-957-1350, www.fairmont.com
The Inn at the Forks
This boutique luxury hotel takes full advantage of its privileged place at The Forks National Historic Site, with spectacular views of the new Canadian Human Rights Museum, Esplanade Riel, and the downtown skyline. Modern, tastefully-appointed rooms include oversized workspaces and glass counters in the bathrooms. Free WiFi available throughout. Prairie-themed décor extends from the lobby to the luxury rustic Smith restaurant, lounge and Riverstone spa.
75 Forks Market Road, 204-942-6555, www.innforks.com
Alt Hotel Winnipeg
Aptly-named, this downtown boutique establishment offers an alternative to conventional hotel accommodations. A focus on service encompasses flexible check-out, rapid and reliable WI-FI, a well-stocked snacks counter, and extras such as yoga mats and board games, on request. The bright contemporary decor graces every space, from guest rooms and lobby to meeting spaces and the work-out area. Alt is conveniently located at the heart of the city, steps from the Bell MTS Centre as well as abundant bars and restaurants.
310 Donald Street, 413-800-4279, www.althotels.com/en/winnipeg
Fort Garry Hotel, Spa and Conference Centre
For a truly memorable stay, revel in the historic opulence of this chateau-style Winnipeg landmark. A faithful restoration of the century-old railway hotel in 2009 was accompanied by modernization of all amenities and the addition of the luxurious Ten Spa, home to Winnipeg's only Hamam. Rooms with ten-foot ceilings, plush robes, and complimentary yoga complete the sumptuous experience.
222 Broadway, 204-942-8251, www.fortgarryhotel.com
COCKTAILS
A great place for drinks after work
Forth
For a convivial cinq-à-sept, Forth has it all: classic and specialty cocktails, a superb selection of Scotch, streetside and rooftop patios, a basement bar and a pop-up pinball arcade. Against an original-brick backdrop, sofas and harvest tables lend a laid-back vibe to this popular gathering place in Winnipeg's trendy warehouse district. Unwind to live music during happy hour on Thursdays or linger a little later on Forth Fridays, when the bar is bumping with local DJs.
171 McDermot Avenue, www.forth.ca
Earl's on Main
Hands down, it's the place to be seen for drinks after work, with standing room only on Friday nights. The vibrant atmosphere reverberates with the pulse of the city, punctuated by live sports action on the televisions lining the well-stocked bar. The craft and local beer on tap accompany a wide selection of inventive cocktails – some shareable – and a well-sourced wine list.
191 Main Street, 204-989-0103, www.earls.ca/locations/main-street
La Roca
This lively Mexican lounge is a great place to let loose after hours. Enjoy creative cocktails or sample from more than 30 types of tequila in a captivating ambiance punctuated by vibrant artwork and patterned banquettes. In summer, quaff your favourite beer or sip a glass of wine on the double-decker patio. The music, however, is year-round: take in the live acoustic guitar or tunes from some of Winnipeg's favourite DJs.
155 Smith Street, 204-615-9605, www.laroca.ca
Rudy's Eat and Drink
The professional yet relaxed service jibes with an haute casual lounge that offers access to the full menu of amped-up comfort food. Housed in Winnipeg's eco-forward showpiece – the Manitoba Hydro Building – Rudy's claims the cutting edge, equipping servers with hand-held devices for order taking, and clientele with an app to request their favourite songs. Traditional leather couches amid wood slat walls invite after-hours conversation.
375 Graham Avenue, 204-421-9094, www.rudyseatanddrink.com
Great place to relax, eat and watch the game
The Shark Club
There is no better place to watch the game than the swanky new high-end sports bar in Winnipeg's City Place downtown. The blue-lit lounge is replete with seating options, all with clear sight-lines to any of the 66 HDTVs, including two large screens. A full-throttle menu boasts a blend of Asian, Italian and traditional pub food as well as several premium scotch selections and an extensive assortment of beers – at least three dozen – from breweries across the world.
233 Hargrave Street, 204-942-7400, www.sharkclub.com
---