Cottage Life
Your summer wardrobe guide.
By: SARAH CAIRNS
Date: 2018-06-28
As Canada Day approaches, we find ourselves looking towards the cottage weekends of the summer season. "There are no guarantees when it comes to long-weekend weather," says Alan Whitfield, a vice-president here at Harry Rosen and a cottage enthusiast.
Whitfield's key to success when packing for cottage country is to think about layering pieces, those that can easily be put on or taken off as necessary. "Lightweight knits are a great place to start. Odds are it's going to cool down at night, so a thin knit sweater is a must-have," he says. "Advances in technology have made down jackets the ultimate travel companions. Brands like Canada Goose, Parajumpers and Moncler offer incredibly lightweight jackets that you can toss in the back of the car and throw on as the temperature dictates."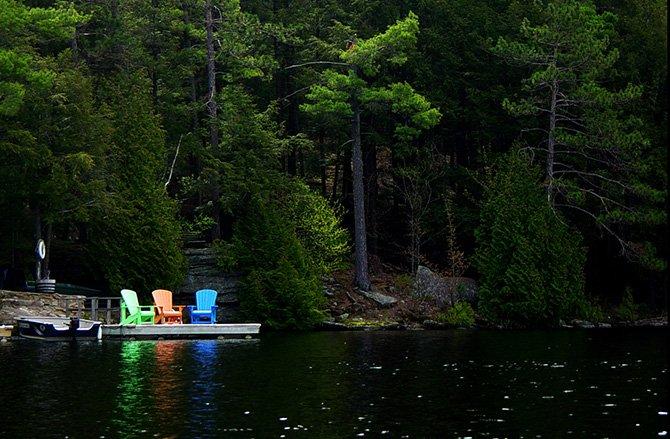 Of course, you'll need to keep your toes warm, too. "A pair of driving loafers, like Tod's Gommino loafers, are ideal for any out-of-town weekend," Alan says. "Easy to slip on and off, they always offer a touch of class." But for dockside activities, you may want to consider a water-resistant option. "There's a brand out of Norway called SWIMS that make these water-friendly loafers that are a huge hit with travellers," he says. "They're really the go-to footwear for sailing and playing around the water."
Just don't forget to also add in a pair of shorts, swim trunks and t-shirt, because you just never know.
---
THE BAG
Now that you know what to pack, what are you packing it in? Alan has you covered there, too. "When I hit the road I'm always travelling with Tumi," he says. "They make some of the most durable, streamlined bags on the market today. I usually veer towards a duffel bag for weekends away, but lately I'm all about the backpack. Being able to strap it on allows me to unload the car faster, which means I can be dockside sooner. Plus, there's no over-packing. Pack light and pack smart is a good motto."