Get Sporty
By: LEANNE DELAP
Date: 2017-05-15
If you haven't worn a sports jacket in a long time, now is the time to go for it.
"This is the most versatile piece you can own," says Shannon Stewart, Vice President and General Merchandise Manager here at Harry Rosen. "The advances in tailoring and fabrication are astonishing if you haven't tried one on in a while," she says. "The weight is unbelievable, and the fit is as comfortable as a cardigan."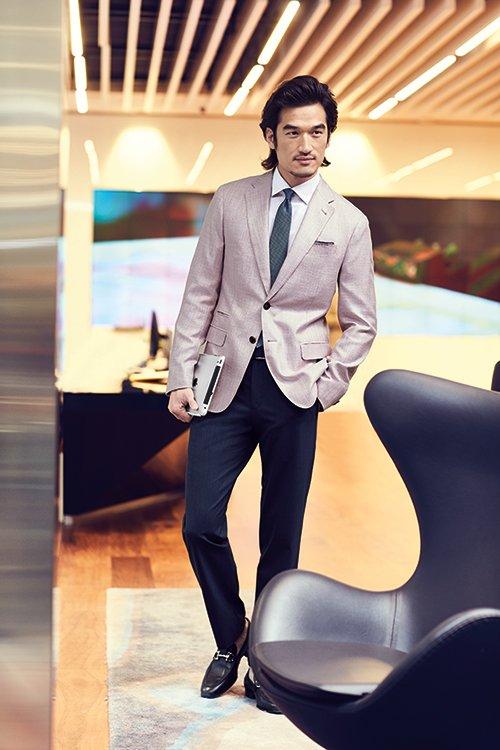 Beyond comfort, the reason a sports jacket is the cornerstone of a man's wardrobe is that it adds instant polish to your look.
"Like a little black dress for women, it is a blank canvas that you can dress up or down depending on your mood, or the occasion. You can go straight from work to date night, it is easy to change things up." Swapping out trousers for jeans, for instance, or loafers for the crisp, white sneakers that are the must-haves this season.
The sports jacket today is endless in its possibilities; it is timeless, borderless and cuts across all class and age lines. But it has been on a long journey to get here.
Any lingering snooty associations were born of the British class system, perpetrator of equal parts pain and glory.
The first iteration was known as the Norfolk jacket, for the Duke of Norfolk, an avid hunter. He and his crew decked themselves out in tweed jackets (and knickerbockers!) to run to the hounds. Which explains how the puzzling "sports" part of the name came to be. The Americans tend to use the term sports coat, and we Canadians go with British wording, but both of those may soon be lost as our digital culture morphs language at warp speed.
The simpler term jacket is now used for everything from the formal prep-school blazer to totally unstructured cardigan styles.
From the Norfolk, which was meant to accommodate hunt paraphernalia in its pockets, there developed hacking jackets slit in the back for dressage and shooting jackets that had some give in the shoulder. Then came the tradition of morning jackets, which were worn with unmatched pants. The preppy look was born.
These pieces were slowly (by the current warp speed standards of fashion) democratized, and by the 1960s, as everything and everyone was loosening up, the sports jacket became a suitable work alternative for many men. But it wasn't really until the fashion earthquake known as American Gigolo at the dawn of 1980 that the jacket became genuinely sexy. Richard Gere rocked unlined and softly structured Armani in the film, and together they changed the course of modern fashion.
But the options today make that classic piece of fashion-cinema seem limited. Shannon recommends that if you are starting out, or returning to the sports jacket, that you can't go wrong with a basic blue.
But if you are ready to take it next level, this season the shelves are tempting with "a spectrum of colours," says Shannon, "rose tones, teals, aquas and beautiful powder blues, plus some fun patterns for seasonal jackets."
It is a great way to keep your look sharp through summer, she says. Since most offices are air-conditioned you need a functional layer. "But these fabrics are so light and airy, you can wear them everywhere on the hottest days and keep your look crisp."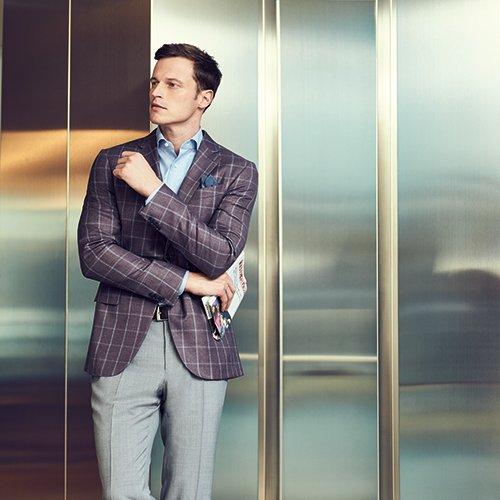 For the weekend, a jacket is the way to elevate jeans and a classic tee to avoid looking schlumpy. "Just avoid anything logoed or distressed under the jacket," she says. And a slim chino with a jacket is always a winning combo.
Jackets are a great investment, as the cuts and fits don't change dramatically. Most these days are two-button, or there may be a third "rolled" button tucked into the lapel.
The first jacket you buy should be a three-season piece, as you will want something a bit warmer for the coldest months. And go for a classic notched lapel first, as the peak lapel is a bit more limiting. "And a lot of jackets now have patch pockets, which adds the right slightly casual note," says Shannon.
She also says that the most important message she can share is about fit. "Working with a clothing advisor will ensure that you are getting the jacket that works for your body. A lot of men wear their clothes too big."
At the top end, a great example would be the Kei jacket from Canali, which is a very softly constructed jacket that fits so beautifully in the shoulder. When you have it on, it looks tailored, but it is extremely light in nature, with no lining, and it works on a lot of different body types.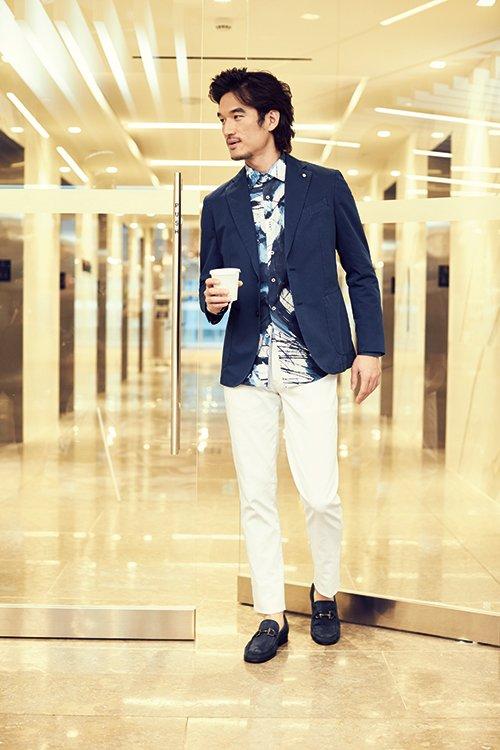 At the other end of our spectrum, is L.B.M. 1911, which Shannon says is a much more casual expression of a jacket, in cotton or cotton-linen with an unconstructed and sportier feel to it. It is sportier and youthful and modern, great with jeans or chinos and easy to put over a tee.
You don't have to break the bank, she says. "Within our world, you can find a great investment jacket starting from $695, up to sky's the limit!"