The Subtle Pleasures of Custom-Made Tailoring
In life, there are few greater pleasures than putting on a new suit.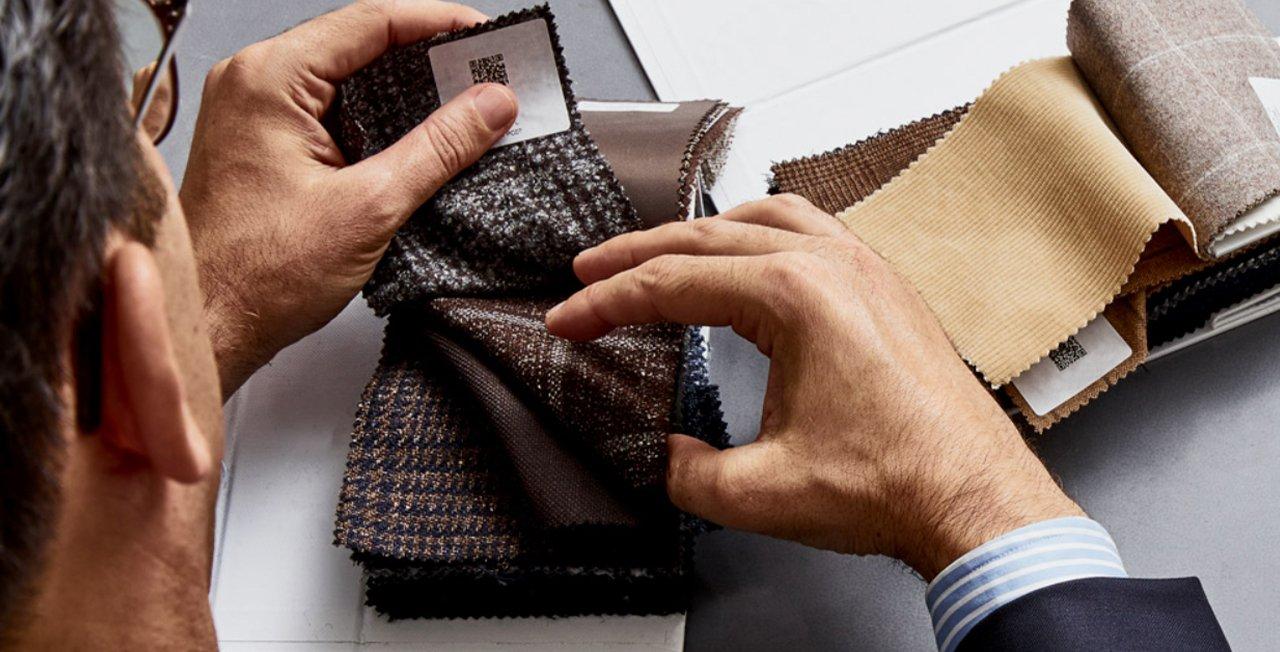 Well-fitting tailoring has the power to make the wearer feel stronger, stand taller, and always seems to serve as an instant confidence booster — all the more when it's a suit you're wearing for the first time.
The only feeling that eclipses that is when the new suit you're slipping into has been made specifically for you. Pulling on a jacket cut from a premium cloth to fit your exact measurements is an ethereal experience unmatched in the economy of everyday retail, which is precisely why we offer this service here at Harry Rosen.
In honour of the treasured tailoring tradition that is the Made-to-Measure process — or Custom-Made process, as we like to refer to it — here's a reminder of what we offer our more discerning customers here at Harry's.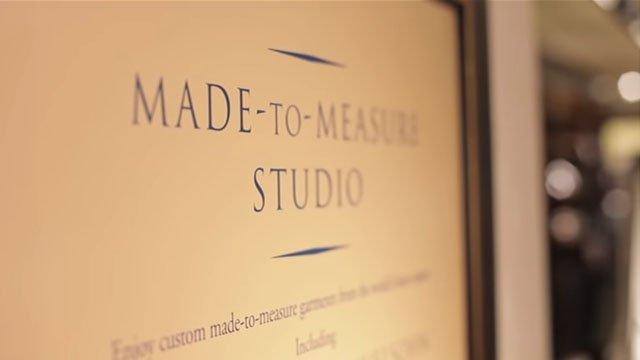 Finding Your Sample Size
Firstly, we need to identify a garment from our sample selection that fits your frame and stature most flatteringly. From there, it's all about refining the fit of the sample garment to account for any necessary changes to be made.
Unlike other Custom-Made services, however, our selection of sample garments extends far beyond just a few different sizes in a few different styles. In fact, our selection of sample garments for our Custom-Made program is the largest in the country — if not, the world — supplied by an extensive range of labels.
That means we aren't just finding you the right size jacket or trouser, we're helping you identify which maker of that jacket or trouser is already designing for a gentleman such as yourself.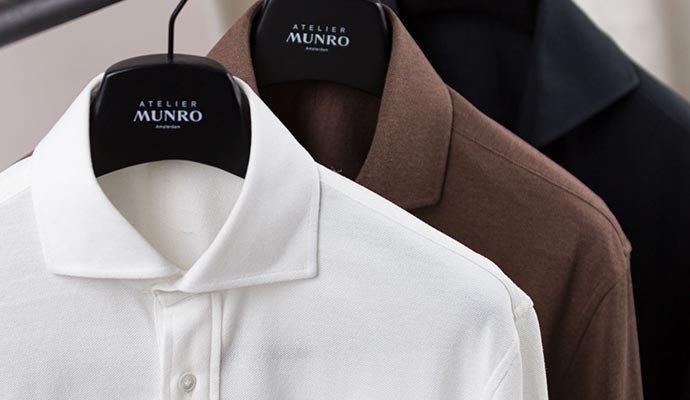 After that, it's all about identifying those all-important adjustments. Sleeves need shortening? Waist needs nipping? Trousers need hemming? All of these adjustments will be thoroughly examined by our Custom-Made Specialists to help get that sample garment as close to a perfect fit as possible.
Meanwhile, our Clothing Advisors...
Are paying close attention to all the details that go beyond just what a simple alterations tailor might notice. Things like your posture — do you slouch slightly forward, backward, or not at all? Do you carry one shoulder slightly higher than the other? Is one arm slightly shorter than the other?
Accounting for all these details is what elevates the Custom-Made experience above a standard off-the-rack purchase. These are the mental notes that will create a garment that will bring out the very best in you.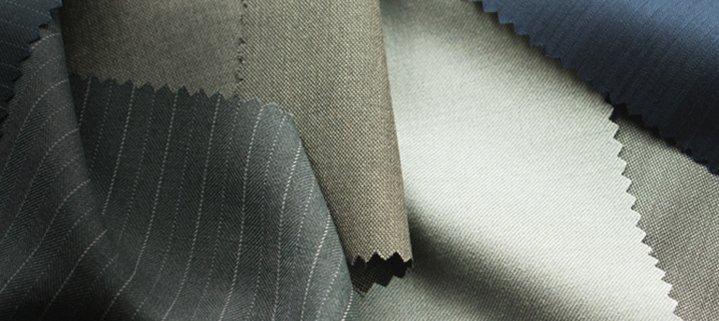 Choosing Fabrics
After we've helped you determine your ideal sample size from your ideal maker, it's time to determine what you want your garment to be made of.
Choosing the fabric for your new suit, jacket, or pair of trousers is a part of the Custom-Made process we get particularly excited about. Our decades of experience in tailoring means we know that the difference between a suit that you wear and one that wears you often comes down to the quality of the fabric. That's precisely why we put such a huge emphasis on only stocking the good stuff.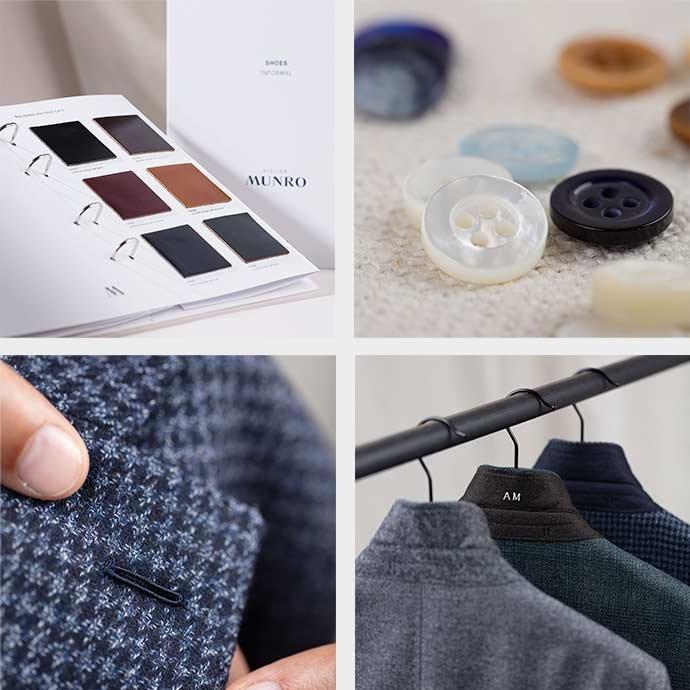 At this stage, our team in the Custom-Made tailoring shop will guide you through multiple thickly bound fabric swatch books. From historic mills in England and Scotland to the finest mills in Italy, we have access to some of the best fabrics in the world.
Meanwhile, our Clothing Advisors...
Will be considering exactly what you told them during your initial consultation with them. Questions like what you need your new garment for, how you want to wear it, if it's a seasonal piece or a year-round one — all of these will be considered by your Clothing Advisor to ensure the fabrics you're most drawn to will work how you want them to when you receive your new garment.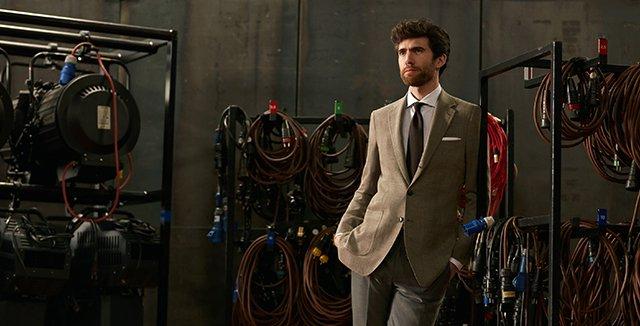 Talking Details
Now that we've determined what the main fabric (or fabrics) your new garment will be made of, it's time to start selecting all of the fun smaller details to bring it to life. From the style of the jacket to the number of buttons it has and what they're made of, to the lining and the style of stitching — the vast number of details you will have at your disposal might surprise you.
It's the subtleties that provide the substance, which is exactly why we want to give you every opportunity to make your next garment a true expression of your personal style.
Meanwhile, our Clothing Advisors...
Are applying their wisdom and experience to help you make design decisions that are in your best interests. If a certain button colour might better suit your jacket fabric, your Custom-Made Specialist might suggest it. Or, if a particular style of pocket might better suit your jacket given the occasion you wish to wear it, then your Custom-Made Specialist might suggest that too.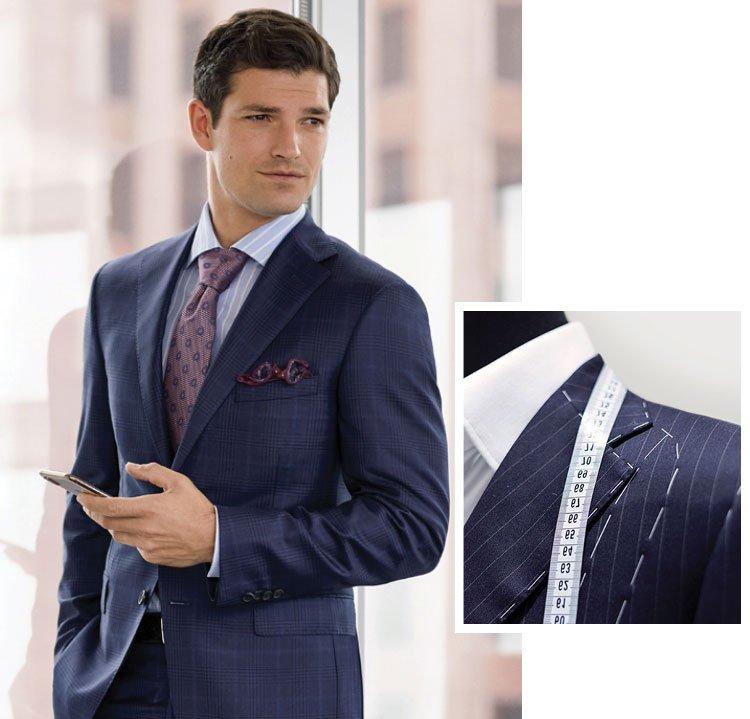 Taking Measurements
Finally, it's time to perfect how your new garment will fit you. By picking up on all of those visual queues from your sample garment try on — like how the jacket sits on your shoulders, where the sleeves fall on your arms, whether your waist needs to be cinched in or let out, and many more — your Clothing Advisors will know exactly where to alter the fit of the sample garment.
If your sample jacket fits well in the shoulders, they'll leave that section blank. However, if those shoulders would look better with an adjustment — even on as small as an eighth of an inch in one direction — that will be noted, measured, and jotted down.
For this, our Clothing Advisors use a measuring tape and their years of experience and intuition to find your core measurements. The best part? Your Clothing Advisor will take all of your measurements and keep them on file. This way, if you ever want to produce more Custom-Made garments in the future, the entire process can be expedited by following the numbers on your core measurements card.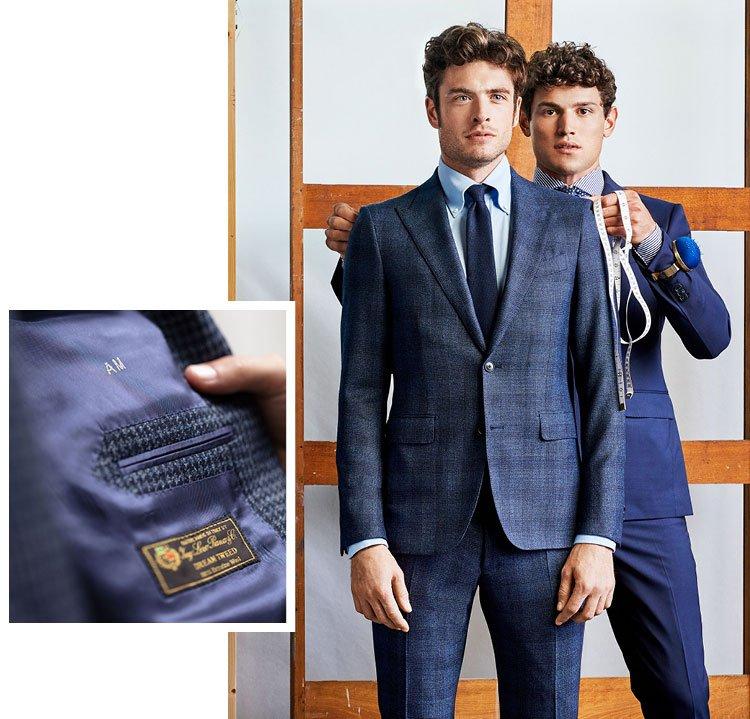 Meanwhile, our Clothing Advisors...
Are conceptualizing what these minor alterations to your sample garment will do to the overall appearance and function of your finished product. Taking measurements and adjusting is one thing, but our Clothing Advisors take it one step further and apply their sartorial know-how to ensure a spectacular result each and every time you have something made. For this very reason, your first Custom-Made experience cannot ever be done virtually or artificially — it needs to happen in the classic way, which is precisely the art of the craft.
Although this step is all about numbers and making calculated adjustments, our Clothing Advisors view the Custom-Made process as an art because they know that even the most minor alterations will have a big impact on the enjoyment you take from wearing your finished garment. That's the advantage you receive by taking our Custom-Made journey at Harry Rosen and personally working with one of our specialists in-store.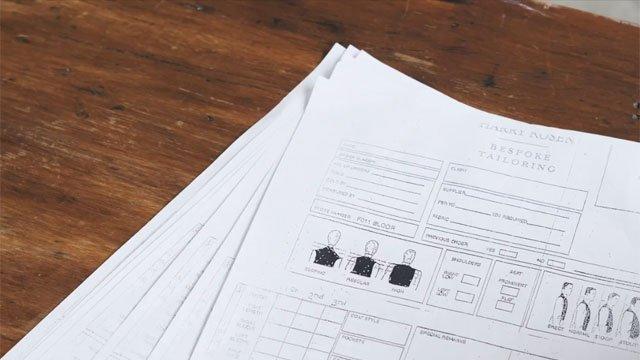 Confirming Your Selections
Once you've completed the entire fit and design process and you're comfortable, confident, and excited about your selections, it's time to confirm your order. You'll be asked to review your selections with the help of your Clothing Advisor. From there we'll get started on crafting your custom garment.
Now all that's left for you to do is relax and daydream about your brand-new Custom-Made piece. In a short while, your next irreplaceable article of clothing will arrive, and after one last fitting to make sure everything is to your liking, it's all yours.