How to Give A Fragrance as A Gift (And Get It Right)
Our fragrance guru, Adam Vaughan, breaks down his favourite scents for gifting this season
By: Ben Kriz
Date: 2023-01-25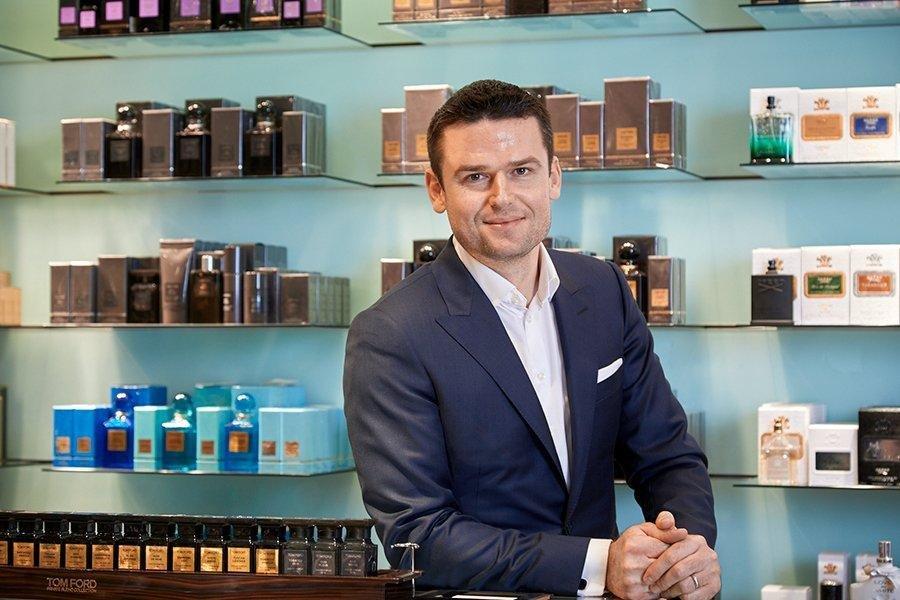 As "When you're receiving or giving a gift of a fragrance there is a chemistry there," says Harry Rosen's resident fragrance expert Adam Vaughan. "It is a very intimate thing."
Nobody at Harry Rosen understands fragrances better than Adam Vaughan, who has been running our fragrance counter at our Bloor Street flagship in Toronto for over ten years. For Vaughan, one can look at giving fragrance as one might give a nice bottle of wine or a spirit. It's something that can be enjoyed or consumed on a daily or weekly basis that complements a certain lifestyle.
"You need to detect what's right for that person, but also look at their needs. Do they wear it for work? Do they wear it for pleasure? Do they wear it in the daytime or nighttime? You could just go out and buy a bottle that smells good and that most people like, but if you're trying to find the perfect one for that particular person, it's nice to dig a little deeper."
Although we may not have events to go to, Vaughan thinks fragrances remain a great gift from the housebound. "Fragrances are still something people look for during times like these," he says. "They're comforting and assuring and attached to memory. They can remind people of good times."
We recently dropped by his fragrance counter and asked him what, on the scent scene, he might recommend this holiday season.
For the Connoisseur
"Creed's quality and the ingredients that they use, the purity and the method of distilling, is the same as when they first started. I call Creed the King of Cologne because when you've been doing it for over two centuries, you have to be doing it right. The quality and the purity are bar none.
The Aventus is known for being the best of the best. It's one of the most versatile fragrances you can buy. It adapts to any situation –– you could be wearing it for business; pleasure; summer, winter, fall; 365-days a year. The performance of the scent is a 10 out of 10. In every category you could critique a fragrance with, it wins in all of them.
If he is a fragrance connoisseur and he knows about Creed Aventus already, they have a special 10-year anniversary limited edition bottle they've just released. It is a gorgeous present for the confident man who is striving to get ahead in life."
For the Fragrance Novice
"TOM FORD accommodates at a range of prices and sizes, which is perfect for somebody just dipping their toe in. I would get somebody started with a lighter base citrus scent such as his Neroli Portofino or the Grey Vetiver. These are two of his classics that feature light, subtle, fresh citruses that anybody could enjoy without being too heavy."
For the Big & Bold
"TOM FORD has done what's called the provocative collection. These scents have striking colour coordination on the bottles that match their scent.
They're big and bold, they flirtatious and they're a little far out. When you wear them, you're going to get compliments, you're going to get feedback, you're going to get people asking about it –– which is what you want!
The Bitter Peach goes on very smooth and feminine but dries down to a unisex scent –– but off the top you get that rush of peach; you're basking in its essence.
As a side note, I personally love to reach for fresh or summertime fragrances like the Soleil Blanc in the winter to help me get through the season. These are scents that transport you to another place mentally, spiritually, and they are some of the best for whisking you away."
For the Classic & Timeless
"TOM FORD also has a whole category in this range. Oud Wood fits into that realm. It's business, it's pleasure but it's timeliness and versatile in every way. I think it's one of his best. TOM FORD has such a labyrinth of scents, there are one or two in there for every type of person. It's a unisex collection as well so – men or women – there are no rules. He's made one of the best fragrance collections of the 21st century, in my opinion."
For the Sportsman
"Kilian Hennessy of the Hennessey family created a collection that is inspired by his cognac spirit background. The oils and ingredients they use are reminiscent of oak barrels and spirits and so forth. I think it's one of the best niche fragrance brands on the market.
Vodka on the Rocks, in particular, is such a sporty, classic scent. It's cool in temperature and I like to describe it like a splash of cold water or a melted ice cube. It's very 'fast' fragrance that's energized and gives the wearer a boost.
Kilian also comes with beautiful lacquered boxes that impress as a gift."