Why Should I Invest In A Quality Suit?
When a man decides to wear a suit, he does so with a purpose.
By: Harry Rosen Staff
Date: 2018-01-26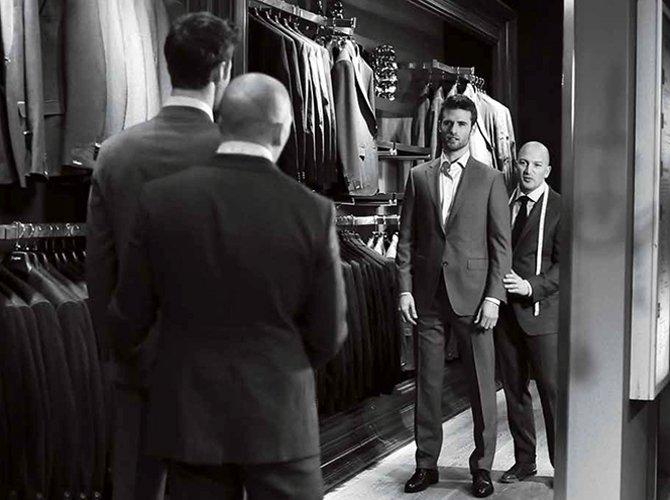 Here at Harry Rosen we've seen a lot of different trends in menswear over the last 63 years, including a profound shift in attitude towards the suit. A generation ago, men who wore a suit to work every day saw it as a uniform, a necessary commodity. A man would have five or more suits for a season, replacing them when they wore out.
Well, times have changed. Far fewer men now automatically reach for a suit every morning (our sports jacket collections are much more varied and interesting than they used to be). So when a man decides to wear a suit, he does so with a purpose — primarily because he wants to look great. There are reasons the suit has been with us for over 100 years — it flatters a man's figure and makes him look powerful, authoritative and, dare we say, sexy. Choosing to wear a suit also shows respect. In a boardroom or an important meeting, it sends the message that you are taking the occasion seriously and that you mean business. Wearing it to a wedding or big social event shows that you appreciate the significance of the occasion and it honours the hosts.
In other words, the suit has evolved from the everyday to become something special. Hence the trend over the last 15 years for a man to buy fewer suits but to invest more in the ones he does own. He understands a good-quality suit is not meant to be quickly disposable; it will look great for years to come if he cares for it properly. And he appreciates the return on the investment, knowing that when he does choose to wear a suit, the impression he makes is going to be worth every penny.
So how should you go about finding the right suit? Our clothing advisors have the answer. Working within your budget, they will lay out options that look and feel great on you, whether ready-to-wear or made-to measure, and they have the expertise to make sure the cut and fit are exactly what you need.