What Should I Wear To A Wedding?
By: HARRY ROSEN EDITORS
Date: 2017-05-18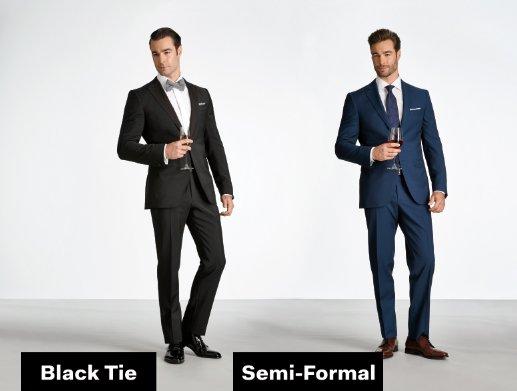 With any luck, the invitation will tell you. If the bride and groom want their male wedding guests in tuxedos, they'll write "black tie" or "formal attire" on the card. "Black tie welcome" and "black tie optional" also give you the opportunity to sport your tuxedo, at the same time allowing the "semi-formal" alternative of a dressy black or navy suit worn with a white, French-cuffed shirt, a dark, dressy tie and a white pocket square.
For men who don't yet own a tuxedo, we would recommend this semi-formal suit over an ill-fitting rented tuxedo every time.
"Elegant attire" also requires a suit and tie but now you have more options. Stick to your black or navy dressy suit for an evening celebration, but if the great event is taking place outdoors on a June afternoon, a summer suit in a tan or light grey fabric might be appropriate.
The problems begin as the dress requirement moves even farther from the formal end of the spectrum. An oxymoron such as "casual elegance" or "cottage chic" is confusing, almost as unhelpful as an invitation that carries no mention of a dress code at all. Will you feel appropriately outfitted in a jacket, smart trousers and an open shirt? That's about as casual as a man would want to be for an event as important as a wedding. Rather than submit to the angst of guesswork, simply call up the person who sent you the invitation and ask what their expectations are. That way, you can avoid the cardinal sin of being better dressed than the groom and his wedding party.