The View from Above: Emporio Armani––New Arrivals
Emporio Armani's Captivating Fall/Winter '23 Collection at Harry Rosen
In the heart of Milan, Emporio Armani's runway show unveiled a spellbinding journey through time and sky, as models donned old-fashioned aviator caps, signaling a departure into a show centered around the exhilarating concept of flight. And who better to pilot this sartorial adventure than the visionary himself, Mr. Giorgio Armani.
With themes of boundless adventure and uncharted exploration, the show unveiled the latest Fall/Winter '23 collection that pays homage to the brave aviators of the 1930s, while embodying the enduring fascination of human flight. This fascination has always been at the core of Armani's creative imagination, and this collection seamlessly blends nostalgia with contemporary innovation.
The collection, a mix of sport-inspired pieces, exudes the hallmark Armani aesthetic while employing soft, high-impact materials that cocoon the wearer in comfort. Enveloping volumes and designs give life to classic patterns like Prince of Wales and houndstooth checks, reminding us that history can beautifully fuse with modernity.
Silhouettes are varied, with coats, trench coats, double-breasted overcoats, and blousons harmonizing effortlessly with cropped trousers.
Elevated Tailoring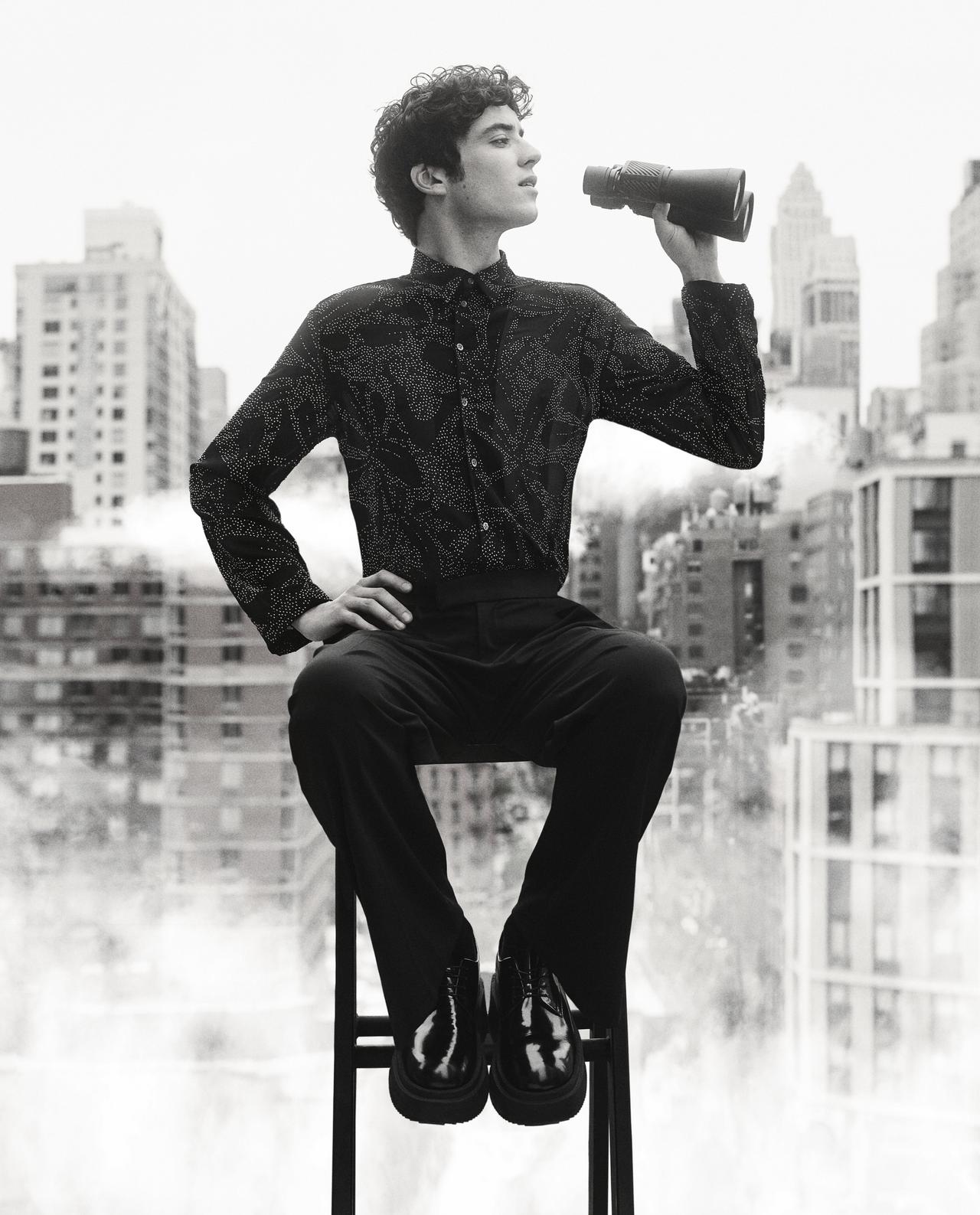 Peak-lapel double-breasted suits assert a refined presence, combining elegance with a touch of daring. These garments represent a melding of sophistication and adventure, setting the tone for the entire collection.
Incorporating leather and knits as essential elements in the collection enriches the clothing with both resilience and comfort. Vintage-style bomber jackets, flowing trip-coat designs, and cardigans paired with gilets create striking twin sets that seamlessly blend form and function.
Puffer jackets and double-breasted overcoats, including a captivating chevron puffer jacket reminiscent of alpine peaks, underscore the collection's theme of warmth and protection. Technical backpacks provide functional companionship for those embarking on real-life adventures.
Evening Elegance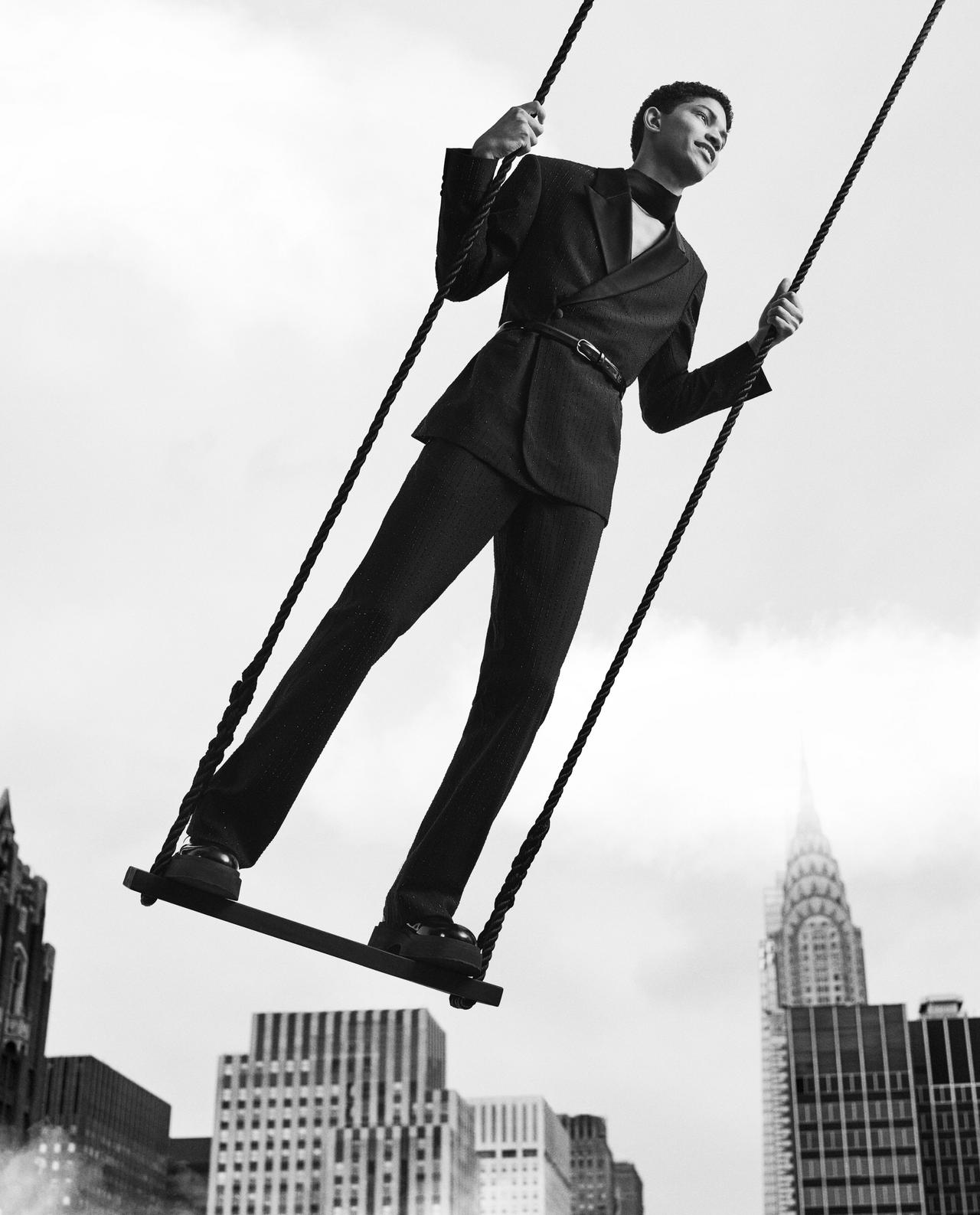 The Emporio Armani aviator transcends into the night with a touch of sophistication. Velvet textures intertwine with the sparkling allure of crystals, encapsulating the luxurious spirit of the evening. Silk blouses, complete with elongated scarf collars, and double-breasted jackets form the embodiment of this sophisticated exploration.
Sequin vests and floral-embossed dinner jackets enhance the evening ensembles, exuding an air of opulence that echoes the grandeur of celestial constellations.
Ascendant Accessories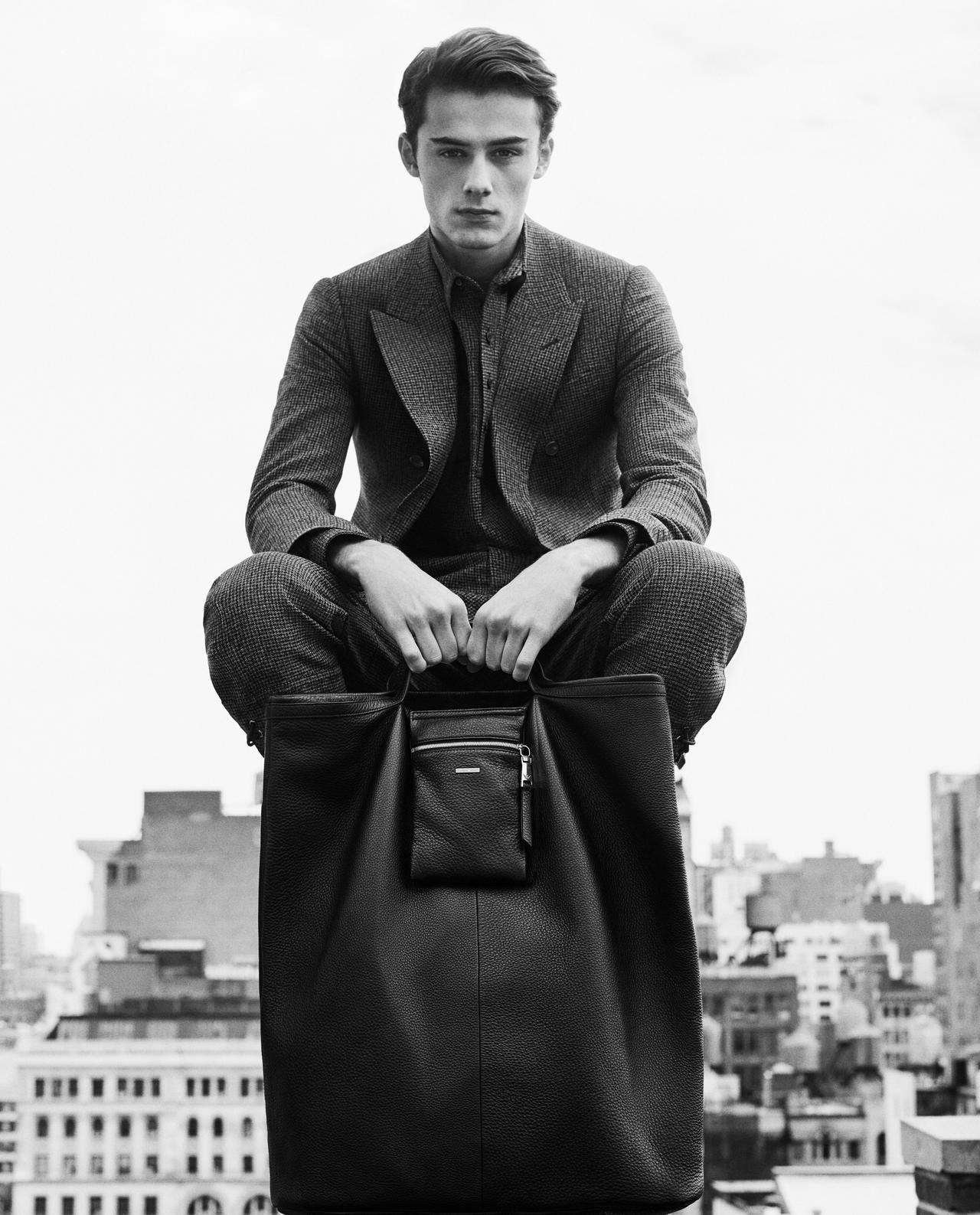 The collection embraces a wide range of accessories that augment the flight-themed aesthetic. Beanies, leather duffle bags, and crossbody companions stand ready to accompany the wearer on their stylish escapade. Footwear options range from classic black derby shoes and white loafers to versatile chukkas and iconic Chelsea boots.
In every seam, thread, and embellishment, the Fall/Winter '23 collection by Emporio Armani takes flight with an unwavering commitment to quality, history, and innovative design.