What to Wear (and When) During Your Wedding
The Complete Dressing Guide for Grooms
Stage 1: The Bachelor Party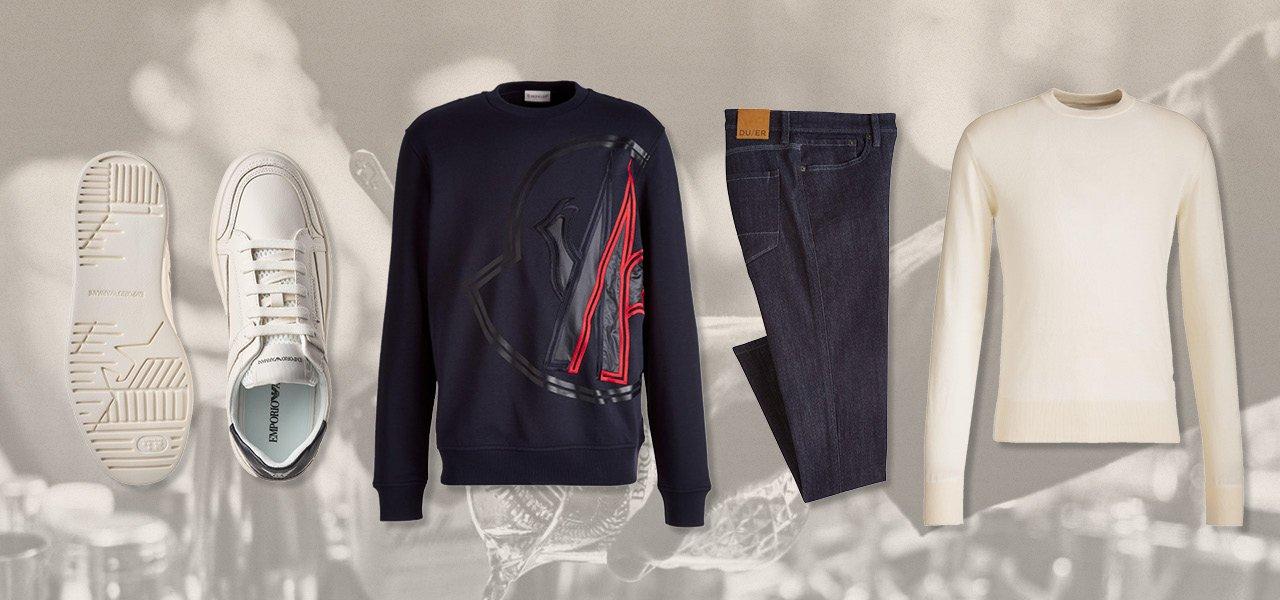 While you might not know exactly what your groomsmen, friends, and family members have planned for you during your Bachelor Party, what you can control is how you look.
If you have a certain gauge on the formality of the event (I.e., dinner at a nice restaurant vs skydiving out of an airplane), it's a good idea to arrive armed with the perfect outfit so you can look sharp in all the inevitable photos that will be taken that night.
Going somewhere nice for dinner? We suggest a refined pair of chinos or dress trousers down below with a swacket or light blazer and polished piece of knitwear up top. Wear a beautiful pair of dress boots on-feet or, if it's warmer out, you can't go wrong with a laid-back pair of loafers.
Have a funny feeling about what's to come? Play it safe with some designer-yet-durable denim and a fun piece of knitwear that you won't mind putting through the wash later on. Of course, sneakers are really the most appropriate form of footwear here.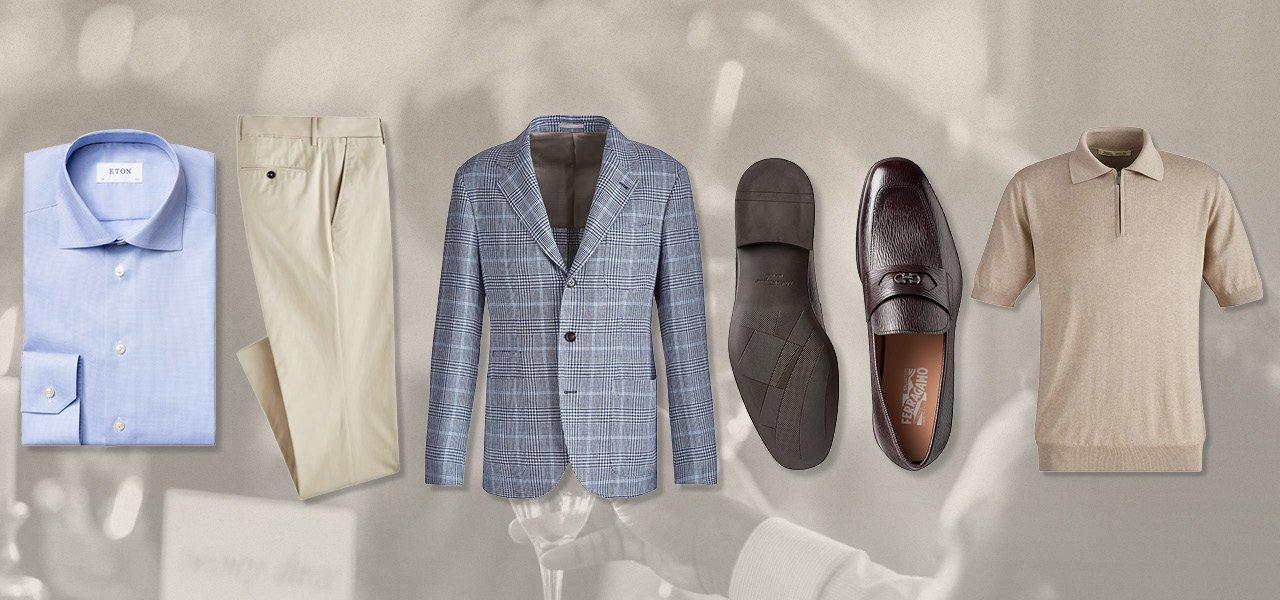 Nothing in the old wedding textbook says you need to wear anything specific during your wedding rehearsals, but this is among the first opportunities you'll have to show you're ready to take dressing for the main event seriously.
Have fun with your outfit, but make sure you set the bar high so that the various onlookers and party planners attending the rehearsal will know to bring their A-Game when the big day does roll around.
To properly leave the impression you're looking to make, we'll always recommend a casual, form-fitting blazer. From there, you can either dress things up or dress them down depending on how you feel. Dress up with a crisp button-up shirt and pair of tailored trousers or dress down with a refined knit sweater or T-Shirt and a pair of simple dark jeans.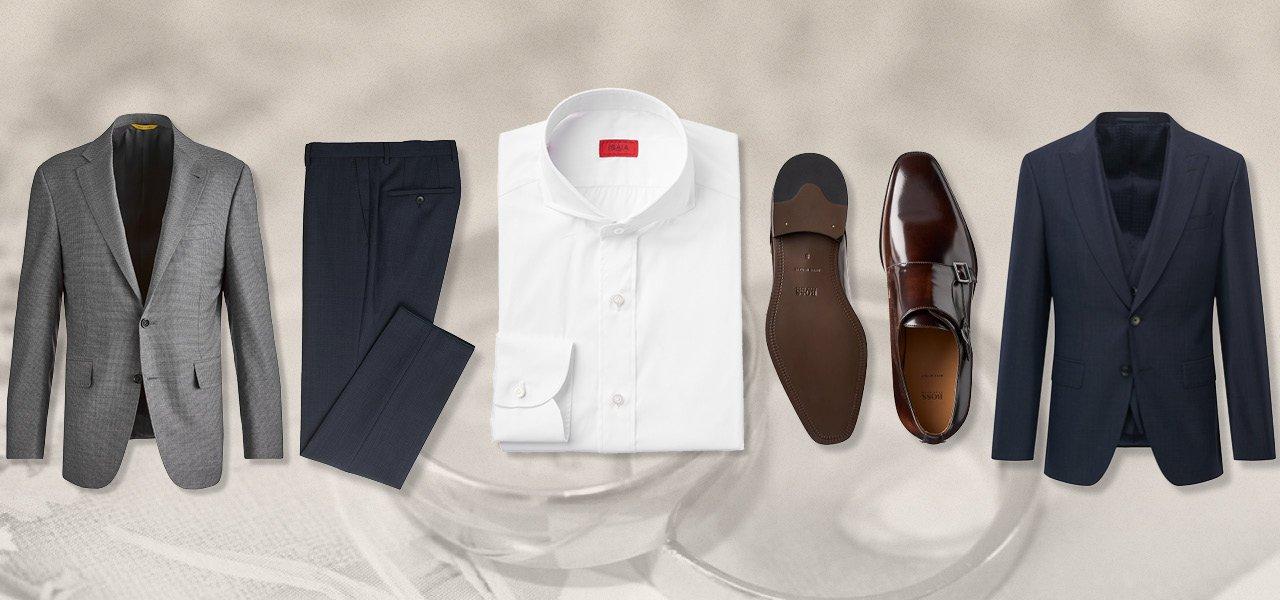 At the reception, it's always going to be all about her, so it's important you tone things down a bit so as not to steal any thunder. However, that doesn't mean you shouldn't put as much enthusiasm into what you're wearing as she is.
Keep it classy with an understated-yet-elegant dark navy or charcoal suit or opt for a more heritage-driven look with a full tuxedo here. Either way, we advise you to go full throttle on customizing your suit or tux to your particular tastes.
Take this as your opportunity to construct that perfectly tailored piece that will become your go-to for years to come whenever you need it next. Job interviews, important presentations, awards ceremonies, professional distinctions, you name it — consider this the suit or tux you'll keep for the rest of your life.
As far as tailoring goes, nothing fills you with more confidence than custom, but if you prefer to off-the-rack then spend what you can on quality first and foremost. Remember, this will become your go-to for the foreseeable future, so make this one count.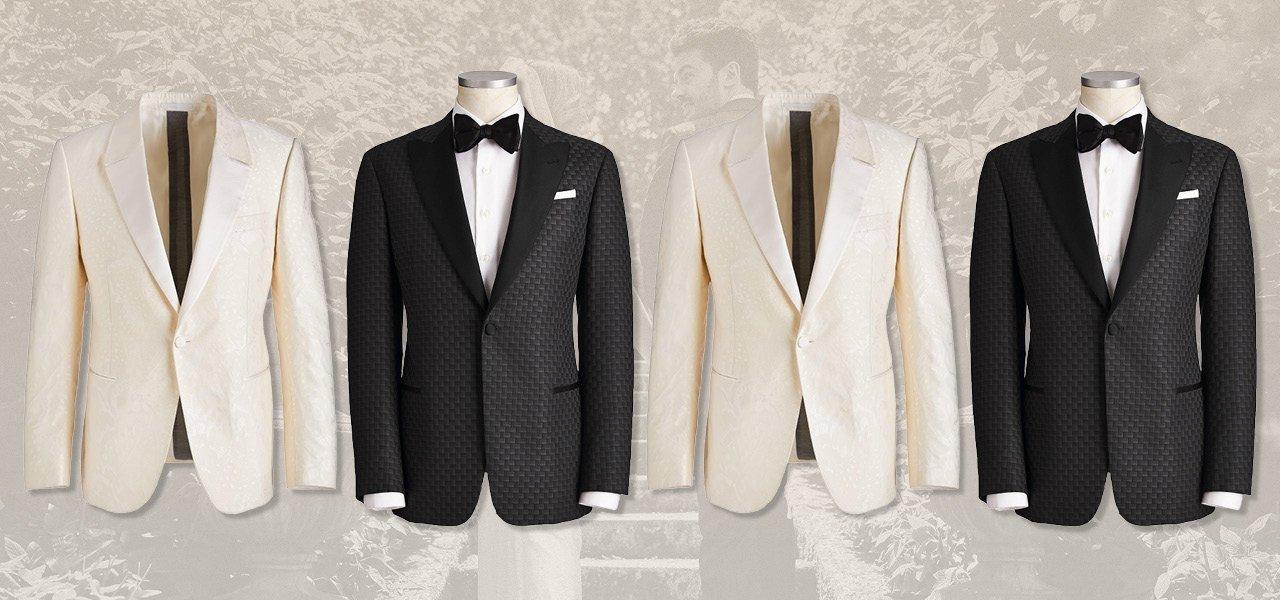 At this stage, the vows have been taken and rings are firmly around fingers — it's time to let loose a little. Mark the occasion with a spectacular cocktail jacket that will make everyone remember who wears the (more stylish) trousers in this power couple again. Now's your chance to go all out and get that Bond-esque cream-coloured jacket you'll want to wear to every fancy event or holiday party again and again.
Don't hold back on any details here: between fun linings, bold lapels, shiny gold buttons, it's no-holds-barred with your cocktail jacket. However, we would urge you to remember that you'll actually want to wear the garment on more than one occasion, so try to stay away from ephemeral trends or overly gaudy design influences.
Once again, the best approach for this stage is to go Custom-Made. However, we do carry many supremely stylish cocktail jackets across several different price points from our ready-to-wear collections too.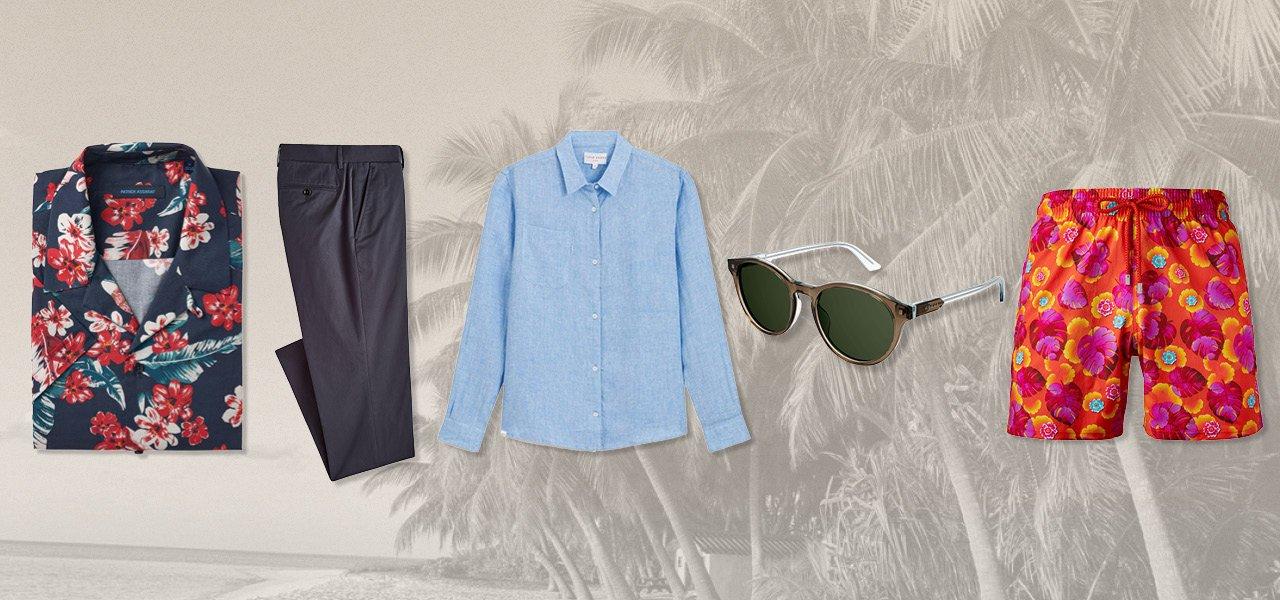 With your wedding hangover well and truly in-hand, the last thing you'll want to be troubled with is worrying about how to pack the perfect suitcase ahead of your honeymoon. That's why we'd advise you to plan ahead and preemptively pack a ready-to-go collection of clothes specifically for your sunny getaway.
Depending on how many days you'll be away, the size of your packed bag will differ greatly. However, there are a few must-bring essentials that you won't want to forget if you're headed somewhere hot.
To ring in your first few days as an officially married man in style, don't fly without these: