Our Guide to the Summer Suiting Essentials
By: Logan Ross
Date: 2022-03-10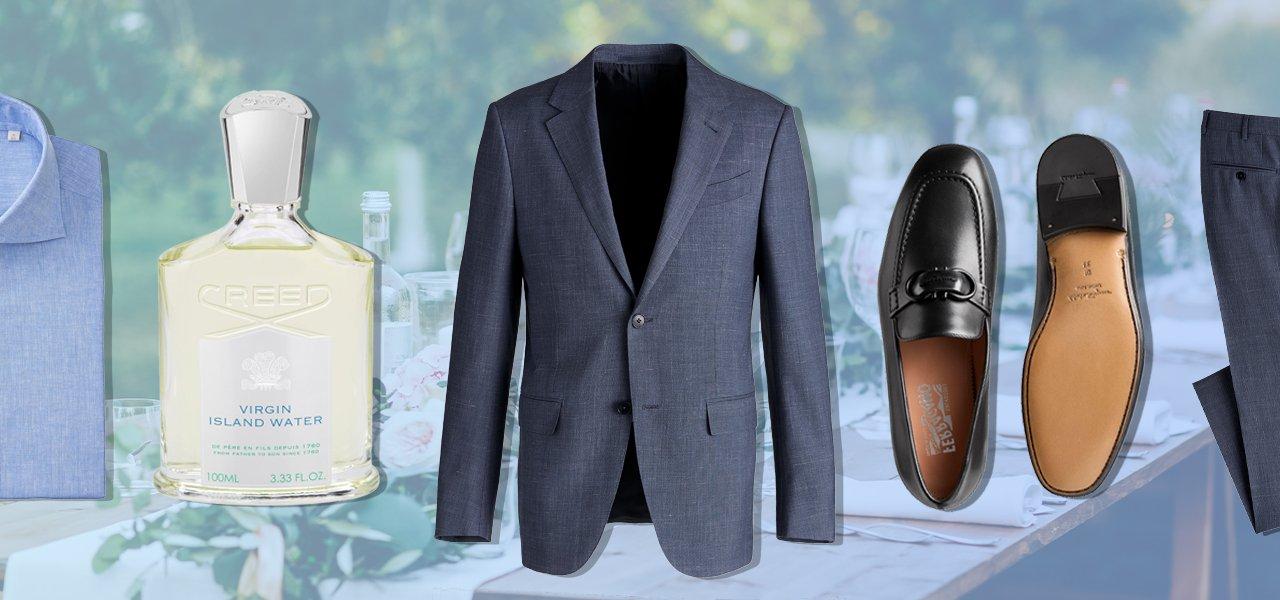 With the year's warmest months fast approaching — and as a result, wedding season — the idea of fully suiting up while remaining fully comfortable can start to sound a little contradictory, no matter the occasion.
Whether you've got a wedding to attend, an important interview lined up, an invitation to a black-tie affair, or you're starting life at a new gig with a more formal dress code, buttoning up that top button and cinching in a tie can feel like a chore — we get that.
As always, however, we're well stocked with more than a few suggestions on how to battle your sartorial conundrums and, in this case, how to keep your cool while wearing tailoring over the coming months.
Although summer might feel like a distant idea at present, it's never too early to start blueprinting your warm weather wardrobe, especially seeing as tailoring collections tend to take more time to cultivate. With that in mind, here's our idea of what the perfect summer suiting capsule consists of — alongside a few other sartorial essentials, of course.
The Suits
While the thought of dressing up in a full suit might sound extraordinarily uncomfortable in the high heat of mid-summer, it's paramount to understand that not all suits are made the same and as a result, perform much differently across various seasons.
From interior construction methods to fabric choices and even down to the cut of suit itself, there are so many factors that differentiate warm and cold weather suits.
For instance, a jacket with minimal lining and interior construction (the padding, canvassing, and structure that forms chest pieces, shoulder pads, and the like inside a jacket) is much more at-home in hotter climates. Instead of feeling heavy and insulating, these types of jackets feel much lighter and more breathable — similar to what wearing a light cardigan is like.
As far as fabrics go, not all materials are manufactured with the same intent either. While wool might sound like a winter fabric to the uninitiated, different weights and weaves of wool offer different benefits in separate seasons. The same goes for other fabrics like cotton, silk, linen, and more.
The best fabric options for summer suits tend to be blends of lightweight, breathable materials that give their wearer each of their best cooling and comfort benefits. Find some shining examples of masterfully blended summer materials in our selection of suits below.
The Shirts
Much like suits themselves, collared shirts traditionally worn underneath a suit jacket also vary incredibly depending on which season they were intended to be worn in.
While materials like twill, fine cotton, poplin, and (in some cases) oxford cloth are terrific fabrics for year-round shirting, summer temperatures tend to present a particular kind of challenge when wearing them with more formal attire.
Instead, fabrics made of lighter weight materials that tout looser weaves and gauges (the space between the individual fabric fibres) offer a much more comfortable alternative to materials more perennially appropriate. A few examples of shirting fabrics that provide a much cooler wear include linen, seersucker, madras, and lightweight cottons.
If the occasion permits, feel free to loosen a few buttons from the top collar of your shirt in order to allow the odd soothing breeze in to help ventilate. If attending a wedding, this maneuver is usually best executed during the latter stages of the reception party — preferably after attendees have consumed a few ataractic beverages and dress code regulations have loosened.
The Shoes
Formal leather shoes and sweltering temperatures aren't necessarily the best of friends, to put it mildly. However, one truth about wearing tailoring is that dressier leather shoes usually suit the aesthetic the best.
Our solution? Opt for a style that lives somewhere in between toe-bearing leather sandals and cap-toe leather oxfords. In the summer months, we live in our loafers and tend to go sockless in them more often than not. This look not only encourages regular airflow towards your feet — keeping them and by extension, yourself cool — but also retains a reasonably formal overall image, perfect for outdoor weddings come summer.
The key to pulling off any sockless look is to properly break in your footwear before attempting to wear them sans socks for any extended period of time. The last thing you want is to find yourself begging bridesmaids for Band-Aids at your best mate's wedding because your blisters have become unbearable.
Whether you opt for a pair of loafers, driving moccasins, or decide to sport the sockless look with a pair of oxfords, derbies, double monks, just ensure they're nice and polished ahead of time to make certain they match the prestige of your summer suit.
The Accessories
No suit appears totally complete without its accessories, which is why we always urge you to take that little bit of extra care when dressing up to pay close attention to the subtle details.
What tie bars bring to ties and what cufflinks bring to shirt cuffs are just two of the many shining examples of how a small sartorial addition can dramatically enhance a tailored outfit. However, tacking on every single suiting accessory all at once doesn't necessarily always enhance your image.
The key to approaching accessories is to simultaneously be bold in your choices yet restrained in how many accessories you add to your suit. And in the summer, it's oftentimes preferable to take the 'less is more' approach so you aren't overly bogged down with bling.
If you're attending a formal affair — like a wedding ceremony, for example — knotting up a tie might be an non-negotiable part of the dress code. In that case, opt for an ethereal, lightweight interpretation like a silk knitted tie. You'll most likely forget it's on after a few minutes versus wearing a traditional multi-fold silk tie with unnecessary weight warmth to it.
If you can get away without a tie, then supplement your suit with accessories like a tasteful signet ring, some designer bracelets, or an eye-catching lapel pin.
In any case, if your shirt has French cuffs, you should always be reaching for a sleek set of cufflinks to compliment your outfit. If your shirt has regular barrel cuffs, consider leaving them open to capture that certain carefree insouciance that allows easier entry for those cooling summer breezes.
The Fragrances
Despite all of your warm weather dressing tactics, summer's highest temperatures can get the best of anyone — no matter if they're sporting a three-piece suit or a bathing suit.
When perspiration is practically unavoidable and good personal hygiene practices are at their most pertinent, the importance of choosing an agreeable fragrance becomes a crucial element of every outfit.
For summer, we prefer lighter, more fruit-forward fragrances that smell zestier and more energetic compared to their darker, spicier counterparts better suited to Fall/Winter. Lighter fragrances are more subtle and appealing and won't leave quite as potent an impression on your acquaintances in the strong summer heat.
Keep things fresh and floral with a fragrance more suited to summer when suiting up at your next wedding or formal occasion. In doing so, you'll have added that one final layer of depth and intrigue to your get-up that fellow guests and party goers won't quite be able to identify until they're within intimate proximity.