Style and the Silver Screen
Classic movies serve as vivid records of some of the finest moments in menswear.
By: DYLAN MARTIN
Date: 2017-08-18
From James Dean to Steve McQueen, Hollywood's leading actors provide us with some of the most iconic moments in menswear. Movies set the bar high for discerning dressers in every era. Let's take a look at some outstanding wardrobes that showcase the big screen's enduring influence on fashion. These iconic films propelled men's style in a modern direction and remain a creative reference point for many designers today.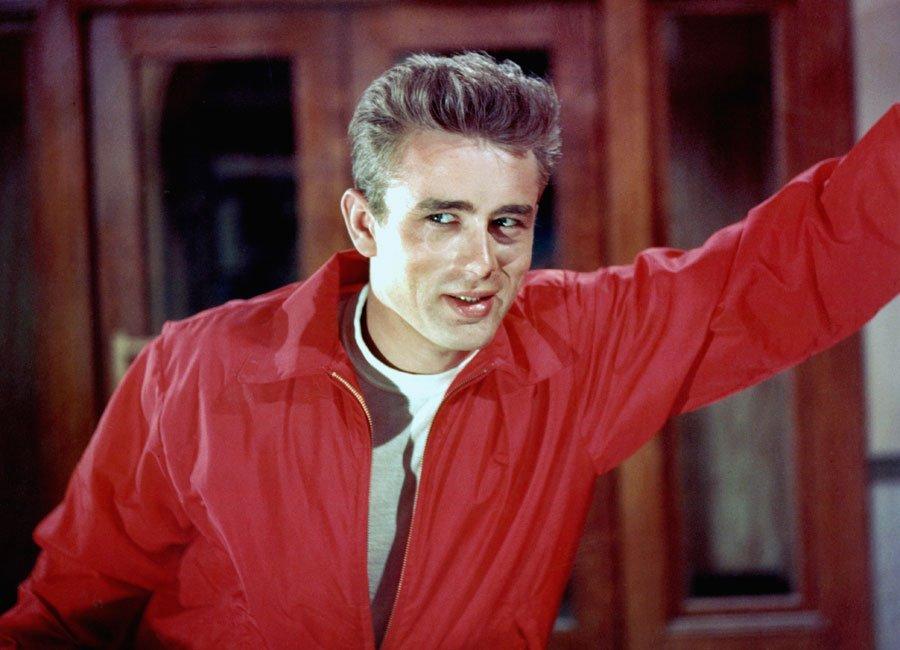 Rebel Without a Cause (1955)
From James Dean's trilogy of films, Rebel Without a Cause is the one that cemented his status as the original teen heartthrob, clad in blue jeans and leather boots. An entire new fashion sensibility emerged, and dressing down became the new rebellion. At the time, an anti-establishment storyline was controversial. Censorship groups feared the film's celebration of juvenile delinquency, however, its intoxicating charms set audiences into a fervent state.
It's nearly impossible to imagine, but publically revealing a T-shirt in the early '50s was shocking, and Rebel Without a Cause became a catalyst for its progression from underwear to wardrobe staple with sex appeal. Dean's vibrant bomber also became an American classic. "When you first see Jimmy in his red jacket against his black Merc, it's not just a pose. It's a warning, it's a sign," noted director Nick Ray. The runaway hit eternalized Dean as an infinitely cool actor with a devil-may-care attitude.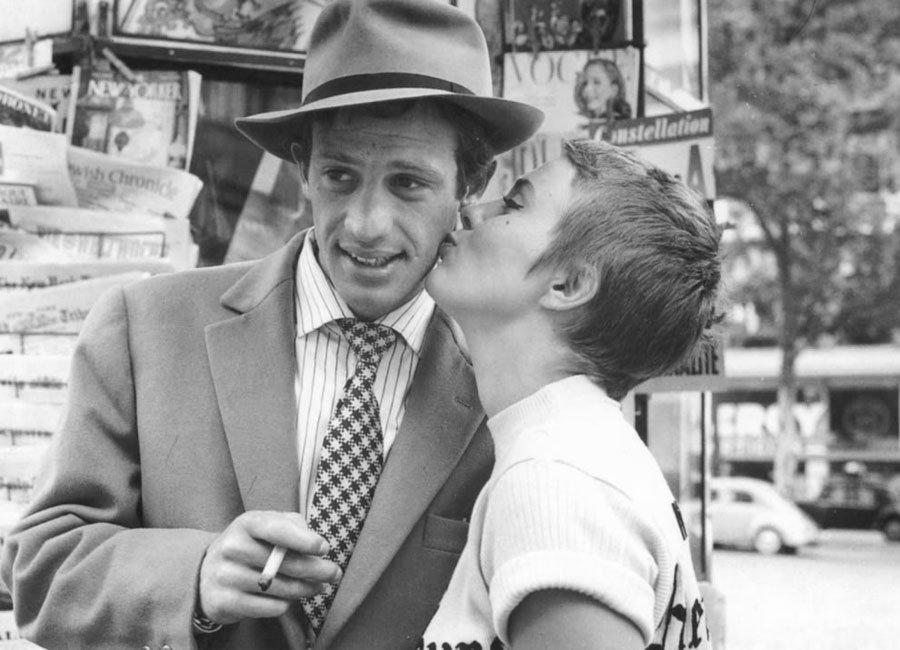 Breathless (1960)
Director Jean-Luc Godard burst onto the cinema scene with his unprecedented masterpiece Breathless and ignited the French New Wave movement. The film's breakout star Jean-Paul Belmondo plays a small-time criminal on the run from authorities. Despite his looming fate, the charming Parisian remains consistently nonchalant. Belmondo dresses with the same laid-back approach he takes to life. His eclectic outfits are an intuitive choice and demonstrate the power of effortless style.
In light of the creative freedom Godard gave his actors, it is said Belmondo made many of his own costume choices. The leading actor is pictured in an array of bold checks and stripes illuminating how to play with patterns. His brash character always acts on a whim and embraces his impulsiveness. While this mentality gets him into plenty of trouble, it certainly makes for a memorable wardrobe.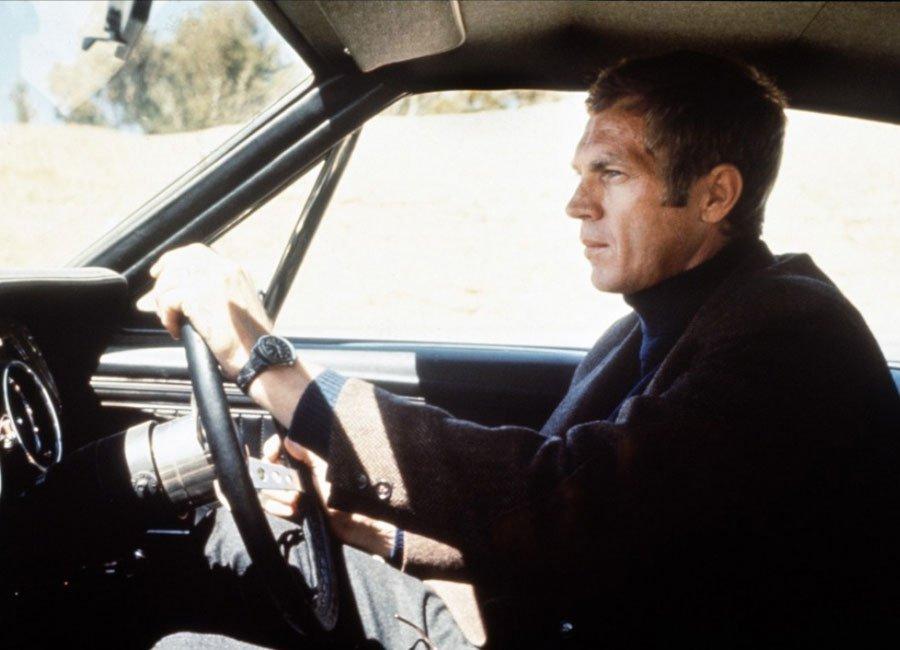 Bullitt (1968)
Steve McQueen will forever be the "King of Cool" and one of the most stylish men to ever grace the silver screen. Director Peter Yates captured the actor at his height in the film classic Bullitt. The stoic role of Frank Bullitt (maverick cop-on-the-fringes) affirmed McQueen's position as the ultimate anti-hero. His outfits feature a rakish mix of casual and tailored pieces that reflect the Lieutenant's renegade persona.
One of the lessons McQueen teaches us is how to best layer menswear. He famously sports a turtleneck under his herringbone tweed jacket and trench coat. This legendary look is complete with a nifty pair of crepe soled chukka boots — worn as the protagonist hits the gas pedal in a Mustang GT 390. While it's enviable to have a fast car and Jacqueline Bisset by your side, what really sets McQueen apart is his sartorial confidence. In every frame he is completely at ease, not only with what he's wearing but also with himself.
The Godfather Part II (1974)
The Godfather series is director Francis Ford Coppola's pièce de résistance. Part II of the saga chronicles Michael Carleone (acted by Al Pacino) as he expands and tightens his grip on the family empire. From a costume perspective, it is apparent the corrupt character's suits are instrumental in his rise to success. The stone-faced outlaw adopts a penchant for structured tailoring that pays tribute to his Sicilian heritage. He underscores that "power dressing" is all about an assertive energy.
This trailblazing Best Picture winner has come to exemplify the smart style of modern mobsters. Al Pacino's three-piece suits mark a man with the authority to confidently control a merciless gang. Never before or since has organized crime looked so sophisticated.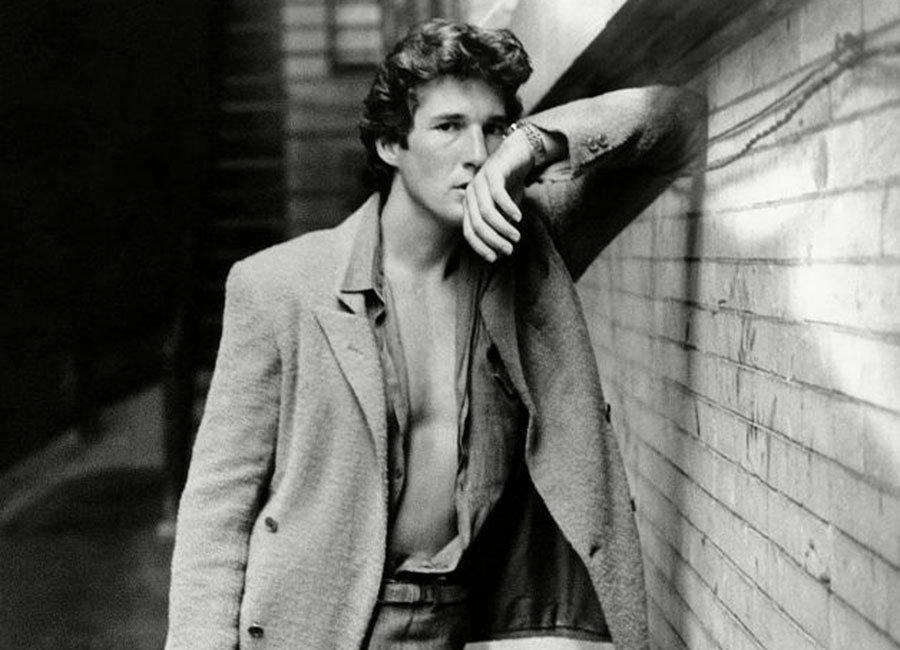 American Gigolo (1980)
American Gigolo electrified audiences with its seductive storyline about a hustler named Julian Kaye. The leading role is played by Richard Gere who personifies irresistible charm and always appears in control. This air of confidence is no doubt bolstered by a strong wardrobe. From the opening scene where Gere is fitted by his tailor, it's apparent fashion is a fundamental part of his enticing image.
Gere's compelling costumes were entirely created by the legendary Giorgio Armani. The upscale escort's deconstructed lounge suits were devoid of most typical padding and canvassing for a relaxed look that we now come to appreciate as signature Armani. Lightweight fabrics like wool crêpe and linen were reimagined in a luxurious context to keep the actor cool on the streets of Beverly Hills. American Gigolo remains a blueprint for casual Italian tailoring that still feels relevant today.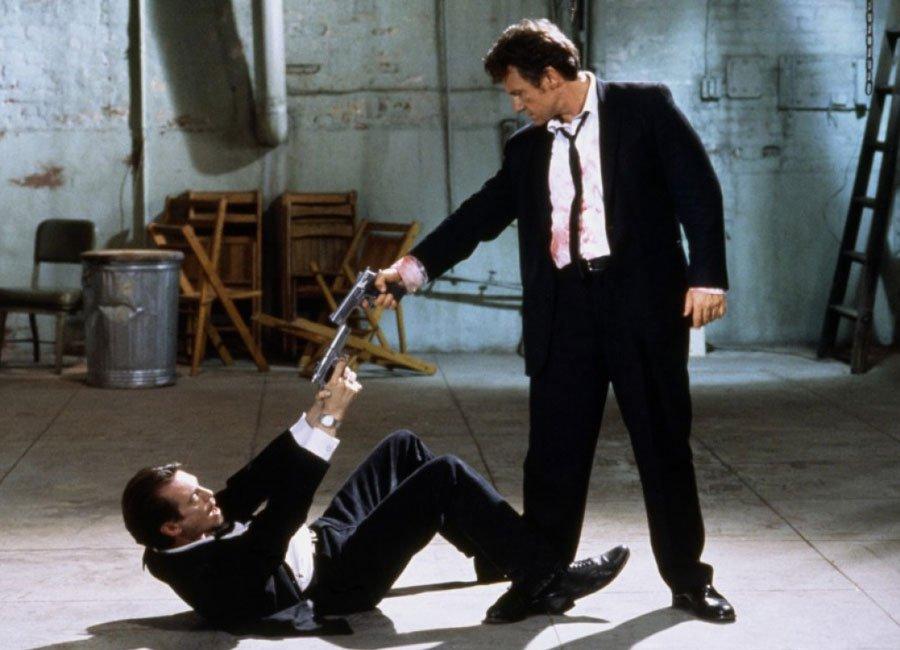 Reservoir Dogs (1992)
Reservoir Dogs established Quentin Tarantino as a visionary filmmaker known for combining callous crime, profuse profanity, and cool clothes within a nonlinear narrative. His directorial debut further transformed popular perceptions of tailoring. While the suit has always been a boardroom necessity, Tarantino's movie proved it also looks pretty damn cool when pulling a diamond heist.
From the slow-motion opening credits, the ensemble cast set the tone in a streamlined uniform of black and white. Despite all the mayhem and fury that follows, the hard-hitting thieves always maintain a slick appearance. Their stylishness is largely attributed to Betsy Heimann. The Hollywood costume designer worked tirelessly to achieve ideal fitting garments. "Why they look so good is that each character's suit is tailored to his body," she explained. "I am very pleased that the narrow silhouette I created influenced and still influences men's fashion."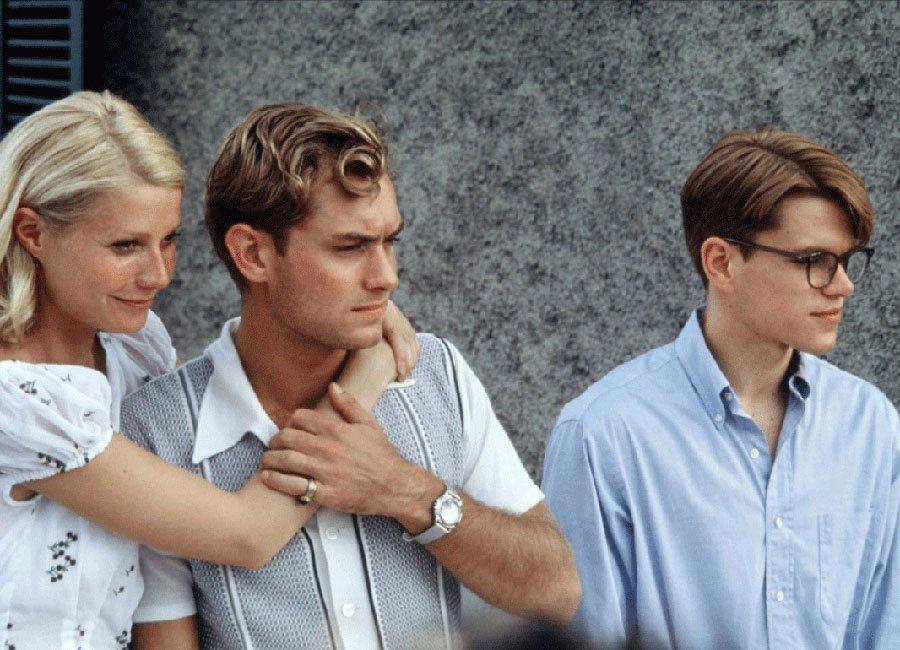 The Talented Mr. Ripley (1999)
The Talented Mr. Ripley is a veritable feast for the eyes. The film's striking cast is pictured in an elegant array of costumes with an idyllic seaside backdrop. At the centre of the slow-burning psychological thriller is an audacious Princeton graduate named Dickie Greenleaf (played by Jude Law). This free-spirited character never looks out of place, but also never seems to be trying too hard. Dickie's tasteful attire represents a classic crossover of American prep and Italian ease.
When we are first introduced to Dickie, he is wearing a brilliantly patterned pair of swim shorts worn alongside an effervescent Gwyneth Paltrow. From that moment onwards, it's clear Jude Law's role is a masterclass in refined summer style.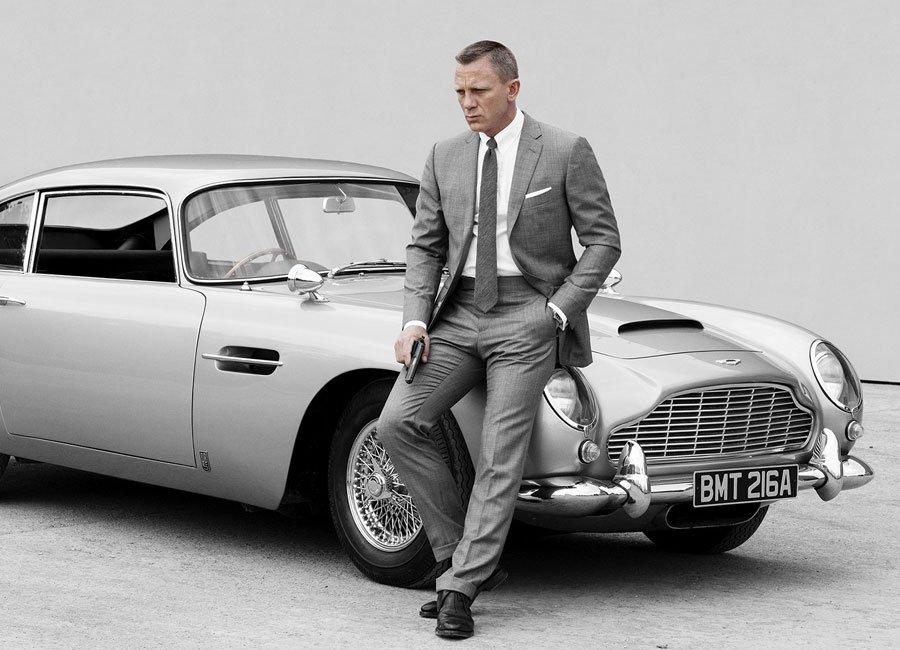 Skyfall (2012)
It's fair to say no other fictional character has had quite the same effect on men's fashion than 007. James Bond possesses style, manners and class, and heroically carves his own path. He proves a little savior faire goes a long way, and it all begins with a polished appearance. The franchise's highest grossing installment Skyfall saw Bond looking his absolute best in custom TOM FORD. This ongoing design partnership has proven to be a match made in sartorial heaven.
"I have been dressing Daniel Craig for some time and know that he looks best when simply dressed, so we did some beautiful suits, tuxedos and daywear," noted Ford. "We didn't really modify our suits, as James Bond is a bit like our guy — classic and extremely elegant." The spy's tailored attire was carefully cut with just enough room for a concealed handgun. Lightweight fabrics were utilized for maximum mobility (very important for a man of action like Bond).