No-Show Socks You Need For Summer
By: TIM GALLANT
Date: 2017-06-14
Summer is here! Where have all the socks gone?
As temperatures soar you've no doubt noticed the disappearance of socks on the feet of men all around you. While we're proponents of the bare look – when appropriate – we don't advocate completely ditching your socks. First of all, going bare is hard on your footwear. You see, sweat breaks down the material of your shoes, wearing them out faster and shortening their lifespan. Secondly, your feet smell. Heat + leather + your feet is a recipe we don't recommend.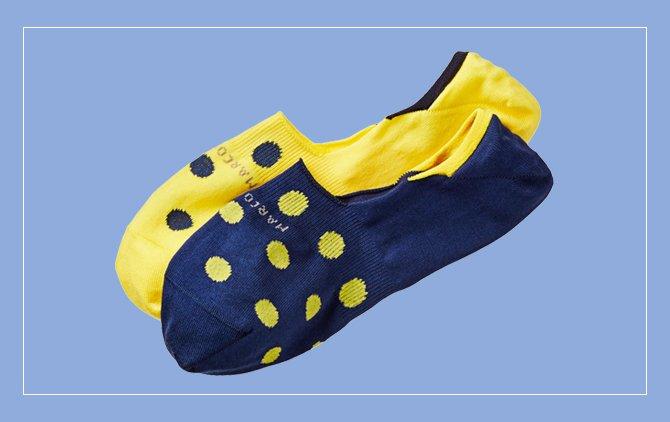 Fortunately, there's a solution that works.
Discrete no-shows (aka invisible socks, loafer liners) are a game-changer. Not only are they more comfortable than going barefoot, they're a less sweaty option that help to prolong the life of your shoes.
Despite the fact that they are rarely be seen, no-shows are now available in aggressively cool colours and patterns. Our favourites are from leading experts like Marcoliani, Pantharella, and Paul Smith. These guys are using high-quality fabrics like pima or Egyptian cotton that offer comfort, durability, and breathability. Plus, the fit has been perfected. When you purchase a quality pair, they actually stay on your feet so you don't end up with a puddle of cotton crowding your toes at the end of the day. Unlike inferior alternatives, these designs are crafted to get the job done and move with your feet. They're so easy, you'll forget you're wearing them.
Consider your shoes saved. Even if you're prone to going barefoot in the summer – we suggest you consider your colleague in the neighboring cubicle. No-show socks will absorb odours before they relentlessly leach on to your shoes.
So go ahead, rock the sockless look—and win the war against sweaty, smelly feet. Still not sold on the whole bare ankle thing? Look to Wonder Woman's Chris Pine who extolls the virtues of going bare.