It's About Time! Introducing Watches at Harry Rosen
A few new faces. Men's watches now available exclusively online.
By: Jeremy Freed
Date: 2022-02-11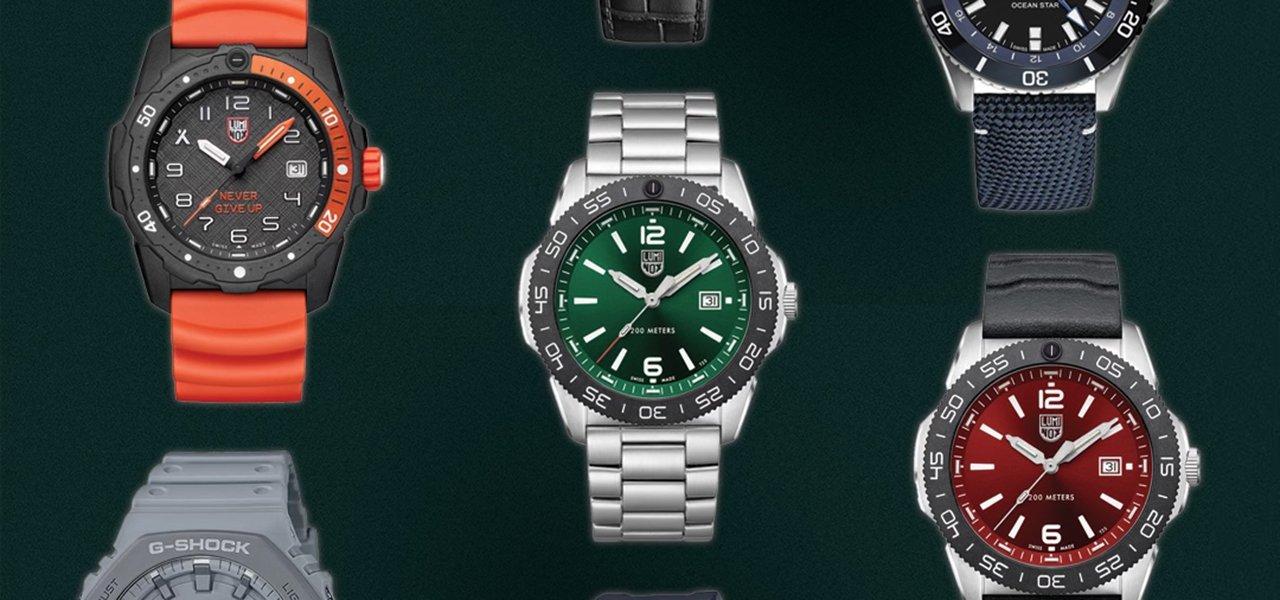 When having your dress shirts tailored, it's always a good idea to accommodate a little extra room around the wrist for a timepiece. And now, we're excited to announce we'll be able to help you out in that department too.
With designer men's watches from a number of distinguished names including Mido, Luminox and G-Shock, we've enlisted watch expert Jeremy Freed to help parse our inaugural assortment.
Mido
When Swiss watchmaker Georges Schaeren founded Mido in 1918, watches were still a relatively new invention, having recently migrated from men's pockets to their wrists. Excited by the possibilities of this new technology, Shaeren made a name for his brand by pushing the envelope ever further in terms of style and technicality, drawing sporty inspiration from the other mechanical marvels of the day: early automobiles by Bugatti, Buick and Fiat. Named after the Spanish phrase "Yo mido" (I measure) the quest for ever-greater precision has always been at the heart of everything Mido creates. Today, more than a century later, Schaeren's vision of a company with bold design and mechanical precision at its core is alive and well.
Mido is a relatively recent arrival in the Canadian market, but its long, rich history of innovation and its archive full of stunning vintage designs has helped it earn a fast-growing following on our shores. Informed by the brand's legacy of designs from the 1930s through the 1960s, their vintage-inspired creations combine old-school looks with the reliability of Swiss-made mechanical movements, all at an extremely competitive price point. You won't find a lot of precious metals, gemstones or fancy complications here, but you will find a ton of value for money, as well as some of the most uniquely stylish watches on the market.
While the brand is best known for pieces like the best-selling 1960s-inspired Ocean Star dive watch, the past isn't their only source of inspiration. Mido also distinguishes itself by creating pieces inspired by the world of architecture, using iconic structures to inform their case and dial designs. The côtes de Geneve (or Geneva stripes) engraved across the dial of the Mido Multifort, for example, are based on the aesthetics of the Sydney Harbour Bridge, while the Mido Commander's rectangular indexes and hands echo the latticed ironwork of the Eiffel Tower.
The dozens of pieces in Mido's catalogue range from two-tone dress watches to modern, sporty designs in scratch-proof black PVD, meaning that Mido's designs aren't only unique-looking, they're also uniquely versatile. Whether you're suiting up for a big meeting or heading to the beach for a tropical getaway, Mido has something that will elevate your look in unmistakable style. More than a hundred years after the brand's inception, precision and style are still the name of the game here.
Luminox
Every watch collection needs a tough, knock-around piece that can stand up to life's bumps while still looking great. Luminox is designed to be that watch – and then some.
Founded in California in 1989, Luminox was inspired by the desire to create a watch with superlative readability in low light – whether on land or underwater. The result was Luminox Light Technology (LLT), a self-powered illumination system that uses tiny tritium gas tubes to create high visibility under any conditions, including complete darkness. Unlike luminous dials on other watches, which are "charged" by ambient light or powered by a battery, Luminox's technology requires no external input to glow brightly for up to 25 years.
Named for "Lumi" the Latin word for light, and "nox" the Latin for night, the brand soon came to the attention of law enforcement, military, and other professionals who need a durable watch that works well in low-light conditions. This led Luminox's founder to collaborate with the US Navy SEALs to create a timepiece that could meet their legendarily tough standards. With its big, chunky bezel, high-contrast dial and sturdy case made from CARBONOX, a non-metallic material 6 times lighter than steel and 3 times lighter than titanium, the original Navy SEAL watch was more than capable and remains an important part of the Luminox lineup today.
More than 30 years after the brand's launch, Luminox still makes some of the sturdiest quartz-powered watches out there and has continued pushing the limits of rugged watch design through a series of collaborations with celebrity outdoorsman Bear Grylls. They've also branched out into more traditional luxury sports watch territory with their Pacific Diver, a collection of Swiss-made watches designed to transition from the beach to the office. Features like a uni-directional rotating CARBONOX bezel, locking crown and 200m of water resistance mean it's ready to stand up to all of your adventures on land or sea, while the 316L steel case and a variety of colourful dials offer a more refined style. When it comes to Luminox, however, whichever model you choose you can be sure of two things: legendary brightness and toughness.
G-Shock
The Casio G-Shock isn't just one of the most popular watch designs ever made, it also has a pretty cool backstory. In the early '80s, after dropping and breaking his own treasured wristwatch, Casio engineer Shizuo Abe set out to create a totally new kind of watch design. It would be digital, of course, but not just that. It would be the toughest and most durable digital timepiece ever made. Abe quantified his goals into three key areas: 100m of water resistance, the ability to survive a 100-foot drop and a battery that would last at least 10 years. Several years, many smashed prototypes and countless sleepless nights later, Abe did what he set out to do, and the G-Shock was born.
Decades later, the G-Shock's toughness has made it the watch of choice for countless law enforcement and military professionals, but it has also found a more unexpected group of fans in the world of fashion and celebrity. The G-Shock wasn't initially intended to be a luxury accessory or a fashion statement, but its beefy utilitarian design and bold colour palette caught the eye of celebrities like Pharrell Williams, Kanye West and John Mayer, helping to create a massive following for the G-Shock among streetwear fans and luxury watch collectors alike.
With hundreds of models available in a massive range of colours, materials, sizes and functions, from the minimalist 5600 series to the massive ion-plated steel MT-G, there's a whole world of G-Shock to discover. For outdoor enthusiasts, the Rangeman series displays altitude, barometric pressure, temperature and direction readings, while the surf-centric G-Lide offers tide graphs, moon age, tide levels and sunrise/sunset times. The new GA2100 series (nicknamed the Casi-Oak for its resemblance to a famous Swiss sports watch) offers a sleeker, more refined interpretation of the G-Shock design, with a slimmed-down resin case, a hybrid analog-digital display and a choice of contemporary colours. Despite the mind-boggling variety of styles to choose from, one thing is as true of every G-Shock today as it was in 1983: you won't find a tougher watch anywhere.
Shinola
Detroit's renaissance has been a long time coming. While Motor City's future as a hub of American-made products may or may not ever arrive, Shinola has played an important role in reviving American watchmaking. Shinola began making watches in 2012, at the first watch factory to open in the US in almost 50 years. Headquartered in Detroit's historic Argonaut Building, the brand has experimented with everything from bicycles to headphones to candles, but it's the quality and design of their watches that has truly put them on the map. A decade after it was founded, Shinola has proven that Detroit can not only make watches, it can make them as well as anywhere else in the world.
Shinola's first piece was the Runwell, a three-handed watch whose DNA can be seen throughout the entire collection today. Following the Runwell's success, the last decade has seen the introduction of more than 100 other models in 17 distinct families, ranging from sporty chronographs to dive watches to colourful cases made from reclaimed ocean plastic. What all of these pieces have in common – aside from their provenance in the Rust Belt – is a design language informed by rounded edges, cheerful colours and classical sports watch influences, making a Shinola timepiece an unusually versatile wardrobe accessory.
While Shinola started out using exclusively battery-powered quartz movements, recent designs have upped the ante by offering Swiss-made automatic movements as well. With cases made from high-grade 316l stainless steel, and features like three-link bracelets with micro-adjustable clasps, new models like the Lake Michigan Monster dive watch offer a glimpse towards Shinola's future not as a respected American watchmaker, but as one of the best in their class, period.
TOM FORD
Few names carry as much weight in the world of menswear as TOM FORD, and the legendary designer has proven that he's as skilled at watch design as he is at crafting fragrances, films and peak lapel velvet tuxedos. Ford launched his watch brand in 2018 with the 001, a watch whose minimalist name matches its pared-down design.
"In general, I dislike a trendy watch, as I am a fairly classic person," Ford said at the time. "For a man who is more traditional, watches are really one of the few accessories he can wear outside of maybe a wedding ring." As such, the 001 is an exercise in elegant simplicity, taking inspiration from iconic designs like the Cartier Tank and Jaeger-LeCoultre Reverso while imbuing the watch with his own laser-focused sensibility. The result is a formal watch powered by a simple quartz movement, available in gold-tone, steel and matte black with white or black dials. The straps are easily interchangeable (adding to the watch's versatility as an accessory) and the 001 lacks a second hand because Ford, apparently, dislikes the loud ticking of a three-hand quartz movement.
Building on the success of the 001, Ford added a model powered by a Swiss automatic movement the next year, along with his follow-up, the 002. Where the 001 is formal, the 002 is sporty but versatile, with a look that can be dialled up or down depending on your choice of case materials and straps – including ones made from reclaimed ocean plastic. Like the 001, the Model 002 is a no-frills design with clean numerals and a high-contrast dial but comes with the addition of a seconds hand and a date function for added functionality.
For 2021, TOM FORD launched a third model family, the 003, which builds on the collection's minimalist look with new details. Another rectangular piece, the 003 adds a bit of post-industrial design with six visible screws on the bezel (a popular feature of 1970s sports watches like the Audemars Piguet Royal Oak) along with (for the first time) a big TF logo at 12 o'clock. Design-wise, it's textbook Ford: modern, austere, monochrome, and considered down to the tiniest detail. Perhaps he should have been a watch designer all along.
Vulcain
The benefit of the recent explosion of interest in vintage watches is the re-animation of long-dead heritage brands from the 19th and 20th centuries. Among these "zombie" brands, however, none has a story – or a line of products – quite like Vulcain. Founded in Switzerland in the 1850s, the brand quickly made a name for itself with its advanced designs for complications, chronometers and chronographs. In the 1940s, however, the brand released what would become its hallmark complication: the world's first fully functional alarm wristwatch, the Cricket.
It can be hard to imagine the significance of this technology in today's world of cheap digital watches and smartphones, but make no mistake, the creation of a mechanical alarm watch – one that was both loud enough and reliable enough to matter – was a massive feat of horological engineering. The Cricket accompanied explorers on mountaineering and maritime expeditions, but its biggest coup was an endorsement by US President Dwight Eisenhower, who helped the Cricket earn its reputation as the "Watch of Presidents." Harry Trumann, Richard Nixon and Lyndon Johnson all followed suit, keeping the Vulcain's reputation afloat through into the 1970s. In the 1980s, however, the rise of inexpensive digital alarm watches like the Casio G-Shock meant that the Cricket was no longer the cutting-edge business tool it once was, and the company fell on hard times. Fortunately for lovers of quirky mechanical watches, however, Vulcain's story doesn't end there.
In 2002, Vulcain re-emerged in Le Locle, Switzerland, and began making watches again. Among their first launches, naturally, was a new edition of the Cricket featuring an advanced mechanical movement that now included a date complication in addition to its famous alarm. More variations would follow, riffing on the Cricket's classic design in a wide range of colours, dial details and precious metals, and re-establishing Vulcain as a maker of some of Switzerland's most distinctive mechanical watches. The brand has also revived another tradition: by gifting every sitting US President a Vulcain Cricket, they are ensuring the original Watch of Presidents will live on.
Tonino Lamborghini
Few company names carry as much weight as Lamborghini, a brand synonymous with some of the world's most powerful, exotic and expensive sports cars. For Tonino Lamborghini, the son of the company's famous founder, Ferruccio, however, the brand's raging bull logo doesn't just represent the pinnacle of automotive design, it's also the mark of a unique luxury watch brand.
In 1981, riding high on the success of the Countach supercar, Tonino Lamborghini set out to create a new kind of luxury brand. With a keen eye for luxurious design and an expansive vision for Lamborghini's next era, Tonino founded the Tonino Lamborghini Style and Accessories company, a lifestyle concept with boutiques in Rome, London and Hong Kong. Featuring Tonino Lamborghini-branded watches, eyewear and leather goods collections, the brand has grown over the years to include everything from wine and pasta, to electronics and furniture, to restaurants and hotels – an expansion that continues today with major real estate developments underway in Thailand and Brazil.
Tonino Lamborghini's watches have always been a mainstay of the brand, blending the bold, industrial look of Lamborghini's vehicles with cutting-edge Swiss watchmaking design. Its Cuscinetto, for example, (the name is Italian for "ball bearing") replaces a conventional watch bezel with one that rotates using 12 visible ball bearings. The Spyderleggero, meanwhile, features a titanium and aluminum case in the shape of Lamborghini's six-sided raging bull crest, held together by a set of visible Torx screws. Both of these come with automatic Swiss movements, but Tonino's battery-powered quartz watches like the GT1 and Spyder Chrono offer an equally stylish take on the brand's angular design codes.
The 21st century sees the third generation of the Lamborghini family stepping up to steer the brand into the future, led by former championship motorcycle racer Ferruccio Lamborghini, the company's new vice-president and CEO. As passionate about watches as he is about motorsports, Ferruccio Lamborghini aims to continue the work begun by his father Tonino 40 years ago and create watches that blend Lamborghini's style and performance with high-end watch design. For fans of Lamborghini's iconic supercars, there's simply no better way to wear your passion on your sleeve.
Jeremy Freed is a Toronto-based freelance journalist. His writing about menswear, travel, design and sustainability appears in Sharp, GQ, the Globe and Mail and many more.