Transitioning from S/S to F/W with Loro Piana's Open Walk
A Guide to Switching Seasons with Loro Piana's Most Beloved Shoe Silhouette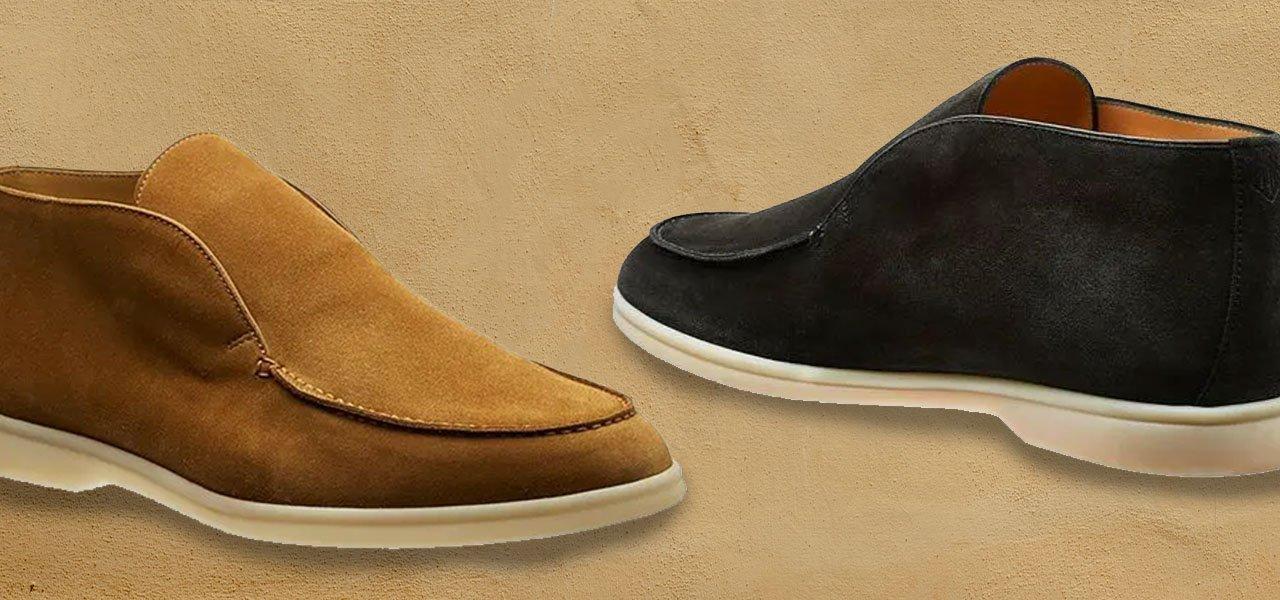 Coming to terms with the end of summer isn't easy for anyone. Maintaining a deep bronze tan becomes an uphill battle, fellow cottage go-ers begin to shut-up shop for the season, and backyard barbecues shift from commonplace occasions to novel get-togethers.
Perhaps the pill most difficult to swallow, summer's descent begins a countdown of days when one can jaunt about town in every well-to-do man's favourite loafer, the Loro Piana Summer Walk.
Unfamiliar with this legendary loafer? Introduce yourself to Loro Piana's Summer Walk here.
The one silver lining? The Open Walk: Loro Piana's Fall/Winter answer to their most beloved style of shoe.
The Open Walk – Tell Me More
Loro Piana's now iconic Walk range (Summer and Open) is adored by gentlemen the world round; at least, those in the know. While the shoe's silhouette is far from flashy and attention-seeking, the men who tend to own them are typically never far away from front page headlines themselves.
Dedicated devotees to Loro Piana's Walk series include a long list of the world's most important and influential people (art dealer and gallery owner Larry Gagosian is reportedly a loyal fan, for example).
Once autumn weather arrives, Summer Walk loafers are reunited with their soothing shoe bags and consolatory cedar shoe trees until the start of spring next year, trading places with the Open Walk boots.
What Makes Them Great?
Featuring a raised ankle, which forms a shape not too dissimilar to a classic chukka or derby boot, the Open Walk uppers are constructed from a variety of different luxury materials, available in everything from supple suede to premium leather and even the brand's emblematic Wish Wool.
Down near the ground, that same unmistakable Summer Walk sole remains attached to the uppers of the Open Walk. These thin, off-white, non-slip rubber soles have been endlessly imitated across the menswear market, though Loro Piana's distinctly original design is genuinely inimitable.
Lace-less, extraordinarily comfortable, and understatedly stylish, the Loro Piana seemed to have cracked the code for what the globe's most important men value in their footwear rotation with both seasonal iterations of their Walk series.
But the question is, which particular style will you select to test the waters of the Open Walk first? And which style suits your personality best?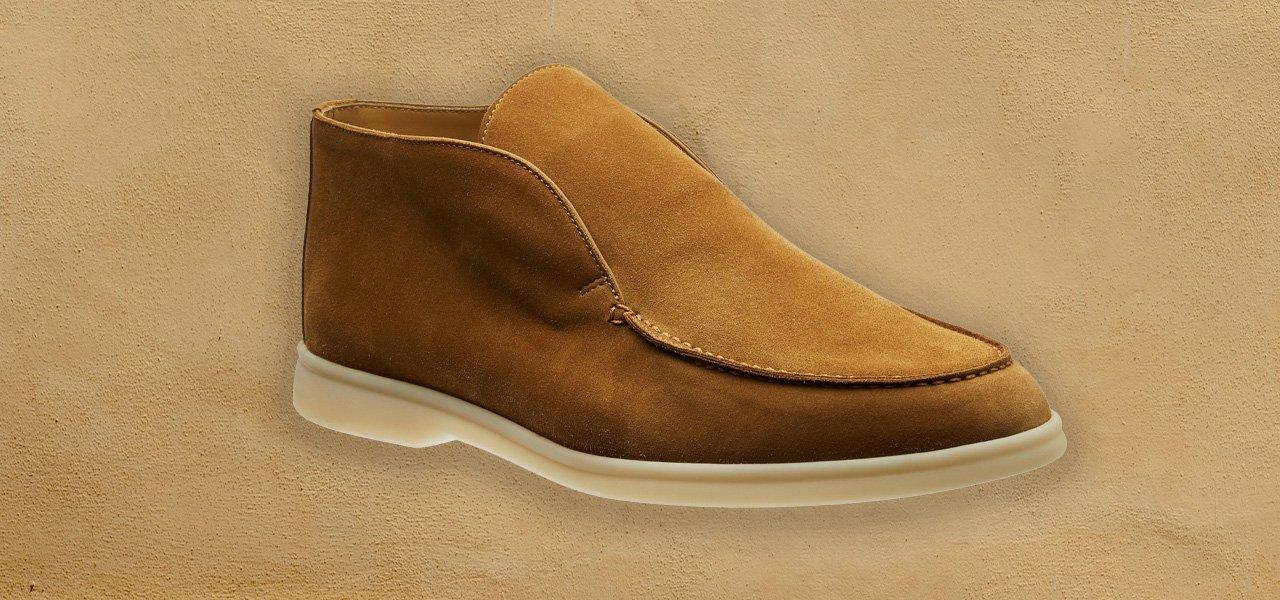 If you've already cultivated a strong adoration for the classic suede Summer Walk, then opting for the Open Walk Suede Boots will make for a smooth transition.
That same buttery-soft suede is used here, which, of course, is pre-treated to ensure water resistance – a touch that doesn't go unnoticed come autumn's inevitable bouts of precipitation. However, we always recommend you regularly treat yours with a top-up of water-resistant suede-appropriate spray and, when necessary, buff with a dedicated suede brush to remove dirt and stains.
Running low on your shoe care essentials? Pick up anything your shine box is missing when visiting our dedicated Shoe Care and Laces page here.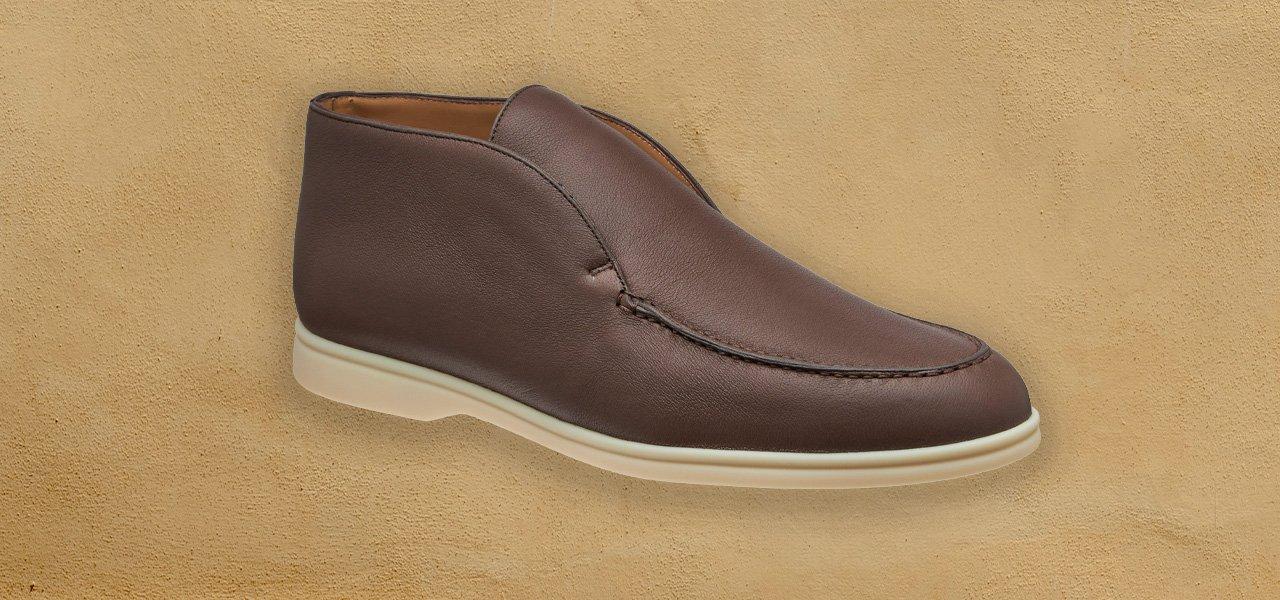 If you prefer to keep suede strictly for the summer months, then Loro Piana might suggest their leather variation on the Open Walk instead. These Italian-made boots are commonly constructed from one of two types of luxury leather – deerskin or Finnish elkskin, which both provide a natural water resistance.
Linings across the Open Walk range are typically crafted from calfskin leather, though more niche linings like Castorino fur are also often made available by the elegant Italian brand.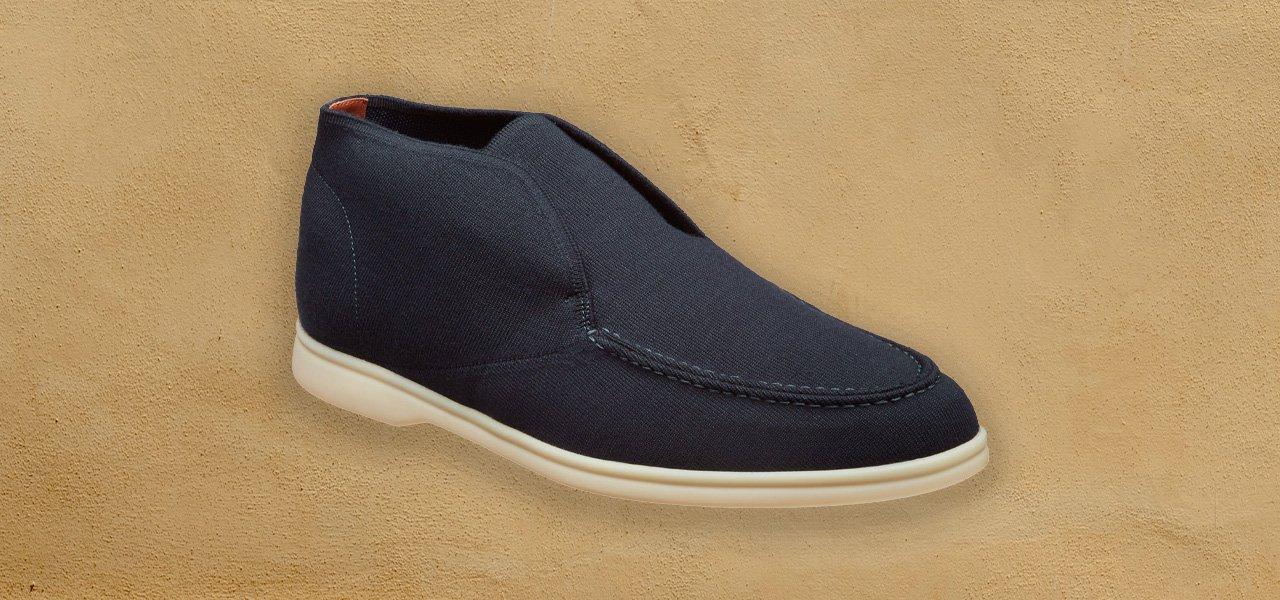 Naturally, it didn't take Loro Piana long to experiment with implementing their patented Wish Wool technology into their footwear collections considering the widespread success of the truly unique material. And naturally, it was only a matter of time before an Open Walk was given the Wish Wool treatment.
For the utmost in sock-like stretch comfort, allow the Wish Wool variation of the Open Walk to delicately hug your foot while wearing them as you go about your daily activities this fall. There really is nothing like these available on the market.
Share our fascination with rare and exceptional fabrics? You'll love reading our write-up profiling 5 Luxury Fabrics You Should Know About here.
TAGS:
#Style Advice,
#Loro Piana
,
#Footwear
,