Kiton – The Best Plus One
Experience Kiton's Italian self-confidence.
By: DYLAN MARTIN
Date: 2016-10-17
Some luxury products shout out their look-at-me superiority. But Kiton hardly needs to draw attention to itself. Their Neapolitan self-confidence is infectious. Based in Naples, the company's 300 master tailors are known to devote anything from 25 to 50 hours of concentrated craftsmanship to every single jacket. Like a vintage Margaux or a hand-tooled Ferrari, each Kiton jacket is a rarity, made from superb fabrics produced exclusively by Kiton in its own mill. But this is not a treasure you need to hide away.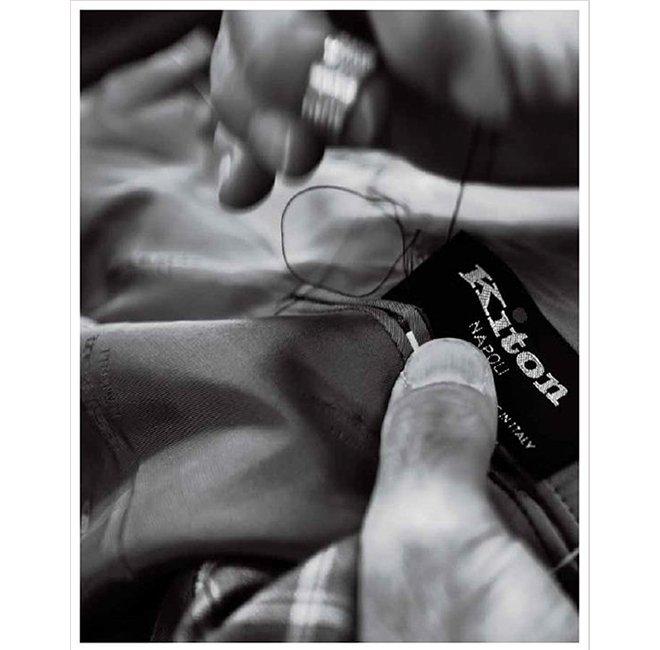 "Even though they're very fine in terms of fabric and craftsmanship, they're not necessarily precious objects that you just hang in your closet," says Shannon Stewart, assistant general merchandise manager for Harry Rosen. "They become your old friends. They're an investment, certainly, but for those who can afford them, they're so comfortable and easy to wear that they become items you continually go to."
The Kiton commitment to craftsmanship and passion for high quality start with its founder, Ciro Paone. Now 82, Paone is not himself a tailor. His family was in the textile business, buying fine fabrics in England and Scotland, then selling them to Neapolitan tailors and even across South America.
Not being a tailor, Paone felt no compulsion to do things his own way when he created Kiton – taking the name from the ancient Greek word for a sewn tunic. He entrusted the execution of the company's products to the groupings of highly skilled master tailors on the surprisingly quiet factory floor who assemble garments almost entirely by hand, with only the occasional use of old-fashioned pedal operated sewing machines. The factory also incorporates its own training school, where eager and ambitious young Neapolitans get a firm grounding in the living tradition of their ancestors.
"They're not about fashion, they're about style," says Harry Rosen CEO Larry Rosen. "Kiton is a gem among gems because of their uncanny passion for handwork and true artisanship. To keep that approach and maintain it at all costs when everyone else has brought in machine work… They are the purest of the pure."
WHAT HAS MADE KITON DISTINCTIVE, even unique, Massimo Bizzocchi, chairman of Kiton USA suggests, is the encouraging and demanding philosophy that Paone enunciated from the very beginning. "The goal of Kiton is always to find and do the best of the best plus one. That 'plus one' is the individuality of what we must find. If everybody's working worsted cashmere, then Kiton needs to find the small quantity of worsted cashmere that is the plus one."
For most people who put on a Kiton jacket or shirt, the palpable feeling of plus-one luxury will be more than enough. If you need any convincing, take it off and feel the sense of loss. But the added value is omnipresent for those who want to appreciate the finest of fine details. The soft yet eternally durable buttonholes are stitched by hand – approximately 160 stitches per buttonhole – with precious silk thread from an Italian company that makes nothing else but buttonhole threads. Armholes are more egg-shaped than circular, allowing your arms more comfortable, independent movement. The detailing of a chest pocket takes about three hours of hand-crafting, the better to fit a jacket to the person who will wear it. A machine could do the job in a couple of minutes, but the feel would be much stiffer.
For Larry Rosen, this abiding sense of Neapolitan style is what makes Kiton unique. "We as an organization recognize that Kiton isn't for everybody. First off, it's very expensive and it has a unique sensibility that may not suit everyone. But we love to carry it because it makes us better as menswear experts. It brings us great joy to carry something of this calibre, with this commitment to artisanship."
When he talks expansively about Kiton, it's clearly about much more than a business connection. "We have a long relationship with the family, stemming from Ciro and his nephews, that goes back many years. They don't just sell quality, they sell the joy of Italy."