Harry's Q&A: Nick Kypreos on Dressing Smart
By: Ben Kriz
Date: 2020-12-18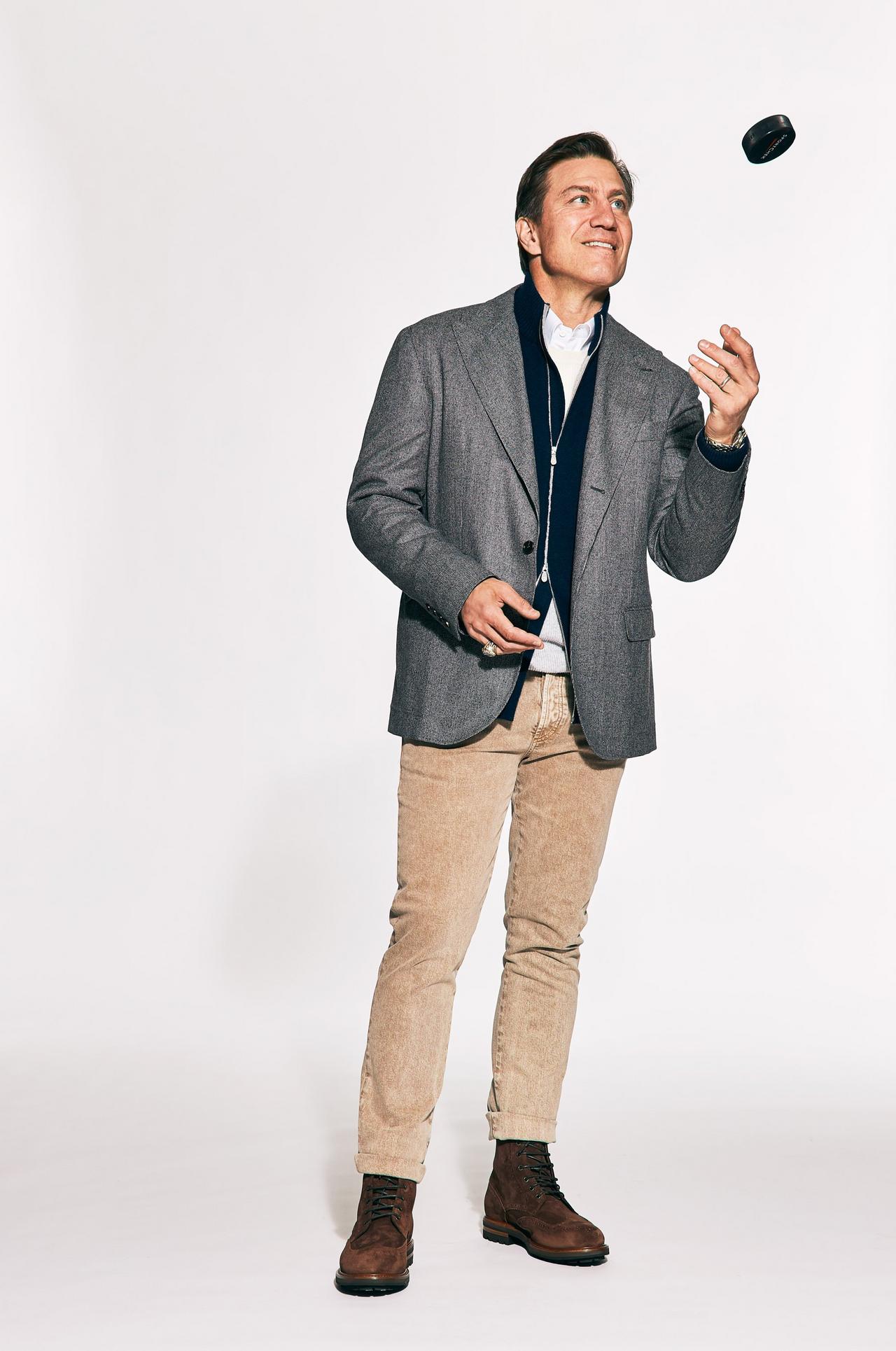 Nick Kypreos was fired from Sportsnet.
In his first year there, that is.
"It was sink or swim in that first year and I made a few mistakes and I got fired," says Kypreos of his first year on the job back in 1998. "Eventually they decided to keep me on. A little over 10 years later? I was on the most-viewed hockey panel in the history of television with Bob McKenzie, Darren Pang and James Duthie."
After a 12-year playing career, including a Stanley Cup win with the New York Rangers in 1994, Kypreos had an opportunity to shift into broadcasting. After some rocky early years on the airwaves, Kypreos found his groove and grew into his role as an "insider" digging for trade scoops and other news. After 21 years at Sportsnet, appearing on Hockey Night in Canada and covering Canada Olympic gold –– a shifting TV and media landscape has had him set out to try something different. He isn't looking back.
"I reassessed, I had an opportunity to pivot, and I dove into it," he says. "Some paths are easier, some paths are harder, but all of my experiences –– from the moment I started playing hockey at age seven to now –– came into play to make that decision. We all love the security blanket and dislike uncertainty, but my wife has often said safety doesn't lead to greatness or happiness –– so we went for it. "I need to do something while I still have a little bit of energy," he jokes.
He must have a good deal of it because with a new book (Undrafted: Hockey, Family, And What It Takes To Be A Pro), a new podcast and YouTube show (Real Kyper at Noon) and a burgeoning cocktail brand; Kypreos is proving we can start new chapters, even in our later years.
You're a busy man! Were all the projects planned before everything shut down or did you have to make a quick pivot like everybody else?
In many ways, I cheated a little bit because when I stepped away from Sportsnet after 21 years, it was still July [2019] and there was no sign of [Covid], so I was able to get a head start on a few things including a cocktail company and a book and I started researching podcasts and YouTube and all of it. I started talking about perhaps not coming back to the final year of my [Sportsnet] contract and that's when my wife, Anne-Marie, and I went in with the Little Buddha Cocktail Co along with our family friends Kimberly and John. It came right out of the blue –– an all-organic vodka-based rosemary and grilled-pineapple drink. We've just Googled and figured it out as we've gone along and now, we're growing with a second flavour and more availability in Ontario, Alberta and Saskatchewan. It's been stressful…scary…but fun! Anne-Marie and Kim are the true rock stars of Little Buddha. It's great to see two women succeed in a typically male-dominated alcohol industry.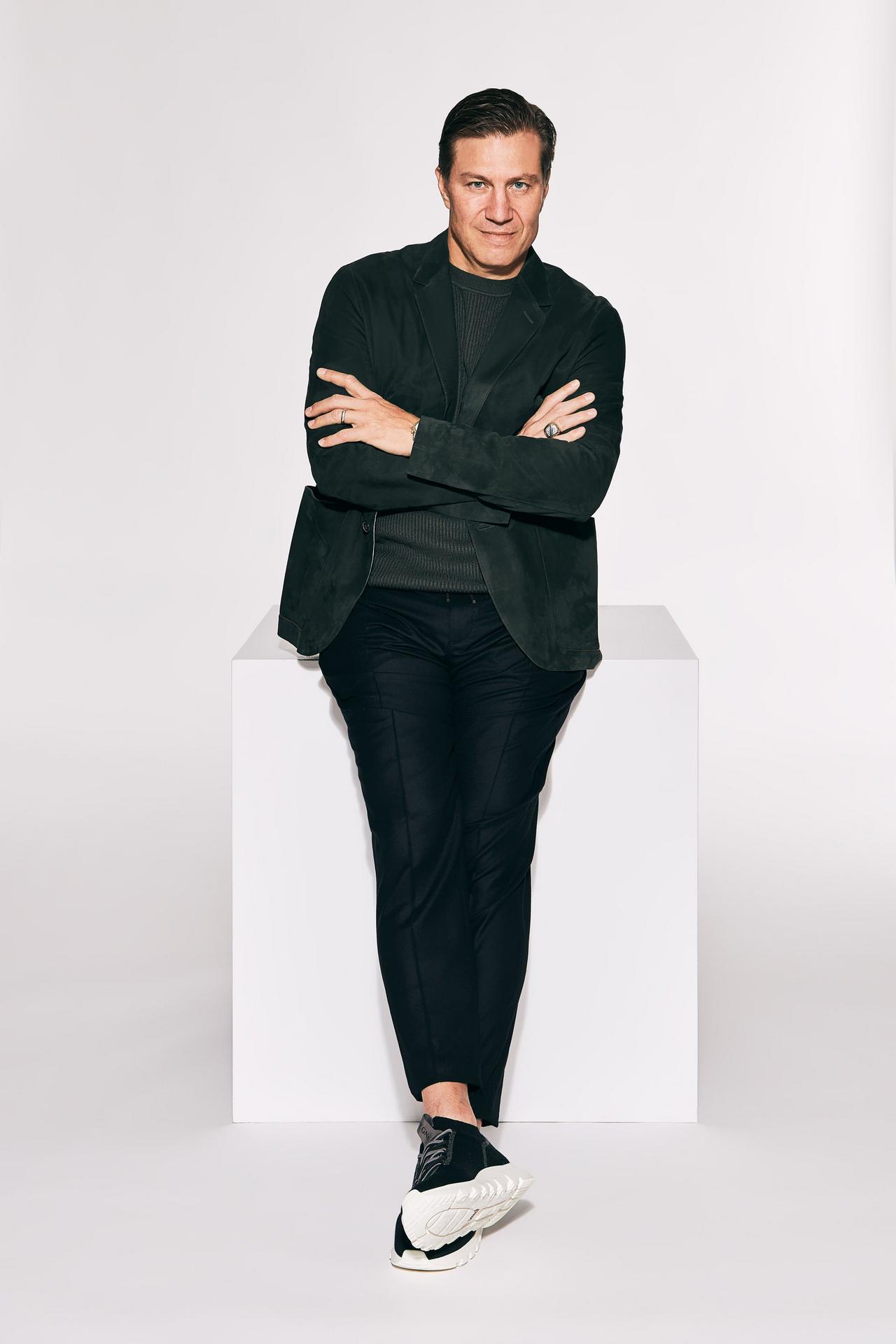 Kypreos in Zegna.
And the book and podcast? How did that fall into place?
I was approached to write a book that got picked up by Simon and Schuster right away. It's a story about hockey and a child of Greek immigrants with a dream. I wasn't even convinced I had a real story, to be honest with you, but we seldom look at ourselves in the same way others do. The [podcast] fell into place as well. The fact that I can create this studio in my basement…I'm used to having sound departments and control rooms. You don't need that anymore! People are creating their own content at a fraction of the cost.
Right now, we're eagerly anticipating and are hopeful of a January start for the NHL but in the meantime we're doing fun interviews with current and former NHL stars like Max Domi and Mark Messier.
How do you define your style?
I see style as an extension of your personality. The first thing that people see is the way you look. People say, "he's dressed smart." I love that! I want to be dressed smart! I want to be dressed in a way that makes me approachable, but also can be taken seriously. In New York, I formed a relationship with Giorgio Canali. We'd all be out to dinner and Giorgio would jokingly tell me, "we are going to dress you better than that guy Don Cherry." Canali was kind enough to dress me on Sportsnet for all those years and I just loved the way it made me feel confident on air.
What about hockey player style? Is it improving in your opinion?
I think we've seen hockey players come a long way. Players walking into the arena ––everybody's looking at what they're wearing now. Some; like Auston Matthews, Mitch Marner Carey Price, Elias Petterson and PK Subban, really have fun with it. Clothes make them feel a certain way. It's great and fans love it.
You've been on television for many years but I'm sure many people didn't realize your parents are immigrants from Greece. How much of an influence were they on you?
I wanted to establish their morals and values in my book. You have to have a foundation to get a handle on your life experiences and make sure that you pick the paths that are right for you. The true foundation for me stems from two immigrant people who dared to come over to a new country for a better opportunity –– not knowing whether or not it was going to be a good move. I drew strength off of that. Even when I left at age 16 to go play junior hockey, my dad always said –– listen, if it doesn't work out, you never have to worry about coming home with your tail between your legs. The door is open for you.
I thought that was the greatest thing I ever heard. My parents were in the restaurant business so I could always take over the family business, potentially, but it was nice to hear that there is no ultimate failure if it doesn't work out for you.
A lot of immigrant children, from all over the world, who grow up here, usually have a common story about being embarrassed of their school lunches. Same for you?
[Laughs] Yes. My mom wasn't going to give me [junk food] at school. Every kid had moon pies and things like that. I had green beans and potatoes with olive oil and spices. It was funny because as I started to get older and when I played junior hockey, my parents would give me care packages after the game because they knew the bus was going to stop for burgers and fries. My parents were like*, no you're getting pastitsio and nice, fresh Greek food.* All the guys would be drooling while they ate their stale burger.
The New York Stanley Cup win. What is your fondest memory from that time?
I don't wear my Stanley Cup ring often off-air, but when I do, I'll stare at it and it's like a movie reel that you can pull stories out of. It was the coolest city in the world, and I was able to absorb it as a single guy. I got married at the end of my career and started a family, but back then it was just me with the other single guys in the team including Mark Messier, who was as famous as any athlete in New York. It was great to absorb all of that culture, and to carry the pride of the New York Rangers around with it. To experience a championship on an Original 6 team that hadn't won in 54 years was a once in a lifetime experience.
What were those early days at Sportsnet like for you?
The hardest thing I went through was…when you finish hockey, they throw you on TV and they say, okay give us all your stories and tell us your experiences. But you've had no broadcast training. You get to the NHL because you started a training process so that when the opportunity comes at the pro level – you're ready. In broadcasting they throw you in the deep end and see if you swim.
I was not a 50-goal scorer. I didn't end up in the Hall of Fame. I'm just a guy that lived the experience and absorbed it. But how do I articulate that in a 45-second soundbite? You have to screw up a few times before you get it.
What drives you professionally?
I've always felt like I have a high bar internally. You ask yourself, how good can I be? You don't know that answer until you're put to the test. I like a challenge. I like it when people say that you can't do this or that. I'm like, screw you, man. I'll show you; I'll dig a little deeper and prove you wrong. Having been the underdog at times has worked for me.
What does it mean for you to set the tone personally and professionally?
I like being a leader. There is only one captain on a [hockey] team but I always enjoyed the opportunity to lead when I could. Especially at Sportsnet. I was the longest-serving guy there, so I always took that very seriously. The best way to do that is to lead by example and to come in with a work ethic. I'm hoping to lead in other ways now.
Nick Kypreos' new book, Undrafted: Hockey, Family, And What It Takes To Be A Pro is available now on Simon & Shuster. Find Real Kyper at Noon on YouTube and linemoment.com. Follow him on Twitter @RealKyper