Harry's Q&A: Canadian Actor Colm Feore
The Canadian stage and screen legend shares his thoughts on dressing well and making a positive impact
By: Jeremy Freed
Date: 2020-12-02

Colm Feore is a master craftsman. The veteran actor has spent the last four decades honing his skills and appearing in countless productions, from big-budget Hollywood action films to indie gems to Shakespeare plays at the Stratford Festival. Whether he's playing the mercurial Sir Reginald Hargreeves in Netflix's The Umbrella Academy, or the title role in King Lear, Feore approaches his work with a dedication to his craft that has earned him praise, legions of fans and an Order of Canada medal, among many other honours.
Feore's work has broken box office records and spanned genres. He paid tribute to one of Canada's greatest musical prodigies as the title role in the breakout 1990s indie film Thirty Two Short Films About Glenn Gould, headlined as the era-defining former prime minister in the 2002 CBC miniseries, Trudeau, and starred in one of the highest-grossing Canadian films of all time, Bon Cop, Bad Cop. While these roles made him a household name in Canada, he was also hard at work earning the respect of producers and directors south of the border, appearing in countless TV and film roles from The West Wing and House of Cards to Thor and The Chronicles of Riddick.
Throughout his career, however, Feore's loyalty to his Canadian theatre community has remained strong. Summer 2020 should have seen him inaugurating the Stratford Festival's new Tom Patterson theatre as the title character in Shakespeare's Richard III, but in a major blow to both the performers and hundreds of thousands of would-be festival goers, this season's Stratford Festival was yet another victim of the pandemic. We caught up with Feore at home in Stratford to ask him about his craft, his role models and the importance of a good costume on stage and off.
Who did you look up to when you were starting out?
Because I'm a Canadian actor – I mean, I was born in the States, but I'm fundamentally a Canadian actor – we sit in a very happy mid-place between the British tradition and the American, and we are very interested in stealing from both. So I was looking at the the great Peter O'Tooles, and Anthony Hopkins of the world, as well as the Pacinos and De Niros, the highly skilled theatre-trained folks who have technique as well as everything else. That was the journey that I was most attracted to, and I'm still trying to do.
What do you strive for in your career?
I started with a fundamental respect for the author's intention, and I've carried that throughout my career. It really is the the focus of what I do. What's the story? And how can I best serve that story? One of the great advantages of focusing on the author's intention is it takes the burden off of yourself. You're in service of an idea. And I find that really interesting.
As someone who understands the value of a good costume, how do you approach your personal style?
For the longest time I wore jeans a black T-shirt. I was so freaking dull, it was staggering! I always longed to have more style, but I was too shy to make a stab at anything. Then I hit a certain age, and I started to feel like if I don't put some colour in my life, I'm going to be super boring. So I started to lean towards one of my favourite designers, Paul Smith, who always hides a wink of colour somewhere. And from there, I branched out and started to like John Varvatos and started to get a little braver. I won't ever suggest that I'm approaching cool, but I'm less dull.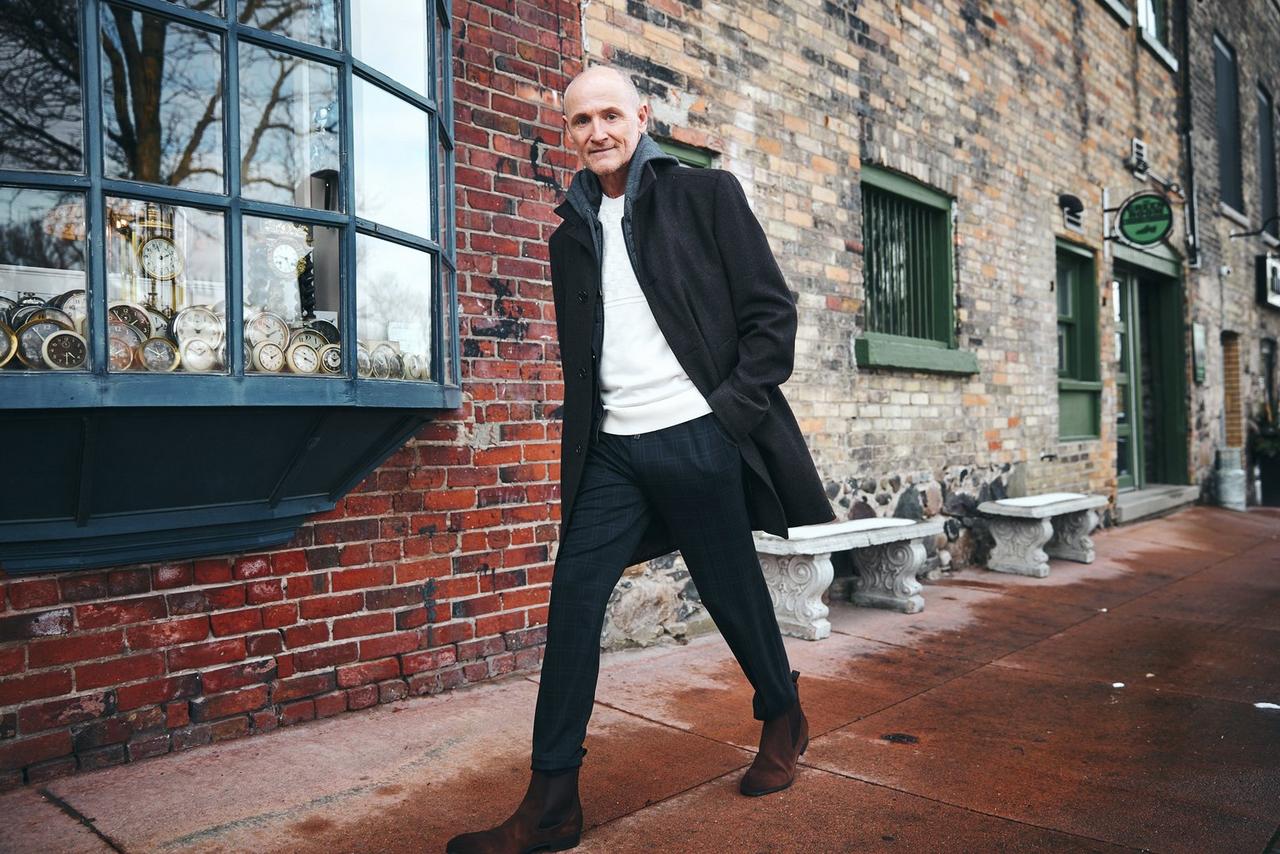 Colm walks the streets of Stratford in the latest looks from Joop!
Whose style do you admire?
I've always been a huge fan of Jeremy Irons' style. I got a chance to do a television series with him years ago in Budapest, and I always admired the way he wears a scarf, and rides a motorbike, and there'll be some kind of curiously-cut jacket. Idris Elba is always magnificently well turned out as well. I will steal elements of people's wardrobe and then brave it out.
As a senior player at Stratford, do you feel a responsibility to set an example in your work?
This has always been a business of mentorship. You're always stealing from the best ideas of generations past. It's the only way to learn how to do it. And so, consequently, I think we have a responsibility to share everything we know. Respecting the ephemeral nature of this art means that you really want a community to reinforce what the good ideas are, to weed out the bad ideas, and to really encourage people, because it's a very scary job. And it requires standing up in front of hundreds, if not thousands of people, and baring your soul and the author's soul. And it's nice to be among friends and colleagues who who share that vision.
How are things in Stratford these days?
Well, at the moment it's just catastrophic. We were in the middle of a rehearsing for a festival season here in March, and we were well into it, and it just stopped. We thought, 'Give it a couple of weeks and we'll be back…' Now it's eight months later and nada.
How have you been helping your community through this tough time?
We're missing half a million tourists in Stratford, so it's a highly pressurized situation for our community and our city, not just culturally, but economically. We've tried to do what we can while remaining isolated and safe. We would have people in the yard for a socially-distanced, drink and chat, mostly to commiserate and to hear each other out. How are you coping? Any good ideas? Are you doing things to fill in the time? At the same time, in terms of our community, we're trying to do what it takes. We are doing a lot of takeout food, and when anybody has a good idea, we all leap on it and participate. Stratford is still here. We're still viable, and we're taking on all ideas, but I won't lie to you; it's been a very tough roller coaster emotionally, economically, intellectually and artistically.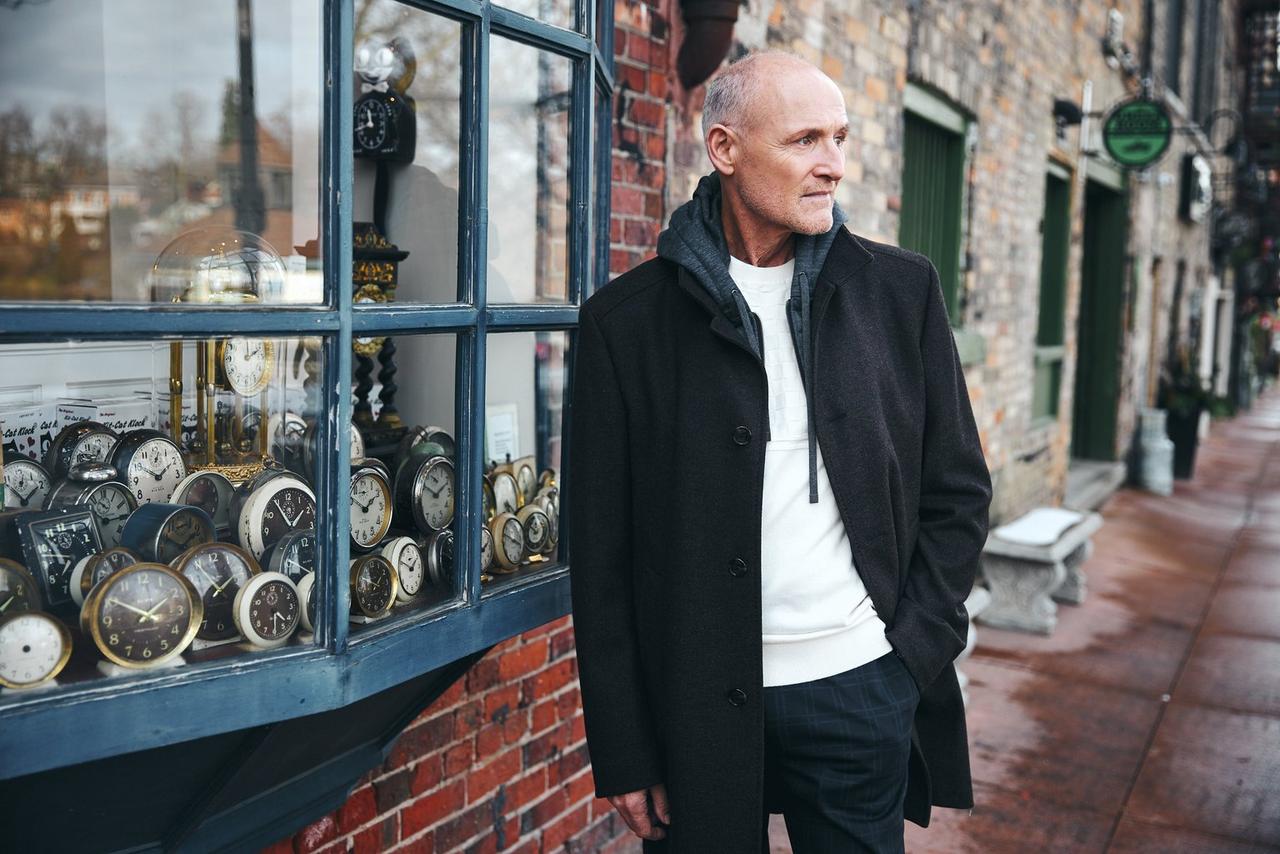 Who do you admire most at this stage of your career?
As a role model, I like Anthony Hopkins. I've had the great privilege and pleasure of working with Tony a couple of times, and what I like about him is he just wants to work, and he keeps working. He shows up to work prepared, engaged, generous, willing to share any good idea he's had, willing to offer advice, and really committing himself to doing the job to the best of his ability. When I saw him do that, I thought, 'This is a way to have a long and happy career.'
How do you set the tone, both personally and professionally?
Well, it's always been my opinion, and in fact, it's my mantra, that it costs nothing to be civil. So let's start with that. Particularly these days, in these very divided times, listening to each other and being open to each other is, I think, the first step toward mutual understanding and respect. As an actor, we are in a room with other people, and as a group we must arrive at a shared conclusion and collaborate to achieve that goal. I think that being decent and gracious is the best start.
Colm Feore photographed in Stratford at Antiques in Time.