The History of the Polo Shirt
By: Marc Richardson
Date: 2021-04-21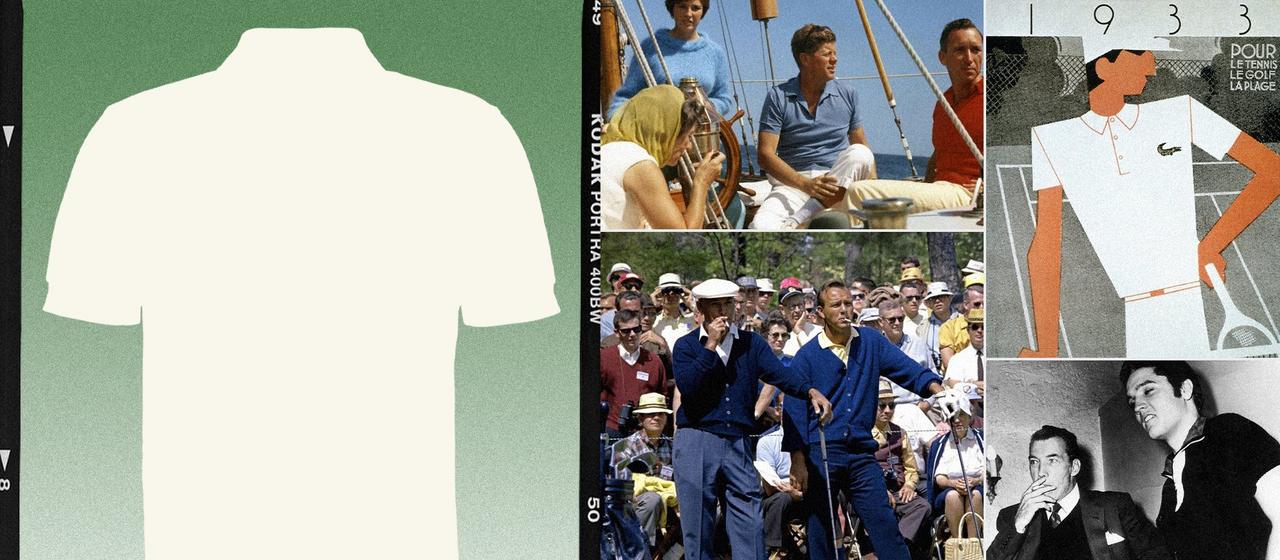 If you were to imagine the perfect summer shirt, you'd likely envision something with a collar; comfortable but classy; with an imitable effortless elegance; something you'd be able to wear with a jacket or dressed down on the weekends.
If that sounds familiar, it's because I'm describing a classic menswear staple – the polo shirt.
Polos are one of menswear's foundational pieces, something that every man ought to have in his closet—several times over, even. From golf courses to corner offices and college campuses to artists' studios, the polo has been a mainstay for over 50 years. But its history goes back even further—and, ironically enough, has more to do with tennis than it does with the game of polo.
The polo shirt is kind of like menswear's version of broken telephone—albeit with an improved outcome: the changes between each iteration have been small, but over a century, they've added up and today's polos bear little resemblance to those of a hundred years ago.
It all starts in the 1800s when a man named John E. Brooks traveled to England and took in a polo match. Brooks was not just any spectator: he was the grandson of Henry Sands Brooks, founder of the American clothier Brooks Brothers. At the time, polo—which British soldiers had picked up in India and then brought back to the United Kingdom—was synonymous with upper class aristocracy and was played in knee-length riding boots, jodhpur pants and long sleeve shirts, with buttons added at the collars to keep them from flapping around in the wind. Brooks was enamoured with the small change and, upon returning to America, set out to manufacture and market the "Original Polo Shirt"—today we'd likely call it an Oxford Cloth Button Down. It debuted in 1896 to rousing success.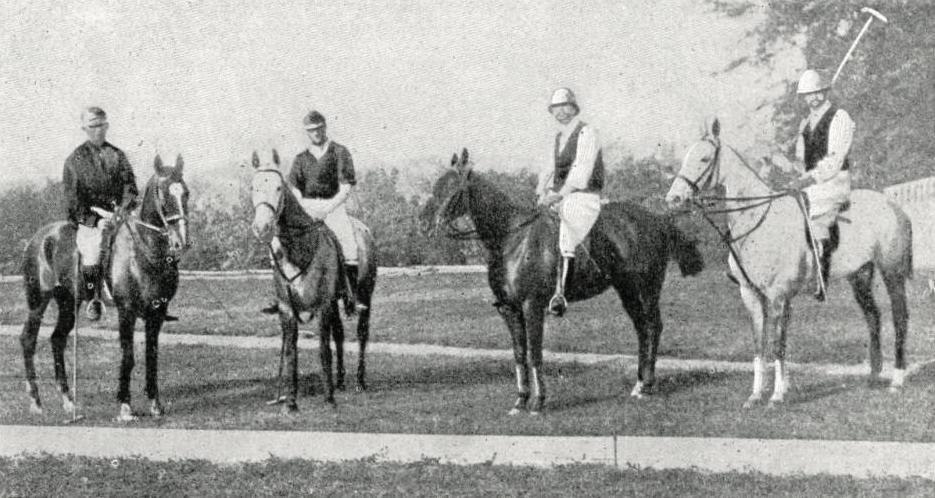 Le Bagatelle Polo Club de Paris, 1900. Image via Wikipedia.
Collared, long sleeve shirts were actually quite popular for sportsmen at the turn of the century, from polo grounds to rugby pitches to golf links to tennis clubs.
At the latter, "all-whites" reigned supreme, with pleated white trousers, white cotton dress shirts and, occasionally, a short neck-tie being the uniform of choice. What's curious about tennis garb in the early 1900s is that players remained committed to wearing long sleeve shirts, despite the fact that they would invariably roll up the sleeves.
René Lacoste
Then came René Lacoste. Lacoste was one of the preeminent tennis stars of the 1920s, with an incredible mix of flair and skill. In 1923, Lacoste made a bet with his Davis Cup coach before a match in Boston: if he won, the coach would have to buy him a crocodile skin briefcase he had seen on their trip. Lacoste, still quite young, lost, but afterwards, American journalists reported the tongue-in-cheek bet and started referring to Lacoste as Le Crocodile. Known for his on-court tenacity, Lacoste's nickname stuck and he eventually romped to seven Grand Slam titles between 1925 and 1929.
That alone is noteworthy, but it's what he was wearing when he was dominating tennis that's remembered most today.
Lacoste challenged on-court attire's status quo starting at the 1926 U.S. Open (which he won). Tired of having to roll up the sleeves of the fairly restrictive long sleeve shirts that were the norm, Lacoste conceived of a lightweight cotton piqué shirt with a three-button placket, a collar, and—most importantly—short sleeves. It was also at the 1926 US Open that Lacoste debuted a crocodile logo, designed by Robert George, on the left breast of his tennis attire. Had Lacoste not been the best tennis player in the world at the time, it's unlikely that people would have embraced his unorthodox shirting. Although tennis is a sport rooted in tradition – people like winners – and so, Lacoste's short sleeve tennis shirt stuck.
René Lacoste on the court in his signature polo

An art deco advert for les "chemises Lacoste". Photos courtesy Lacoste.
The polo proved so revolutionary from a sporting perspective that Lacoste's competitors began sporting his shirts, too, and so popular that clothiers began manufacturing their own short sleeve cotton piqué shirts for the masses. Lacoste retired from competitive tennis in the 1930s and struck up a partnership with André Gillier, a leading knitwear manufacturer, to produce and market his revolutionary shirt, with the 1933 launch of La Chemise Lacoste.
Polo players, like tennis players, adopted the shirt and immediately. The new tennis shirt was synonymous with a certain classy cool—a new option for the new generation frequenting tennis, polo and golf clubs. Early advertisements for La Chemise Lacoste featured cubist illustrations—very of the moment—and depicted a white Lacoste shirt made for "tennis, golf and the beach," and noting that true Lacoste shirts bore the now-iconic crocodile. Even as other brands attempted to capitalize on the nascent tennis shirt's popularity, few could rival Lacoste's name, nor could they claim to have been the originators of the style.
Even as it was marketed to the masses, for the better part of two decades, Lacoste's tennis shirt remained somewhat rebellious—an affront to the more traditional and starchy shirts of yore—and wasn't universally embraced. It was only in the 1950s that the tennis shirt was wholeheartedly accepted. Part of that can be explained by the fact that it was more of a European garment, synonymous with France and England's new aristocracy. Eventually, thanks to a licensing agreement with American manufacturer Izod, Lacoste's tennis shirt spread across the Atlantic, finding its way to American campuses and ingraining itself as a key element of the Ivy League style movement.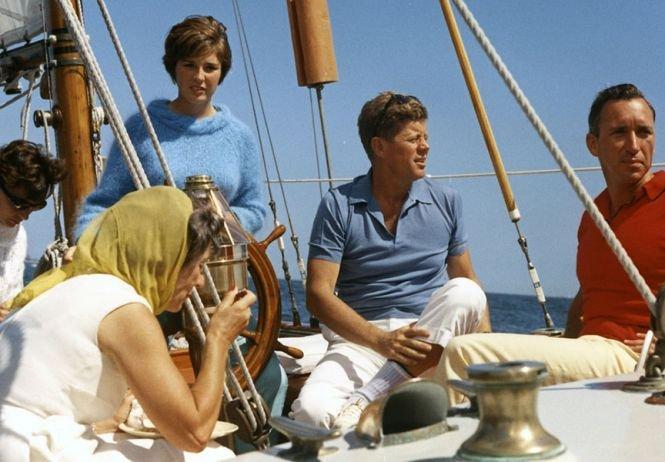 JFK on his sailboat 'Victura', 1962.
American Ivy
The Americanization of the tennis shirt played a big role in how we think of the polo today. Yes, it was good for sport, but, in the Northeast, American prepsters discovered that it could be easily dressed up when buttoned and worn with a sport coat. Then, they discovered that, worn unbuttoned, with the collar spread, the tennis shirt was casual but still classy. No matter how they seemed to wear it, the tennis shirt was deemed undeniably stylish by Americans and Europeans alike.
As the 1950s bled into the '60s, the tennis shirt—whether manufactured by Lacoste or any of the countless brands who had now figured out that there was tremendous demand for the style—emerged as a favourite of the new caste of creatives that would go on to define the mid-century. The jazz saxophonist John Coltrane was famously fond of them; Elvis Presley, too, loved short sleeved collared shirts, but often wore them with more modern twists: with only a single button or without them entirely. Jack Kerouac, one of the defining authors of the mid-century Beatnik movement, was fond, too. As was Sidney Poitier, who wore them both on screen and in his private life. Steve McQueen, too, wore tennis shirts as effortlessly on screen as he did when welcoming writers and photographers into his home for interviews. Meanwhile, a new generation of athletic stars were redefining their sports, but also the style of sport. Arnold Palmer is famed for his grace, but also his panache, prowling the fairways in shirts that highlighted his unique mix of brawn and class—his biceps bulging against the cuffs, the buttons undone, a cigarette occasionally perched between his lips, but all the while still looking put-together—that would eventually come to define modern golf.
Sidney Poitier

Elvis Presley

Paul Newman

Jack Kerouac
Back in Europe, artists, like Pablo Picasso, were also appropriating the tennis shirt for non-sporting purposes, while Sean Connery was popularizing it as an effortlessly elegant option that was good enough for Britain's foremost fictional secret agent, James Bond.
This style of shirt, since its inception, has been synonymous with a renegade attitude and, as time went on, it became apparent that mavericks—whichever field they came from—embraced the tennis shirt with open arms. Poitier, Coltrane, Presley, Kerouac, Connery, the fictional Bond, McQueen and Palmer were trailblazers in their respective fields and the tennis shirt, while not necessarily the shirt they wore most often, was undeniably the one they looked most at ease in. Perhaps no photographs of someone of that ilk looking so comfortable and classy while wearing a tennis shirt are more ingrained in the collective consciousness as the ones of President John F. Kennedy wearing them at sea, steering a boat single-handedly, enjoying an ice cream cone, perfectly at ease, effortlessly elegant and incredibly relaxed for a world leader during a troubled, stressful time.
Around this time, in the 1960s, a new development in garment making segmented the tennis shirt between sportswear and the kind of casual wear outlined above. Izod, the licensor of Lacoste in America, began using polyester to create its signature shirts—this synthetic material made for a lighter, more breathable and ostensibly longer-lasting shirt that wouldn't lose its color. In the sports world, the new fabric was well-received, but there were those who bristled at the transition away from cotton piqué.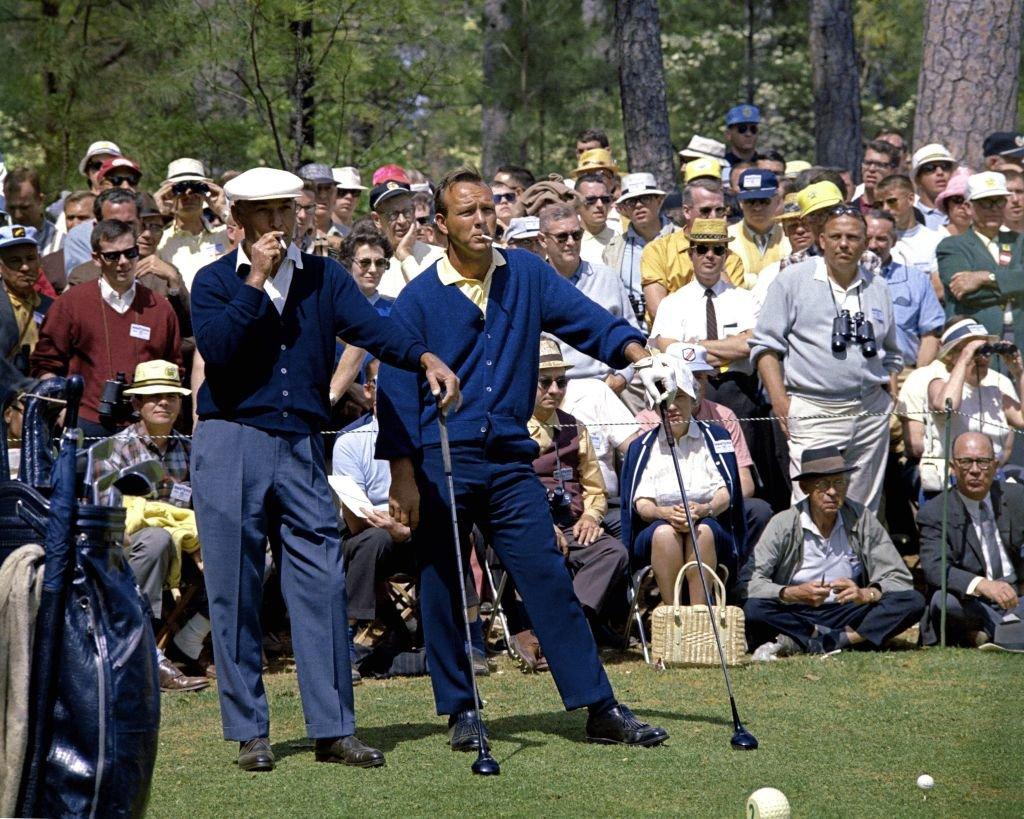 Arnold Palmer waits to play his tee shot with a polo elegantly layered under his cardigan in 1966 in Augusta, Georgia. (Photo by Augusta National/Getty Images)
Ralph Lauren
One of those people was a young Ralph Lauren, who was a huge fan of the traditional tennis shirt and mid-century sportswear in general. Such was Lauren's affinity for the sport of polo that, in 1968, he named his first line Polo, introducing shirts for both men and women based on the button-down shirts of the early 1900s, and emblazoned with a polo player on a horse. In 1972, disillusioned with the shift towards synthetic fibres, Polo Ralph Lauren launched its take on the tennis shirt, arguing that their cotton shirt, and the patina it would develop with wear, would get better with age. Lauren also understood that menswear was ready for an infusion of colour—the starchy whites or even the muted maroons and blues favoured by the above renegades still had their place, sure, but so, too did more vibrant colours and Polo Ralph Lauren's traditional cotton piqué tennis shirt was available in a whopping 24 of them.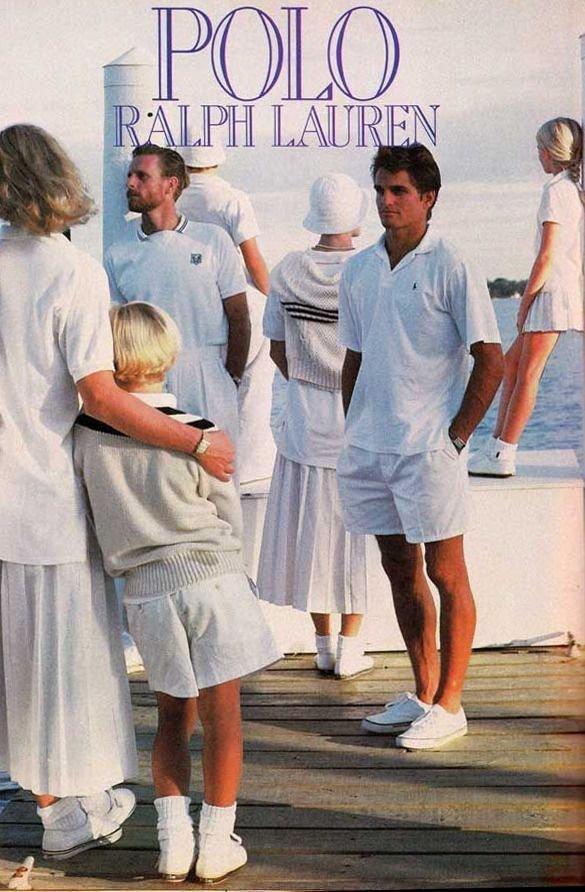 Vintage Polo Ralph Lauren advertisement.
Of course, by then, the tennis shirt had been adopted by polo players, too. This, paired with the incredible success of Polo Ralph Lauren's shirts—it turns out that those seeking to wear tennis shirts casually did, in fact, prefer the cotton piqué—is why the style is today referred to as a polo and not a tennis shirt.
Polo Ralph Lauren's influence goes beyond just the name, though. Lauren built a veritable empire on the back of the polo shirt—in similar fashion to Lacoste. The success that Lauren's flagship shirt enjoyed also ensured that the polo would forever symbolize success achieved by being a renegade—thus bringing full circle the game of sartorial broken telephone as Lacoste's tennis shirt was, after all, a glaring break with tradition. There's a reason why the polo shirt is what Leonardo DiCaprio's incarnation of Jordan Belfort wears when he's arguably at the peak of his success in Wolf of Wall Street. There's also a reason why the polo became idolized across society: It's emblematic of success, of having made it, but on one's own terms.
But Lauren's success also encouraged other brands to try their hand—to take risks and push the envelope in different directions. Lauren's success came from doubling down on the traditional fabric when everybody else was going with new technology, but changing the colors that were expected of a collared shirt. Across the spectrum, every menswear brand has offered their own take on the polo shirt—or something similar. The mythology of Lacoste and Ralph Lauren's classic, solid cotton shirts have pushed the industry to find new ways to distinguish themselves, and, for that, men's closets are better off.
Polos for All
Whether you're looking to emulate Arnold Palmer or DiCaprio's Belfort or Sidney Poitier or René Lacoste, there's a polo that's right. There are polos to be worn with the sharpest Italian tailoring; there are polos to be worn on vacation; there are polos to be worn when teeing off or serving for the match.
More luxury-minded Italian brands, like Brunello Cucinelli or Giorgio Armani have offered their takes on the polo shirt, crafted from sumptuous fabrics, with elegant cuts, and occasionally doing away with the buttons, in the fashion of Elvis and Steve McQueen. Other brands, like Psycho Bunny or Paul & Shark, have taken an irreverent approach, tapping into the maverick spirit of the polo and opting for bold stripes and unique iconography. Others, still, craft theirs with René Lacoste or Arnold Palmer in mind, seeking to create something that's at the forefront of both style and performance.
That's the beauty of a century of broken telephone led by a caste of sartorial renegades: everybody has a slightly different version of what the polo shirt is, each loyal to the original idea in its own right, and each perfect for a slightly different occasion, but appropriate for any.
Marc Richardson is a fashion writer and photographer based in Montreal. His work has appeared on Fashionista, Grailed and Garage Magazine. Follow him on Twitter.