Playing with Fire: Grilling Tips from Chef Michael Smith
PEI chef Michael Smith's best grilling advice and getting more flavour out of your backyard barbecue.
Michael Smith starts a lot of fires. Like, a lot. Every day all summer long, the chef-owner of PEI's Inn at Bay Fortune kindles ten different smokers, wood-fired ovens, and outdoor grills, all of which will be used to prepare a multi-course dinner for his guests. Dubbed the "Firework Feast," Smith's nightly event features an ever-changing menu of locally sourced ingredients – many of them grown on-site – cooked over the flames and served in front of a 25-foot live-fire hearth. As peak grilling season gets started, we caught up with Smith to get his best advice on how to cook with fire.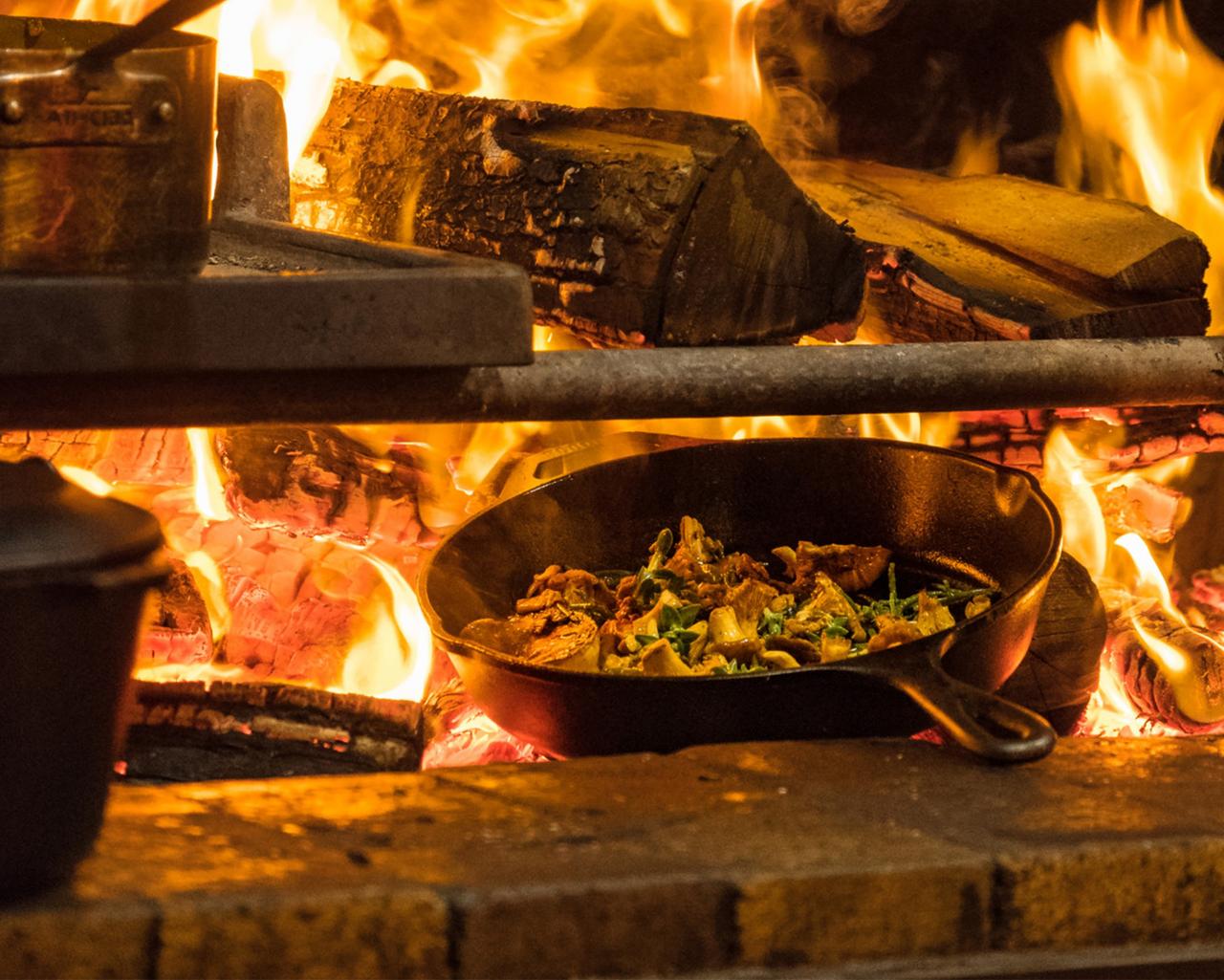 Courtesy Inn at Bay Fortune
What makes cooking over fire superior to using gas or charcoal briquettes?
We cook with live fire, and we do it for two big reasons. The biggest reason, of course, is flavour. But the second reason is equally important: cooking with live fire is Zen-like, it demands that you're present and it pulls you into the moment. There's no other way.
What kind of wood do you prefer?
There are many different types of wood fires, and they all have a purpose and a personality. We use about 15 different types of wood, and it depends on whether we're using the wood for heat, for smoke, and for quick smoke or long smoke. We don't use softwood, for instance, because it just doesn't taste very good. We do use lots of local hardwood and fruitwood. Hurricane Fiona knocked down a lot of trees on Prince Edward Island, so all of a sudden I have lots of oak available to me and the world's best charcoal is made with oak.
What's on the menu this week?
At the moment, there's a baby turnip that's roasted in a wood-burning oven and tossed with a bone marrow and homemade mustard dressing. Today we're also grilling bluefin tuna over homemade charcoal, searing it tataki style so it has that incredible fast sear on the outside but no cook on the inside. We're also in the middle of eight hours of smoking brisket in The Beast, which is our offset Southern-style pit smoker. Then tonight we'll be toasting homemade tortillas, complete with our own rendered pork fat from our own pigs, and we'll be serving a vegetable-forward taco prepared over the fire. And of course, we'll be roasting oysters in the embers of a dying fire. I'm just sort of skipping through the list, but there's there are at least 15 fires a day around here.
That sounds delicious. What advice can you offer for cooks who want to up their game at home?
Get yourself a good cast iron skillet. There's a lot more to fire than just grilling, and you can have better heat in that skillet over a fire than you have in your kitchen. You can sear things much, much better, and a proper cast iron skillet is 10 times better than a nonstick pan. People tend to think about fires just in terms of grilling something and putting it in the flame, but half of what we do is cooking in cast iron.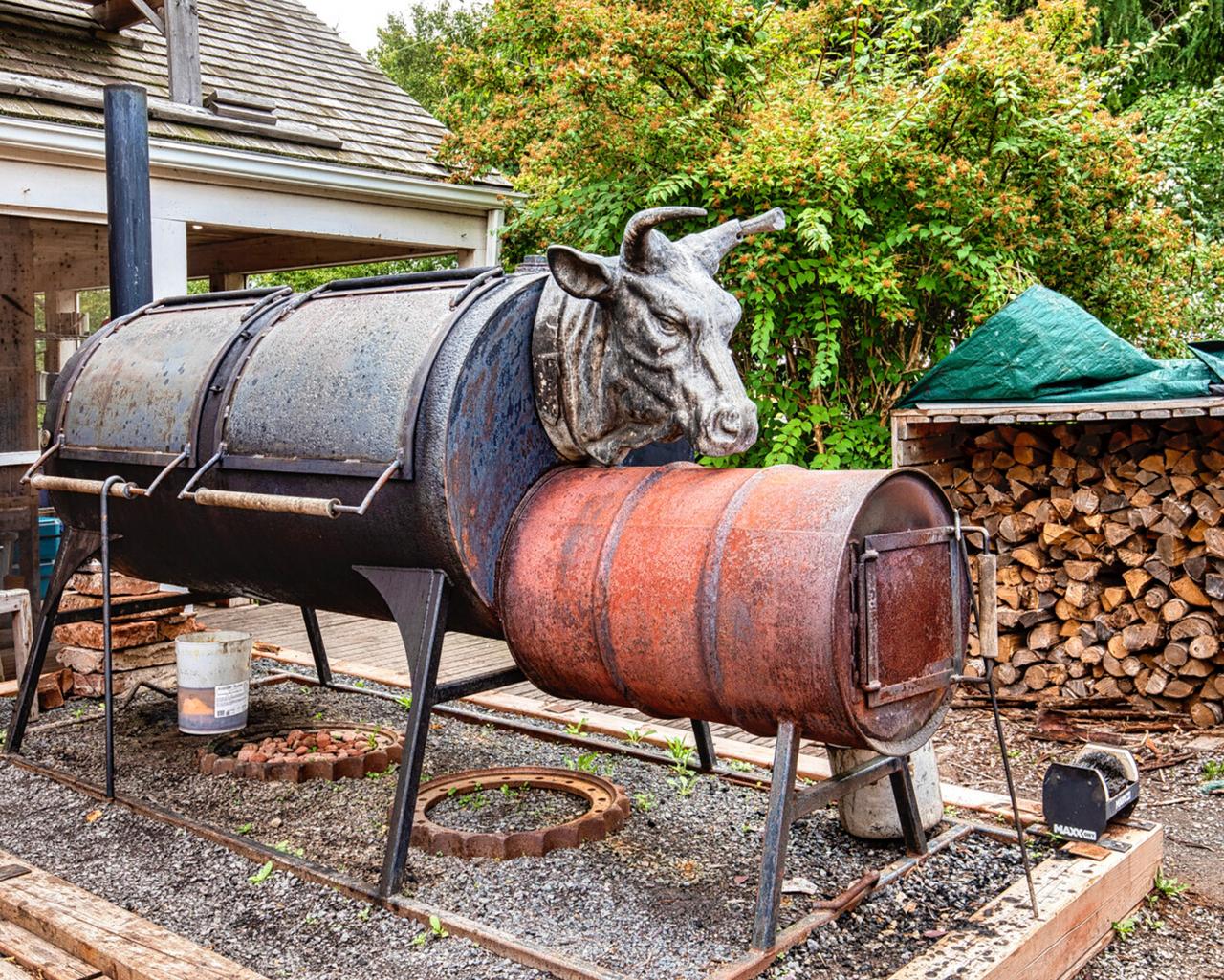 Courtesy Inn at Bay Fortune
What's your favourite kind of steak to grill?
Everything but loin. We don't serve striploin, New York strip, tenderloin, prime rib, or any of the loin cuts. It's just too easy, and filet mignon has zero flavour. It doesn't matter how tender it is, it's flavourless. We prefer cuts with a beefier flavour and texture like bavette, which is the classic cut of steak frites.
What's your best advice for a perfectly grilled steak?
Be patient. It's just as important to let a steak rest before you slice it as it is to cook it properly. If you take a steak directly off the fire and slice into it, you'll lose a lot of the moisture in a puddle on the bottom of the plate. If you let it rest and relax, the moisture will redistribute. That's a big one. If you like medium-rare you're going to want it to be about 120 degrees, so rest it in a warm place.
I know you're a big fan of PEI beef. What makes it so special?
It's raised the old-fashioned way on pasture on small family farms. No feedlots where they're fed corn, which cows can't eat in the first place so they have to be medicated. The flavour is awesome. It's real flavour. That's why Mark McEwan, all he serves is PEI beef.
Do you grill seafood? Lobster?
Honestly, lobster doesn't work, it just overcooks and gets rubbery, so I don't think it's a good choice for grilling. But salmon or white fish cooked in iron is great.
How would you cook a salmon filet?
Salt and pepper and a touch of oil in a cast iron skillet over the fire, and let the flavour be the sear.
TAGS:
#Living,
#Food & Drink
,