Expert Advice For Taking Care Of Your Sneakers
You've invested in your footwear. You should also invest in its upkeep.
By: TIM GALLANT
Date: 2017-08-24
Seeing that there wasn't a cleaning product designed specifically for sneakerheads, Jason Markk filled that niche by introducing the Jason Markk Premium Shoe Cleaner. No longer would you need (or want) to use household cleaning products and other solutions containing harsh chemicals to clean your precious kicks.
Founded over eight years ago in 2007, today Jason Markk products can be found in over 30 countries.
Part of the appeal is versatility. "I designed my solution to be versatile, because I didn't want to have so many different types—if I was cleaning suede I didn't want to have to go buy another product," says the brand's founder Jason Markk.
The solution is formulated to keep the integrity of luxurious fabrics like leather, suede and nubuck intact, and be super simple to use.
Step 1: Be Sure to Brush
First-up brush away dirt and dust prior to cleaning and polishing for a most thorough clean. A good brush will also be your tool for applying the cleaner.
Pro Tip: When cleaning premium leather, suede, cotton mesh and other delicate materials take extra care and be gentle. We highly recommend using a premium Shoe Cleaning Brush. The softer bristles are better suited for use on delicate surfaces.
Step 2: Apply Cleanser
Start with a clean bowl of water, apply the Jason Markk Shoe Cleaning Solution onto the bristles of a wet brush. Dip the brush in the water and start scrubbing until the cleaner start to foam up. Wipe it clean. You could use any old towel but when you use the brand's microfiber towel, you'll definitely notice a difference.
Step 3: Restore Your Laces to Their Former Glory
"What I used to do with white laces is just throw them in a bowl with hot water and bleach and it worked," says Markk, "but once they dry out and you put the laces back in, you'll notice it feels different because the bleach has weakened all the fibers."
Other than going easy on the bleach, Markk offers this alternative: "Soak the laces in warm water and Jason Markk cleaner, swirl it around, rinse, repeat."
When in doubt start fresh with a new set of laces. Maybe try something different. Canada's Stolen Riches, available at Harry Rosen, offer an incredible selection of high-quality laces in a dozens of interesting colours and combinations.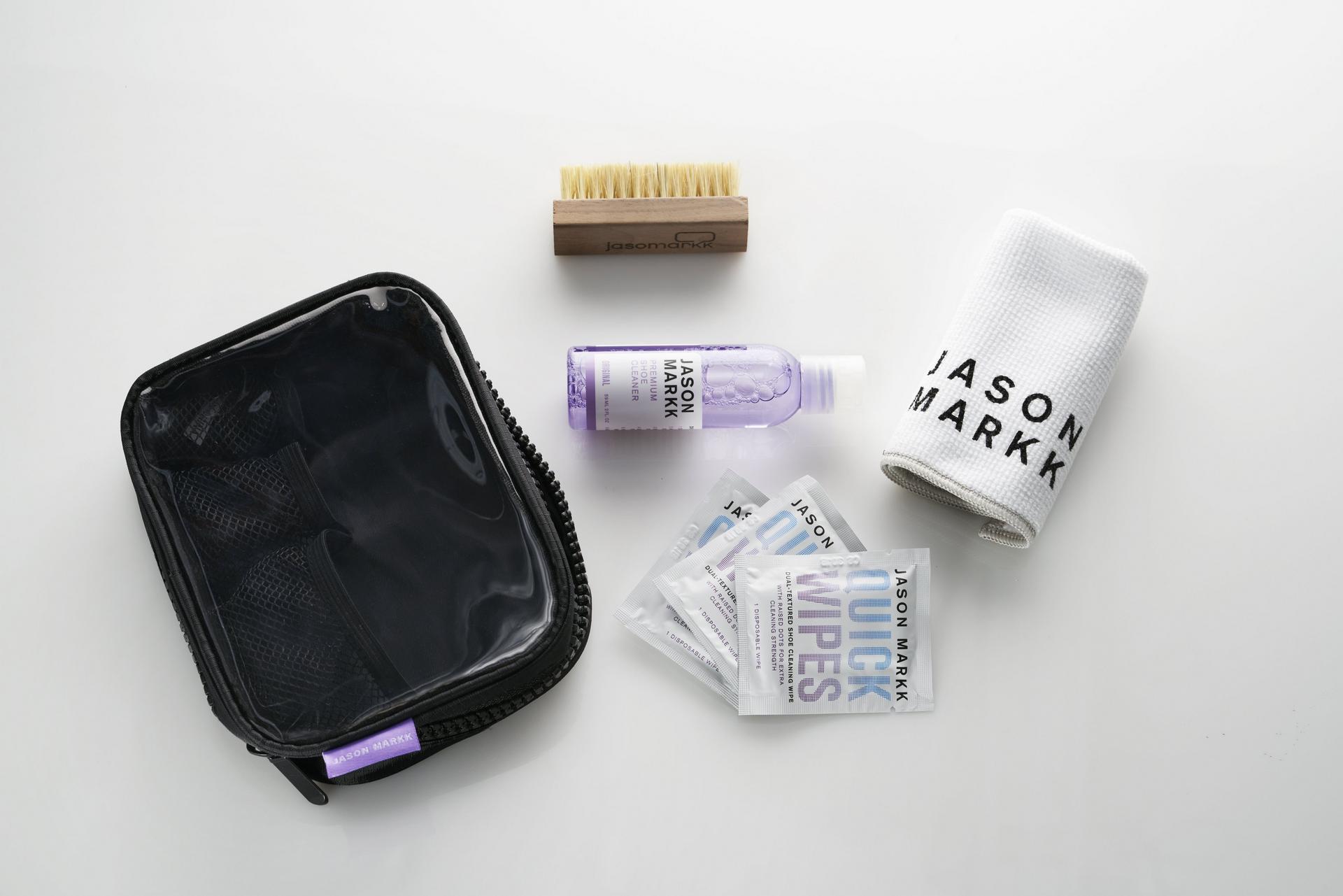 What To Do with Leather or Suede?
"I definitely recommend using a spray protector," says Harry Rosen shoe buyer Kevin Eisenberg. "You should apply a spray before your first wear, after each time you clean your shoes, and again every season." We also suggest you leave them to dry overnight for the best layer of protection. "Then you're good to go for 6-8 months."
Fight the Foot Funk
We recommend you always wear a pair of socks in your shoes. A quality pair will absorb odors and moisture to help you keep your feet feeling fresh. If you like a bare ankle look consider a pair of No-Show socks like these.
In case of outstanding odour – stick a scented dryer sheet into your shoes. Overnight, the fabric sheets settle into the shoe leaving your footwear smelling fresh out of the dryer. This works especially well when travelling. If you pack your shoes with the rest of your clothes, you'll want to at least put them into shoe bags but consider sticking a dryer sheet inside the shoe for additional protection from smelling up the rest of your packed goods.
On-the-Go Solutions
That Jason Markk premium cleaning solution we are raving about gets the portable treatment with the brand's individual wipes. These ingenious wipes feature one side plain & smooth for simple spot cleaning, and the other built with textured blue dots to give a slight abrasiveness to tackle your tougher stains in a snap. Consider keeping these with you at all times – in your bag or at your desk. It only takes one puddle or messy meal to kill your look.