Dinner with Harry: Anthony Rose's Tomato Soup
Every man should have at least one fine and foolproof soup recipe up his sleeve. Especially at times like these when so many of us are working – and cooking – from home.
By: JAMES CHATTO
Date: 2020-04-30
We spoke recently to renowned Toronto chef and restaurateur Anthony Rose, and bewailing the fact that all six of his excellent establishments – The Grand Elvis, Fat Pasha, Gordy Smiles, Schmaltz Appetizing, Fet Zun, and Madame Boeuf and Flea – are temporarily closed. While Chef takes advantage of the hiatus to clean and organize his restaurants, his many fans are sadly deprived of the master's dishes.
But take heart! We can still taste a little soupçon of his talent in this recipe, especially created for Harry Rosen customers by Chef Rose. It's a rich and satisfying soup for the season and very simple to make at home – or as Chef Rose puts it, "Stupid easy and delicious."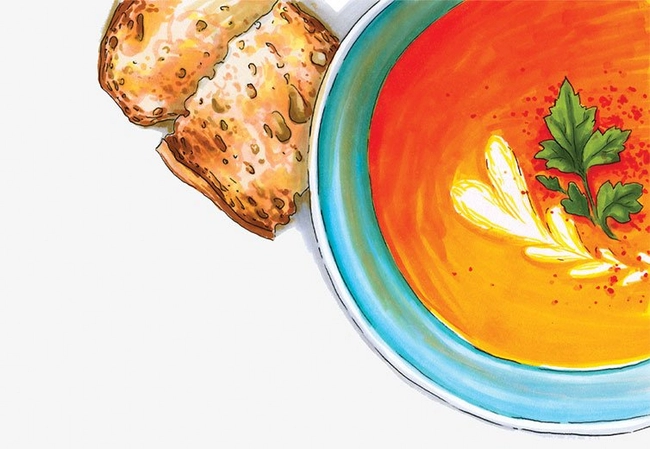 Cherry Tomato Soup With Sage
1 yellow onion, diced small
4 cloves garlic, smashed 
¼ cup (60 mL) olive oil 
Salt and pepper to taste 
2 pints (in total 1¼ lbs or 625 g) cherry tomatoes 
2 cups (500 mL) heavy (35%) cream 
2 cups (500 mL) water 
½ bunch fresh sage leaves, picked and roughly chopped 
White wine to taste – just a splash
Tabasco to taste
Chef Rose has a personal message to accompany this recipe: "Eat with grilled cheese please. Peace out and blessed." And to his colleagues in these challenging weeks: "Wishing all the restaurant workers, purveyors and small business owners the best."
1. In a heavy saucepan, sweat onion and garlic in olive oil on medium heat until it's soft and delicious. Try for very little colour. Season with salt and pepper.
2. Add tomatoes and sweat slowly until soft.
3. Add cream and water and sage and simmer slowly for 30 minutes.
4. Purée in a blender or with a hand blender. Or leave it chunky. Either way is perfection.
5. Season with salt and pepper and a splash of white wine and a few gigs of Tabasco.
Makes four generous servings.
James Chatto is the author of seven books, most of them about eating and drinking. He is also the editor of Harry magazine. Find him at jameschatto.com.