Chef Daniele Corona Champions Canadian Culinary Sustainability
Discussing environmental responsibility and more before a multi-course, Michelin-starred meal at Don Alfonso 1890 in Toronto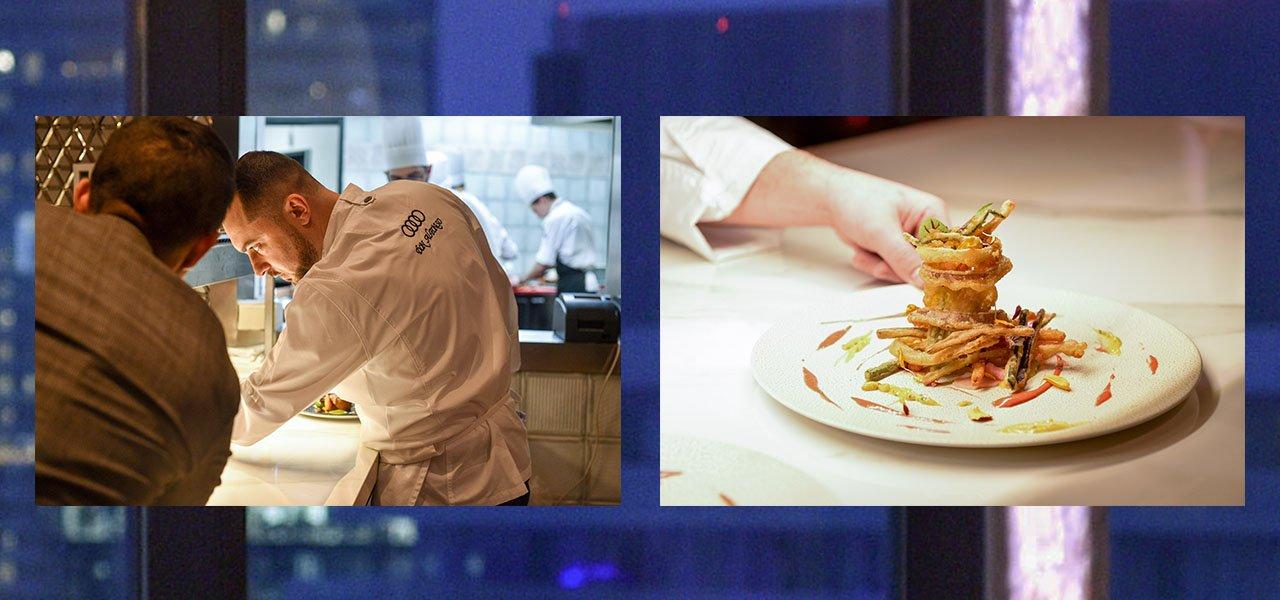 "Ladies and gentlemen, good evening and welcome to Don Alfonso, to my home."
A few months after earning the iconic Toronto restaurant its first Michelin star — among the first Toronto-based eateries to receive the recognition following the Michelin Guide's official arrival in the city this year — Executive Chef Daniele Corona appears as comfortable in the dining room as he is in his beloved kitchen.
Part of the night's dinner, hosted by our friends at Audi Canada within the now Michelin-rated restaurant Don Alfonso 1890, was in celebration of the long-awaited arrival of the Michelin Guide to Toronto; a mission spearheaded by Franco Stalteri, co-founder of Charlie's Burgers private dining events and CB Wine Program.
The other part, a platform for discussion surrounding environmental sustainability within the Canadian culinary industry and the rounded walls of this special restaurant itself.
Before guests enjoyed the truly spectacular multi-course menu created by Chef Daniele Corona, designed to champion culinary sustainability and skill, we sat down with the chef himself to chat about his recent achievements, his views on environmental responsibility, and what we can expect from him in the future.
LR: Daniele, four years ago you arrived here all the way from Napoli, in Italy. Being a world-class Neapolitan chef yourself, the obvious question I must ask is if you've cooked for Lorenzo Insigne (new star of Toronto FC, ex-star of SSC Napoli in Daniele's hometown) yet?
DC: Actually, we haven't cooked yet for him but one of our regular guests is Federico Bernardeschi (another new Italian-born star of Toronto FC, previously of Juventus FC in Turin, Italy), another Toronto player. He likes our food and restaurant a lot. He likes fine dining.
LR: And I hear Federico is already a big fan of the city!
DC: Yes, he's a big fan! I hear he feels very comfortable now in the city. And actually, we're now somewhat friends! When some guests come often, I always try to have a relationship with them and after that it can turn into a friendship. We text message, I always try to find a spot for him because he's a good guy and he understands our restaurant philosophy.
LR: And because he's an athlete, he's always 'molto fame,' — very hungry.
DC: Yes, but actually, he eats very well. Not too much quantity of food but the products he wants are very high-quality products.
LR: There are actually quite a few more Italians in Toronto! The city's recognized for its large Italian population. Did you notice that quite soon when you arrived here four years ago?
DC: When I came here I was aware that we have a big Italian community in Toronto and I was extremely happy to know that because when you go to another side of the world, you feel more comfortable when you meet people that come from your country.
Many Italians here were born in Canada, so they're Italian-Canadian, but you know what I like about them? They keep our rules, our traditions. Many steps and things that we had in Italy, like for example, every year my grandmother makes sauce, passata di pomodoro, in the summer to keep for the entire year — homemade. Now, with the new generation in Italy — me included — that's almost disappeared because we can just buy it in the supermarket. But if you go to small town close to Toronto like Woodbridge, you will find each house has a small pot specifically for making passata every year!
I found some very traditional things like that, this kind of culture, have now disappeared in Italy.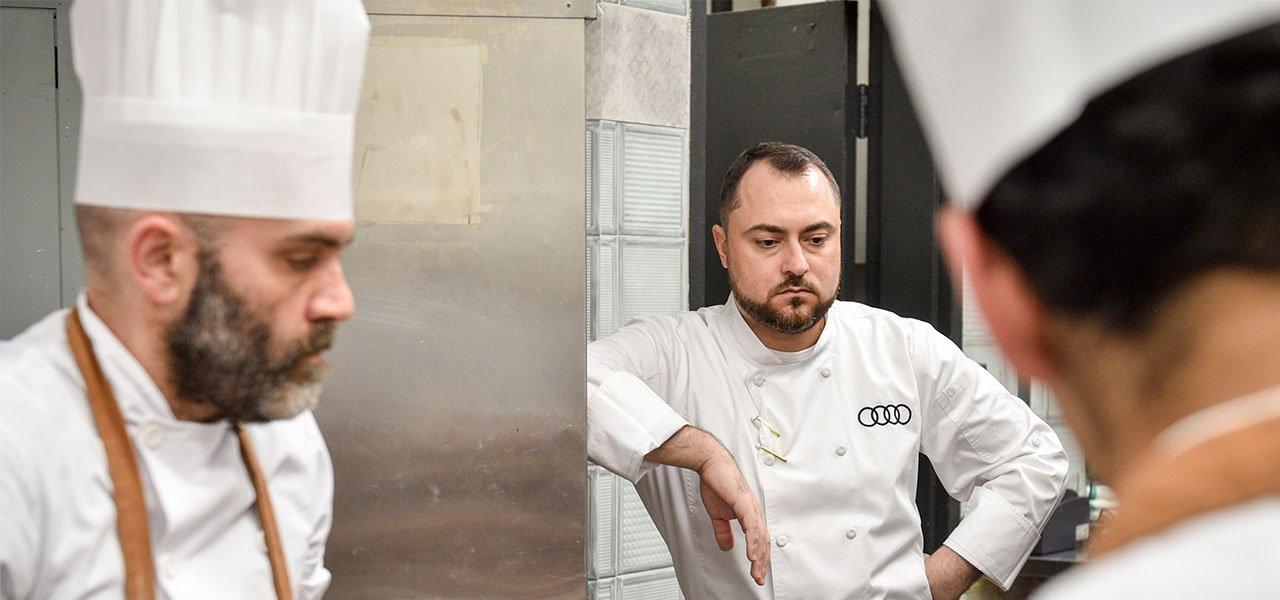 LR: I read that your uncle was a chef and that growing up, your family had a very strong food culture at home, which is similar to mine! I'm British and grew up with the tradition of family gathering on Sundays to do proper Sunday Roasts.
DC: Yes! On Sunday and especially at Christmas time all the families come together in Italy. So, I was very surprised when I saw my uncle cook and prepare food for the family. I thought it was a very beautiful gesture and when you cook with passion and love, you can feel that. That's why I started to love my job, because I saw my family — my uncle, my grandmother, my mum — when they made lunch or dinner for us, it was with love and with passion.
LR: Toward the beginning of your career, you worked in Michelin-starred restaurants in cities like Roma and Milano. What was it like to come from Italy to take an Executive Chef role in Toronto and then go on to win a Michelin star at Don Alfonso along with other awards like "Best Italian Restaurant in the World" in 2022 as voted by 50 Top Italy, a highly respected food publication?
DC: You know what, most of my career in Italy was in Michelin-starred restaurants. But when I came here four years ago, the Michelin guide still wasn't here, it only arrived four months ago. Our message at Don Alfonso is to show our rules, our traditional foods, in fine dining styles. For many years, our Italian food has been represented by dishes like pasta and pizza, but Italian food is not just that. Italian food means high-quality products, simple execution, but at the same time with a lot of ideas behind the dishes.
Our country is very small but it's very different between regions. If you go to Napoli you'll find one kind of food completely different to the food in Roma or the north of Italy. Other dishes, other flavours. My country is very rich in terms of culture, history, and passion for hospitality.
LR: And now that you've seen both sides, back in Italy and now here in Toronto, what do you think Canadians can learn about this philosophy of cooking and enjoying food?
DC: When we came here, our goal was to re-do the same concept of the original Don Alfonso restaurant in the Amalfi Coast. But with Chef Ernesto, we saw that many ingredients like Mozzarella or Ricotta are not the same as we have in Italy. So, we went around for more than two months to find the best local products and then based off that, we made our dishes. For example, we have a Bison tenderloin from Manitoba, we have duck from Quebec, we have Ontario Wagyu beef that is spectacular. Our idea for Don Alfonso in Toronto was to use local products with our ideas and our skills, because we think we're ready to match the two cultures of Italy and Canada.
When we do that, our guests recognize what they're eating but in a different way. For example, we have our Wagyu with artichokes made in an Italian way instead of a simple potato, which is very common here. Instead, we have a charred artichoke in a very traditional Italian way but in a very fine dining presentation, so you see very beautiful presentation but when you bite into the food, you feel very familiar flavours.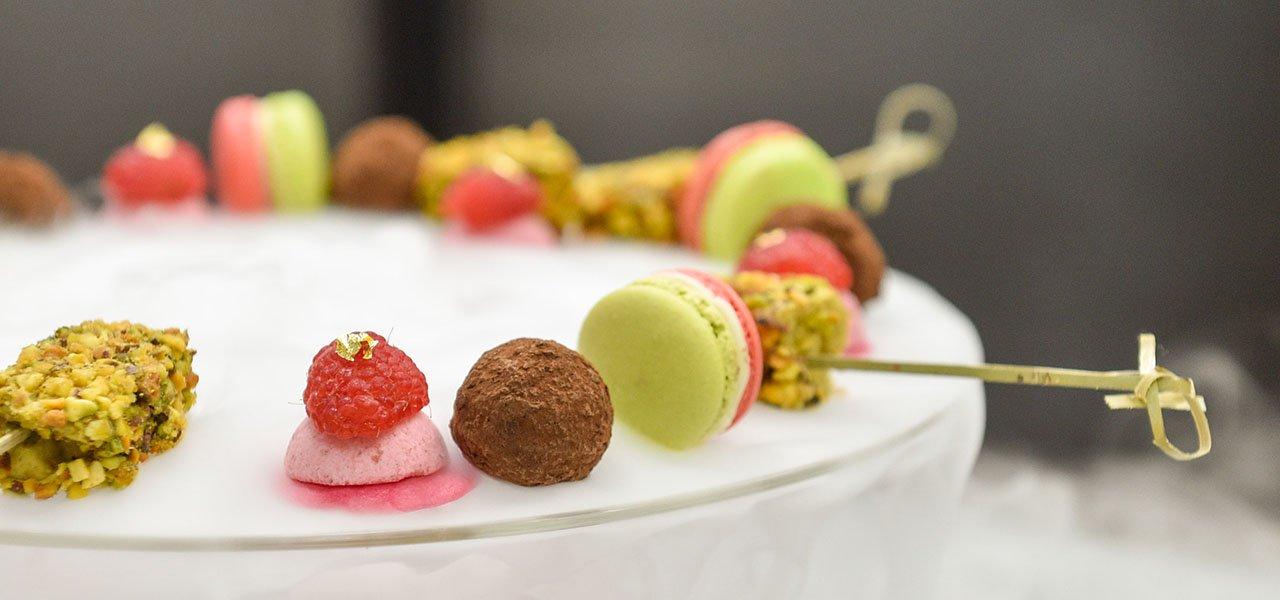 LR: Of course, Canada is still a very young country, we're still a little bit 'meat and potatoes' while Italy is so much older with a richer culinary history. Being here for a relatively short period of time, what do you think the future of Canadian cuisine will look like?
DC: We've already had a few meetings with our CEO to discuss our long-term project, which is to keep this restaurant more sustainable for sure. We're considering that maybe on the 37th floor (directly below the restaurant, situated on the 38th floor of the Westin Harbour Castle) we want to create a new system of energy using solar panels to create clean energy to power the restaurant.
It's a big project and now we're only talking about it, but we want to do that because we want to be on the same page as the original Don Alfonso, which will celebrate being open for 50 years next year. Chef Alfonso was one of the first chefs in Italy to have a farm where he grows vegetables for his restaurant — farm-to-table. Now, that looks like a trend, but chefs have no choice but to accept we have this problem of climate change and we need ensure, me and my colleagues, that we do our part for the future. We have to make sure that the next generation will do that too. That's why we're not investing more quantity of guests but in sustainability.
In the beginning, we were supposed to create another restaurant on the 37th floor, but after a couple of meetings with the CEO, we're thinking to stay on the same page of the original Don Alfonso and to create a new system of energy that will be with solar panels. But for now, that's just our dream, we still need to have many more conversations.
LR: That's a fantastic initiative and it sounds really leading edge — sustainability is becoming an increasingly essential conversation in the global culinary industry. We're starting to see more of that in Toronto and in Canada and I think with the Michelin guide finally coming here, it's putting our restaurant scene more under the spotlight. How far away you do you think Toronto is now from being compared to some of the world's best food cities like London, Milano, or Tokyo?
DC: I think we're on the way. Toronto is a very beautiful city and I think we are on the right way to reach the level of a city like New York, which is very close to here and has very, very, very good restaurants, but Toronto has very good restaurants too. I think in the next two to three years we're going to see many new restaurant openings with high-quality owners, for sure.
Photography by: Ernesto di Stefano, George Pimentel Photography