Harry's Q&A: Canadian NFL Prospect Chuba Hubbard on Positive Mindsets, Giving Back and Sharp Grad Suits
By: Harry Rosen Staff
Date: 2021-04-28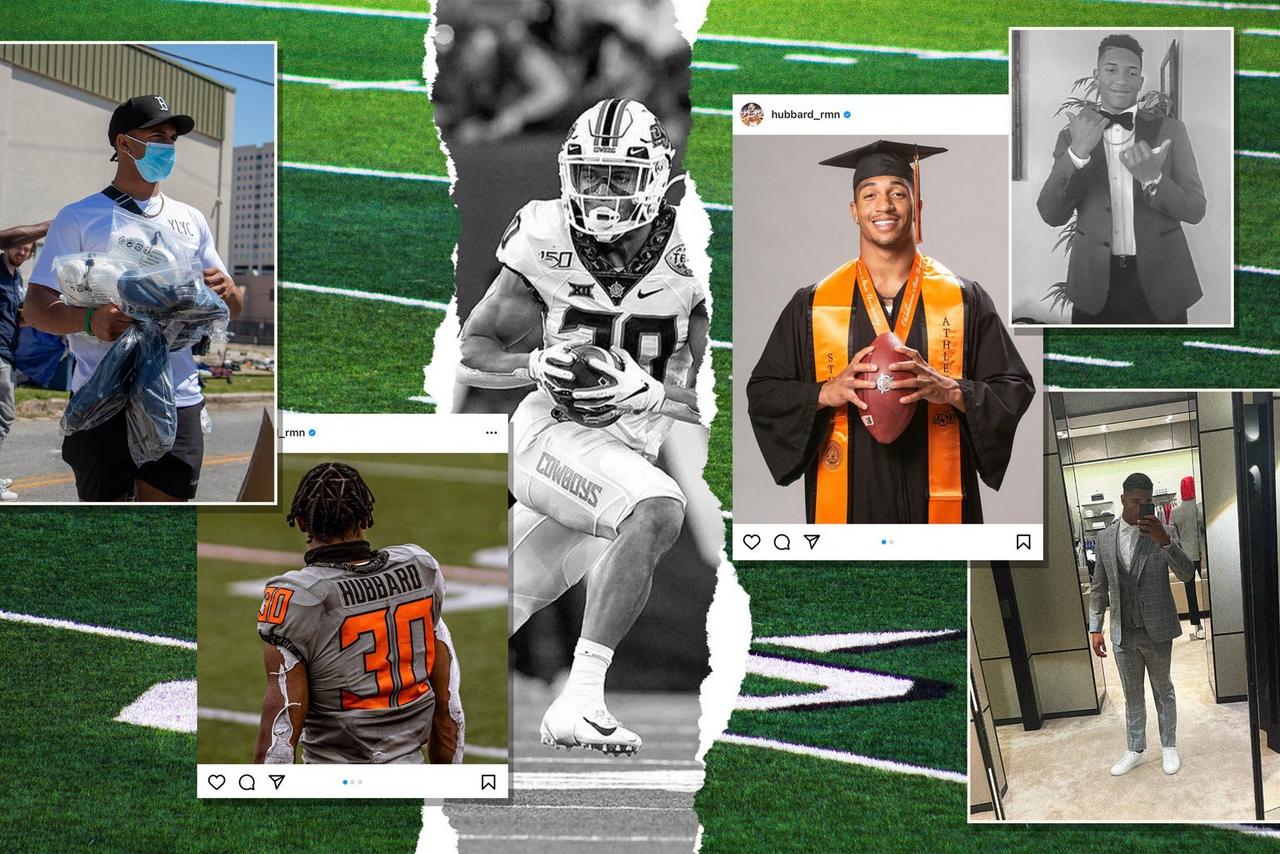 It's not often that a Canadian makes waves in American college football, but that's exactly what 21-year-old running back Chuba Hubbard has been doing since he broke through in 2018 in his freshman year. After a humble yet unstoppable start playing high school football in his native Edmonton, Hubbard has gone on to a much-buzzed-about college career at Oklahoma State where they have lovingly dubbed him the "Canadian Cowboy."
He led all of college football in rushing with 2,094 yards in his sophomore season and was selected a unanimous All-American (i.e. the best player in his respective position). He was then chosen as the Big 12 Conference Offensive Player of the Year and was voted eighth in Heisman Trophy voting (the most votes ever for a Canadian-born player for the sport's most prestigious award). Now, he's just steps away from potentially breaking it big in this weekend's NFL Draft.
Hubbard, a former track star, is known for his speed and his fearless approach to the game, but he's also fearless off the field, constantly striving to set a good example for the youth coming up behind him. Perhaps the best instance of this was in 2019 when he made headlines for calling out his head coach Mike Gundy, after Gundy was photographed wearing a T-shirt of a far-right media outlet. This outspokenness is somewhat astonishing considering the usually lopsided dynamic between these large football programs and their players. "Those situations test your character," Hubbard says. "I don't want to shun somebody for doing the opposite from me – everyone has their own experiences – but I don't live my life with regrets, I just try to do the good thing."
Hubbard cares about helping the team succeed, but he's just as focused on helping anyone he can. He's aware of his platform and at such a young age with all the pressures of college football, he's found time to start his own non-profit that he has seemingly endless ambitions for.
Although he was not able to make it back to Canada, we were thrilled to help him look his best for the NFL Draft thanks to our friends at BOSS, who outfitted him from their store in Costa Mesa, California. We spoke to Hubbard via Zoom to chat about football, being a leader, giving back and sharp grad suits.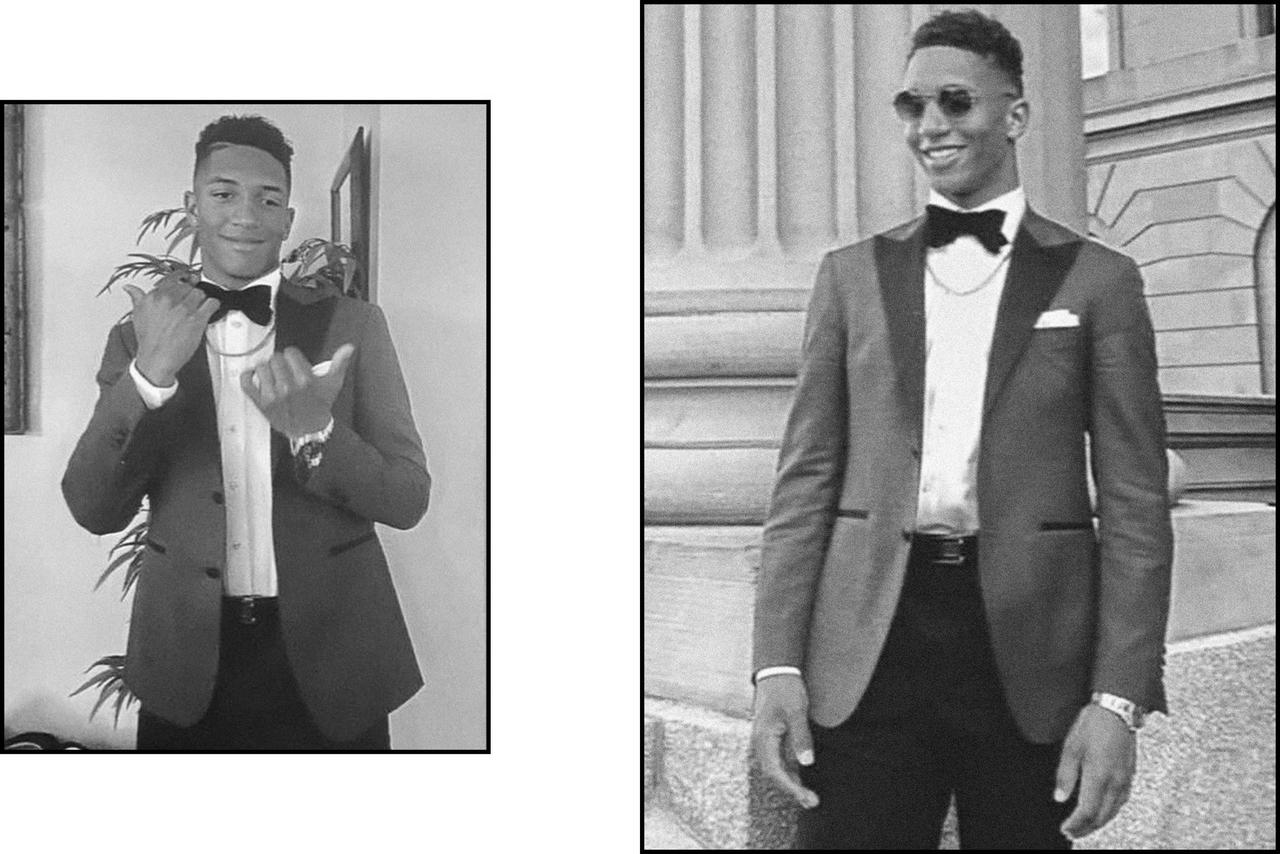 Hubbard at his high school graduation in a suit from Harry Rosen.
The draft is coming up soon – are you excited? Nervous?
I'm more ready than anything else. I'm just ready to get it over with but the process has been fun.
I thought we could start it off with a story about a young Chuba's visit to Harry Rosen. Your mom wanted to buy you a suit for graduation, is that right?
Yeah, I never really had a suit like that in my life – like a nice suit.  My family never had crazy money like that, but my grad was kind of big deal for me because I was going on to Oklahoma State. The fact that my mom and [family] were able to get me a suit from Harry Rosen was definitely special. I felt like a professional. I felt like a businessman. I never felt like that before. When grad came along it just felt good! I worked hard to get to Oklahoma State and [the suit from Harry Rosen] was my mom saying you worked hard, you deserve this, feel good about yourself, feel good in this suit. It was great.
Were you getting noticed on the night of your grad?
I was looking good. I was letting the world know about my suit [laughs]. I usually don't like taking pictures; I'm kind of camera shy. But my mom loves taking pictures and so that night I was okay with it.
How would you define your personal style?
I'm always changing but I like a business casual look. I'm also a guy who will throw a nicer pair of shoes on with anything – I think that helps any outfit.
I like looking put together. I like looking like a sophisticated young Black man so anytime I can dress up I take pride in it.
What does it mean for you to Set the Tone in sports or in life?
Setting the tone for me is really setting the standard whether it's on the football field, or life in general. It's all about setting the standard for yourself and for the people around you. When I take it onto the football field I want to be and be the best player there. Aside from football, I want to show what a man should be, what a human being should be, what a leader should be.
And where does that come from for you?
Definitely from my family. I've had so many different and life-changing experiences that have altered me and shaped me into the person I am today. My family, my friends, my experiences and all the people supporting me have contributed to my mindset now and where I am.
Back to your early days of playing football in Alberta. You went from playing games in front of small crowds of just friends and family to playing in front of 50,000 Oklahoma fans. It's a big jump to go from high school football in Alberta to the American college system. What was that like for you?
It really just comes from a mindset. I feel like a lot of people from Canada or from anywhere can go NCAA if they want to play at that high level but it's really all about a mindset and you love of football. NCAA is great, they give all of the things you need but it's definitely a grind. The biggest thing for me was…I'm somebody who is always going to put in that extra piece of work to get to where I'm going. I don't quit on anything. I always want to better myself and the better the people around me. I carry that into everything I do, and it has worked out for me.
How do you dig deep and overcome those challenges?
When I first got [to Oklahoma], I was the number one ranked prospect in Canada and then I come to Oklahoma State and I'm getting the last four reps with the fourth strings at the at the bottom of the depth chart. There was adversity but it's all about how you handle it. Whether it's a good thing or a band thing, you have to take something from it – otherwise you're just wasting time. I'm a God-fearing man so I trust in His path and journey for me and I stick to it.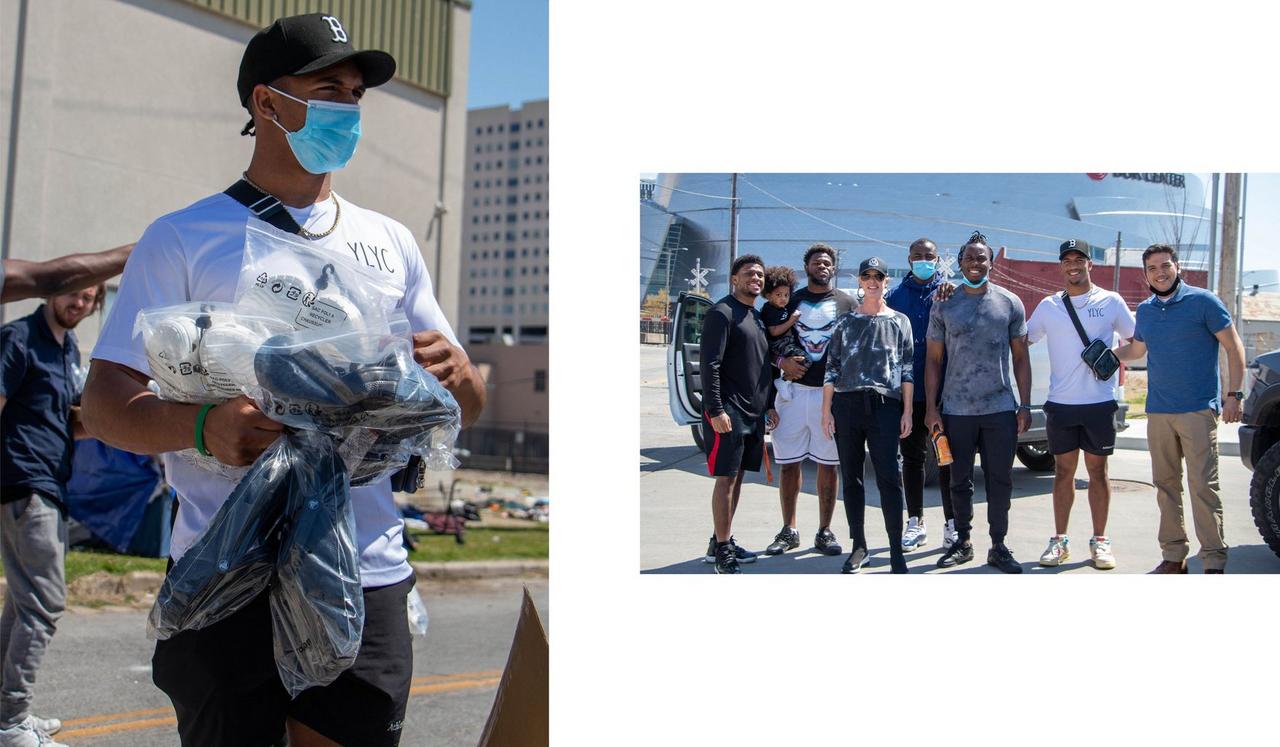 Hubbard giving back to the community with his non-profit: Your Life, Your Choice.
You're still in school and playing high-pressure football and yet find the time to give back with your non-profit. What can you tell us about that?
About two years ago a started a non-profit called Your Life, Your Choice. It's aimed at helping young kids in negative environments and helping put them in positive environments while teaching them life and leadership skills and really just help to develop them so that they can be active citizens in society and in life. The other aspect of it is helping low-income families out in any way that we can whether that's with food, clothes or helping them find a job. I really want to have an educational component to it as well and hopefully get some kids some scholarships and an education because I believe education is very important. I was planning on having sports camps but Covid sort of mixed that up but there are so many things I want to do and so many people I want to help.
Where does that drive to help people come from?
My upbringing and experiences. Everyone has their struggles and a big thing for me is that my family has had its struggles, I've had my struggles, but I've also had a great support system around me to help me get to where I am. I'm fortunate for that and I realize that not everybody gets those things.  I want to be that helping hand.
What does being a leader on the field and in the community mean to you?
Specifically, to being an athlete, I'm blessed enough to have this platform and it's my duty to give back in any way I can whether that's through my non-profit or just leading by example as somebody who represents his country and family.
Thanks, Chuba. Good luck at the draft!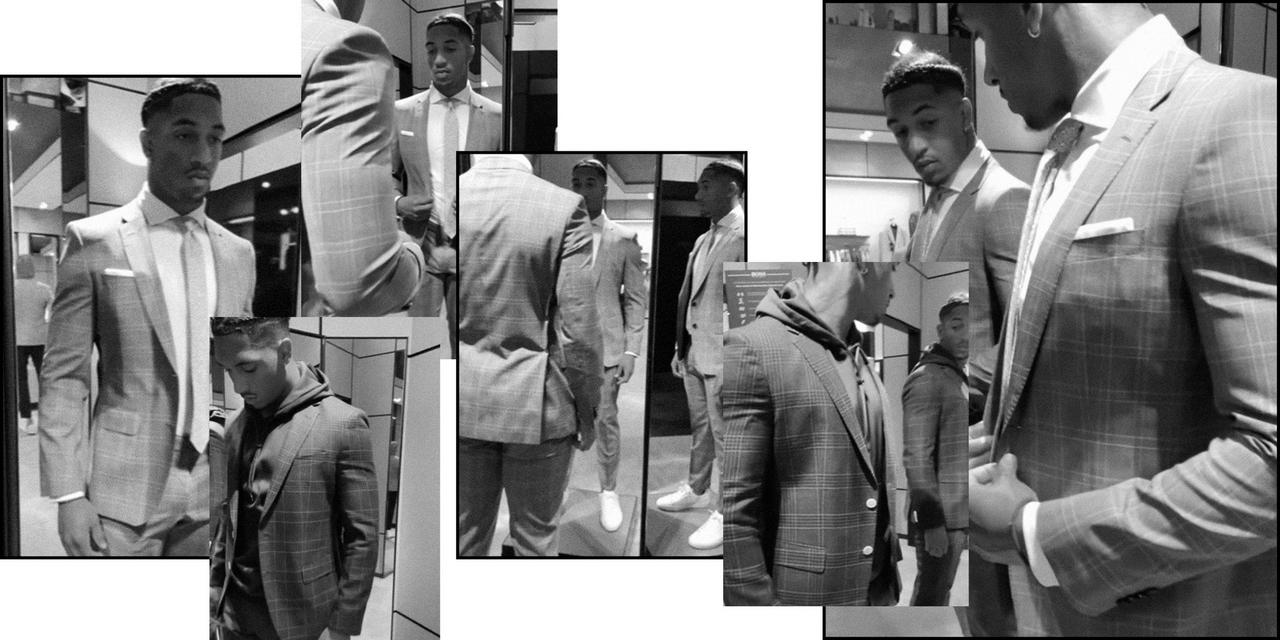 Our friends at BOSS helped us outfit Hubbard for the upcoming NFL draft.