Ask Harry: Fall '22
The expert team at Harry Rosen is at your service – answering your most pressing style questions. Have a sartorial problem on your mind? Send us a message on Instagram @harryroseninc, and we'll answer it here next time.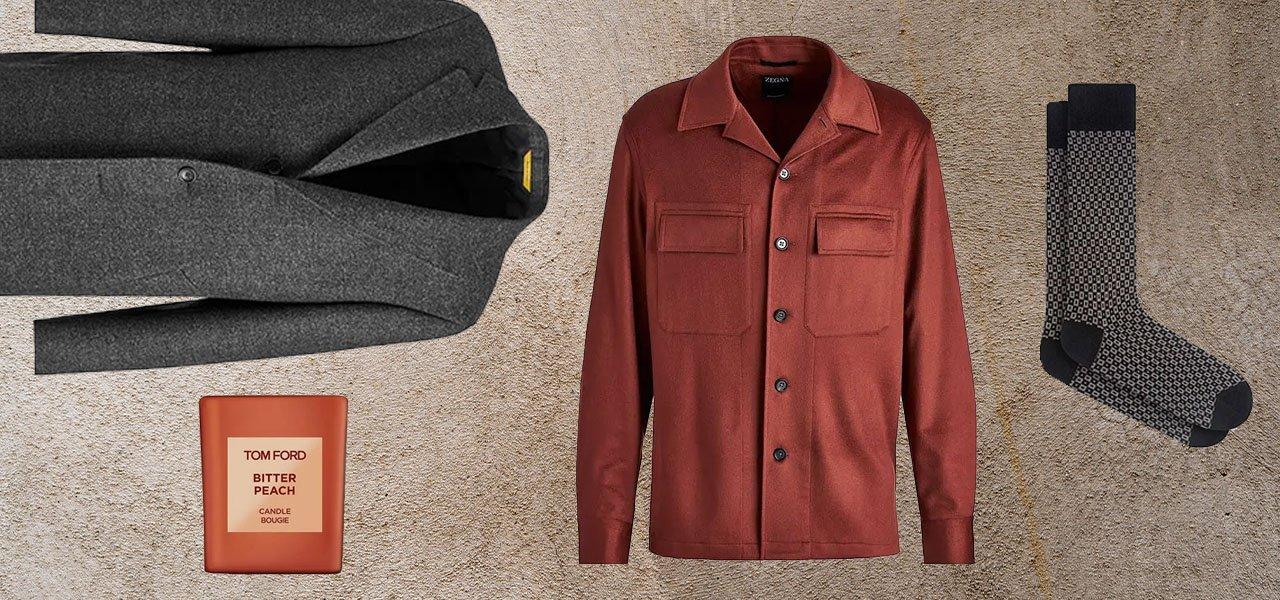 I recently made the catastrophic error of spilling some coffee on my crisp white shirt while heading into work, but the only sub I had in my bag was a light sweater. I liked the look, but I couldn't tell if my coworkers (or boss!) felt the same. What's the rule on wearing sweaters and suits without a shirt on underneath? Nathanial – Montreal, QC
First off, we're sorry to hear about your crisp white shirt – we hope you keep some pre-treatment stain remover in your desk! More pertinently, a light sweater most definitely belongs underneath a suit or jacket – with or without a shirt underneath. In fact, we find that knitwear (like lightweight cashmere or merino wool, for example) offers a lot more in the comfort department than dress shirts do, which means this look has become a go-to for me on more relaxed days.
I love the look of an overcoat, but where I live summer transitions into winter in the blink of an eye and I just can't seem to part with my parka. Is there any hope for me? Bryce – Calgary, AB
Like you, we're also an enormous fan of overcoats and, like you, we also know they're not quite warm enough to stand up to winter's worst. However, we always get ample time wearing ours each winter. The secret? Don't buy overcoats in the same size as your jacket. Move up one size so that you can layer appropriately underneath. Whether you wear a blazer or a hoodie most days, the extra room means you can work with the elements as temperatures drop.
I fell in love with entertaining at home after lockdowns were lifted, but I do feel like a bit of a one-trick pony after having the same friends over a few times. How do I reignite that spark? Armando – Toronto, ON
We've always loved entertaining at home – nothing beats throwing a spectacular dinner party with close friends when nobody has to worry about being too loud or having a little too much wine. However, things can get stale if you don't regularly refresh the atmosphere. Yes, experimenting with new recipes and different labels is crucial, but so is having new décor, barware, scents and lighting to freshen up the ambience and create brand-new experiences for your guests. Luckily, we now carry a curated selection of just that in our online store.
I feel like overshirts look great on models but I can't seem to figure out when, where or how to wear one without looking like I'm trying too hard. What's the secret to pulling one off? Rafael– Ottawa
The key to looking natural in any clothing is confidence, but that only comes after you've done your due diligence on how to wear it. When it comes to overshirts, our idea is that they are somewhat of a substitute for blazers, which means they should fit more like a light jacket than a shirt. Wear yours overtop anything from a T-Shirt to a button-up, and pair it with anything from jeans to chinos – or even dressier trousers if the overshirt is made from a more refined material.
Ever since the concept of 'fun' dress socks came into style and subsequently came crashing out of it, I'm a little lost as to what constitutes a fashionable sock these days – or if that's even a thing. Any advice? Nick – Edmonton
Ahh, the 'fun socks' trend – that was one to remember. That being said, all work and no play makes your sock drawer a dull sight. Dark greys and navy blues should make up most of your dress sock collection purely because they go with everything, but having a strong selection of tones like dark red, tobacco brown and golden yellow can add a stimulating pop of colour to your outfit without overstepping any boundaries.
I keep hearing about 'soft tailoring' and 'soft jackets' but I'm not quite sure what people are talking about beyond their choice of fabric. What's all this hype about? Sahil– Winnipeg, MB
In the tailoring world, the term 'soft' typically refers to a jacket's construction rather than its fabric. Remember the exaggerated shoulder pads of late '80s suits? That's the opposite of what we mean by 'soft'. Instead, jackets with little to no canvassing under the hood (chest pieces, shoulder pads, etc.) are what we call soft, as their silhouettes have fewer hard edges and, as a result, are much less formal and much easier to wear. We love soft tailoring because their relaxed demeanor means they suit a wider variety of occasions.