A Trip to the Heart of ZEGNA
Our buyer Vikash Bhatti set out to the Italian village of Trivero to discover more about the brand.
By: DYLAN MARTIN
Date: 2017-09-15
Discerning fans know that ZEGNA value runs deeper than its consummate good taste. The legendary menswear label has an intimate relationship with the people and land it relies on to create the world's highest quality clothing.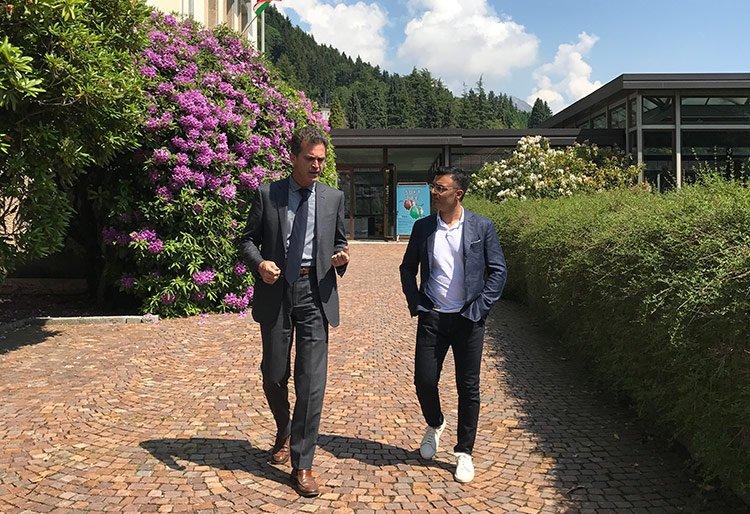 Touring the Lanificio ZEGNA wool mill.
In a time of fleeting trends and mass production, the family-driven enterprise stands as a dignified counterpoint rooted in its classic Italian heritage. Our luxury collections buyer Vikash Bhatti set out to learn more about ZEGNA century-old story first-hand. This journey led him to the densely forested region of Oasi Zegna nestled in the Biella Alps of Northern Italy.
Vikash travelled to the foothills of the mountainous territory to a small village called Trivero. This was where the visionary ZEGNA set the groundwork for his eponymous label and established his Lanificio ZEGNA wool mill in 1910 at the age of 18. The facility remains an important site for textile production and technological innovation to this day.
Vikash with the original smoke stack from 1910 and the surrounding flora.
"I was warmly greeted and shown around by Matteo Loro, who is known as the fabric whisperer. His knowledge and understanding of textiles is incredible," explains Vikash. "I was informed how a single strand of wool is scrupulously transformed into a bolt of fabric, and the remarkable amount of time and expertise that goes into the process. From its raw state to quality control, roughly 500 hands touch each yard of fabric." Vikash marveled at how the fine yarns were washed with Oasi Zegna's pure, soft mountain water with ideal pH levels. This water was re-filtered and re-used to achieve an environmentally friendly system.
Matteo explaining the wool production process.
While touring the grounds Vikash was overcome by his spectacular surroundings. "The region is filled with sweet smelling rhododendrons and hydrangeas," he notes. "For all of my professional life I had been looking forward to a trip like this. Zegna's passion for artisanal quality and natural beauty is so evident." This lush landscape was no accident. In fact, starting in the 1930s, the founder carried out a massive reforestation plan on the barren slopes of the local mountains.

Flags lining the village of Trivero.
ZEGNA dream wasn't only to create the finest fabrics. He planned to transform the environment and lives of those around him, dedicated to ecology long before the term was invented. "Amongst other infrastructure, ZEGNA created a library, gym, theatre, medical centre and nursery school for residents," Vikash accounts. "In the meantime, he was dedicating himself to the local landscape, planting thousands of trees and building the Panoramica Zegna road."
Historic photos of ZEGNA in Trivero.
ZEGNA acutely understood that the quality he sought for his products couldn't be separated from a positive relationship with the local territory and the community. Vikash's trip to Oasi Zegna shined a light on the brand's effective synthesis of culture, fashion and social responsibility. "It's true luxury house," Vikash notes, "the ZEGNA family continues to honour the founder's ethical commitment, caring not only about textiles and clothing but the environment and employees."