3 Things Every Tall Man Needs to Know About Suits
By: TIM GALLANT
Date: 2017-09-19
Height brings special challenges to getting the right suit, but knowing these 3 things will make it all easier. We caught up with Adam Percival, our National Director of Tailored Clothing to his top 3 tips.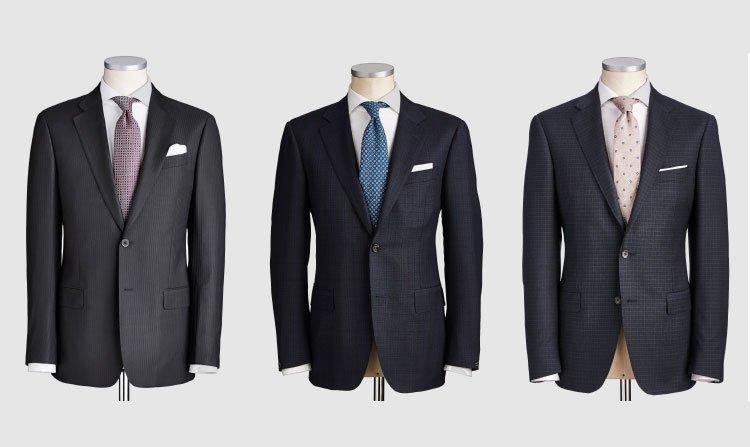 1. Consider a Two-Button Jacket: \ Many tall guys think they need a three-button jacket for their longer torso, but all that does is bring attention to the torso. Show off the chest with a low two-button stance.
2. Make Sure It's Long Enough: \ A jacket that covers your hips will help balance out long legs.
3. Mind the Break: \ Big breaks aren't really in style right now, and with good reason. The excess fabric pools around your ankles and brings too much attention to the bottom of your legs.
---
Adam advises that it's best that those with a height advantage stick to the sartorial rules when selecting their suit. Don't try to go too fashion forward with shorter pants or worse, sleeves. "It'll just look like you outgrew it," he cautions. Instead opt for slight break on the shoe and just a quarter of half an inch shirt cuff showing below the sleeve.
And when it comes to finding the right fit, most collections offer a regular and tall fit to accommodate a wide spectrum of men. But there's nothing quite like the experience of having a suit created specifically to your unique proportions. Made to measure opportunities abound from brands like ZEGNA, Canali, Samuelsohn and Coppley, as well as custom made from Munro, to name a few. Here you select the fit and fabric of your choosing. By working with one of our expert Clothing Advisors you are guaranteed not to come up short (pun intended) the next time you go suit shopping.
To learn more about the proper fit of a suit, view the video below.