The Next Generation
We brought the future of Italian menswear together in Florence to talk legacy, craftsmanship and keeping an eye on the what's to come.
By: Ben Kriz
Date: 2022-09-08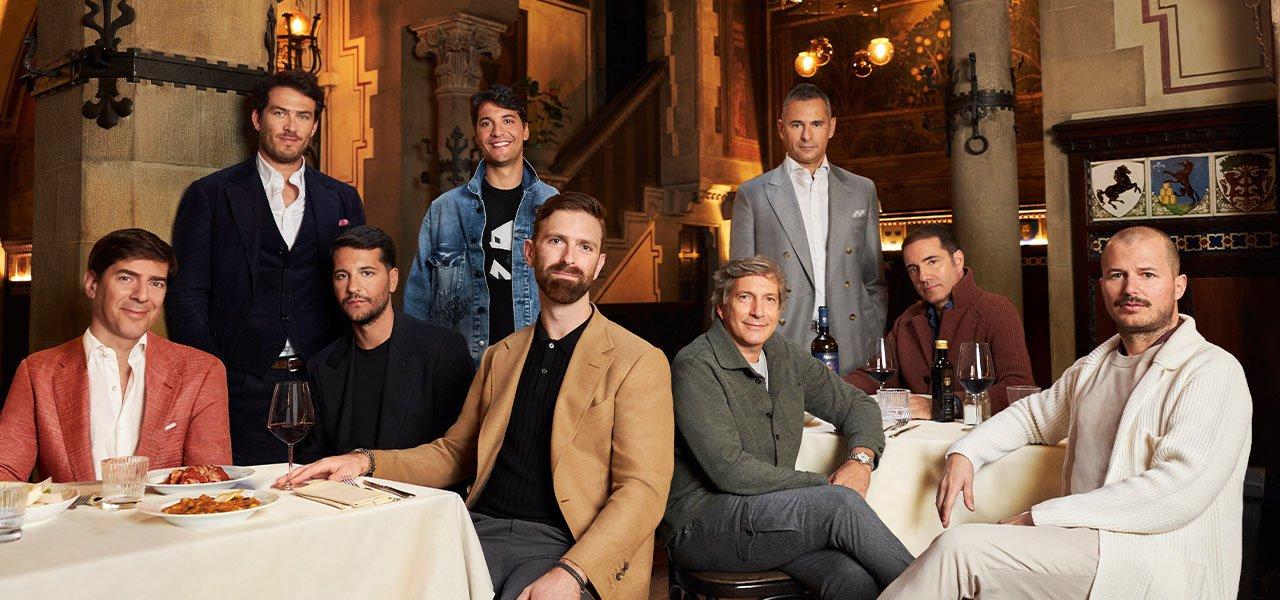 Italy is a place where traditions are passed down through the generations. It's not unusual to find a master craftsman who has spent their whole lifetime mastering the trade of his or her forebearers. Italians have a great deal of pride in their craft, from architecture and design, to food and – of course – fashion.
With so many storied fashion dynasties, Italy gets fashion right in a way that few other countries manage. There's an expression that describes the passing on of a private company from one generation to the next – "capitalism familiare" or family capitalism. There's sort of an unwritten rule in fashion that the control of a brand is passed down like a family ragu recipe. With the help of his daughters, son-in-law and other expert caretakers, Brunello Cucinelli can surely feel at ease about his brand's future. Similarly, although Kiton founder Ciro Paone recently passed, his twin nephews are continuing their uncle's passion for quality and detail, all the while adding their own modern flair. And third generation Stefano Canali has no plans to rest on his laurels – his drive to move his family business forward is as strong as ever.
It's a belief we also feel strongly about. Harry's grandson, Ian Rosen, recently assumed the position here as President and Chief Operating Officer. So, it was our great pleasure to bring these next generation leaders together in a storied Florentine restaurant for a summit of the menswear minds where we spoke about family businesses, balancing heritage with modernity, the cultural cache of Italy, and more.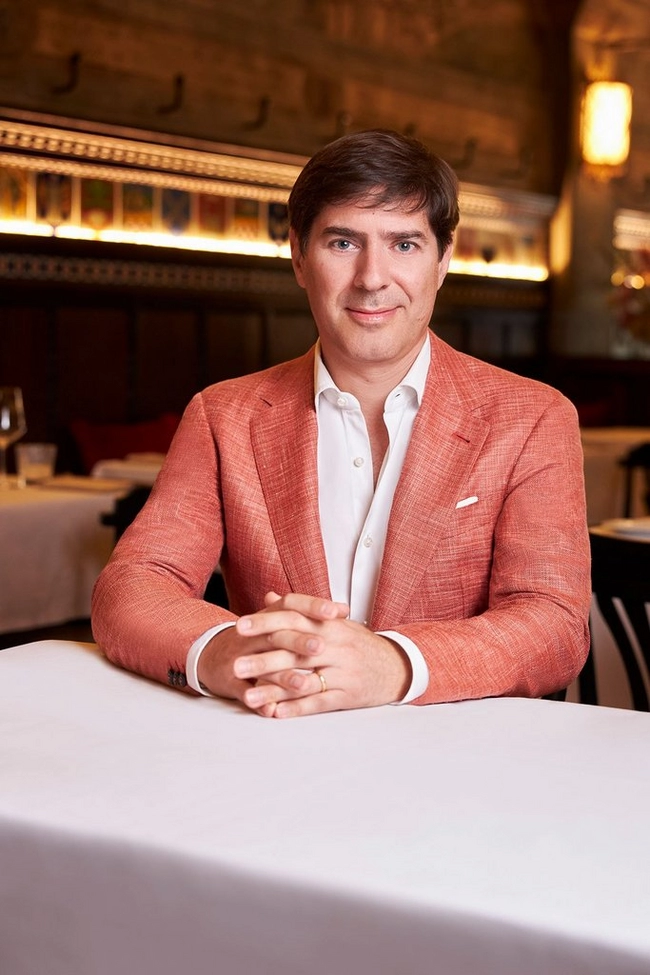 CANALI
As the third generation CEO of the legendary Canali family, Stefano Canali is using the challenges of the past to inform the future.
"Our past tells the world who we are in a tangible way, but it must not be a cage that prevents us from adapting to the needs and desires of today's consumer," says Canali's President and CEO Stefano Canali. With over 88 years in operation, history is an important part of a family business that has seen its particular brand of Italian elegance reach even the President of the United States. (Barack Obama was seen sporting a Canali jacket the day after Election Day in 2008.)
It's not something Mr. Canali takes lightly. "I have the opportunity and the responsibility to develop the business, continuing to convey the values that have always driven our family – such as respect and care for the people who work with us, our customers and our stakeholders," he says. These values have helped Canali grow from a small tailoring workshop into a brand that spans over 100 countries. Leaning on that heritage – with continued research, innovation and sustainable development – will only help it evolve and maintain its place in the pantheon of great Italian menswear. We spoke to Mr. Canali about that history, his father's advice and the importance of Italian craftsmanship.
With 88 years of history, have the company's past challenges helped you navigate today's difficulties?
Absolutely. We have already lived through two major moments of crisis, the first time having to rebuild a business wiped out by WWII, and again at the end of the 1960s, when a sudden change in clothing habits forced us to abandon the production of overcoats and return to the production of tailored suits. All of this has taught us that having ideas and being able to pursue them is fundamental in all times of great difficulty.
What do you see changing at Canali and what do you see remaining the same?
We are making important changes in product design and offer. [Our new strategy], consistent with a brand that continues to offer high-quality products, has evolved towards a more lifestyle and personal approach.
On a more personal level – how do your management and leadership styles differ from those of your father, Eugenio?
My father lived through an era of important changes and his entrepreneurial vision led him to focus on the primary development of the industrial part of our business.
As in a relay race, my mission is to take the brand from a product expression to the representation of the Italian lifestyle and of our family values. As is often the case with second generations in family-owned businesses, my father developed the company by maintaining a centralized managerial approach, which was appropriate and very effective in that historical period. The company I lead today is much more complex and requires delegation and project management, which does not exclude getting to the bottom of the most important projects personally.
My father, despite being 90 years old, continues to be present in the company and to share thoughts and advice with me. Beyond an inevitable difference in views, the interesting thing is that we often arrive at the same conclusions from different routes!
How does the cultural cache of Italy come through in your product?
I could say in every single thread. Keeping production entirely in Italy from A-to-Z isn't always easy but it's worth it.
For the part of the collection that we produce externally, we choose suppliers who operate in the original industrial districts – those who specialize in a characteristic product or material and have therefore acquired a unique know-how derived from their long and very specific artisan tradition. These are often small towns and keeping their artisans operational helps them survive. Leather garments in Tuscany, knitwear between Carpi and Perugia, ties and silk in Como, denim in Veneto... each product allocated in the specialized industrial district. The same applies to weaving companies and the purchase of fabric: wool in Biella, silk in Como, cotton in Bergamo. With our suppliers, we develop very close ties.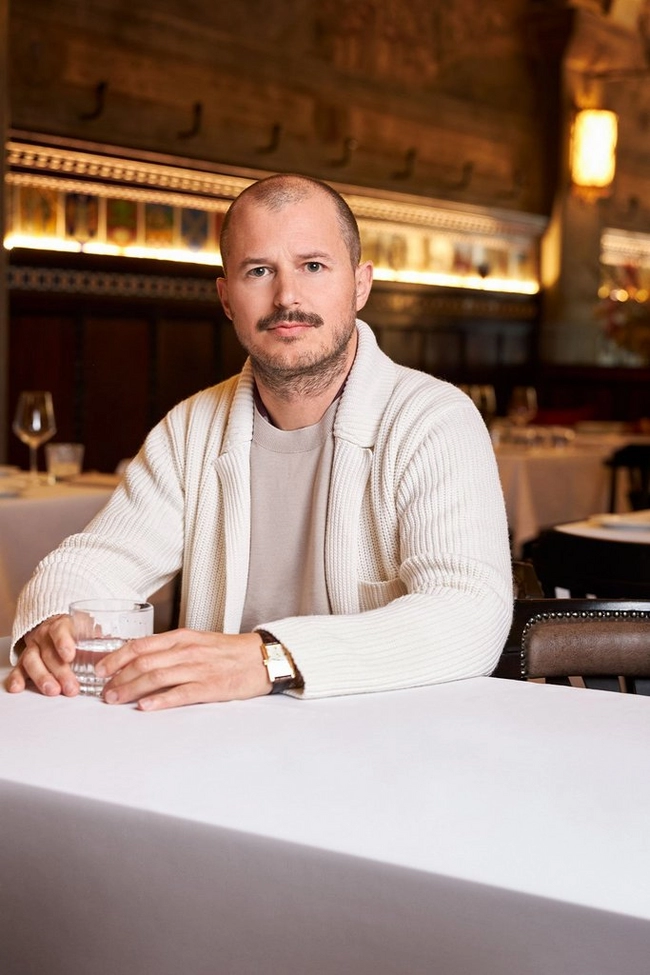 AGNONA
Having grown up in the Zegna family, Agnona's new CEO and Creative Director Stefano Aimone is helping this small, storied brand find its place among the giants of Italian knitwear.
Agnona may not be the most familiar name, but it's one of the buzziest brands in Italian luxury. For over 50 years, it was a mill, specializing in some of the finest knitwear and fabrics available. Now, under new CEO and Creative Director Stefano Aimone, Agnona is finding its place at the pinnacle of cashmere-swaddled elegance. Both Aimone and Agnona have roots with ZEGNA. The brand was created in 1953 by Francesco Ilorini Mo, dealing in the finest cashmere, vicuña and alpaca yardage for Parisian couturiers, including Christian Dior and Cristóbal Balenciaga. They were so renowned that ZEGNA helped Agnona launch its own collection. Eventually, the company was acquired by ZEGNA but it never quite got the attention it deserved.
Aimone grew up in the ZEGNA family (his mother is Laura Zegna, daughter of Aldo Zegna, who – along with his brother Angelo – spent the '60s expanding the company beyond just fabric production). He arrives having served as head of design at Z Zegna – though he always had an eye on Agnona. With the help of his father, he acquired a majority stake in the company and now finds himself growing a brand with fine fabrics and comfortable silhouettes that couldn't be more current.
"OUR PHILOSOPHY WILL ALWAYS BE TO INSPIRE PEOPLE TO LIVE AT THEIR BEST."
What do you see changing at Agnona and what do you see remaining the same?
It's a tricky question because the answer would be that everything changes and everything stays the same. Agnona is a timeless brand of pure Italian quality and style – that is and always will be the way it is. Equally, Agnona is evolving, listening to customers, reflecting the current time – a time where we live on the go, we like to dress in a more relaxed way, and we look for a place to call home, wherever we are. That is how our aesthetic is evolving, never betraying its strong identity but always pushing its boundaries and innovating in terms of image and materials.
With so much history, how you take Agnona forward?
Nothing is more inspiring than exploring our history, each time coming away with a fresh perspective and rediscovering 'the why' and 'the how' everything began. It's not just about feeling the magic of unique roots or an incomparable sense of belonging. It's about going deeper, immersing yourself in the journey of the brand and realising how it resonates today.
Actually, it has never been more relevant, the unparalleled search for quality, the respectful admiration for nature, the art of craftsmanship, the sense of a casual elegance... what is more contemporary?
Our heritage is a lens through which we can project ourselves into the future. After all, our philosophy will always be to inspire people to live at their best.
How does the cultural cache of Italy come through in your product?
Behind all our products there are and will always be a subtle hedonism, a love for beauty, the pleasure of a big open family, the peace of the Alps and the joy of Mediterranean Sea, our holidays and free time; the ambience of La Dolce Vita and the excellence of the best Italian know-how. The industry and the culture of handmade. It is not a suggestion but a reality in Italy and nowhere else, because a certain imagination was born here. This is a treasure to defend, an inspiration to continue sharing, and the best experience to live.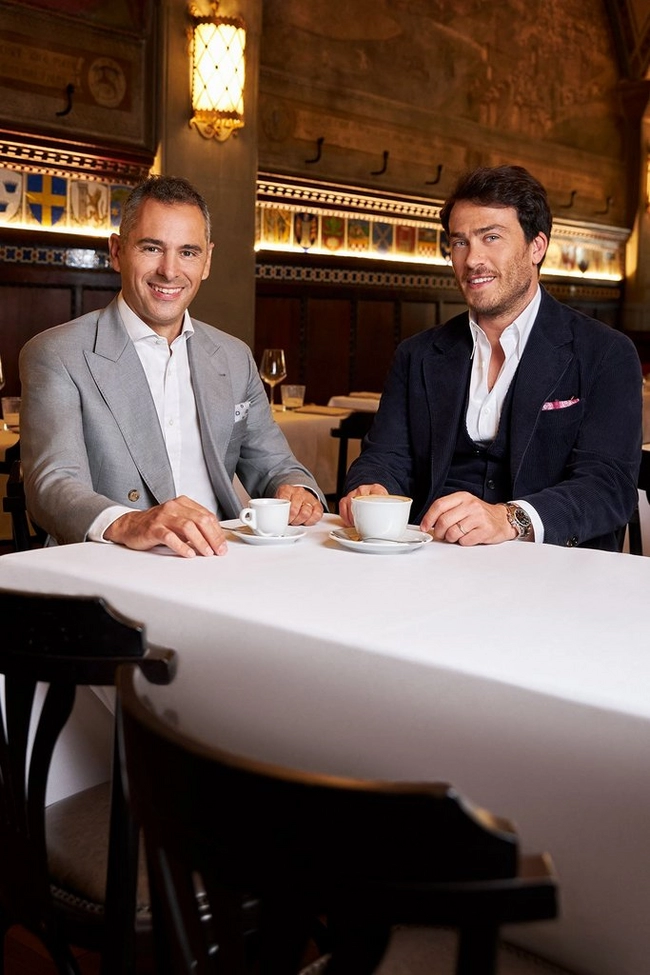 BRUNELLO CUCINELLI
With big (soft, suede) shoes to fill, new CEOs Luca Lisandroni (left) and Riccardo Stefanelli are quietly ensuring Brunello Cucinelli grows authentically, all while maintaining a focus on "humanistic capitalism."
In May 2020, Brunello Cucinelli announced that he would be stepping back as CEO and diverting his attentions to his work as Creative Director and Executive Chairman. It came as somewhat of a surprise as the man and the brand are so closely linked. But with such strong leadership waiting in the wings, Cucinelli thought it was time to pass the mantle.
Stepping in are Luca Lisandroni, who takes care of international markets and has worked for the company for six years, and Cucinelli's son-in-law Riccardo Stefanelli, who has been at the house for over 16 years and focuses on the product and supply chain.
Riccardo, you've been at the company for 16 years. In your time, how has Cucinelli changed and what has stayed the same through those years? How do you take things forward?
Riccardo Stefanelli: I have to say that, over time, one of the biggest changes that we have seen is increased attention to the history and the ethical approach of the brand. One of the most important things we always keep in mind is the preservation of tradition. We would like that nothing changed but, at the same time, we are constantly innovating. And the preservation of tradition for us means paying the utmost attention to the quality, to details, to product exclusivity and, above all, our distinctive style. Every day we look at how we can use the legacy of the past to enrich the future.
And you, Luca?
Luca Lisandroni: Brunello Cucinelli believes that authenticity of values and consistency in execution are key. These guide us as we strive to maintain a modern feel while remaining true to our idea of taste.
Brunello Cucinelli invests heavily in the craft by investing in teaching young people about the trade. What can you tell us about this investment?
Stefanelli: Craftsmanship is one of the pillars of our company. We established [the School of Craftsmanship here in Solomeo a few years ago in order to feed and cultivate these competencies. You have to properly remunerate the people working with you because you have to convince them to follow the path of craftsmanship. You have to convince the sons and the daughters of our supply chain, of our suppliers, to follow the path of their parents. But if you don't pay well, then they will never follow. They will never fall in love with this beautiful work of craftsmanship, of quality, of fashion.
What has changed for menswear the last several years?
Lisandroni: I believe that the change in style has always been a reflection of changes in the society in which we live. Often, we find ourselves choosing a restaurant more for the beauty of the environment than the quality of the menu. This drives us to consider that the level of attention paid by many men in the way we present ourself is definitely stronger now compared with the past. It seems that we are living in a moment where the resurgence of a sober and modern elegance is highly appreciated.
Stefanelli: In Solomeo, our brand has interpreted sportswear with our particular vision of elegance. During this two years of pandemic, I met a lot of people wearing hoodies who had a very casual, sportswear approach. [But we believe that the men's suit] is an exquisite garment and an unmissable piece of Italian style. You just have to be encouraged to wear it in a fresh way.
So, it needn't always be hoodies and sweatpants?
Stefanelli: One of the key words to me is credibility. Maybe if you are Steve Jobs, you can wear a turtleneck and it's okay. But if you're a manager, if you are an entrepreneur, if you are a businessman – you need to think more. I met a lot of people, a lot of managers and businessmen wearing, without confidence, this sportswear. Now, if you want to keep your credibility, to keep a kind of elegance, that is something different. You have to respect some codes. So that's why we believe that the men's suit will have a strong place. But, with the condition that you must style that with taste, with an Italian taste, with a contemporary taste.
Now I am wearing a suit today, but I'm wearing it with sneakers and with a short-sleeved polo. So, you can be contemporary, keep your credibility and always be elegant. I can now leave work and go to an important meeting or to a cocktail, and I will be always appropriate.
"OUR CREATIVITY IS NOURISHED BY THE BEAUTY OF OUR LANDSCAPE AND THE SERENITY OF OUR COUNTRY."
Sustainability is a hot topic at every fashion label these days. What is your approach?
Stefanelli: Our focus on "humanistic capitalism" comes with the idea of four types of sustainability. There is the environmental sustainability, the carbon footprint and respect to the environment. There is an economic sustainability, because we strongly believe in delivering sustainable growth, but also a healthy and sustainable profit. So it's about the constant balance between what you deliver in terms of profit, and how behave now and how you achieve that profit.
The third part is what we call the cultural sustainability, meaning the relationship between culture and spiritual health. So, this is the reason we built a theater in Solomeo, we founded a School of Craftmanship, and we have recently kick-started a project for a universal library.
Finally, we have spiritual sustainability, the one that cannot be measured. I've never met an investor that measured this kind of spiritual sustainability – by which we mean a relationship between the material needs and the spiritual needs. So, we always place a lot of emphasis on the first, but we must also always remember to consider the wellbeing of our soul.
How does the cultural cache of Italy come through in Brunello Cucinelli ?
Lisandroni: Our product has a very strong bond with our territory. Our creativity is nourished by the beauty of our landscape and the serenity of our country life. If you look to our colour palette, there is a clear foundation in neutral colours. I like to imagine that, from the softness of our cashmere and the comfort of our pants to the feel of one of our jackets, customers all over the world can, for a second, feel the pleasant sensation that often is associated to our Italian lifestyle. Our lifestyle is highly attractive all over the world.
What is Brunello Cucinelli doing to appeal to new generations of customers?
Stefanelli: I don't want to divide the new generation into Millennials because I believe that we, as a human beings, all want the same things. I have to say that it comes down to our attention to beauty, to details and, mostly, to the behavior of the company and the brand, all are important aspects of the decision process of every customer.
Now, people want to know how you behave, where you produce, how you conduct your business. I've read an analysis made by Bain & Company, saying that 75 percent of customers in the luxury world will change how they buy, their approach to the brand, if they will know that the brand doesn't behave.
So, how you treat your supplier, your environment, your co-workers, your stakeholders – everybody is important. How your company behaves. It's something that you can talk about or it's something that you can actually be.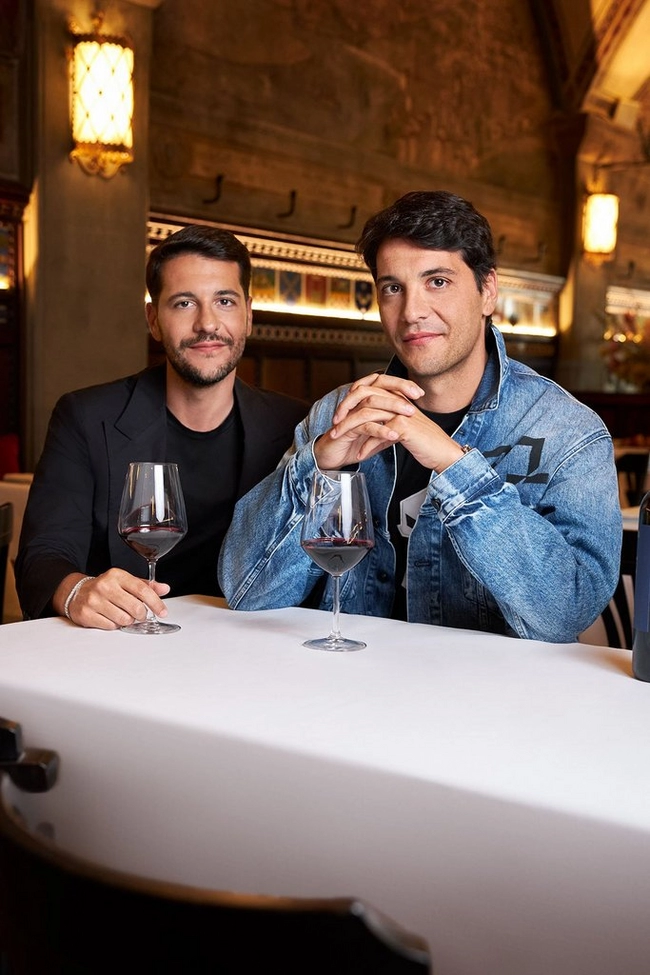 KITON
The pinnacle of Neopolitan tailoring, Kiton's famed handmade clothing has found admirers in some of the world's most famous political and business leaders. Now, the family's third-generation twins, Walter (left) and Mariano De Matteis, are taking the brand in some bold new directions.
A pioneer in some of the world's most indulgent clothing, Kiton does things its own way. "The Best of the Best +1" has long been the brand's mantra and it's easy to see why. Kiton is producing some of the most luxurious materials on the market – jackets with pronounced lapel rolls and other details that can only come to life when made by hand. Although Kiton is carried in stores across the world, its soul remains in Naples, where founder Ciro Paone established the business in 1956. But now, a third generation is stepping into the business, with Ciro Paone's twin nephews, Mariano and Walter De Matteis, infusing a modern approach to the brand. But don't call it luxury. "From Uncle Ciro, I learned that the word 'luxury' is often overrated," says Mariano. "It is used improperly. As he liked to repeat: we make quality, not luxury. There's a big difference."
From a young age, the twins "grew up on milk and textiles." Their father, Antonio De Matteis, took them to work and helped them grow within the company. It was an opportunity which they embraced with passion, curiosity and humility. Everyone who worked at the company and in the workshop taught them secrets, both big and small – "stealing" bits of craftsman's skills that can be found all over their workshop in Arzano. Uncle Ciro is still a constant source of inspiration for the two. For Walter, one of the big lessons he took away and is always in his head is undoubtedly, "that you must never compromise on quality." Neapolitan tradition is in good hands.
What is your vision for the future of Kiton?
Walter: The pandemic has led to a very strong acceleration in terms of changes in consumption. Consequently, clothing has also changed. While maintaining its 100 percent 'Made in Italy' DNA, Kiton has carried out a major upgrade to the more comfortable side, which was previously only intended exclusively for free time. It is an aesthetic evolution: the watchwords are elegance, luxury and comfort, which have always been in Kiton's DNA, but have now been recalibrated.
Sustainability is on everyone's mind these days. Does Kiton have a perspective?
Environmental sustainability has always been a meaningful issue in Kiton's corporate culture. Our products are created through the philosophy and standards of traditional craftsmanship: the central element is the human being, not the machine. The only tools available to our craftsmen are needles, thread and scissors, therefore our production process has no impact on the environment. In terms of emissions, the only substance we expel is the steam produced by our boilers.
The fabric manufacturing process is also permeated by a great sensitivity towards the environment, with the use of eco-friendly materials in the washes. One of the innovative steps we are taking in terms of environmental protection involves experimentation with new yarns, to replace those made from polyamide, that have a greater degree of biodegradability. in this regard, however, we are experiencing some difficulties due to a lack of elasticity of the thread, which causes greater stitch rigidity during the sewing process. We are working with manufacturing companies in the sector to find a solution that combines our need to guarantee the highest product quality with the need to achieve results in terms of eco-sustainability.
Finally, we are physiologically eco- sustainable: our garments last a lifetime, and do not require constant recycling.
What does "Made in Italy" mean to Kiton?
Kiton is proudly Italian. And we are proud to represent the Italian flag as a symbol of excellence all over the world. For us, "Made in Italy" is the implementation of its own philosophy of quality.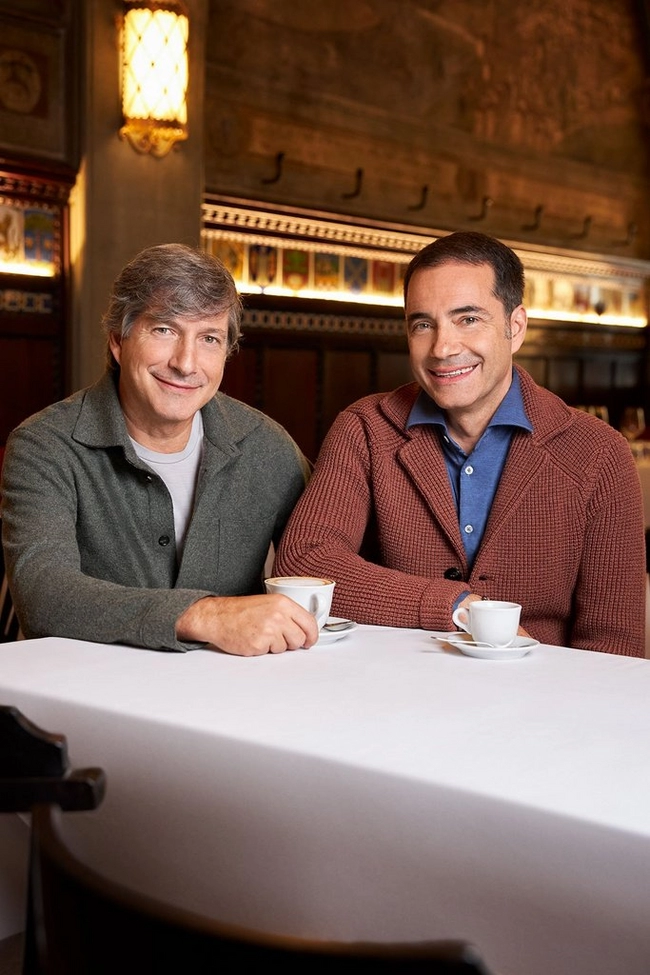 MAURIZIO BALDASSARI
As the second-generation takes over their father's namesake brand, Renato (left) and Roberto Baldassari's dedication to high-quality Milanese menswear is just the beginning.
In post-war Italy, a young Maurizio Baldassari came up in a time when the country was full of optimism – the possibilities were endless. Baldassari worked his way up from a buyer at the famous La Rinascente department store (where he worked alongside none other than Giorgio Armani), learning the trade and making the right connections. This led to the launch of his brand in 1980 in the creative quarter of Brera, Milan.
Now his sons, Renato and Roberto, are continuing to build the brand their farther founded. Renato runs the commercial end, Roberto the production. Maurizio is still the "big boss," they say, but he is focused and passionate about mentoring young people in fashion programs at the Bocconi and Cattolica Universities in Milan. We spoke to Renato about his family, how Brera continues to inspire and whether a third generation might be waiting in the wings.
Were you and your brother Roberto always around the family business?
Renato: We have always been around. Maurizio was working so much that the only way we could see him was to come to the showroom and help him out. We were always seeing the fabrics since we were 10 years old. Then he was taking us to Paris to see the fabric exhibitions. So, for a 17- or 18-year-old, it was fantastic. And even when I was studying at university, he was taking me to Japan. It was a great experience!
I'd imagine it's easy to be excited about the business when you get those experiences.
He was very clever because he encouraged us not to join the company immediately, so we both had an experience abroad. I went to work at Mulberry in England and Roberto was also in there working for a big studio that specialized in fashion retail. Naturally, after a few years, we said: "Maurizio, can we come and join you?"
How do you balance honouring the past while still moving forward?
It's always a kind of fine balance. But honoring [Maurizio's passion for quality] that has always been there. We never cut the corners, even if we could. Maurizio has given us a kind of imprint of how things should be done.
But we always think of the final consumer. And since it's a family business, we have the chance of saying okay, maybe something is not, for example, a very margin-focused product – but we like it – it's good to have it in the collection. It's good for our final consumer. So, let's develop it and hopefully the consumer will understand and have the trust of buying a special piece at the right price. Something that can last.
What else can you tell us about the fabrics and the factories that you use?
Many of them are within a drive from [our headquarters in] Milano. These makers are working with us for many years. They understand what we want. We have taken them to extra levels to be able to offer the best quality. I believe in this very sustainable kind of approach to fashion. It's a kind of slow fashion because every piece is designed to last. My own swacket, the first one that was created, is now five years old and still my favorite. I hope this is the same for our final consumer.
And on top, because it's made in Italy and it's a high-level product, we make exactly what is needed. We do not overproduce. We don't have the kind of outlet channel to get rid of extra pieces that are flooding the market.
You said the concept of "Made in Italy" is a big passion of Maurizio's. What does that mean to the company?
"Made in Italy" is kind of a religion in a way. You are obliged to have the best products. There is a cultural approach to the product that I don't think you'll find anywhere in the world. When you sit down with these guys that have been second, third, fourth generation of knitters, makers and so on – they know about the product in a way that no one else knows. And they are helping you out in solving any design problems you may have.
And what does it mean to be based in Brera?
Brera's always been kind of an incubator for artists and fashion, especially in the '80s and early '90s. Brera now is, I would say, the Italian capital of design.
In the past and still today it's where the artists were hanging out, because the [Accademia di Belle Arti di Brera] is down the street. It's a melting pot and, especially in the '80s during the booming of fashion in Milano, it was the place to hang out with the best restaurants, the best bars. It's a mix of culture, fun and design.
Photography by Kyle Wilson