Step-Up Your Sock Game
By: DYLAN MARTIN
Date: 2016-12-13
No longer just an after-thought, the modest sock has taken centre stage as a key menswear accessory.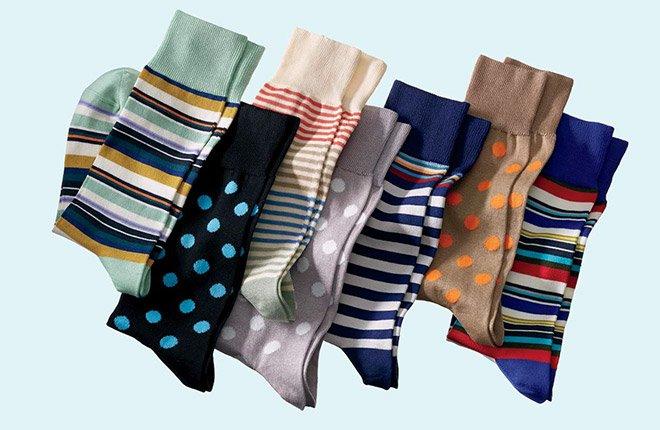 This compelling style phenomenon coincides with the trend towards cropped hemlines and rolled-up cuffs. Shortened pant lengths have drawn attention to ankles and propelled guys to step-up their sock game. What was once a boring commodity has evolved to become a man's quickest path to sartorial glory.
"What it says, that little reveal at the hem of a trouser, is that 'I may look like a serious business guy, but I have this wild guy inside,'" says CEO Larry Rosen. "Vibrant pairs have emerged as the new palette for self-expression."
It's due time to pull your socks up and create a more personalized appearance from head to toe. Don't cast socks aside — details matter.
Larry credits this stylish sock revolution to a younger generation who believes that dress codes are ripe for reinvention. "In the old days, men's fashion rules were very firm," quips Rosen. "Your belt and shoes had to match and socks had to blend in with the trouser. We are now selling more than 100,000 pairs of men's socks a year, at the average price of more than $30 a pair; they are certainly not black basics."
Figuring these were the ultimate holiday stocking stuffer, we caught up with sock buyer Fatih Tandogan to learn more about the latest designs.
So treat yourself (and a friend!) to some new statement-making options.
"It's safe to say that vibrantly striped socks aren't going anywhere," Tandogan assures us. "They're the perfect marriage of classic and casual aesthetics. A man can effortlessly wear them in both at work and on the weekend." Fatih suggests turning to Paul Smith for some outstanding options. "Paul Smith continually reinterprets its signature stripes in an artful array of saturated colours. They're worth stocking up on."
Playful pairs in novelty prints are an ideal way to add some personality to an otherwise subdued outfit. "Designers are updating socks in an imaginative array of motifs," he notes. "Look to Bugatchi for creative patterns with visual impactful."
These purposefully mismatched socks prove that some style rules are made to be broken. Some of Marcoliani Milano's latest offerings juxtapose different colours and patterns on each foot" explains Fatih. "While the unconventional socks are not for the faint of heart, they have this off-kilter quality that's totally quirky and charming."