Fall Footwear: Which Boot Suits You Best?
We examine a few popular styles of fall boots and cross-reference their reputations with a few common fall characters. Here's our guide to choosing the right pair of boots to suit your lifestyle.
The saying goes that you can tell a lot about a man by looking at his shoes, and while owning an extensive footwear wardrobe doesn't necessarily mean one also has multiple personalities, each pair we wear certainly tells its own story about us.
From chukkas to Chelseas, we've taken four classic fall boot styles and extrapolated a few common personality traits of their wearers.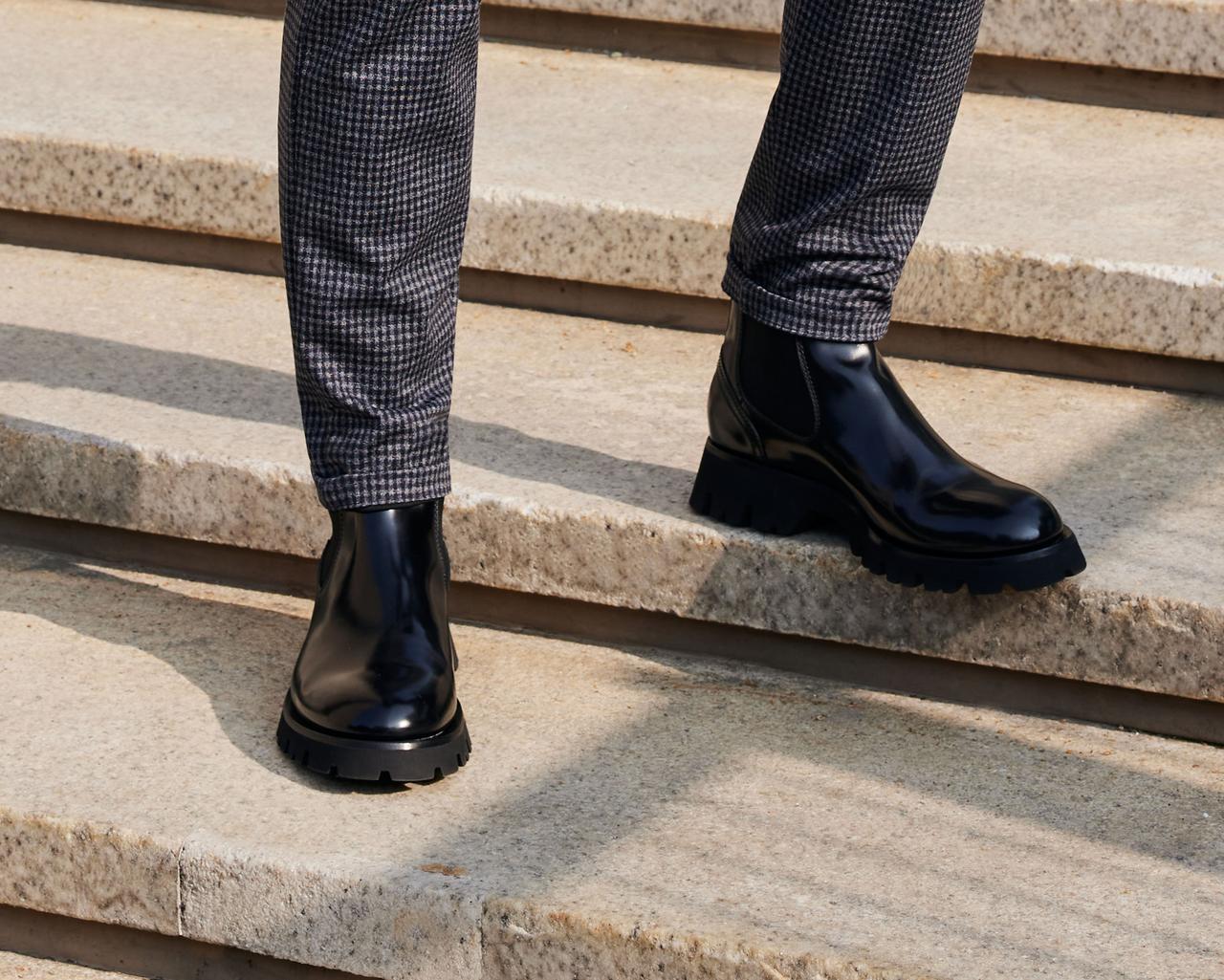 Chelsea Boots — The City Slicker
These laceless, close-fitting boots featuring elastic side panels and leather or suede uppers have been around for centuries, dating back to Victorian-era England and later rising to prominence during Britain's mod movement in the '60s.
More recently, the Chelsea boot has once again been adopted by young men who appreciate both their elevated look and ease of wear. The elastic side panel makes slipping them on and off simple while Chelsea boots' leather uppers retain a sense of formality whether worn with denim or dress pants.
Who values both of these things intrinsically, you ask? We point to the youthful city slicker, who needs his pair of boots to cater to his on-the-go lifestyle without sacrificing style points when necessary. Whatever's on the day's agenda — be it a school presentation, job interview, date night, or exclusive event — the city slicker knows his Chelsea boots will never fall short on charm.
Chukka Boots — The Creative Director 
Depending on where you're from, you might've grown up calling these either 'Desert Boots' or 'Chukka Boots,' though either way we're talking about the same thing — ankle-high suede or leather boots with only two or three sets of lacing eyelets.
Chukkas are easy to wear, comfortable (often unlined), and pretty much go with anything, from jeans through to tailoring — should your boots be on the more formal side, that is. For these reasons, they're often most appealing to 'think outside the box'-types, those who get their kicks from making something new. In other words, chukka boots are a favourite among Creative Directors.
Whether he's pitching a new campaign, shmoozing at an art show, or attending a film screening, the Creative Director knows he can depend on his chukka boots to make him look polished without pretense.
Leather chukkas or those with stacked leather soles can be dressed up without appearing overly formal, which a creative would never want anyway. Suede variations or those with crepe soles are a more refined alternative to sneakers, which our man in question graduated from some time ago.
Hiking Boots — The Executive Explorer
Quality, durability, and support are the keystone features of classic hiking boots, though contemporary variations are often more 'fashion' than 'function'. We believe that no matter what your lifestyle's like, a pair of hiking boots should be able to do both — and so does the Executive Explorer, perhaps this style of boot's biggest admirer.
A rounded toe box, chunky sole, low lacing eyelets, and bulky silhouette are characteristic features of hiking boots, all of which aid in their wearer's capacity for uninhibited exploration. That said, the premium leather uppers used on many upscale models are more akin to dress boots than those designed for alpine activities.
To us, brands like Brunello Cucinelli and Diemme have mastered the modern hiking boot, with their iterations striking the perfect balance between urban and outdoorsy. Thick soles and robust constructions are paramount to the identity and intention of hiking boots, though an element of elegance should always shine through. This style of boot suits the man who enjoys spending weekends away exploring the wilderness without worry, though treasures good taste in every form.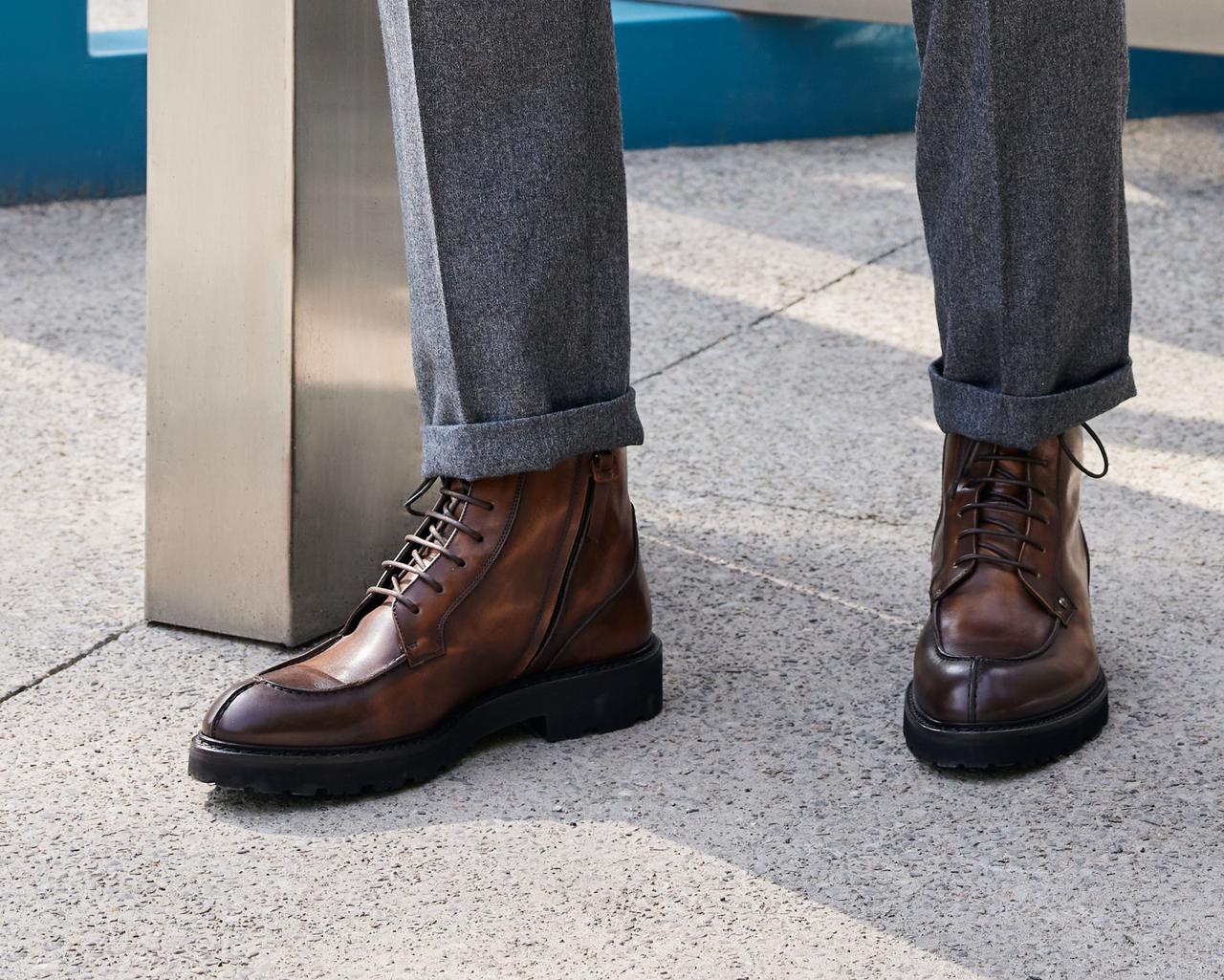 Lace-Up Boots — The Business Professional
A fine pair of leather lace-up dress boots are an essential for every man — full stop. Just how 'dressy' they appear depends on a few different features; do they have broguing? A cap toe? Wing tips? Pebbled or smooth leather? What shape is the toe box and last?
Whatever you look for in a lace-up boot, the common denominators should always include premium leather uppers, a goodyear welt construction, and a versatile colour palette. A simple dark brown or black leather or suede is what you'll find will work in most scenarios, especially if you consider yourself within the 'business professional' category.
No matter if he's in the office on a Monday, winning new business at a client lunch, or dropping his kids off at school in the morning, a polished pair of lace-ups boots are what this model pro feels most comfortable in during the autumn season.
TAGS:
#Style Advice,
#Style
,
#Footwear
,