Leaguefits NBA Men's Style Inspiration
If you're looking for the latest menswear inspiration, there's almost no better place on the internet to find it than @leaguefits.
By: Calum Marsh
Date: 2021-02-12

It started the night LeBron James walked into the Oracle Area wearing shorts. It was a Sunday night in early June, 2018 — game two of the NBA Finals, with LeBron's Los Angeles Lakers rolling into Oakland to square off against Steph Curry and the Golden State Warriors. All eyes were on the 6'9 forward as he strolled into the place, a cavalcade of agents and security guards between him and the teeming news media. Lights flashed. Camera bulbs were popping. And here was King James, the picture of poise in a Thom Browne two-piece, replete with Browne's signature socks and shorts that ended above the knee.
It's hard to overstate the impact this night had on fashion and the NBA. The Lakers lost that game to the Warriors — after Curry broke his own record and made nine 3s — but LeBron successfully cemented himself as one of the most influential style icons in the league. The entire Lakers square rolled up that night in near-matching Browne ensembles, and from that moment on, it was if the walk-up to the locker room before games were treated like fashion runways. The lights and cameras were already in place. From here on out players started showing up with something to prove besides making buckets.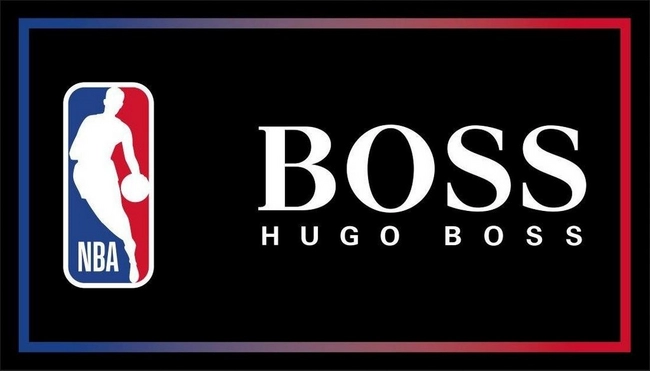 Free Toronto Raptors Water Bottle
Offer available with the purchase of any BOSS or NBA item in-store and online. One gift per customer per purchase. Limited quantities, while quantities last.
If you want to keep tabs on what's hot in the world of the NBA, look no further than LeagueFits, the enormously popular Instagram account that chronicles the best in basketball fashion. Created by Ian Pierno and Adam Figman, of the legendary basketball magazine Slam, LeagueFits posts near-daily updates on what the top players in the east and the west are wearing to the game — what bleeding-edge suits they're rocking, what luxury sweatsuits they're cozying up in, what impossible-to-find Jordans they've managed to get their hands on. It's a seemingly endless procession of trail-blazing looks from guys who have the means and the know-how to wear whatever's up-to-the-minute new and hot, and if you're looking for the latest menswear inspiration, there's almost no better place on the internet to find it.
On LeagueFits, you might find candid shots of vaunted rookie LaMelo Ball in trackpants and a pair of ludicrously comfy-looking Balenciaga slippers. Or you might find Dennis Schroder of the Championship-winning Lakers idling along in a jet-black tracksuit from Palm Angels, a bag from Louis Vuitton slung ever so casually over his shoulder. Darius Grland of the Cavs has a sleek Moncler parka; Jason Taytum's in Dior and Off-White; James Harden strolls into the Barclay's Center in some crazy-looking chunky sweater and matching face mask and, of course Lebron in TOM FORD. There is, if nothing else, no shortage of content being churned out. There are over a thousand games in even this currently protracted NBA season. That's a lot of looks.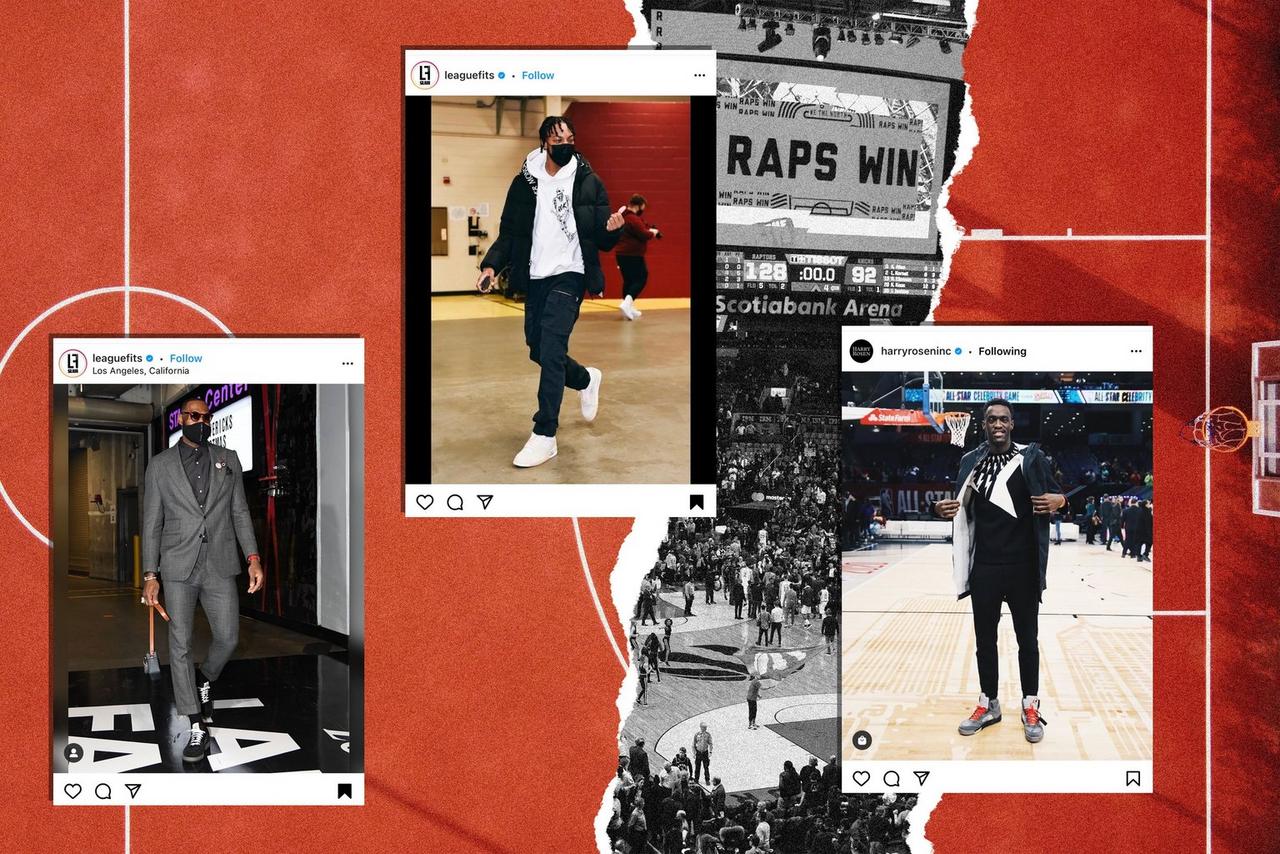 The de facto backdrop of every LeagueFits pic is the tunnel — that narrow strip of hard cement walkway connecting the underground entrance of a city's athletic arena with its interior chambers and locker rooms. That's where the media's many accredited photographers are permitted to descend upon the athletes before they throw on their jerseys and game-day shoes, and with its brief moment of star-gazing opportunity, it's basically come to function like an athletic version of the Hollywood red carpet. See the hoops-playing celebrities exit their limousines and smile and wave for a few snaps before heading on in to the main event! And, of course, knowing this is their one moment to shine before the action, virtually every player in the league makes the most of it.
As time has passed and LeagueFits has continued to document the daily outfit choices of the NBA's best and brightest, certain trends have emerged and, in some cases, faded. In recent months, it's been all about coveted sneakers: a fresh pair of Nike Dunks or Air Jordans in a rare colourway is guaranteed to turn heads and draw attention, especially if it's a collaboration with another brand like Off-White or a hyped artist such as Travis Scott. Keep a keen eye on the feed and you'll start to spot sudden developments: the emergence of tie-dye sweaters and flannel shirts, for instance, or the return of old staples like collegiate knitwear and brightly coloured puffer jackets. And as players no doubt follow one another's outfit choices closely, the whole league becomes minutely attuned to the slightest shifts in changing tastes and fads.
The league itself has had a surprising impact on its players and their fashion. Back in 2005, the NBA made the somewhat infamous decision to implement a league-wide dress code for players arriving to games — in the tunnels, it was decreed, players were mandated to wear business casual. No necklaces, no baggy pants, and no headgear of any kind, the NBA's top brass instructed: it was widely understood as a corrective meant to curb some of the flamboyant choices of superstars like Allen Iverson, but in practice the rules smacked of discrimination and even racism. Who, after all, was wearing baggy pants and necklaces off the court? By forcing them to don a suit and tie, the league was constricting its players and drastically limiting free expression.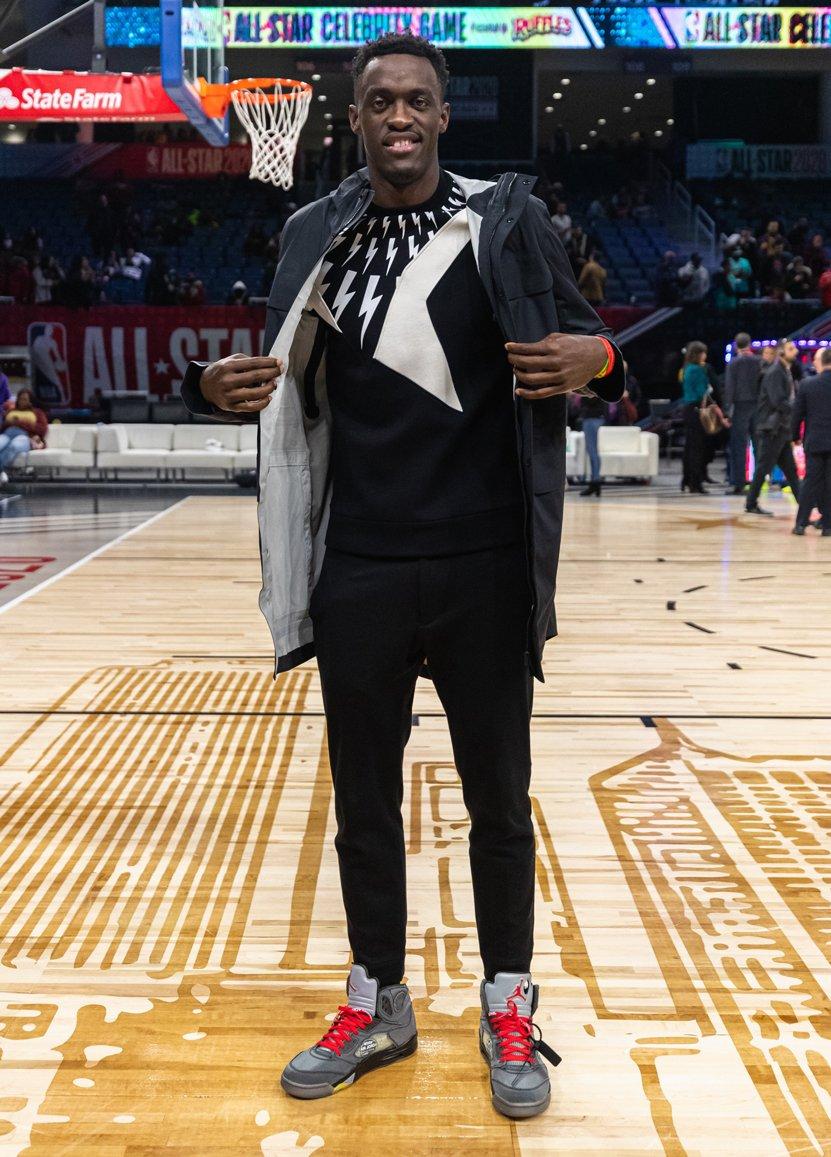 One of the best things about LeagueFits has been seeing that free expression come roaring back with a vengeance. Though the NBA never officially revoked the stricter dress code, once Adam Silver took over for David Stern as NBA commissioner, the rules seemed to become more like recommendations — a subtle, unspoken shift that's resulted in an explosion of casualwear across the league. With players more or less allowed to dress as they'd like once more, the range of outfits worn in the tunnel has been remarkable: everything from outlandish vintage tees to rainbow-coloured ponchos to cheetah-print board shorts are seen these days on the LeagueFits feed, including, yes, plenty of excellent suits when the feeling strikes.
No longer hampered by restrictions, these guys have stepped up their game and are dressing better, and more interestingly, than anyone outside of the world of runway fashion. The tunnel itself, not surprisingly, has effectively become the NBA's version of the runway, as players grace the catwalk with as much flair and daring as they bring to their game on the court. If a designer is dreaming it up these days, no matter how outrageous or unconventional, you can bet that a basketball player is going to be among the first in the world to debut it in public. And much to our gratitude and for our vicarious pleasure, the LeagueFits Instagram page is right there following along to let us see it.
Calum Marsh is a writer based in Toronto. His work appears in GQ, Complex, and The New York Times.
Tunnel-Ready Style