Just for Kicks: When Sneakers Met the Suit
Sneakers have taken over the world; here's how to wear them with your best suited look.
By: HARRY ROSEN EDITORS
Date: 2020-03-03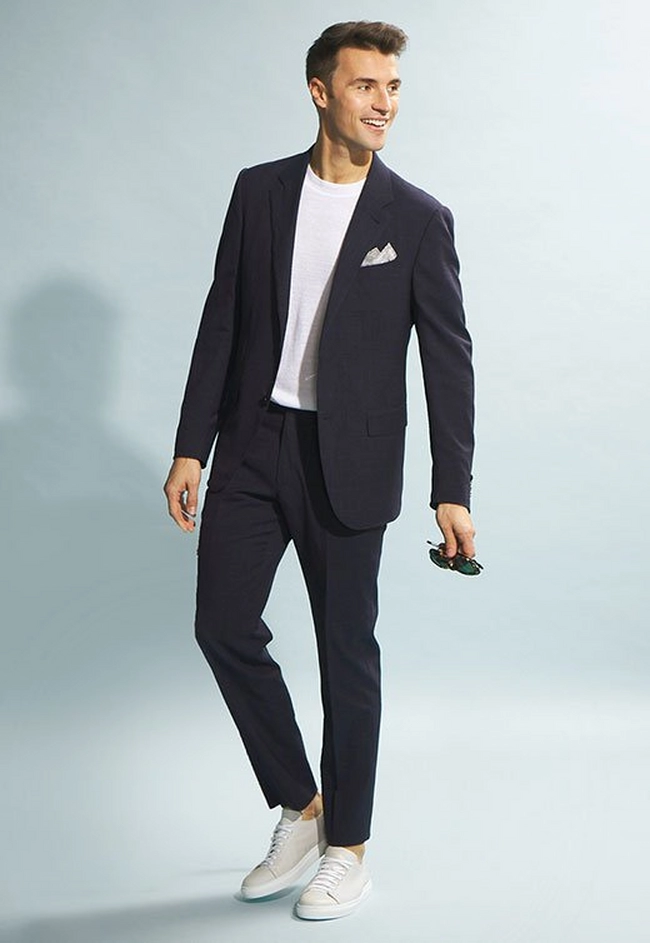 "There's an appropriate sneaker for almost every occasion,"
says Kevin Eisenberg, senior buyer for shoes at Harry Rosen. "I look for a high-quality leather or suede, or a mix of the two – something subdued and clean, with minimal design and light branding." When an invitation calls for 'creative black tie' or 'party dress' or something else that leaves you wondering 'What the heck does this mean?' it actually means there's some leniency. If you want the fun, playful look of sneakers, go for it. But don't be wearing any old beat-up sneaker. It should be as clean and presentable as a dress shoe.
For visual balance, wear a narrower, slightly shorter pant leg with a neat, precise cut to avoid a pool of fabric breaking clumsily over the sneaker. Socks matter, too, because the look draws attention to your ankles. Choose a no-show sock, especially in warm weather, or a sportier sock. Avoid dress socks, which are made thinner to work with the rigidity and trim fit of dress shoes.
KEEP THEM FRESH
Sneaker collecting is serious business – investment bank Cowen & Co. predicts the sneaker resale market will be worth US$6 billion by 2025. For sneakerheads, there's nothing more important than wearing shoes that are clean, unscuffed and in top condition – in a word, "fresh." Here's how to keep your best pairs looking prime. Don't wait until your sneakers are in distress before cleaning them. Regular use of gentle products such as Jason Markk's Premium Shoe Cleaner and Quick Wipes will keep them looking fine. Sneakerheads often carry a soft brush to dislodge dirt on the go. Replace the laces once they look worn. Give shoes a chance to air out and dry. Don't wear the same pair every day. Store your kicks in a cool, dry, dust-free and dark space.