How to Cook Game
John Jackson, Owner of Calgary's CHAR Restaurant Group, shares his best advice for cooking something a little different.
By: Jeremy Freed
Date: 2021-01-08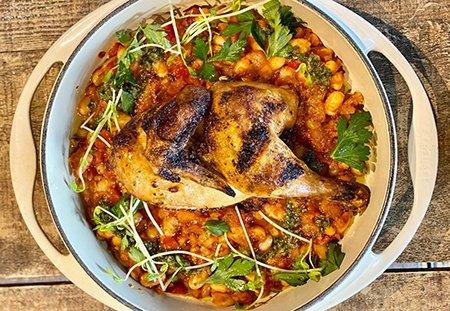 Co-Executive Chefs, John Jackson and Connie DeSousa opened their restaurant CHARCUT in Calgary in 2010 and have been expanding the city's culinary horizons ever since. Expert butchers and avid hunters themselves, Jackson and DeSousa regularly prepare game meats like bison, elk and venison for their guests at CHARCUT and Charbar. We asked Jackson for his best advice for trying something a little wilder with our own menus this season.
What do you most appreciate about cooking, serving and eating game meats?
I love the low-and-slow cooking applications when it comes to game meats. At CHARCUT we feature a bison brisket with pickled beech mushrooms and sour cream over creamy polenta. It's our play on the classic beef stroganoff. We season and sear the whole briskets and then slow cook them for six hours in a broth made from tomatoes, red wine and fresh rosemary. It's fall-apart tender when it's finished cooking and a perfect dish for these colder days upon us. Shanks are perfect for this application, too, or you can also swap out the bison for other lean game, like deer or elk.
I think there's a fair amount of intimidation when it comes to going beyond the meats found in the supermarket. What would you suggest as a way to bridge that gap, and try something new?
Don't let it intimate you. Cooking is meant to be fun so enjoy your time learning about something new. Buy, or even better have a friend give you some of their wild game from a hunt, and experiment. Once you start to cook with game a bit more you will become familiar with how it cooks, and textures and applications for different cuts. Game meat is very lean so when you are cooking prime cuts like the tenderloin or sirloin, try and keep it medium rare so it doesn't dry out. For the tougher cuts like your shanks, briskets and ribs, low and slow with high moisture is key. The shoulders always go into our sausage preparation, but they can also make a great pot-roast.
What's your favourite way to prepare game meat this winter at Charbar?
At Charbar we love to cook on our custom-built wood-fired Argentine grill that serves as a centerpiece of the restaurant, and we feature all sorts of steaks, including game. Tonight we have some local elk being featured, a strip loin with a cascabel chilli crust, served on brown butter squash, roasted romanesco, and brussels sprout leaves. We love to create comforting dishes that are cooked over the wood-fired grill, and the game we feature at CHARCUT and Charbar is a taste of place we should all be proud of.
How does being a hunter increase your appreciation for this kind of food?
As chefs it's about the entire hunting experience, from start to finish. It is a very intimate experience, understanding where your food comes from and the stories behind it. Connie and I have built our restaurants based on the nose-to-tail philosophy and we use that same mindset when we hunt. Hunting is the most organic and natural meat you will ever find and if we are successful create preparations to feed our families and give to our friends. It is very impactful both mentally and physically, and a way to enjoy time in our amazing backyard we call Alberta.
In addition to offering takeout from, CHARCUT now offers a full-service butcher shop with curbside pickup. More info at https://charcurbside.square.site/
Jeremy Freed is a Toronto-based freelance journalist. His writing about menswear, travel, design and sustainability appears in Sharp, GQ, the Globe and Mail and many more.