Meet Actor and Entrepreneur, Emmanuel Kabongo
By: HARRY ROSEN EDITORS
Date: 2020-09-21
"I learned how to dress because of my mom. Everything goes back to her," says actor Emmanuel Kabongo. Family comes first for this rising Toronto talent. It's a topic he returns to repeatedly throughout our conversation with him, especially the lessons that came from his mother. Humble, warm, gentlemanly –– for someone who's only 33 years old, he is wise beyond his years.
Kabongo's parents wanted their five children to escape the threat of constant violence in Zaire. After being threatened by rebel soldiers in 1993, they left a comfortable life in their home country and fled to South Africa while waiting to move to Canada. Kabongo's father went ahead to set up their new life, but the family remained in Johannesburg and waited. It was a hard time, often not having enough for food and moving frequently, often not making rent. The children had each other, however. They played together, dreaming of becoming soccer stars, and helped their mother get by.
After five years of working tirelessly (often as a background actor), Kabongo's father had enough money to send for his family. After a good deal of hardship, they were together again in Canada, a place filled with opportunity for the young children, a place to dream and grow.
Fast forward to age 13 and, perhaps inspired by his father's work, Emmanuel decided he wanted to act. Like his father, he started as a background actor (with an early gig in Lindsay Lohan's Mean Girls). He later put his acting on hold and joined his brothers and sisters by focusing on sports. (His sister, Vanessa, earned a scholarship to the University of Delaware and his brother Myck played at the University of Texas.) Emmanuel went as far as to earn a scholarship at the University of New Brunswick, but the acting bug bit him hard, and he knew he couldn't do anything else. "I decided to be fearless and take a chance, and here I am today," he says.
That fearlessness has led to roles in several independent films and TV series such as Rookie Blue, Flashpoint, Murdoch Mysteries and Netflix's 21 Thunder. This success in Canada has led him to Los Angeles, and later this year, Kabongo will be starring in a new season a popular (but top secret) American sci-fi series. He also has a couple of short films on the festival circuit and is focused on starting his own production company, all while writing his first feature film. If it sounds like he has a lot on his plate, you wouldn't know it by talking to him. It's all just part of life for Kabongo –– focusing, working hard and setting the tone to move forward with his ambitions. It's clear that he was the perfect choice to narrate our new campaign. We recently caught up with Emmanuel and spoke to him about family, style, leadership and giving back.
Who set the tone for you when you were growing up?
My mother. Seeing my mom never give up while raising kids on her own with no money and no home, but doing what she can and never giving up, never letting up. She taught us about integrity. She taught us about hard work. She taught us about respect. That, in turn, has really made me who I am today. It's how I take on life, how I approach sports, how I approach acting.
What my siblings and I are trying to achieve is bigger than [wealth or success], it's showing other people that you can make it from nothing. You can go from nothing to something if you pour your heart into it. You can inspire others and be a trailblazer.
Who inspires you in your acting work?
Many of the actors I've come to love and adore are only because of my mom, and one of those actors is Denzel Washington. My mom used to go to Blockbuster and the first time I saw Denzel was because of her.
Leonardo DiCaprio, Tom Hardy, Mahershala Ali, Viola Davis, Daniel Day Lewis – I love these actors because they allow themselves to sink into the role. Chadwick Boseman is another one; God bless his soul. They do that intensive homework where they just disappear in these roles and you forget that you become as an audience member you become invested. These are the actors that have really influenced me.
You look very put-together in our campaign. What does it mean to have style?
Growing up, my mom always made sure that we were clean and presentable because she wanted us to get respect, regardless of whether we had money or not. She didn't want us to be perceived as if she wasn't taking care of us. So style also means respect and personality.
When I first got an opportunity to travel for work, I was so excited. The day I was to leave, my mom said, you need to wear a suit. I didn't really want to, but I said, okay fine.
In the end, I felt great wearing it. I was picked up at the airport and the driver brought me straight to the set. The writers and producers saw me and shook my hand and said, wow you look really nice in a suit! Then they went off to the side for a few moments. When they came back, they told me we're going to change the script a bit. Close to the end of the night, I received a new script, and they ended up upgrading my character and adding more lines because I was wearing my suit.
So, getting dressed isn't about look at me, look at what I'm wearing, but it's about how confident I feel. It's like a superhero outfit. It's important whether I go to a meeting or I'm visiting a set or whether I go down to the beach. What you're wearing sets the vibe.
Do you have any style influences?
Classic Hollywood. Humphrey Bogart, Sidney Poitier –– men with class and elegance, but on the more modern end I like Mahershala Ali's way of dressing. Suave but also somewhat relaxed.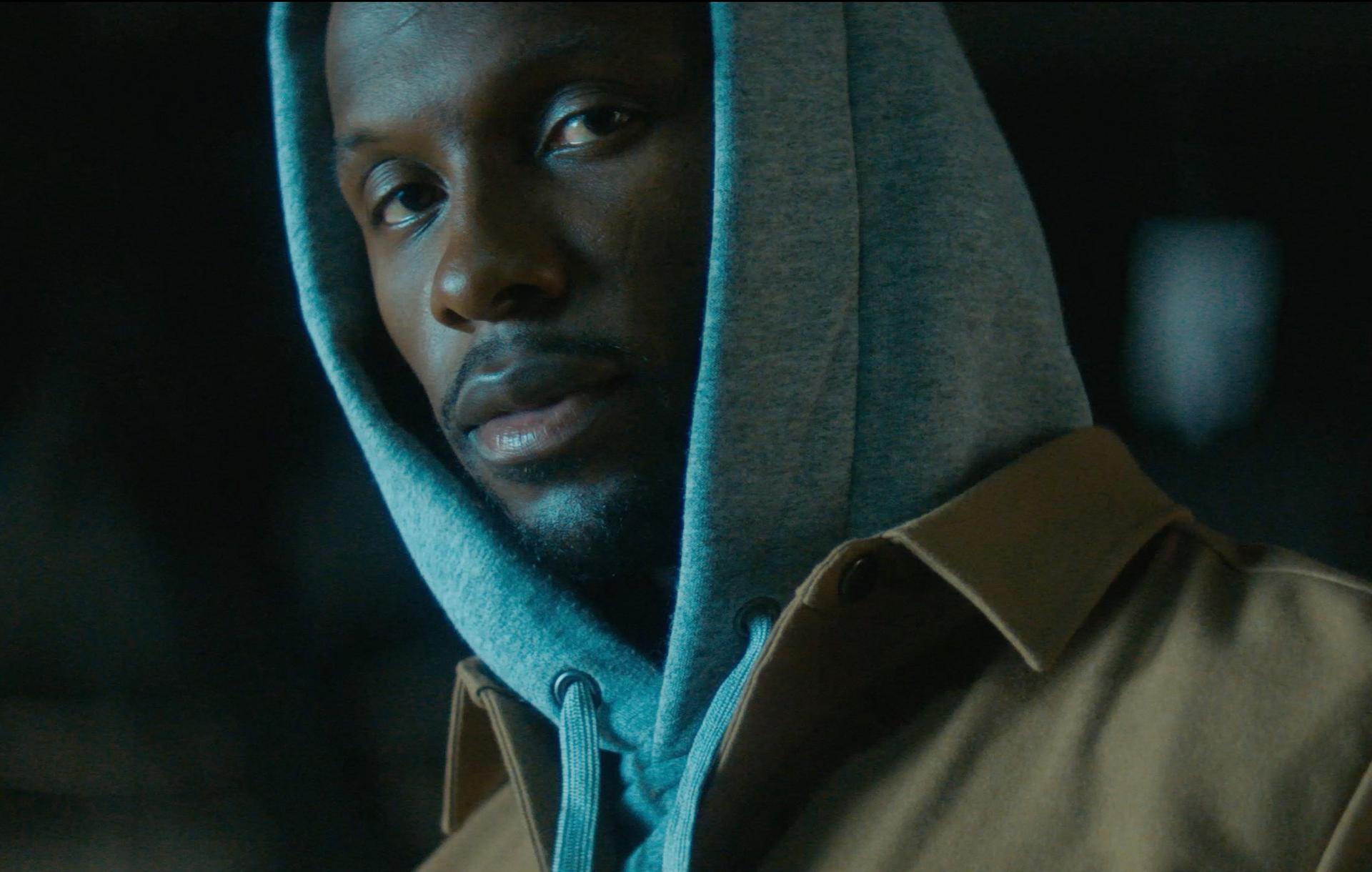 You're also quite involved in the community. How do you like to give back?
My birthday is on Christmas Day, and it's actually why my name is Emmanuel. So Christmas means the world. It's not just about me receiving gifts, but it's also about giving back. So for the last few years, I have made around care packages with homemade soup, mittens and gloves, hot chocolate and other things –– and I go around the city of Toronto with other actors I invited. Whether they were cold or hungry or just, you know, just needed a pair of gloves or hats or socks...
I also recently partnered with my brother on a sports camp he put together called WOE G2$ where he had 30 kids focusing on three different sports: basketball, hockey, and football –– along with guest speakers to come and talk to the kids about leadership and hard work.
I also love to give back to other actors and help them with their careers by giving feedback or giving advice on how to get a solid agent or which classes to go.
You've been quite active with this summer's protests. Why is it important for you to show up and refuse to stay silent?
It's unfortunate seeing all these lives of black men and women taken by the hands of police officers. It sucks when a life is taken – whether it's by the police or an accident or whatever the case but seeing it in this form is atrocious. It's important to me as a Black man to stand up for what is right, supporting the cause against police brutality.
It's also important that I stand up for what's right in a positive manner. I don't agree with looting, and I don't agree with violence. I agree that if you're going to protest, it should be peaceful. I agree that voices should be heard. I agree that we need to be we need to speak up so that the police or people who do have power to make decisions understand that it is not right to take people's lives and that they should be held accountable. Proper training should go towards police, and so they can learn and understand to deal with people in distress or with mental illness or people who come from a particular race –– because we should all be treated equally, and we should all respect each other.
What does it mean to be a leader?
Being the oldest in the family, I've always needed to set an example for my younger siblings. It's apparent now as I see my younger siblings to do some of the positive things I've done in my life. (And some of the not-so-positive stuff.)
For me leading isn't just speaking up, but it's also listening. A good leader, a great leader, understands that the best way to communicate isn't always just speaking, but it's also listening. A leader doesn't react but responds. We're so quick to react when things happen, we're so quick to take things personally –– and it's very challenging not to. When situations happen, I try not to take it to heart. I have learned to process, digest, and respond thoughtfully.
Finally, what does it mean for you set the tone both personally and professionally, now and in the future?
It means get ready for what's to come. Because life is unpredictable, and if you don't prepare yourself and stay ready, you might lose out on opportunities. It's crucial for me to set the tone with everything that I approach and prepare myself for what's to come. I feel very lucky and fortunate. But luck does not just happen; it happens when preparation meets opportunity.
And going forward? Just continuing to do what I'm already doing –– staying sharp in mind and body. There's going to be a light at the end of this tunnel. With the kind of year that we're having in 2020, it's important to move forward with a positive mindset, because this is not the end. There's going to be a gift that will come from this. Before good comes, there's always got to be a storm.