Dress Like a Pro: Darnell Nurse
By: BEN KRIZ
Date: 2019-09-26
We recently invited current and former NHLers to Harry Rosen to try on our newest collections from BOSS. Hamilton boy and Edmonton Oilers defenseman Darnell Nurse was drawn to a soft, comfortable jersey suit that's ideal for travelling (complete with a jogger-style drawstring waistband). We caught up with him to talk about his best-dressed teammates, how his style has evolved since his early days and his goals for the upcoming season.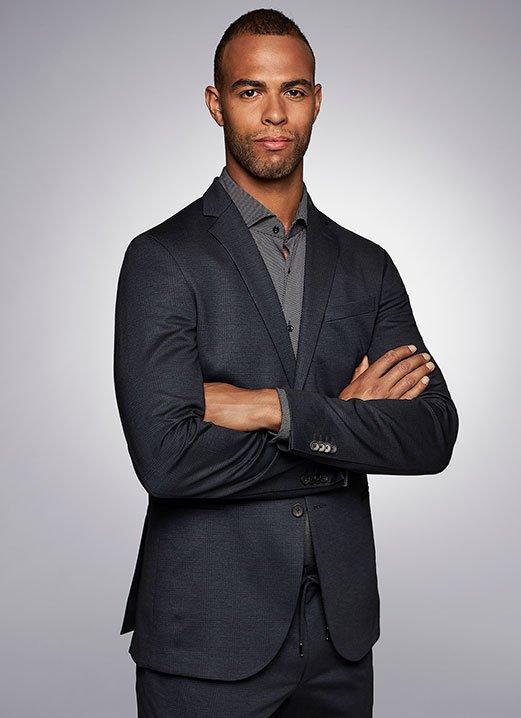 So former NHL All-Star Adam Oates has been training you this summer. Is he a real taskmaster?
[Laughs]. No, no, everything he does is so simple, and you get back into the basics of hockey with him. He's great. We forget that to be successful in the game or in any job you have to perfect your fundamentals. That applies to everything in life, really.
How does your BOSS suit feel?
It's so comfortable, but it looks great. It's one of the first suits I've worn in my life where I don't have to get down on my knees to tie my shoes. It looks cool, but it's also super functional.
What do you generally look for in a suit?
I'm a pretty simple guy; I like my blues and my blacks. I don't stray from that too much besides maybe getting a more colourful lining. I keep it kind of like my personality: straight to business on the outside and always having fun on the inside.
Do you find that hockey's fashion sense is evolving a little?
One hundred percent. You're starting to see guys bring out their personalities. In other sports, guys are heavily active on social media and great at showcasing their personalities. Hockey has been the opposite. It has taken a long time for players to show that they're interested in what they're wearing. Now you even see some of the big boys in the league doing high fashion magazine shoots around the world
Your teammate Connor McDavid has done a little of that.
[Laughs] I've never seen him wear clothes like that before. He got out of his comfort zone and it's great. I love to see stuff like that.
I heard him say that as a player if you're not dressing up enough, you get chirped by your teammates, but if you go too wild in the other direction you also get chirped, so it seems like you have to find that middle ground
Definitely. It's a league where everybody has to wear suits every night, it's very cool. It's one of the only sports in the world where you're going to play like you're going to work. There are some great dressers around the league, PK Subban and Henrik Lundqvist come to mind. Henrik has been the sharpest dresser in the league for a while now.
Can you give us one personal style tip?
I always wear dark colours. A style tip to myself would be: don't wear yellow!
Any personal goals for the upcoming season?
I have personal goals, but I like to keep those to myself. The team goals come first and foremost. The team goal is to improve our performance over the last couple of years. That needs to be at the forefront of any conversation. That's how I like to look at it.