Dress Like A Pro: An Interview With Adam Oates
The NHL All-Star on dressing smart, wearing mullets and how Lebron James inspired his career.
By: BEN KRIZ
Date: 2019-09-25
We recently invited current and former NHLers to Harry Rosen to try on our newest arrivals from BOSS. We were thrilled to have former NHL-All Star and skills coach to current stars, Adam Oates, step into our BOSS store. Oates doesn't mince words and has opinions about not only the game of hockey but menswear as well. We chatted about both.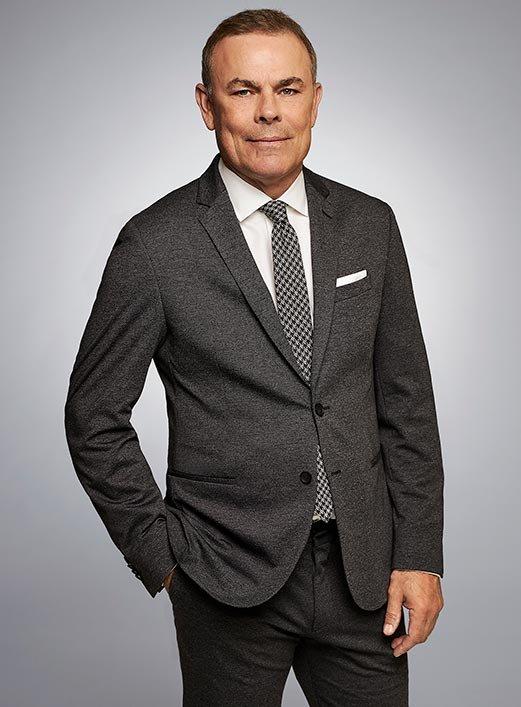 A lot of athletes are looking to the NBA for style inspiration, but you were inspired by the NBA to start what you're currently doing, is that correct?
That's true. A few years ago, I was watching the NBA Finals, and they showed this guy in the stands and it was Lebron James' personal skills coach. Different than his actual team coaches, Lebron has his own guy that, in-between games, helps him with his skills and fundamentals. So, I reached out to a couple of players I had coached before and asked them if they would be interested in that kind of thing and they said, yeah! I started the business right then. I just help them with their game. They go to their job every day, and I am there to help them enhance their skills within their job.
You're known as a guy who thinks deeply about the game of hockey, but you had a pretty deep interest in menswear back in the day. You even had a menswear store in New York?
I've always been a clothes guy, and as a player, you get to wear suits to every game. I liked dressing up. I met a man in New York who was in the business, and we opened a men's boutique on 69th and 3rd — by appointment only. CEOs would come in and get pampered and get their outfits together. I had that for a few years and really loved it.
You're coaching the young guys in the game. Are you coaching their style as well?
You know the guys like their clothes. They're professionals. They come into the building and people are watching them—kids see them on the street—and they want to look good. Everybody has their own flair and taste for sure, but they want to look good. I love that because I'm an old school guy when it comes to our image. We want to be polished; we want to look sharp. That young kid looks up to you; make him look up to you.
How would you describe what you look for in a suit? How would you describe your style?
I think my style has changed as I've gotten older. I think you go through all the different phases. I've gone through the whole cycle of two-button to three-button suits. Big shoulders, narrow—oh yeah. I had a mullet, then a ponytail one time—the whole deal. I've always been a serious guy, so I've always liked blacks and blues, charcoals, whites. Not too flashy. My father was British so more that sharp, tailored James Bond look, that's where it came from. More class than flair, if you will.
You're all about the details when it comes to coaching. What are the style or fashion details that people don't get right that drive you crazy?
Not investing in quality. I would say that I've been lucky enough to buy top-quality clothes. They last. I still have stuff on my store that I could wear. The nice details on a quality suit—you'll end up wearing more, and you end up liking it. Why? Because you feel good. That's the whole purpose them, I believe.
How do you feel in this BOSS suit right now?
I love it. Like I said, I love the muted colours. I think it looks classy. As you get older, you look for comfort, and it has that as well. It even has a drawstring.