Buyers' Picks: Spring/Summer Luxury Collection
By: Harry Rosen Staff
Date: 2022-03-25
With a new season upon us, plenty of new styles have been added to our luxury collections. With so much arriving daily it can be difficult to keep up, so we had a chat with our expert Senior Luxury Buyer, Adam Gallo, for his favourite styles of the season. Here is just a snapshot of what you'll find in-store and online this spring.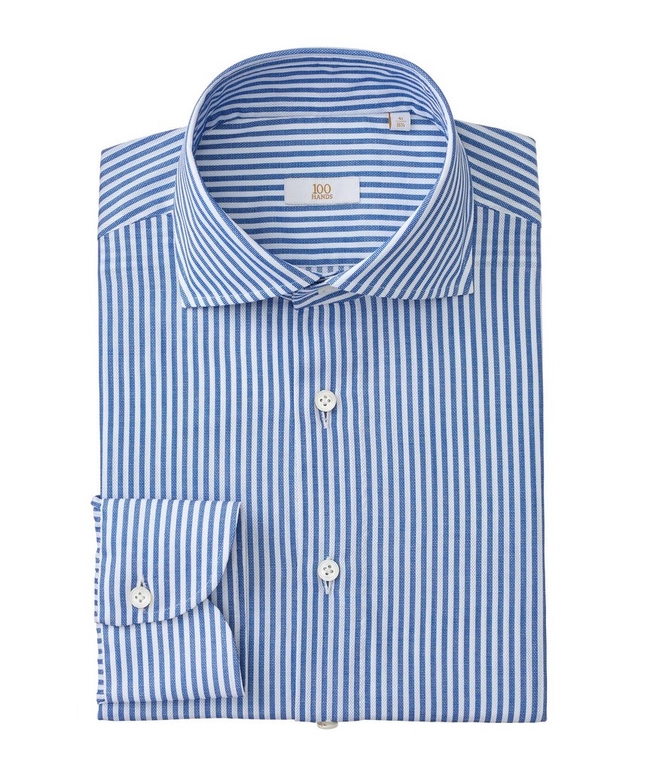 100Hands – Gold Line Bengal Stripe Shirt
"100Hands is a new brand we're particularly excited about and this shirt is worth highlighting because their cotton-linen blends are spectacular with such a soft hand and amazing fluidity. The wide Bengal stripes are so sharp looking and with the spread collar, you can wear it with tailoring with a solid navy tie or it works just as well on its own as a more casual shirt."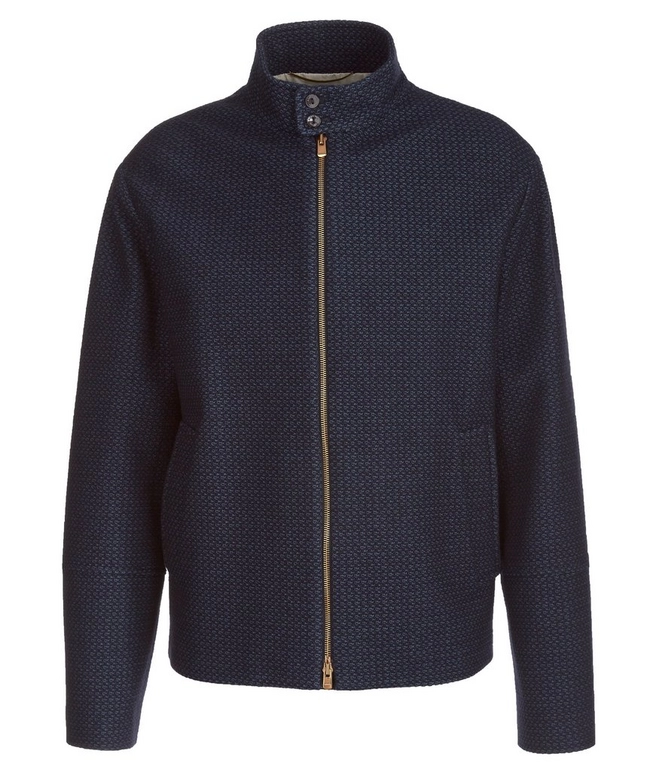 Agnona – Cotton & Cashmere Biker Jacket
"Agnona's outerwear is so incredibly special in the details. Their pieces don't have a lot of flash but it's all about the understated details. This biker jacket is a great example – it's a hip length bomber but up close, the texture and feel of the fabric, make it an incredible piece of artwork in its way. That said, the functionality is right on – you don't have to treat it like an art piece that you're afraid to wear."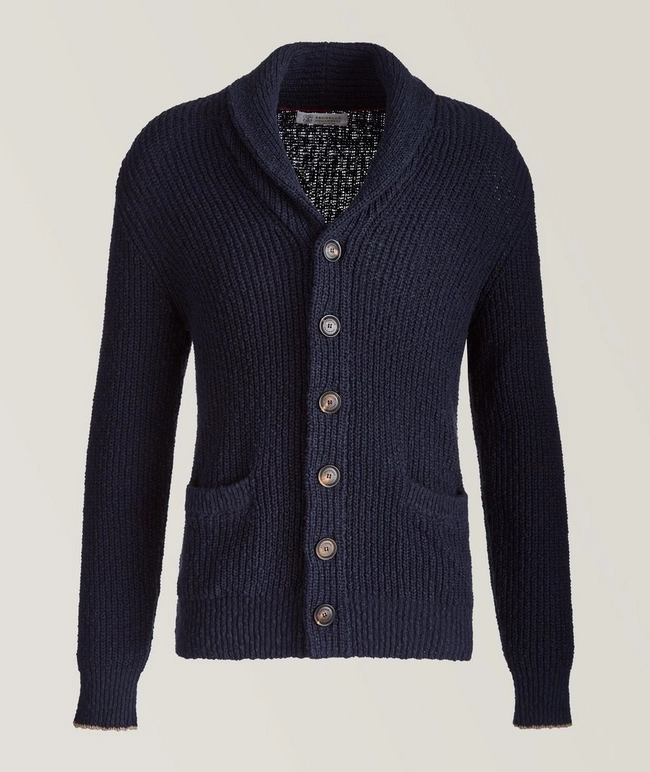 Brunello Cucinelli – Shawl Collar Cotton-Linen Cardigan
"This summer cardigan from Brunello Cucinelli is made with a cotton-linen blend in a really open, breathable weave that doesn't feel heavy. It's lightweight but has that chunky look in an exaggerated melange of navy and off-white yarns that gives it a rich texture. For summertime, if you're not into tailoring but you need that nice cozy layer, this piece can take the place of a jacket."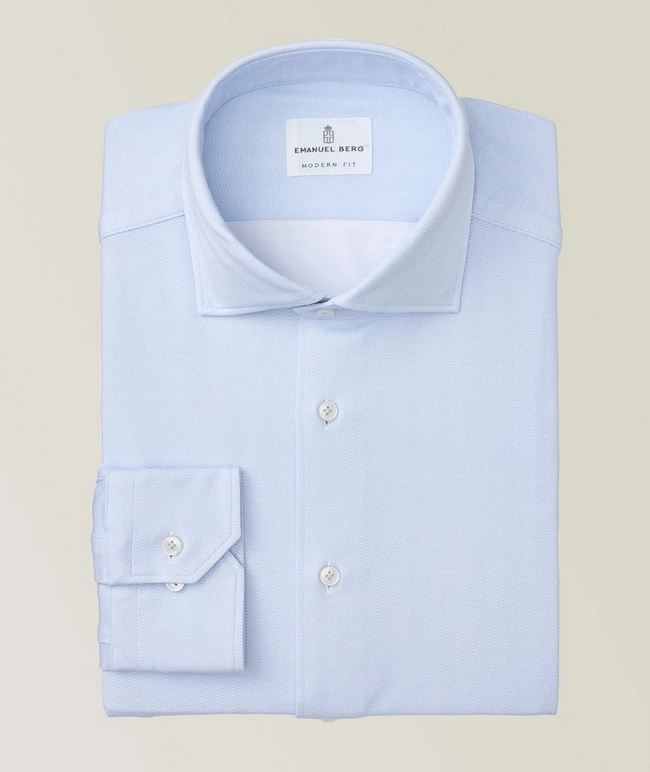 Emanuel Berg –– 4-Flex Stretch-Cotton Performance Shirt
"This is one of the greatest things to come to the dress shirt world in a long time. It is a pure performance-based shirt that can double as a sport or dress shirt. It's not just a little bit of stretch, the brand's 4-Flex fabric is unbelievable. It feels like you're wearing your favourite jersey polo, but you're buttoned up and wearing a sport shirt. As much as we love to wear T-shirts and polos all day every day for work it's not always appropriate, but this makes you feel like you are."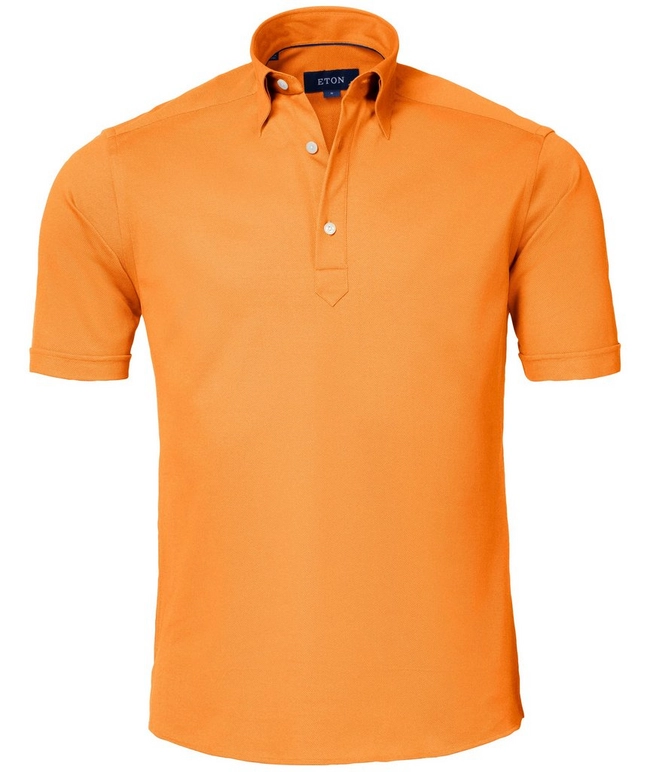 Eton – Pique Polo Shirt
"Eton is known for their dress shirts, but what I love about their polos– which we introduced a few seasons ago – is that they have a hidden button-down collar. These polos also stand up more like a dress shirt with a little more structure than your more casual polos. It's a more polished, more sartorial polo, if you will with a collar expression that elevates the look that makes it easy to wear under a jacket."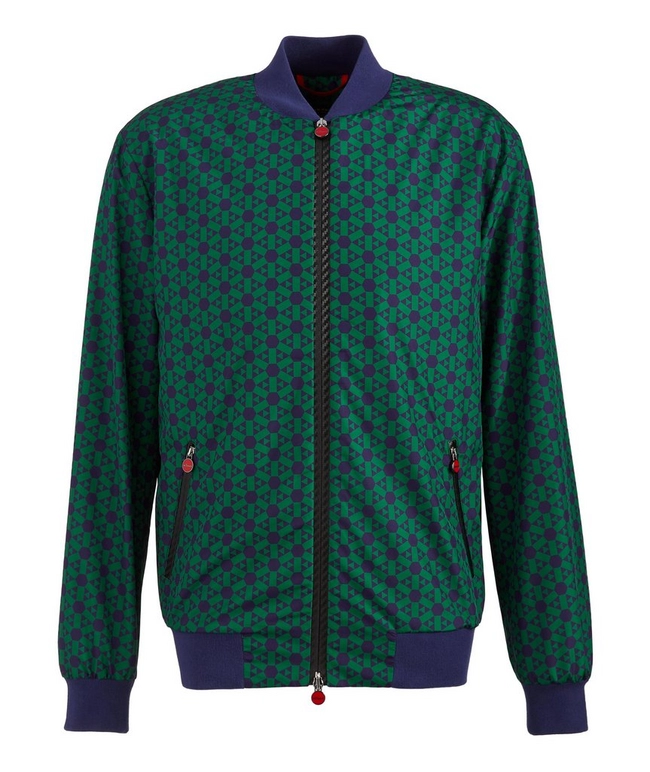 Kiton – Geometric Bomber
"Kiton's strength has traditionally been in tailoring, but the sportswear has been so strong recently. They've introduced this great new swim line that includes this high summer match-up set: swim trunks with a matching zip-bomber. It looks fantastic together but the bomber is so lightweight it's great on its own as a layering piece." [Ed. Note: swim trunks available in-store]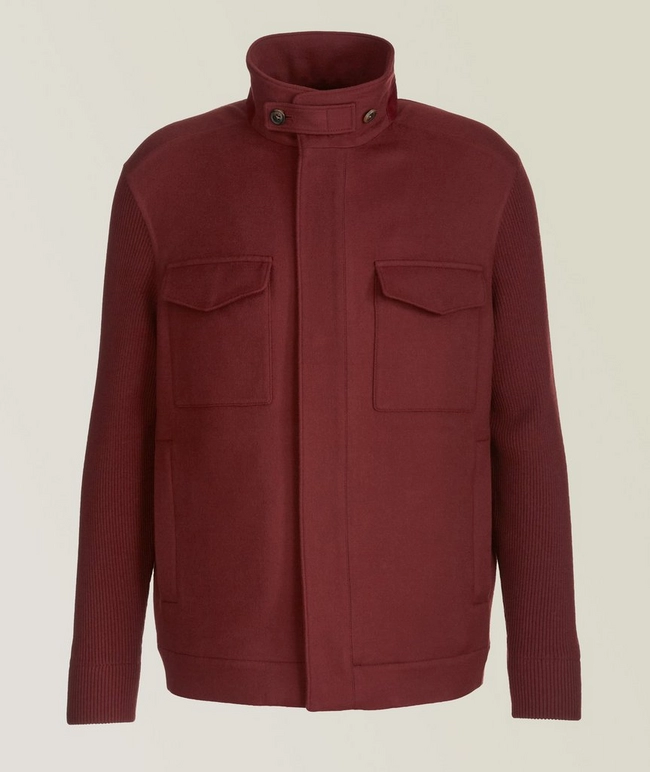 Loro Piana – Cashmere Knit Traveller Bomber
"This dark cherry bomber from Loro Piana is made from a treated cashmere that's super lightweight and completely water-resistant along with knit cashmere sleeves. This thing is pure luxury in the fact that it's pure cashmere but in a spring/summer weight makes it really special."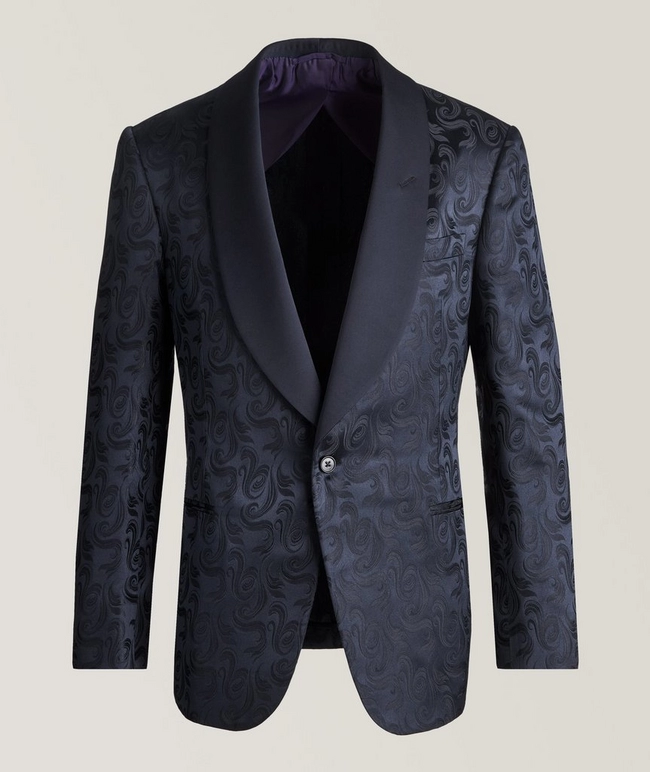 Ralph Lauren Purple Label – Kent Handmade Floral Jacquard Cocktail Jacket
"Ralph Lauren Purple label is new to us this season and we're so excited because their formalwear is next level. This jacket offers handmade construction that is probably the closest thing to a bespoke garment you can get without actually buying bespoke. It really is a work of art. The armhole, the collar – with the garment's handmade construction you get that true Ralph Lauren expression with a really elegant shape."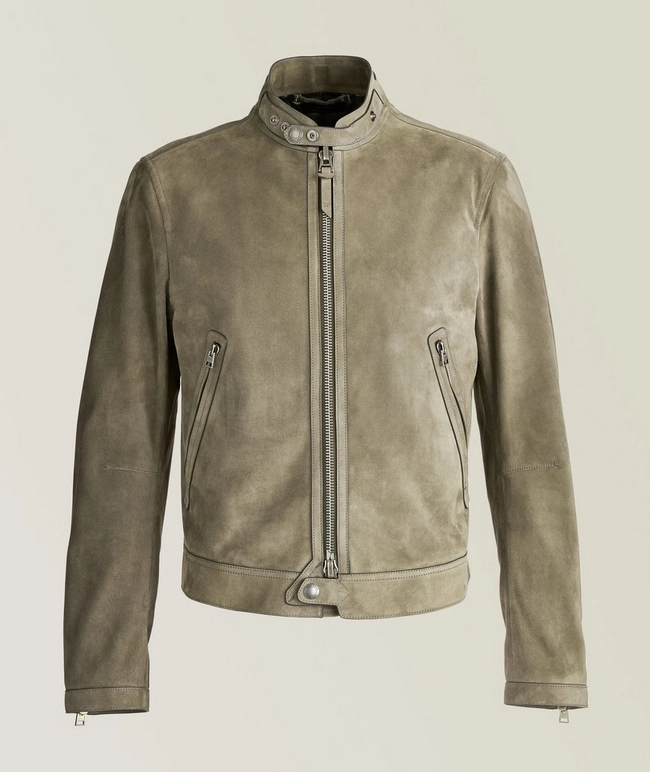 TOM FORD – Suede Café Racer Jacket
"One of my favourite pieces this season is this suede racer from TOM FORD with its stand-up collar and snap closure. It has an incredibly sporty and active look to it but in a buttery-soft military green suede that takes a bit of the rugged edge off. All together it has a softer look and feel in a true TOM FORD style. It also has a TOM FORD price but when you see it in person…there's nothing else like it. Worth every penny."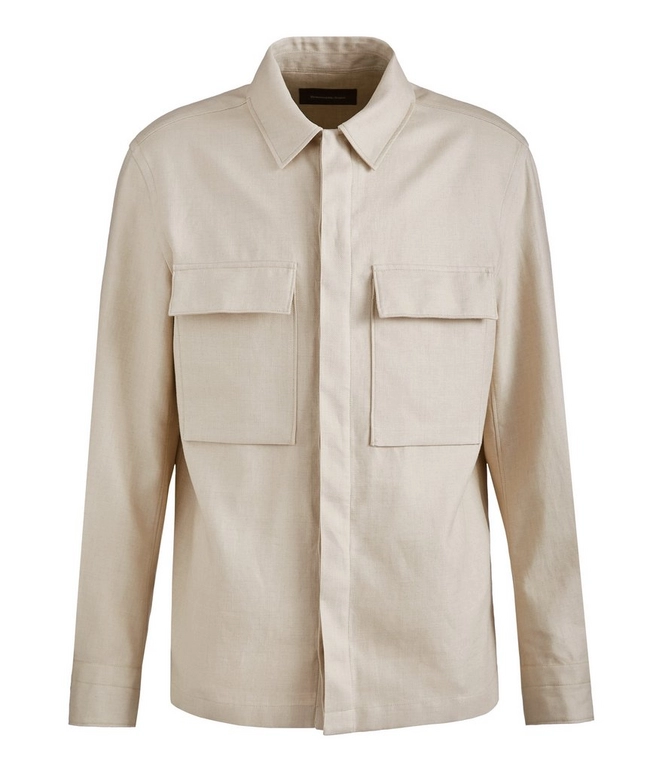 ZEGNA - Ivory linen Overshirt
"This piece from ZEGNA is made from 100% pure linen, so it has a great summer look but then when it comes to the construction, it's a perfect hybrid of a jacket and an overshirt (with a construction that edges just a touch further to the jacket side). As the overshirt has become the new sports jacket fort those who aren't looking for more traditional tailoring, this is a must-have. An the colour? The ivory linen makes this the ultimate summertime jacket for me."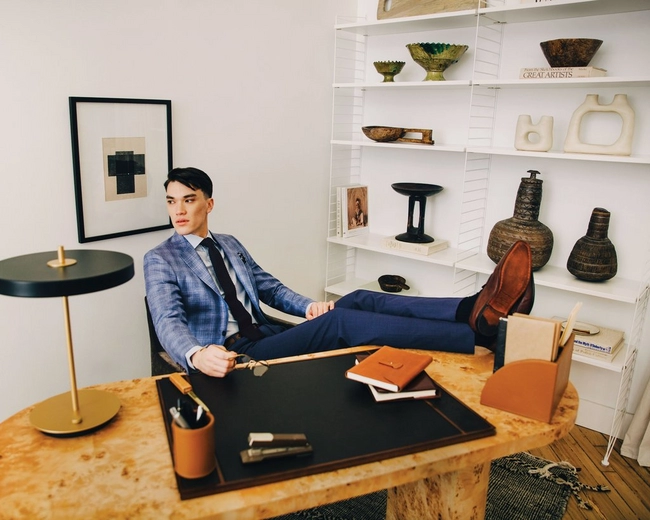 The Harry Magazine Shop
As Canada's leading menswear authority, Harry Rosen celebrates refined style in our print publication. A rich source of men's fashion inspiration, our magazine offers expert advice on how to look sharp for work and off-duty occasions.